The global cold chain equipment market size exceeded USD 14.08 billion in 2022, and it is projected to hit around USD 108.37 billion by 2032, growing at a compound annual growth rate (CAGR) of 22.64% during the forecast period from 2023 to 2032.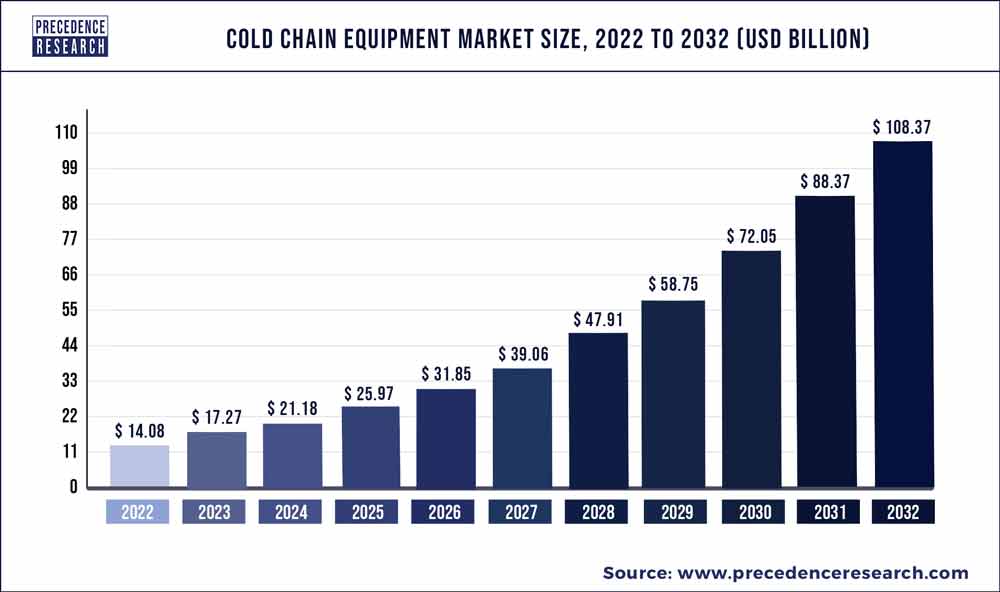 Key Takeaways:
Asia Pacific region is expected to expand at the fastest CAGR from 2023 to 2032.
By Type, the equipment segment captured more than 70% of revenue share in 2022.
By Application, the fish, meat, and seafood segment is expected to lead all others in 2022.
Market Overview:
The market for cold chain equipment is expected to develop as a result of trade liberalization, a focus on decreasing food waste, and an expansion of retail chains. The desire of consumers to consume ready-to-eat food goods that must be preserved in a temperature-controlled environment is also thought to be a major factor in the rise of the cold chain. With the quick development of technology, producers of temperature-sensitive goods are now heavily utilizing the cold chain supply system, which is anticipated to propel the expansion of the cold chain equipment market. Additionally, the global increase in demand for temperature-sensitive goods like meats, medicines, and other goods has fueled the expansion of the cold chain equipment market.
In recent years, there has been a move towards protein-rich foods in developing nations, and this development is projected to propel the cold chain market's expansion. The rise in demand for refrigerated transportation vehicles to carry perishable food items will considerably contribute to the expansion of the cold chain equipment market. Comprehensive supply chain strategies are required to accomplish the long-term expansion of the global food processing industry.
Transporting produce refrigerated guarantees that it will arrive at its destination in good shape. Unfortunately, as the FICCI study noted, the majority of developing nations do not have a strong cold-chain network. More than half of all produce is transported in unwrapped bullock carts, lorries, or gunny sacks. Furthermore, most transportation is done using open, non-refrigerated vehicles. Most likely because the price they receive from wholesalers hardly covers the cost of refrigerated transport, farmers use this method at a high percentage loss.
Growth Factors:
To provide the greatest conditions for storing and shipping temperature-sensitive goods, dozens of warehouses equipped with cold chain systems are being constructed. Several export-oriented industries rely on the cold chain solutions system's crucial connections. Businesses spend millions on cold chain operations to create a precise, secure, and dependable workflow because end-to-end cold chain security is the system's weak link. Catastrophic product and financial losses will follow from a single logistical chain breakdown. Additionally, the demand for cold storage is rising among online grocery retailers. Perishable goods are safe and of the highest quality when they reach their destination thanks to the cold chain. If items are not stored at the right temperatures, they may experience microbial development, bruising, discoloration, and textural deterioration.
A high-quality product also leads to happier customers, more demand, and general public health security. The economy and workforce benefit greatly from the contributions made by cold chain suppliers. Product safety and sensitivity are the main concerns for pharmaceutical makers. The transportation of hormone therapy, vaccines, and essential amino acids that require cold chain enhancements must be sent at a controlled temperature, which can be achieved through cold chain logistics as more important biologically based pharmaceuticals are created.
The healthcare logistics sector as a whole is experiencing substantial growth in the distribution and delivery of medical devices and pharmaceuticals that require temperature regulation. The sensitivity, volume, and quality needs of products are increasing, as are the legal requirements, and the cold chain logistics industry will need to quickly react. In contrast to other drugs (also known as synthetic medications), biopharmaceutical products have advanced more quickly, and the rise of antibodies is the driving force behind the general market shipments of temperature-controlled drug products expanding at a rate twice as fast as the overall global pharmaceutical industry.
Report Scope of the Cold Chain Equipment Market:
| | |
| --- | --- |
| Report Coverage | Details |
| Market Size in 2023 | USD 17.27 Billion |
| Market Size by 2032 | USD 108.37 Billion |
| Growth Rate from 2023 to 2032 | CAGR of 22.64% |
| Base Year | 2022 |
| Forecast Period | 2023 to 2032 |
| Segments Covered | By Type and By Application |
| Regions Covered | North America, Europe, Asia-Pacific, Latin America, and Middle East & Africa |

Market Dynamics:
Driver:
Growing demand for processed food
Equipment for the cold chain is crucial in the food and beverage business. Equipment for the cold chain is beneficial for food safety, food cleanliness, health, and the environment. The increased reliance on the processed food industry as a result of changing lifestyles, urbanization, rising purchasing power, and population growth has boosted the demand for this equipment. Approximately 56% of the world's population currently resides in urban areas, according to the World Bank. which equates to 4.28 billion individuals. Furthermore, the demand for temperature-controlled storage spaces has grown as a result of cross-border trade in fish and meat. In addition to the new trend of purchasing meat and seafood online, there are now a lot more hypermarkets and supermarkets that sell fresh and frozen goods, which is likely what is driving the growth of the cold chain equipment market. Additionally, during the pandemic, there was a rise in the demand for processed and frozen foods.
Restraints:
The cold chain in food has global and environmental climate change
Since refrigeration produces greenhouse gas emissions and is energy-intensive, the expansion of the cold chain poses a serious environmental burden. Food's cold chain has an impact on both regional and global climate change. Equipment used in the cold chain for food emits pollutants both directly and indirectly. Indirect emissions are produced as a result of the gasoline used to operate refrigeration generators and trucks, as well as the energy used to power cooling equipment. Direct emissions are impacted by refrigerant gas leaks into the atmosphere. Global warming is a direct result of numerous common refrigerant gases leaking into the environment. This happens both when refrigeration equipment is being maintained and used, as well as when it is being thrown away at the end of its useful life. While some of the refrigerants used today are hundreds to thousands of times more potent than CO2 and have a significant potential to cause global warming, refrigerant leakage has a significant impact on overall refrigeration emissions.
Opportunities:
Emerging markets with innovation and technology and sustainability
The market for cold chain equipment has a lot of room to grow in emerging regions including Latin America, Africa, and Asia. Growth in the middle class and rising temperatures are creating a greater need for equipment and infrastructure modifications in the cold chain. Improved product quality, more efficiency, and lower costs for enterprises are all results of advancements in cold chain technologies, such as more energy-efficient refrigeration systems, insulating materials, and monitoring tools. These developments open up new possibilities for raising product quality while lowering costs and operating expenses. Initiatives to make the cold chain business more sustainable have recently come under fire, especially those that aim to cut back on energy use and carbon emissions. This opens up possibilities for creating cold chain solutions that are more environmentally friendly.
Impact of COVID-19:
In 2020, the COVID-19 pandemic had a favorable effect on the market for cold chain equipment worldwide. The epidemic has sped up innovation and the creation of new products, as well as increased demand for current cold storage products. Governments and international organizations from all over the world have given businesses financial support to increase their production capacity. Worldwide COVID-19 immunizations and supporting materials are being distributed by UNICEF. The coronavirus vaccine can be stored and distributed effectively, especially in more remote locations, thanks to cold chain equipment such as vaccine refrigerators and freezers that maintain vaccines at the right temperature to ensure vaccination efficacy.
The corona virus disease 19 (COVID-19) was declared a global pandemic by the World Health Organization on March 11, 2020. Leading pharmaceutical companies and research organizations launched a race to create a vaccine as soon as possible in response to the epidemic. The covid-19 vaccines, which were co-developed by Pfizer, Inc. (U.S.) and BioNTech, were approved by the U.K. on December 02, 2020. Fewer COVID-19 vaccines have since received emergency use approval. Additionally, according to the Duke Global Health Innovation Centre, at least 7.7 billion vaccine doses have been purchased and an additional 3.9 billion reserved by numerous nations and regions. Worldwide demand for vaccine storage equipment is anticipated to increase because of the substantial volume of deliveries necessary in a short period of time.
Segments Insight:
Type Insights:
In 2022, the equipment category had a market share of 70% of the worldwide cold chain market based on storage. As they protect the product's quality and lengthen its shelf life, storage equipment plays a significant role in the refrigerated storage industry. Deep freezers, vaccination carriers, and refrigerators are some of the equipment. On-grid, off-grid, and transportation equipment are the different categories of storage equipment. The need for off-grid storage technology is expected to increase along with the demand for emerging nations to reduce post-harvest and post-processing food losses.
The storage apparatus is designed to keep a specific temperature range appropriate for the product being stored. This temperature range can range from below freezing to just above freezing for some products, like vaccinations, and above freezing for others, including fruits and vegetables. It is crucial to maintain the products' quality, safety, and effectiveness throughout the cold chain process, which necessitates the use of suitable storage equipment and temperature control. Without the proper storage tools, the products could go bad, lose their effectiveness, or even become harmful to use or consume. Different types of transportation equipment are employed in the cold chain system, depending on the mode of transportation and the specific needs of the product being transported.
Applicational Insights:
The fish, meat, and seafood industry is predicted to lead all others in 2022. It is essential to keep fish, meat, and seafood refrigerated because after an animal is killed, dangerous bacteria can develop on the meat. When it comes to food poisoning, food, meat, and seafood are among the high-risk products. Therefore, it is essential to use chilled storage options to preserve their quality and shelf life. When meat is kept between 5°C and 63°C, bacteria can grow quickly in it. Between 0°C to 5°C is the ideal range for storing fish, meat, and seafood products.
Throughout the forecast period, the processed food segment is expected to experience the fastest CAGR during the forecast period. Foods that have gone through different mechanical or chemical procedures, such as heating, cooking, canning, and dehydrating, from their raw agricultural state are referred to as processed foods. These consist of prepared dinners, frozen pizzas, and foods with flavorings, oils, and sweeteners. The overall value of American processed food exports in 2021, according to the U.S. Department of Agriculture and Foreign Agricultural Service (FAS), was USD 34.24 billion. Processed goods' shelf lives and quality are extended via cold chain solutions.
Regional Insights:
The fastest growth is anticipated in the Asia Pacific market, which is the projected forecast period. The demand for fresh and frozen food, pharmaceuticals, and other perishable goods is driving a rapid growth in the Asia Pacific region's cold chain equipment industry. There is an increasing understanding of the need of ensuring product quality and safety throughout shipping and storage in the area, which is home to some of the world's major population centers.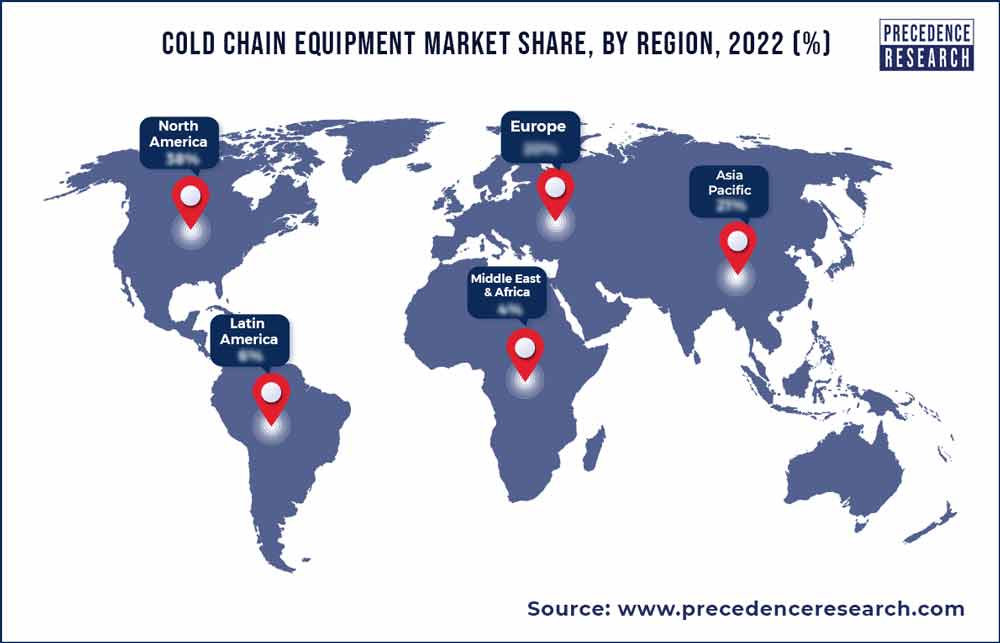 The Asia Pacific region has a large number of businesses that offer cold chain equipment solutions. As an illustration, consider Haier, a Chinese corporation that provides a variety of refrigerators and freezers, including vaccine freezers and medical refrigerators. China makes a significant contribution to the APAC market. A number of elements, including technological developments in seafood product packaging, processing, and storage, are credited with the market expansion in China.
China is now a leading market for cold chains due to rising demand and expanding cold chain infrastructure. China's economy is currently rapidly shifting from one driven by industry and construction to one driven by consumers. Cold chain solutions are projected to be more in demand as a result of growing advances in China's pharmaceutical industry. The rapid growth of biopharma in the area is another important element influencing the industry.
Recent Developments:
Grupo Fuentes was purchased by Lineage Logistics. Lineage's presence will be strengthened in the major fresh produce marketplaces in Europe as a result of this development in Spain. Through this acquisition, Lineage will be better positioned to distribute cold storage products throughout Europe.
Americold Logistics declared the launch of its newest plant in Dunkirk, New York, for June 2022. To meet the needs of cold storage in the western New York region, this facility contains about 181,000 square feet of operational space, 25,000 pallet positions, and cold storage space. The company's footprint will grow across the US thanks to this new location.
A.P. Moller Maersk, in December 2022, announced the launch of a new factory in Norway. The huge Norwegian fish industry's requirements were especially taken into account when designing this new facility. Customers who transport frozen and chilled goods will benefit from the new facility's seamless supply chain connectivity.
A provider of cold storage, Frigologix was purchased by Stockhabo in June 2021. As a result, Herk-de-Stad (Belgium), Lommel (Belgium), and Val-de-Meuse (France) three more sites joined the Stockhabo network. In the market for storage at controlled temperatures, Frigologix is a major player. This acquisition is the company's first step towards expanding its network in Belgium. The entire capacity of Stockhabo has increased to 235,000 pallet slots, with a potential increase in revenue flow.
Key Market Players:
Thermo King
Carrier Transicold
Zanotti SpA
Fermod
Intertecnica
ebm-papst Group
CAREL
Bitzer
Kelvion
Incold S.p.A.
Rivacold srl
Kason Industries, Inc.
CHG Europe BV
Viessmann
Schmitz Cargobull
Segments Covered in the Report:
(Note*: We offer report based on sub segments as well. Kindly, let us know if you are interested)
By Type
Storage Equipment
Transportation Equipment
By Application
Meat
Dairy & Frozen Desserts
Bakery & Confectionary
Processed Food
Pharmaceuticals
Vegetables & Fruits
By Geography
North America
Europe
Asia-Pacific
Latin America
Middle East and Africa