The global cold storage market was valued at USD 119.64 billion in 2021 and is expected to reach USD 243.73 billion by 2027 and is poised to grow at a compound annual growth rate (CAGR) of 12.59% during the forecast period from 2022 to 2027.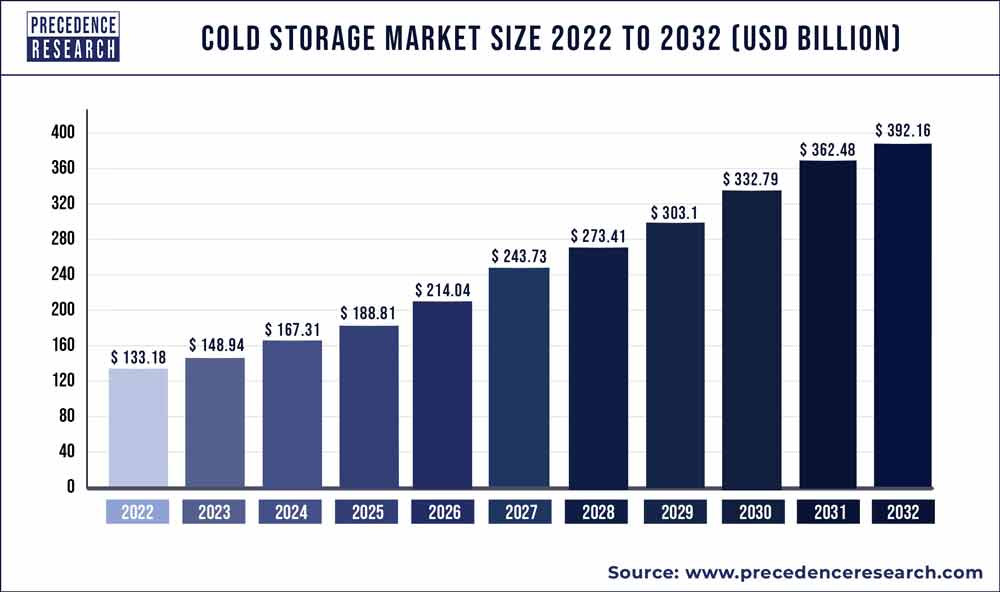 Access our Premium Real Time Data Intelligence Tool, Visit: Precedence Statistics
Regional Insights
Based on region, North America accounted 37% revenue share in 2021 and is projected to sustain its dominance over the forecast period. The North America region was valued USD 39,309.1 million in 2020 and expected to reach at USD 84,841.4 million by 2027 with a registered CAGR of 11.91% from 2021 to 2027. The increased adoption of cold storage in the organized retail sector has significantly boosted the growth of the cold storage market in the region. The increased awareness regarding the frozen food among the consumers, busy and hectic schedules of the consumers, and increased disposable income are the major factors that boosted the growth of the cold storage market in North America.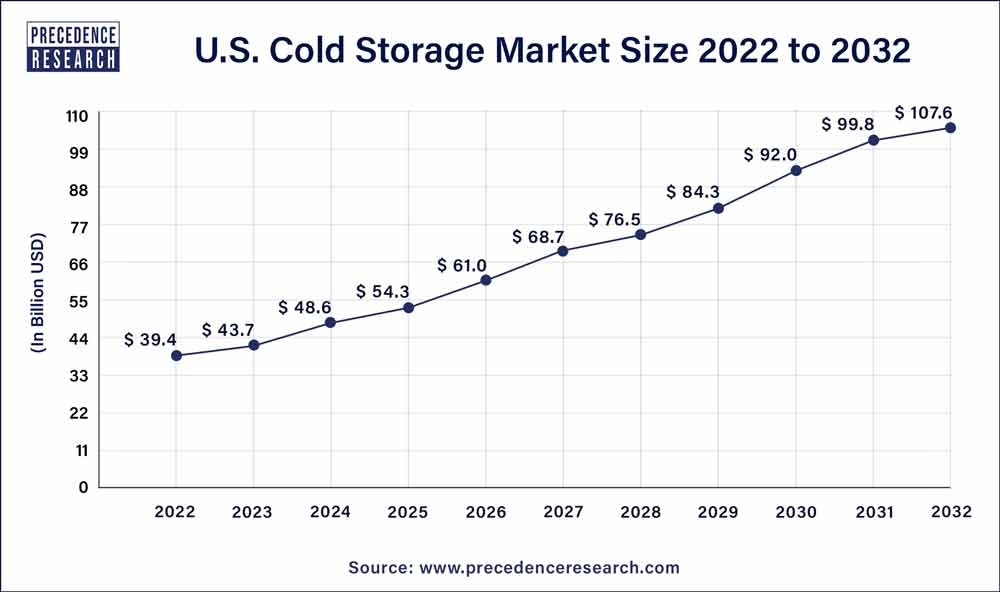 On the other hand, Asia Pacific is estimated to be the most opportunistic market. The Asia Pacific region was valued USD 22,154.7 million in 2020 and expected to reach at USD 53,132.5 million by 2027. The rising urban population, rising disposable income, rising awareness regarding frozen food, rising penetration of organized retail sector, and increased demand for the convenience food among the consumers is fostering the demand for the cold storage systems in the region.
The china cold storage market was valued USD 9,714.6 million in 2020 and expected to reach at USD 21,949.0 million by 2027.
The brazil cold storage market was reached USD 4888.46 million in 2020 and is projected to reach at USD 11,272.87 million by 2027.
The south africa cold storage market was estimated at USD 1,364.77 million in 2020 and is predicted to hit at USD 3,231.06 million by 2027.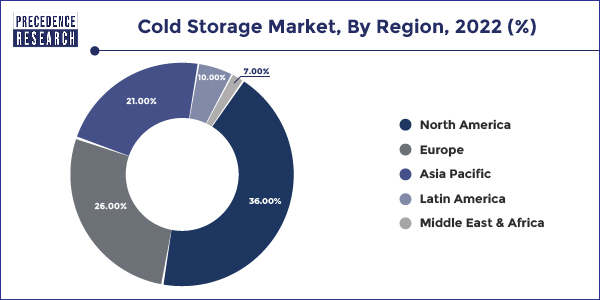 Cold Storage Market Overview
Cold storage is substantially more complicated than dry storage because of the regulations around refrigerated freight. Because chilled warehousing is more expensive, many manufacturers choose to outsource their cold storage to third-party logistics companies. As the demand for refrigerated products transportation grows, so does the demand for value-added services like repacking and consolidation. Because of these higher expectations, 3PLs have a poorer return on investment for cold storage and must enhance their processes and facilities to stay viable.
Many 3PLs struggle to manage one-size-fits-all warehouses as clients have a rising number of customized requests depending on the needs of their end users. With so many different customer requirements, 3PLs are increasingly creating specialized cold storage facilities for their clients. While this allows 3PLs to work more efficiently based on the demands of a specific customer, it is a hazardous venture because it is difficult to lock price-sensitive customers into long-term contracts.
The evolution of the cold storage sector is being shaped by a variety of consumer needs, which aren't restricted to added value services. They have to do with the nature of the things being stored as well. Different items have different shelf life, temperature ranges in which they must be stored, and the amount of time they can spend between a cold storage facility and a transportation vehicle without spoiling.
Some products that may necessitate cold storage or at the very least a temperature-controlled warehousing solution include:
Perishable nutrient products
Perishable food (vegetables, fruits, meat and seafood, dairy products)
Flowers and plants
Biopharmaceutical products
Artwork
Growth Factors
The global cold storage market is primarily driven by the increased trade of the perishable products. The increased health consciousness regarding the benefits of healthy food consumption such as consumption of fresh dairy products, fruits & vegetables, meat, eggs, and seafood owing to their protein content is boosting the growth of the cold storage market. Cold storage helps to preserve the essential nutrients like protein in the perishable food products for longer time period. The rising demand for the food products among the consumers is increasing the importance of cold storage. Moreover, the free trade of food products across the globe owing to the globalization played a crucial role in the development of the cold storage market. The rising demand for the enhanced supply chain and logistics is propelling the demand for the cold storage systems across the globe. The distribution system plays a crucial role for delivering products to the end users and hence the demand for the advanced cold storage system is on the rise to prevent the loss of food products owing to the passage of time.
The rapidly growing organized retail sector is expected to propel the demand for the cold storage systems during the forecast period. The rapid growth of the retails chains such as supermarkets, hypermarkets, convenience stores, and other retailers, especially in the developed markets of Europe and North America has significantly boosted the growth of the cold storage market in the past. The food retail giants such as Walmart, 7 Eleven, and Tesco requires large transport fleet for the distribution of the perishable goods. The growing penetration of these retail chains in the developing countries like India, Brazil, Argentina, UAE, and Saudi Arabia is expected to present a lucrative growth opportunities for the cold storage manufacturers in the forthcoming years. Moreover, rising population, developing infrastructure, rising demand for food, and rising disposable income in the developing countries is expected to boost the demand for the perishable food products exponentially, which in turn would drive the growth of the cold storage market.
Report Scope of the Cold Storage Market
| | |
| --- | --- |
| Report Highlights | Details |
| Market Size in 2022 | USD 133.18 Billion |
| Market Size by 2027 | USD 243.73 Billion |
| Growth Rate from 2022 to 2027 | CAGR of 12.59% |
| Largest Market | North America |
| Fastest Growing Market | Asia Pacific |
| Base Year | 2021 |
| Forecast Period | 2022 to 2027 |
| Segments Covered | Warehouse, Temperature, Construction, Application, Region |
| Companies Mentioned | Burris Logistics, Americold Logistics, Lineage Logistics Holdings, Nichirei Corporation, Tippmann Group, Agro Merchants Group, Kloosterboer, United States Cold Storage, VersaCold Logistics Services |
Market Drivers
Growing demand for dairy products to drive the demand for cold storage
During the COVID-19 epidemic, the dairy industry has shown remarkable resilience. Fresh liquid milk and fresh dairy products were particularly sensitive to supply chain disruptions due to their perishable nature; nonetheless, the dairy sector was not as badly affected as other industries on a worldwide scale. The pandemic's effects varied by location, with negative consequences ranging from shipping container shortages to surplus goods disposal. Other countries, on the other hand, rapidly and successfully reacted to production and labor concerns, with minor disruptions to their normal trade environment. Many countries imposed restrictions on away-from-home consumption, which often includes a high proportion of dairy products; however, at-home consumption (retail sales) compensated for part of these losses. There were no serious shortages or surpluses worldwide as a result of swift production and packaging modifications.
Over the projection period, global milk production (approximately 81 percent cow milk, 15% buffalo milk, and 4% for goat, sheep, and camel milk combined) is expected to expand at 1.7 percent each year (to 1 020 Mt by 2030, faster than most other major agricultural commodities). Because herds are expected to grow faster in nations with lower yields and with herds made up of lower yielding animals, the forecast growth in the number of milk-producing animals (1.1 percent per year) is larger than the estimated average yield growth (0.7 percent) (i.e. goats and sheep). India and Pakistan, both major milk producers, are predicted to contribute more than half of the rise in global milk output during the next ten years, accounting for more than 30% of global production in 2030. Due to rules on sustainable production and slower domestic demand growth, the European Union, the world's second largest milk producer, is predicted to increase at a slower rate than the worldwide average.
The majority of dairy production is consumed in the form of unprocessed or barely processed fresh dairy products (i.e. pasteurized or fermented). Fresh dairy products' proportion of global consumption is predicted to grow over the next decade, owing to robust demand growth in India, Pakistan, and Africa, fueled by rising income and population. Per capita consumption in rich nations is expected to increase modestly from 23.6 kg in 2018-20 to 25.2 kg (milk solids) in 2030, compared to 10.7 kg to 12.6 kg in underdeveloped countries. In developed countries, processed dairy products are preferred, whereas in underdeveloped countries, fresh dairy products account for more than 75 percent of average per capita dairy intake in milk solids. In developing countries, regional inequalities are enormous, with fresh dairy product consumption ranging from 99 percent in Ethiopia to 5.8 percent in the Philippines.
Global dairy product consumption, 2018-2025 (KT PW)
| | | | | |
| --- | --- | --- | --- | --- |
| | Average 2018-20 | 2021 | 2023 | 2025 |
| Fresh Dairy Products | 4,28,250 | 4,36,411 | 4,61,316 | 4,82,439 |
| Butter | 11,632 | 12,053 | 12,581 | 13,086 |
| Cheese | 24,044 | 24,658 | 25,342 | 25,921 |
Processed dairy product consumption varies greatly by area. Cheese is the second most important dairy product in terms of milk solids consumed (after fresh dairy products). Cheese is predominantly consumed in Europe and North America, and consumption in both countries is increasing. Butter is the most popular processed dairy product in Asia, accounting for over half of all milk solids consumed in the region. Butter is also expected to develop at the fastest rate, although starting from a low foundation in comparison to Europe and North America. The majority of processed dairy consumption in milk solids in Africa is made up of cheese and WMP (whole milk powder). SMP, on the other hand, is predicted to grow the fastest over the next ten years, albeit from a smaller consumption base.
Market Restraint
High energy consumption required by cold storage solutions to restrain market growth
Almost every stage of the supply chain requires temperature management. Cooling has become a requirement for maintaining present food supply networks and meeting global food demand. A number of societal, economic, and technological factors have resulted in refrigeration reliance. People began to have more money to spend but less time to shop for food as a result of higher household incomes, which spurred the development of supermarkets and home refrigerators. People's dietary choices shifted as well, with a greater desire for processed and frozen meals, as well as foods not produced locally, such as imported fruit and vegetables that travel vast distances.
As a result, effective long-term safe food storage along the supply chain has become critical for the continued operation of present food systems. Refrigeration, packaging, food transportation, food product improvements, and numerous socio-economic developments have all contributed to the creation of highly energy-dependent cultural norms and practices.
When economic progress brings higher demand for food safety, freshness, and quality, and when some economies rely on exporting food to more industrialized countries, it's impossible to avoid refrigeration dependency. Given the world's limited fossil fuel supplies, as well as fluctuating and growing costs, there are concerns about how this may affect future food supply chains, as well as the urgent need to reconsider the role of energy when contemplating possibilities for enhancing food systems. Because commodity prices, including food, are often tied to global energy prices, energy use is particularly crucial. Food costs fluctuate and trend upward in tandem with global energy prices, resulting in a rapid increase in food insecurity.
Market Opportunity
Renewable refrigeration technologies to open new market opportunities
Cooling is the fastest-growing energy usage, but it's also one of the most critical energy discussion blind spots today. In many nations, rising cooling demand is putting great strain on electrical infrastructure and driving increasing emissions. In order to reach the EU's climate targets by 2050, the European Commission's Heating and Cooling Strategy cites initiatives such as "raising the percentage of renewables" and "reuse of energy waste from industry" as two critical areas for decarbonizing cooling. As a result, new technology development and adoption are crucial to satisfy end users' timely need by flexibly 'absorbing' renewable energy and/or waste heat and then 'converting into' and 'storing' cooling energy.
The work tackled the most difficult aspect of developing and using cryogenic slurry, which is the suspension of PCM microcapsules in a carrier fluid. Cryogenic slurries are ideal cold storage candidates because they can be transported by pumps (high fluidity), and their effective temperature-dependent heat capacity can be easily designed by combining different capsules with low freezing point core PCMs to reduce exergy loss during charging and discharging processes.
Furthermore, experts in the School of Chemical Engineering are directing a green cooling technologies program including 12 research institutions and 5 industrial enterprises from across the world, with the goal of bringing new cooling technologies to market faster. The EU's Horizon 2020 program's Marie Sklodowska-Curie Research and Innovation Staff Exchange program is funding a four-year project called CO-COOL.
Warehouse Type Insights
Based on warehouse type, the public stores segment accounted for over 65% of the market share in 2021. The public warehouse offers certain services such as goods handling, transportation, and storage at a cheap cost. The public warehouse capacity is around 75% of the refrigerated storage capacity in the US, as per the Global Cold Chain Alliance. Public warehouses helps the traders or the manufacturers to store the perishable products at a low cost and fosters the distribution network.
On the other hand, the private warehouse segment is expected to be the fastest-growing segment during the forecast period. This is attributable to the rising investments by the retail giants to construct their own warehouses to offer fast delivery at a minimal cost. The rapid growth of the online food and groceries is further expected to drive the segment growth. The growing participation of the retail giants in the online and home delivery business has necessitated to build their own warehouses to offer quick and convenient delivery to their customers. This factor is boosting the growth of this segment.
Temperature Type Insights
Based on temperature type, the frozen food segment dominated revenue share of over 80% in 2021 and is projected to witness remarkable CAGR over the forecast period. The increased consumption of the frozen food products in the developed markets and rising demand for the frozen food in the developing markets are the significant contributors of the frozen segment growth. The major items stored in frozen temperature type segment includes fruits, vegetables, fish, meat, dry fruits, eggs, dairy products, and various others. This segment is expected to remain dominant throughout the forecast period owing to the rising demand for the perishable food products and the increasing awareness regarding the unaltered nutrients in the frozen food. Further, the busy and hectic lifestyle of the consumers have led to the increased demand for the ready-to-cook and ready-to-eat food products, which spurs the growth of this segment.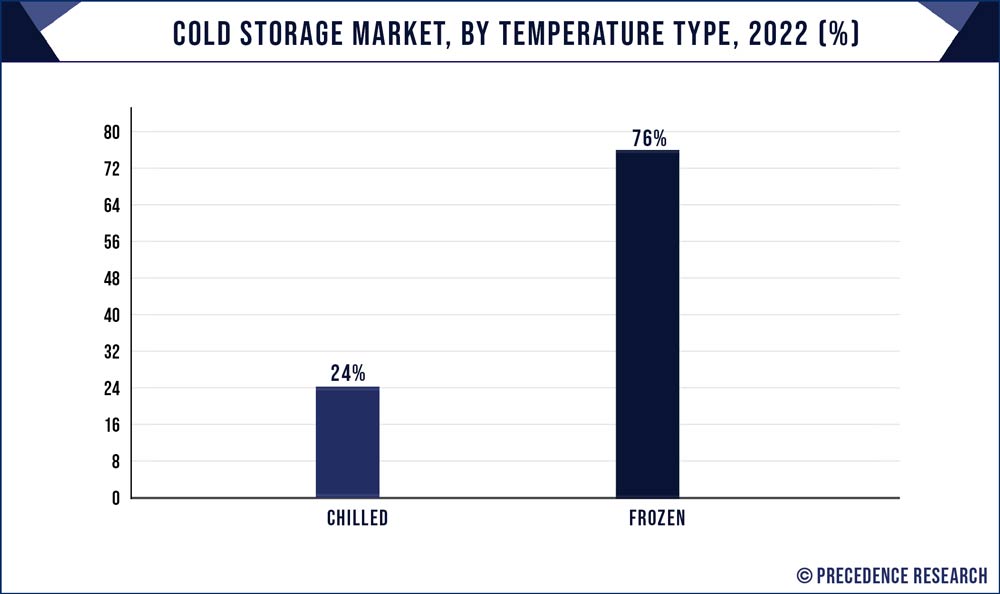 The chilled segment is expected to register a significant CAGR during the forecast period. Chilling is in demand as it prevents the spoilage of food by preventing harmful bacteria growth. To store the perishable products for longer time period, the segment is expected to foresee a significant growth rate.
The frozen segment was valued at USD 83.096.6 million in 2020 with a CAGR of 11.91% from 2021 to 2027.
The chilled segment was reached at USD 25,133.4 million in 2020 with a CAGR of 14.67% from 2021 to 2027.
Application Insights
Based on application, the dairy segment has accounted 36% revenue share in 2021 and is projected to sustain its dominance during the forecast period. The increased demand for the animal based protein such as cheese, milk, and butter has fostered the growth of this segment in the past. The milk and other dairy products are perishable and are associated with foodborne diseases. Hence the proper storage facilities for the dairy products has higher demand.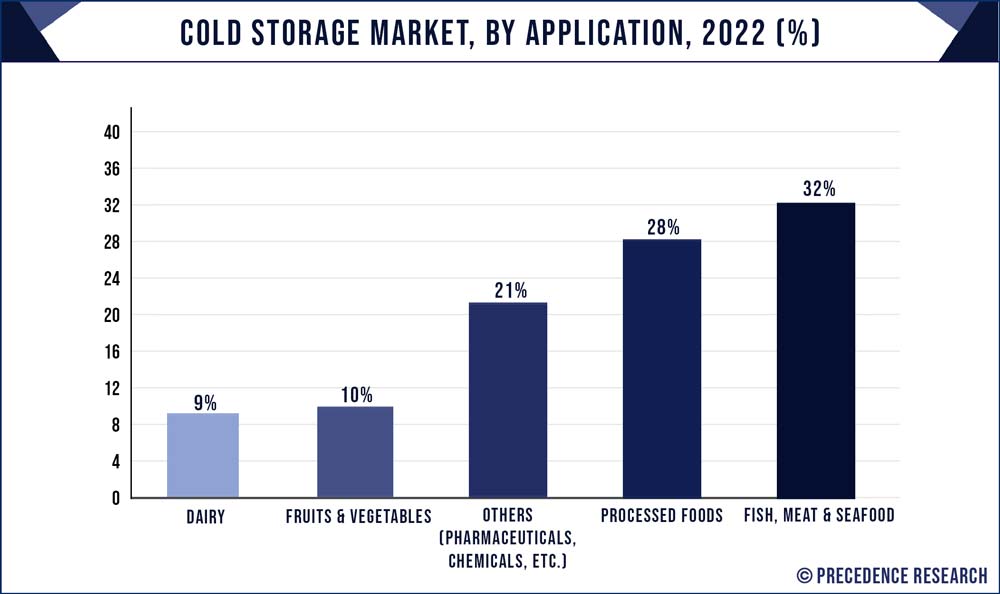 The fish, meat, & seafood segment is expected to be the fastest-growing segment during the forecast period. The increasing demand for the various meat such as fish, poultry, beef, lamb, and pork among the global consumers is boosting the demand for the advanced cold storage systems all over the globe.
The Fruits & vegetables segment was estimated at USD 10,769.9 million in 2020 with a CAGR of 13.28% from 2021 to 2027.
The dairy segment was accounted at USD 8,998.7 million in 2020 with a CAGR of 13.98% from 2021 to 2027.
The Fish, meat & seafood segment was surpassed at USD 34,746.2 million in 2020 with a CAGR of 12.22% from 2021 to 2027.
Key Companies & Market Share Insights
The market is moderately fragmented with the presence of several local companies. These market players are striving to gain higher market share by adopting strategies, such as investments, partnerships, and acquisitions & mergers. Companies are also spending on the development of improved products. Moreover, they are also focusing on maintaining competitive pricing.
In January 2020, Americold Logistics completed the acquisition of Nova Cold Logistics to expand and strengthen its position in Canada.
The various developmental strategies like acquisition, partnerships, mergers, and government policies fosters market growth and offers lucrative growth opportunities to the market players.
Some of the prominent players include:
Americold Logistics
Lineage Logistics Holdings
Nichirei Corporation
Burris Logistics
Agro Merchants Group
Kloosterboer
United States Cold Storage
Tippmann Group
VersaCold Logistics Services
Henningsen Cold Storage Co
Coldman
Congebec Inc.
Conestoga Cold Storage
NewCold
Hanson Logistics
Segments Covered in the Report
(Note*: We offer report based on sub segments as well. Kindly, let us know if you are interested)
By Warehouse Type
By Temperature Type
By Construction
Bulk Storage
Production Stores
Ports
By Application
Dairy
Processed Food
Fruits & Vegetables
Fish, Meat, & Sea Food
Pharmaceuticals
By Geography
North America
Europe
Asia Pacific

China
India
Japan
South Korea

Rest of the World