The US cold storage market size was valued at USD 39.43 billion in 2022 and is projected to hit around USD 68.72 billion by 2027.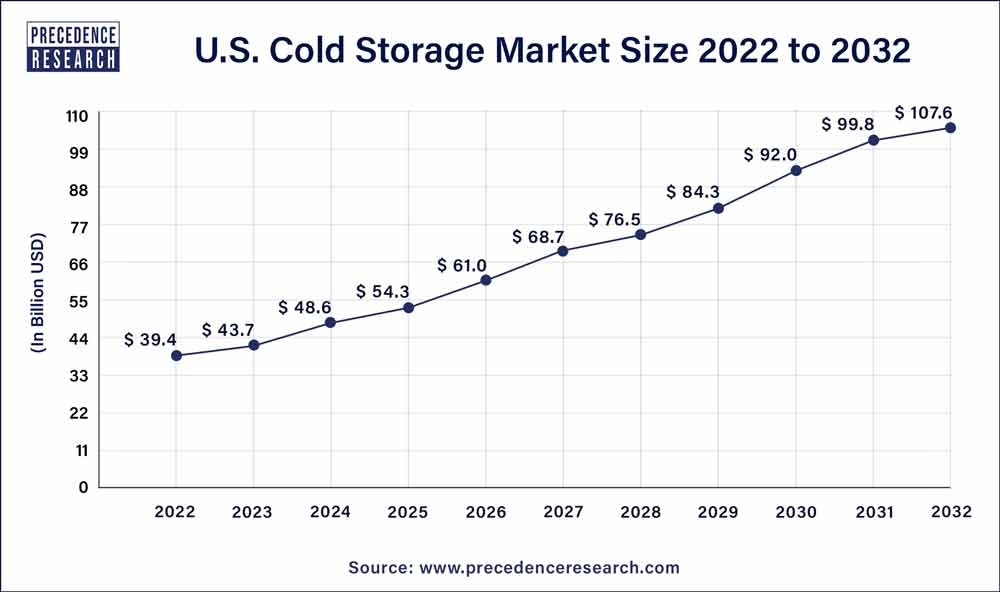 Market Overview:
Cold storage is used for the preservation of food items for the long term, cold storage helps in preserving food long term means its shelf life increases and its looks fresh and having exactly the same test. There are many types of cold storage equipment it helps in long-term storage in warehouses and it includes frozen storage, dry storage, and chilled refrigerated storage. Cold storage is a widely used method for bulk handling of food production till the marketing processing. some dairy products, meat, seafood, vegetables, and fruits have very limited life spans after harvesting or producing moreover cold storage or cooling instantly removes the heat and allows for a longer storage period. Cold storage are also used for the storage of medicines and vaccine for its efficacy.
Report Scope of the US Cold Storage Market
| | |
| --- | --- |
| Report Coverage | Details |
| Market Size in 2022 | USD 39.43 Billion |
| Market Size by 2027 | USD 68.72 Billion |
| Segments Covered | By Warehouse Type, By Temperature Type, By Application |

Market Dynamics:
An increase in the demand of dairy product drive the market growth
Increase the demand of process food, meat, and dairy product in the US population because of the increasing young population as they like to consume more processed food in addition to this person from the united states are focused on vegan food as mostly aware of the benefits of vegan food. According to Ipsos (the global market research company), there are 9.7 million are vegan. The vegan frozen meals contain plant-primarily based totally meals merchandise and plant-primarily based totally dairy options. The call for vegan frozen meals in international locations which include the United Kingdom and the United States has increased.
The health concern nowadays increases among consumers as increases many types of diseases, coupled with the implementation of stringent quality standards in the US region so people believed on fresh goods and quickly available medicines, so it required large amounts of cold storage.
The requirement of high energy and less availability of fossil fuel restrain the market growth
Powerful long-time period secure meals garage alongside the delivery chain has come to be important for the continuing operation of gift meals systems. Refrigeration, packaging, meal transportation, meal product improvements, and several socio-monetary trends have all contributed to the introduction of pretty energy-established, it required more amount of energy and due to less availability of fossil fuel hindered the market growth.
Availability of renewable refrigerator technology
As the increasing demand of process food, meat, fresh veggies, and fruits increases the demand of cold storage. The cold storage required more amount of energy for cooling and temperature maintenance. The United States is working on renewable refrigeration technology it increasing the opportunity in the cold storage market.
Covid 19 Impact:
The COVID-19 pandemic that originated in China has become an excessive difficulty internationally in a short time. The coronavirus spread from China to Europe after which estimated very badly on the world economy, COVID-19 caused a lockdown and tour regulations in lots of components of the world, impacting numerous business delivery chains. The survey conducted by CBRE on the impact of covid 19 on the storage sector, in many countries the essential sectors are open as more consumers buy food products in bulk and it increases the demand of online food retail and it affects the food supply chain.
Segments Insight
Warehouse Type Insights
The private storage segment is expected to be the fastest-growing segment during the forecast period, this is because retail giants are investing more in building their own warehouses to provide fast shipping at a minimal cost. The rapid growth of online groceries and groceries is expected to further drive the growth of the segment. The growing involvement of retail giants in online and home delivery businesses has necessitated the construction of their own warehouses to provide fast and convenient deliveries to their customers. On the other hand, public warehouses provide certain services such as handling, transportation, and storage of goods at reasonable costs. According to the Global Cold Chain Alliance, public storage capacity is approximately 75% of the cold storage capacity in the United States. Public warehouses help merchants and manufacturers store perishable products cheaply and facilitate their distribution network.
Temperature Type Insights
The chilled segment's warehouses keep their storage temperatures in the ranges of more than –5°C. They are used to keep fresh produce, eggs, dried fruits, milk, and dehydrated items in storage. it required less voltage as compared to frozen refrigerators. Moreover, the increasing consumption of frozen foods in developed markets and rising demand for frozen foods in emerging markets have contributed significantly to the growth of the frozen segment. The main items stored in the frozen department include fruits, vegetables, fish, meat, dried fruits, eggs, and dairy products. This segment is expected to remain dominant throughout the forecast period, owing to increasing demand for fresh food and growing awareness of the immutable nutrients of frozen food. Additionally, the busy and hectic lifestyles of consumers have increased the demand for ready-to-eat and ready-to-eat foods, driving the growth of this segment.
Application Insights
Increased demand for animal proteins such as cheese, milk, and butter has fuelled the growth of this segment in the past. Milk and other dairy products are perishable and associated with food poisoning. Therefore, there is an increasing demand for suitable storage facilities for dairy products.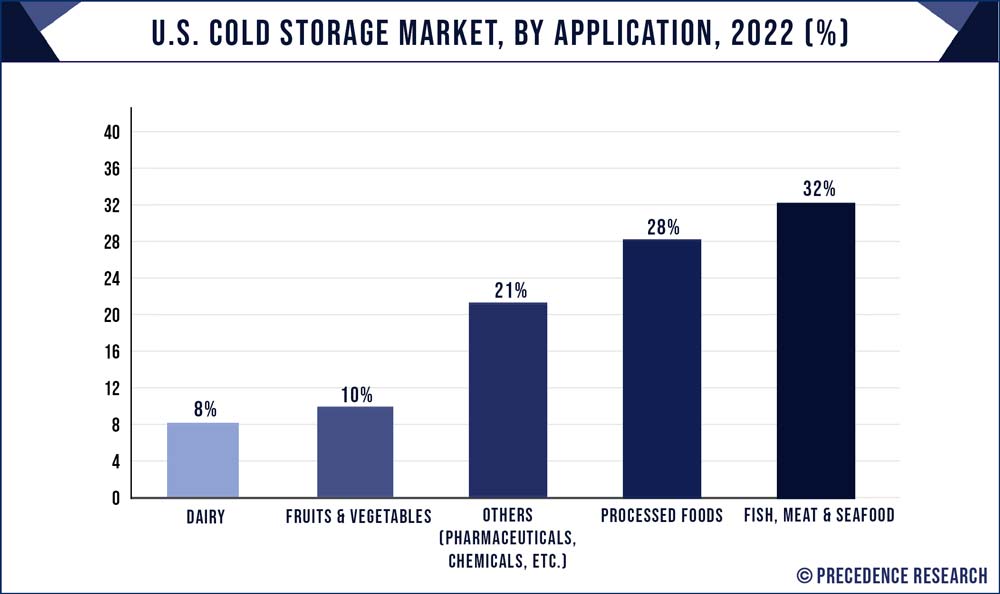 The fish, meat, and seafood segment is projected to be the fastest-growing segment during the forecast period. Rising demand for different types of meat such as fish, poultry, beef, lamb, and pork among global consumers has increased the demand for advanced refrigeration systems across the globe.
Recent Developments:
In May 2022, vertical cold storage was Acquired by three public refrigerated warehouses in medley, Marshville from us cold storage.
In January 2019, cloverleaf warehousing company announced that they entered into an agreement to merge with zero mountain,inc. (leading transportations and warehousing company, this combined companies will in top cold storage ware houses company in united states.
Key Market Players
Agro Merchants Group
Cloverleaf Cold Storage
Americold Logistics LLC
Wabash National Corporation
Burris Logistics
Americold Realty Trust
Henningsen Cold storage co.
Lineage Logistic Holdings, LLC
Nordic Logistics
United states cold storage
Segments Covered in the Report
(Note*: We offer reports based on sub-segments as well. Kindly, let us know if you are interested)
By Warehouse Type
BY Temperature Type
By Application
Fruits And Vegetables
Dairy
Fish Meet and Seafood
Processed Food
Pharmaceuticals