The global conformal coatings market size reached USD 968.97 million in 2022, and it is expected to be worth around USD 1,810.31 million by 2032, growing at a CAGR of 6.5% during the forecast period from 2023 to 2032.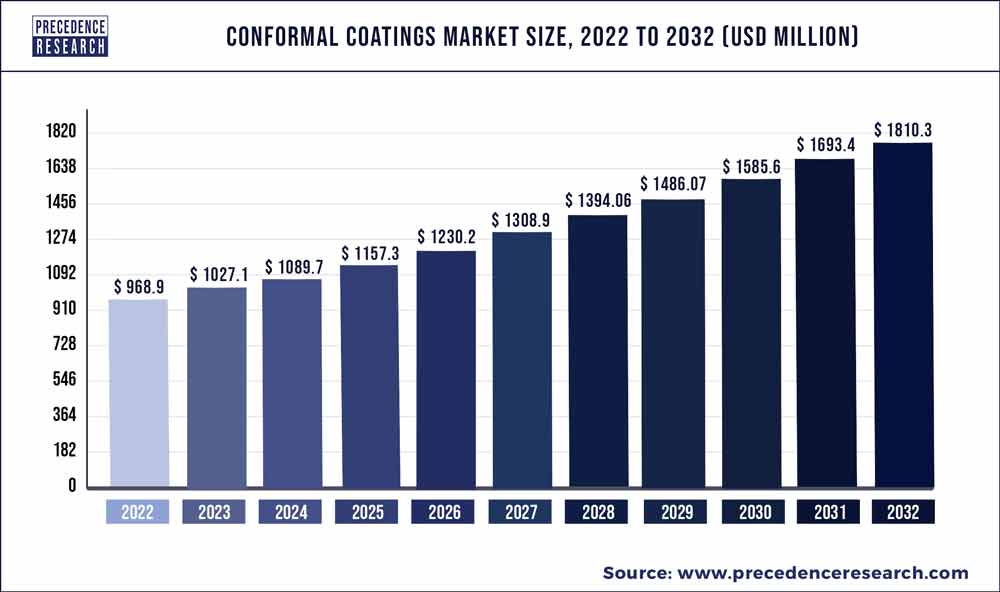 Growth Factors
Requisite of conformal coating has hit the roof on account of constant miniaturization of electronics and related circuitry since past few years. Selection of appropriate application method and type of coating has become very crucial. Mounting product demand from consumer electronics sector to safeguard PCB's from moisture, dust, heat and other harsh environmental are some of the main drivers expected to amplify growth of the market during next few years. Major influence for the growth of conformal coating market is elevated demand from its end-use sectors including automotive, electrical and electronics, medical and semiconductor. On account of promptly intensifying consumer electronic sector in most of the corners of the globe, the conformal coatings have significantly inched their way in the mobile and domestic electronics sector.
Market Dynamics
Driver: Increasing Demand for Printed Circuit Boards:
It is imperative to provide PCBs with an appropriate conformal coating to enhance their reliability in industries like medical, aeronautics, or automotive. This attribute is fueling the expansion of the conformal coatings industry. In a broad range of circumstances, printed circuit boards are insulated with conformal coatings from salt spray, moisture, extremes temperature, and chemicals to avoid electrical failures, corrosion, and mould development. Conformal coatings' insulation enables manufacturers to satisfy demands for reliability and miniaturization by allowing closer track spacing and higher voltage gradients. Due to the complexity of circuit designs brought on by electronics miniaturization, ultra-thin insulating conformal coatings are required to reduce the spacing of PCB conductors. Priority is given to coatings technology that completely cures in a brief duration to support rapid production output with a small margin for error.
Restraint
Rising Conformal Coating Failure Mechanisms and Rework:
Failures of conformal coatings are always the result of either improper substance choice or improper process design. The correct application technique and conformal covering substance must be chosen. The usual issue that may arise when dispensing and fixing conformal finishes is a failure mechanism in conformal coating processing. Moreover, delamination, cracking, capillary flow, de-wetting, and other factors are the most typical sources of reworking and flaws. For instance, acrylic finishes are comparatively simple to remove with chemical solvents. On the contrary, epoxy and perylene covering are difficult to get off.
Opportunity
Rise in the Demand for Medical Equipment:
Several nations have experienced lockdowns because of the pandemic, forcing the closure of several manufacturing facilities. The pandemic has led to a rise in demand for medical and food packaging, while other sectors, including automotive and consumer electronics, have seen downfalls. Medical equipment and device makers are functioning to their total capacity as a result of this rising demand. Due to their effectiveness in preventing exterior chemical attacks and deterioration of electrical devices, conformally coated PCBs are used for medical uses. With healthcare facilities battling the pandemic, there is a huge demand for medical equipment and devices. As a result, there is a high demand for the machinery needed to make this equipment, which opens up lucrative opportunities for the makers of conformal coatings.
Segments Insight
Product Insights
Diverse kinds of resin materials are usually utilized to formulate conformal coatings including epoxy, acrylic, silicone, polyurethane, parylene, and fluoropolymer. Among all, acrylic is predicted to record fastest growth with highest CAGR during prediction period. This progress of this material is credit to its enhanced characteristics including stress-free application, moisture resistance, and exclusion for reworking that create them favored selection for acceptance in end-use sector.
During the anticipated years, parylene coating is anticipated to grow sustainably. Many extensively used bio-medical implanted devices have been demonstrated to utilize parylene. Parylene has traditionally been useful in medical applications, strengthening and protecting a variety of equipment and systems, such as stents, elastomeric seals, mandrels, catheters, ocular implants and cochlear, and electrosurgical instruments. In addition to robotic laparoscopic devices, medical PCBs and sensors, orthopedic hardware, cochlear implants, implantable cardiac defibrillator, and pacemakers, these coatings are also employed in these devices since they are frequently used in minimally invasive and cardiovascular surgeries. For instance, as per the data, nearly 13 million laparoscopic surgeries are carried out annually worldwide. Over the subsequent years, it is predicted that these numbers will increase. Hence, there is an increase in demand for these implantable devices.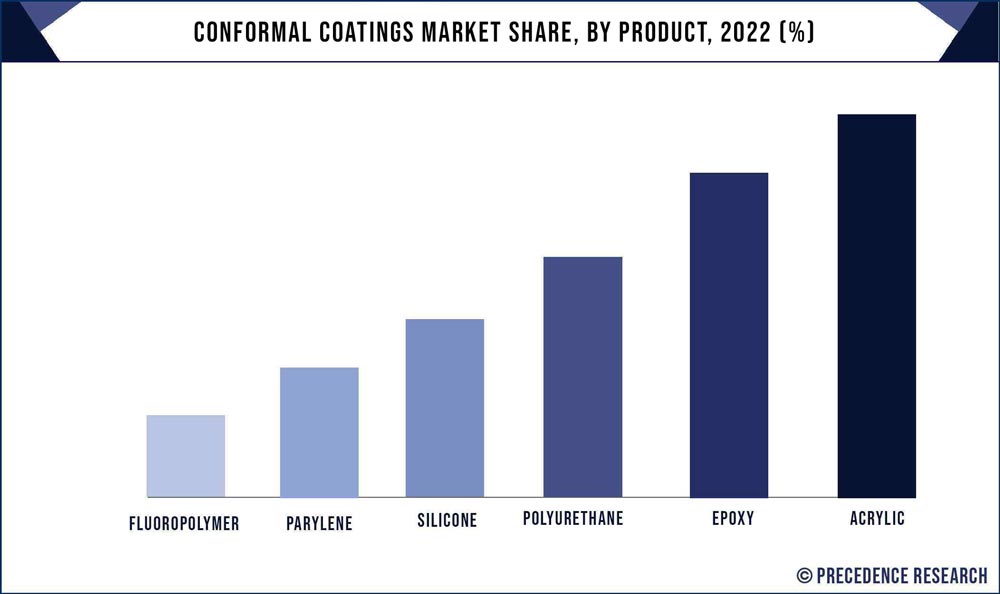 Epoxy conformal coatings own dielectric properties and are extremely resistant to solvents that are appropriate for uses in electronic devices PCBs. Further, these type of coatings are resistant and rigid to abrasion that's why they are employed in the production of circuit boards and home appliance. Conformal coatings based on silicon have been making a mark in the marketplace with significant rate of progresses. These coatings have inferior environmental footmark and offer greater reliability. Silicon based coatings are pricier than anticipated however it their price is projected to drop to price of common conformal coatings with progressions in material expertise.
It is crucial to provide long-term protection against bodily fluids, enzymes, proteins, and lipids anytime implantable devices come into contact with the human body. To shield them from chemicals, moisture, and other potentially hazardous things, biomedical surfaces often need to be coated. Perylene is particularly effective at blocking the transfer of pollutants from the body to the substrate and from the substrate to the body because it does not out-gas.
Operation Method Insights
Out of different operation methods employed in conformal coatings industry, spray coating appeared as protruding method in 2022. They are one of the extremely convenient and effectual methods of putting conformal coatings on PCBs.
End-User Insights
Global conformal coatings generate revenue by demand from different end-use sectors such as automotive, consumer electronics, medical, industrial machinery & equipment, aerospace, marine, and defense among others. The consumer electronics end-use sector is probable to inflate at a speedy rate during coming years as it is a prominent user of conformal coatings. Upsurge in automotive production and intensification in requirement for automotive with innovative features are anticipated to surge the sale of conformal coatings throughout the estimate period. Need for rigid and flexible PCBs are huge in the automotive sector across globe.
PCBs are necessary to operate everyday consumer goods, including smartphones, laptops, etc. Since manufacturers are making smaller, more technologically complex smartphones and laptops, PCBs are used in all devices. To keep the cost of the finished product low, PCBs are also inexpensive when utilized for consumer electronics. To safeguard the electronic assembly during its operational life, a conformal coating is a protective nonconductive dielectric layer that is put onto the surface of the printed circuit boards (PCB) assembly.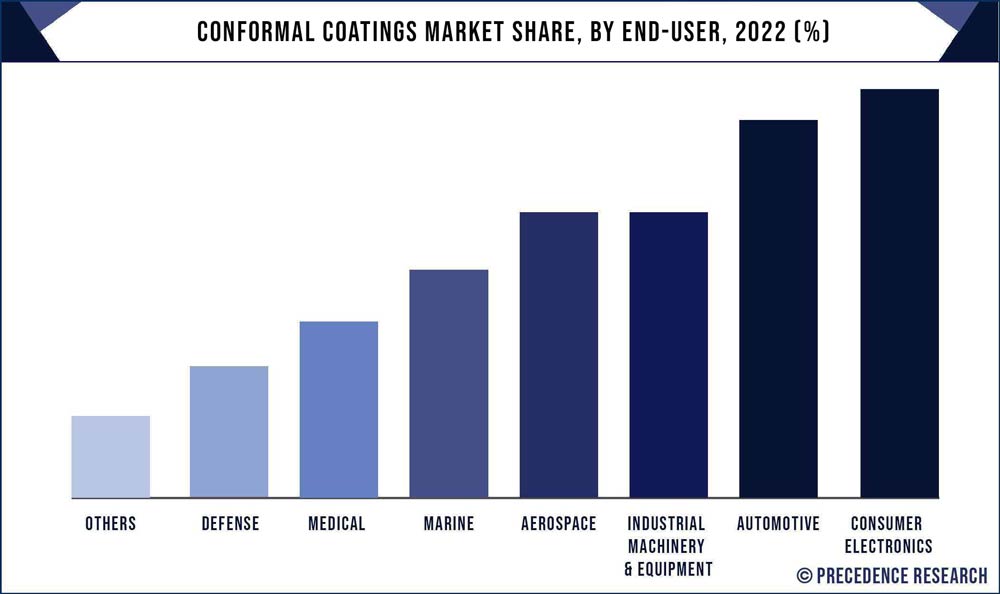 Conformal coatings are needed to defend PCBs that are utilized in digital displays, engines, radar, mirror controls and power relay timing systems. As per statistics stated by European Automobile Manufacturers' Association, the motor vehicles production was greater than 80 million in 2017. Requirement for automobiles with cutting-edge facilities has been increasing significantly across the world which requires PCB for functioning. This, in turn, is expected to lift the sale for conformal coatings in the automotive sector greatly.
Consumer goods like communication equipment, computers, and home appliances frequently use coated PCBs. For instance, the United States computer shipments totaled 17.8 million units in the third quarter of 2022. As people consistently returned to their offices, desktop sales growth in the US increased by 33%, and tablet sales growth remained strong at 5%. Thus, the consumer electronics segment is predicted to expand significantly during the anticipated time frame.
Regional Insights
Geographically, North America is expected to appear as second-largest marketplace in terms of total market value. This growth will be supported by high PCB demand from the several major electric vehicle manufacturers in this region. PCB manufacturers are also seeking ways to capture the defense and aerospace sector. This is offering alluring prospects for conformal coatings as PCBs used in these sectors must be offer protection to work in full capability throughout operations.
Due to the rising popularity of advanced applications that need conformal coatings and the region's expanding number of printed circuit board (PCB) producers, the Asia-Pacific region is anticipated to dominate the conformal coatings market. Asian nations with substantial manufacturing sectors include China, India, South Korea, and others. These sectors include consumer electronics, telecommunications, automotive, and medical devices.
Increased access to affordable raw materials in nations such as India and China led to the provision of raw materials for companies within the global electronic manufacturing sector, consequently lowering the cost of the final product. Moreover, China's aviation sector has grown significantly over the past years, partly because of the country's increasing involvement in the global commercial aircraft market and the supply chains of the biggest aerospace companies in the world. This factor has boosted the need for conformal coatings in the Asia Pacific area in the aerospace sector.
The rise of the market in India is also attributed to the expansion of the production of consumer electronics, including smartphones and other white goods. The nation's expanding electronics market is anticipated to offer significant growth opportunities for market participants. India is a significant consumer of consumer electronics and has a sizable manufacturing and industrial environment. For instance, according to the report, sales of 5G smartphones increased by 74% in 2022, with Samsung leading in the sales of these devices with a 23% share compared to Xiaomi's 21% share of the entire smartphone business.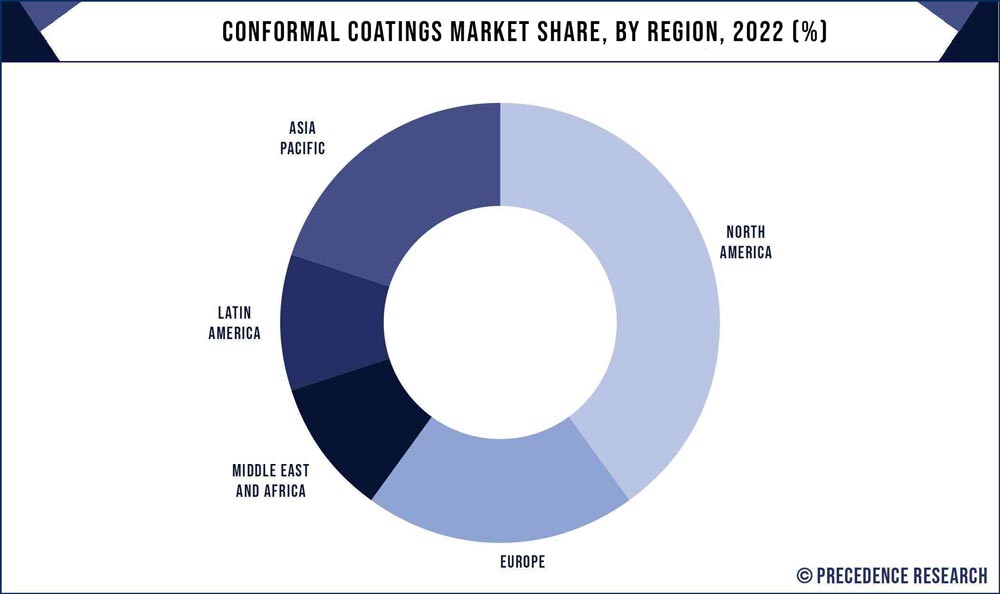 Asia Pacific is estimated as firmest budding regional market on account of huge spending in the electronics industry in China, Taiwan, South Korea and Japan that generate enormous product demand. Besides, rapid progress of the consumer electronics and automotive manufacturing industry in India is expected to fuel product demand in the region.
Europe and North America are growth marketplaces only next to Asia pacific due to high defense outlay in U.S and impending security threats. North American defense sectors stances to achieve with it being a foremost end use industry. Further, enormous growth in the U.S. is endorsed to a deep-rooted aerospace, electronics, automotive, and defense industry. Crucial companies in this region are adopting strategies such as collaboration, acquisition to attain advantage in market dynamics across the value chain.
Key Companies & Market Share Insights
Several market leaders are heavily capitalizing in R&D accomplishments in order to develop exceptional environment-friendly coatings products. Some of the noteworthy companies contending in the market arena are as below:
Dow, H.B. Fuller Company
Henkel AG & Co. KGaA
ITW
Shin-Etsu Chemical Co. Ltd
Chemtronics, KGaA.
Others
Report Scope of the Conformal Coatings Market
| | |
| --- | --- |
| Report Highlights | Details |
| Market Size | USD 1,810.31 million by 2032 |
| Growth Rate | CAGR of 6.5% from 2023 to 2032 |
| Largest Market | North America |
| Fastest Growing Market | Asia Pacific |
| Base Year | 2022 |
| Forecast Period | 2023 to 2032 |
| Segments Covered | Product, Operation Method, Technology, End User, Region |
| Companies Mentioned | Dow, H.B. Fuller Company, Henkel AG & Co. KGaA, ITW, Shin-Etsu Chemical Co. Ltd, Chemtronics, KGaA |
Recent Development
In January 2023, To connect clients with proven DOWSIL protective silicone ablatives and cutting-edge material developments for quickly expanding aerospace and satellite implementations, Dow unveiled the launch of a new website, dowablatives.com.
In January 2023, To add PlasmaGuardTM coating services to the coating range, Europlasma partnered with Specialty Coating Systems, a pioneer in conformal coating technologies and services. The breakthrough halogen-free PlasmaGuard conformal coatings for electronics are even more widely available owing to this partnership from Europlasma.
In August 2022, Dymax, a prominent supplier of rapid and light-curing equipment and supplies, partnered with Electronic Coating Technologies to offer its current defense, automotive, and aerospace clients only one solution for Parylene conformal coating services.
Segments Covered in the Report
This research study comprises comprehensive assessment of the marketplace revenue with the help of prevalent quantitative and qualitative acumens, and forecasts of the market. This report presents breakdown of market into major and niche segments. Furthermore, this research study gauges market revenue growth and its drift at global, regional, and country from 2020 to 2032. This report includes market division and its revenue assessment by categorizing it depending on product, operation method, technology, end-user and region as follows:
By Product
Epoxy
Acrylic
Silicone
Polyurethane
Parylene
Fluoropolymer
By Operation Method
Brush Coating
Dip Coating
Spray Coating
Chemical Vapor Deposition
By End-User
Automotive
ConsumerElectronics
Industrial Machinery & Equipment
Aerospace
Marine
Medical
Defense
Others
By Technology
Water-based
Solvent-based
UV Cured
By Regional Outlook
North America
Europe
Asia Pacific

China
India
Japan
South Korea

Middle East & Africa
Latin America