The global anti-corrosion coatings market size was accounted for USD 32.56 billion in 2022 and is predicted to surpass around USD 54.10 billion by the end of 2032, representing impressive CAGR of 5.21% during the forecast period 2023 to 2032. North America market has generated the revenue share of over 38% in 2022.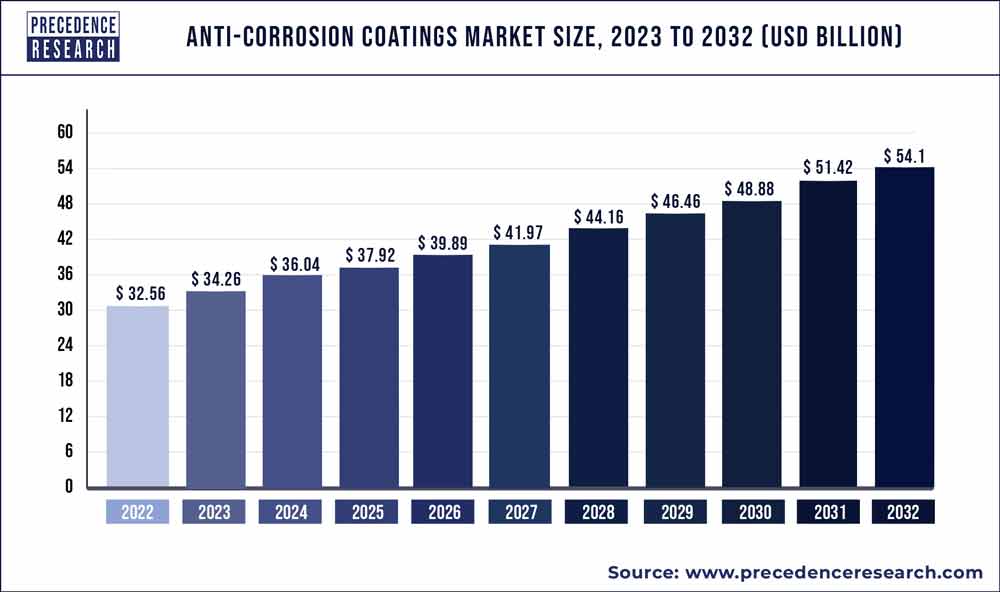 Key market Insights:
Anti-corrosion coatings are crucial tool for preventing challenges of rust across several industries. This type of coating finds application under several areas including automobiles tunnels, bridges, and protection of structures in few of the toughest environments. Anti-corrosion coatings have become an inevitability for businesses to defend the enormous investments they make in terms of property, money, and protection of workforces. These coatings are employed extensively in sectors like oil and gas, marine, petrochemical, power generation, infrastructure, and others.
Crucial factors accountable for market growth are:
Escalating requirement for thin-walled durable metallic components in the engineering of lightweight products
Development of oil and gas exploration operations in North America and Asia-pacific
Power plants anticipated to deliver development outlook to high-performance anti-corrosion coatings
Significant Market Trends:
Solvent-Based Technology Segment Recorded Prime Market Share in 2022
The solvent-based technology segment led the global anti-corrosion coatings market and reported for above 47% share in terms of revenue in 2022. This high market stake is responsible to the intensifying demand for manufacturing machines, industrial tanks, pipes, chemical storage tanks, ballast tanks, gas ducts, smoke stacks and cooling towers. Furthermore, solvent-based corrosion protection coating needs low drying time, displays humidity, enhanced temperature, and abrasion resistance.
Oil and Gas Application Sector Foretold to Emerge as Dominant Segment during Estimate Period
Anti-corrosion coating finds usage in care homes, hospitals, and drop-in centers for the product such as handles, floors, beds, ceiling paints and walls. Among all, oil & gas application segment dominated the overall market and seized above 37% share of the total revenue in 2022. This high market cut is credited to the high importance and widespread practice of corrosion protection coating in this application segment. Further, the anti-corrosion coating reduces the risk of microbes and expands surface finish and abrasion resistance.
Acrylic Material Segment is Projected to Govern the Anti-corrosion Coatings Market Revenue
Out of different material segment covered in the report, acrylic material segment conquered the market revenue with over 44% share in 2022. This high share is credited to outstanding properties offered by these materials including resistance to oxidation and weathering. Acrylic coatings are principally water-based, which bid comfort of handling and improved performance in a extensive range of areas such as roof coating, wall coating, and less cost in comparison with other materials
North America is Estimated to be the Largest Market for Anti-corrosion Coatings
The research report covers key inclinations and forecasts of anti-corrosion coatings products across diverse top graphical regions such as North America, Asia-Pacific, Europe, Latin America, and Middle East and Africa. In the past few years, the U.S. has exceeded both Saudi Arabia and Russia as the world's one of the leading producers of natural gas and oil. As the installation of pipelines upsurges, so does the risk of corrosion that emphasizes the necessity for pipeline protection. As per, National Association of Corrosion Engineers, global cost of corrosion was around USD 2.5 trillion in 2016. If the industry endures its upward path, the influence of corroded steel pipelines on the financial data is anticipated to increase.
Augmented investments in the marine, construction, and energy sectors in India and China are responsible for changing industry tendencies, which is projected to stimulate the growth of anti-corrosion coatings market. China is the largest user of anti-corrosion coatings across the world. This is mainly due to the increasing energy demand and necessity of maintenance in the transportation sector.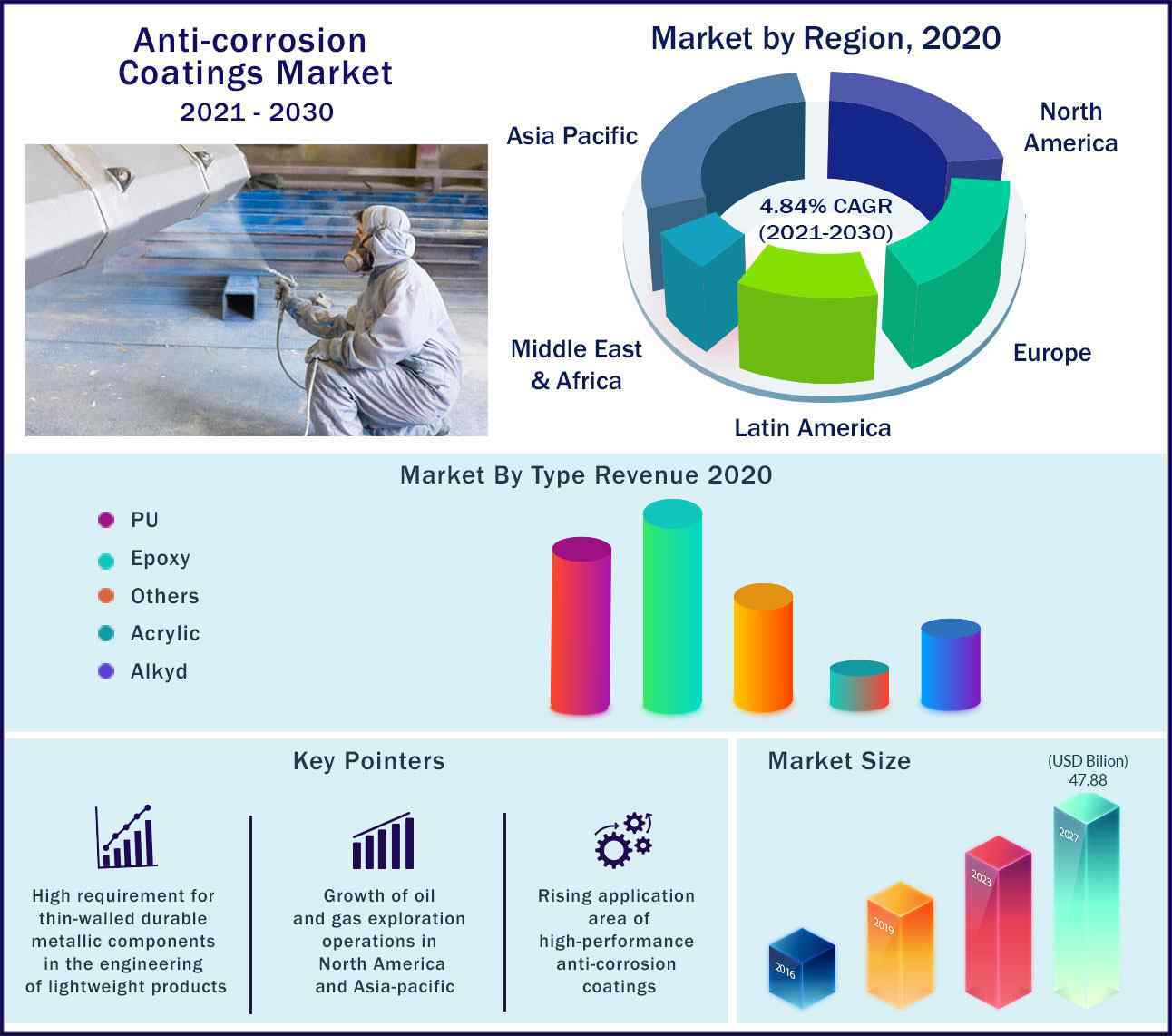 Top Players contending in the Market:
Prominent market participants are emphasizing on tactics such as novel product launch, business development, collaborations and acquisition to withstand the strong market rivalry. Leading competitors contending in global anti-corrosion Coatings market are as follows:
Akzo Nobel N.V.
Axalta Coating Systems, LLC
Kansai Paint Co., Ltd.
BASF SE
Ashland
Hempel A/S
Jotun
PPG Industries, Inc.
The Sherwin-Williams Company
In order to better recognize the current status of acceptance of Anti-corrosion Coatings, and policies adopted by the foremost countries, Precedence Research predicted the future evolution of the Anti-corrosion Coatings market. This research study bids qualitative and quantitative insights on the Anti-corrosion Coatings market and an assessment of the market size and growth trends for potential market segments.
Report Scope of the Anti-corrosion Coatings Market
| | |
| --- | --- |
| Report Highlights | Details |
| Market Size | USD 54.10 Billion by 2032 |
| Growth Rate | CAGR of 5.21% from 2023 to 2032 |
| Largest Market | North America |
| Fastest Growing Market | Asia Pacific |
| Base Year | 2022 |
| Forecast Period | 2023 to 2032 |
| Segments Covered | By Type, By Material and ByEnd User |
| Companies Mentioned | Akzo Nobel N.V., Axalta Coating Systems, LLC, Kansai Paint Co., Ltd., BASF SE, Ashland, Hempel A/S, Jotun, PPG Industries, Inc. |

Major Market Segments Covered:
By Type
Water-based
Solvent-based
Powder
Others
By End-User
Building & Construction
Oil & Gas
Marine
Aerospace and Defense
Automotive & Rail
Others
By Material
Polyurethane
Epoxy
Acrylic
Alkyd
Zinc
Others
By Geography
North America
Europe

Germany
France
United Kingdom
Rest of Europe

Asia Pacific

China
Japan
India
Southeast Asia
Rest of Asia Pacific

Latin America

Brazil
Rest of Latin America

Middle East & Africa (MEA)

GCC
North Africa
South Africa
Rest of Middle East & Africa