The global industrial coatings market size was estimated at USD 85.63 billion in 2021 and is expected to hit over USD 111.93 billion by 2030, growing at a impressive CAGR of 3% during the forecast period 2021 to 2030.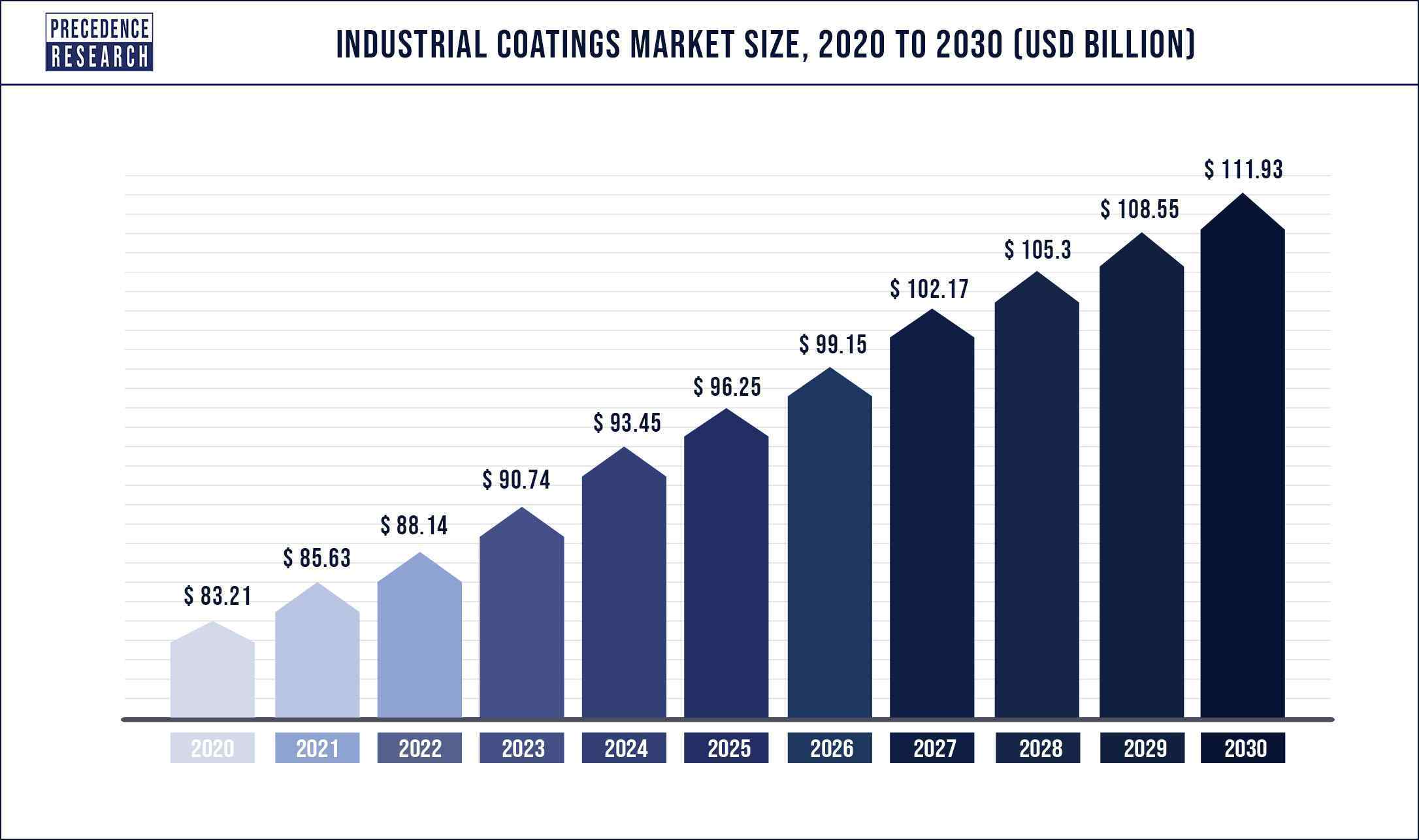 Escalating demand for high durable products and snowballing application of powder coatings are anticipated to bid several prospects for the growth of the industrial coatings market.
Requirement for efficient process and durable coatings with improved aesthetics are further adding to the market growth. Today, industrial coating products are sold with a multi-year guarantee alongside corrosion, typically as a result of developments in the performance of coatings. In order to further enhance performance, producers are continuously launching new products in the marketplace that have environmentally-friendly features. The technologies that are currently employed to produce coatings vary from solvent-based technology utilized beforehand. Thus, such introduction of novel technologies has substantially augmented the performance and demand of coatings across various sectors.
However, COVID-19 has exposed numerous confronts for the industrial coatings marketplace through affecting both general industrial and automotive sectors. Foremost markets of every region have impacted on account of pandemic and caused in slowdown in under takings across the businesses that employ industrial coatings. Industries like packaging will advantage while others are anticipated to be adversely impacted in the year 2020 and 2021. The market is anticipated to improve from 2021 on with transportation and industrial accomplishments getting back on track and working with full capabilities. Further, global industrial coatings industry is also facing numerous environmental issues with the cumulative focus on meeting local and state regulations for wastewater exemption.
Technology Insights
Among different types of industrial coatings, solvent-borne coatings are estimated to observe a substantial growth in demand in evolving nations such as Brazil, China, India, and Russia. This growth is mainly due to swift infrastructure development and mounting general industrial sector.
Product Insights
Among different product segments, Acrylic was the largest product segment dominated the global industrial coating market with majority of revenue share in 2019. They are extensively employed in structural steel, construction equipment, industrial site, pipes, metal coating, automotive, heavy casting, consumer appliances and other applications. Characteristics including fire resistance, abrasion resistance, vapor permeability, high weathering resistance, UV light resistance and gloss retention are stimulating its demand amongst aforementioned applications. Furthermore, acrylic coatings are employed in numerous formulations comprising waterborne, solvent-borne, and powder-based.
End-user Insights
Different end-users analyzed in the industrial coating market include electronics, aerospace, general industrial, marine, mining, power generation, automotive & vehicle refinish, oil & gas and others. Some of the major influences motivating the growth of industrial coatings market are requirement for efficient process and durable coatings with improved aesthetics, growing demand for environmentally-friendly coatings and increasing requirement from emerging nations of Asia Pacific. Automotive OEM is an essential part of automotive engineering sector. Coatings offer outstanding durability and quality to automotive equipment. Automotive OEM coatings offer exceptional mechanical properties that defend automobiles from environment, chemical exposure and scratches. Coating is applied on the inner parts of an automotive to develop the surface area of the automotive body. Cumulative automobile fabrication mainly in Asia Pacific region is anticipated to surge the demand for industrial coatings in this region. Further, industrial coatings find application in general industry to defend the structure from UV radiation, corrosion, wear and tear, and improve its competence. Industrial coatings can also benefit to advance abrasion and impact resistances.
Regional Insights
Though, Asia Pacific region emerged as most opportunistic regional market for industrial coatings, established markets in Western Europe and North America are also anticipated to exhibit optimistic spots. In 2019, Asia Pacific led the global market in terms of revenue on account of obtainability of low labor at low cost, availability of cheap raw material, and budding urban population in the region. Further,presence of huge number of automotive manufacturing plants across the region also adds to the growth of the market.
China has evolved as leading consumer and led the market revenue in Asia pacific in 2019 This growth is credited to the country being the prevalent producer of automotive with a rising automotive refinishes market. However,current outbreak of COVID-19 is rigorously affecting the global industrial sector. Infrastructural expansion activities and production and operation have decelerated globally meant to limit the spread of coronavirus, which is further projected to influence the growth of industrial coatings market across the globe.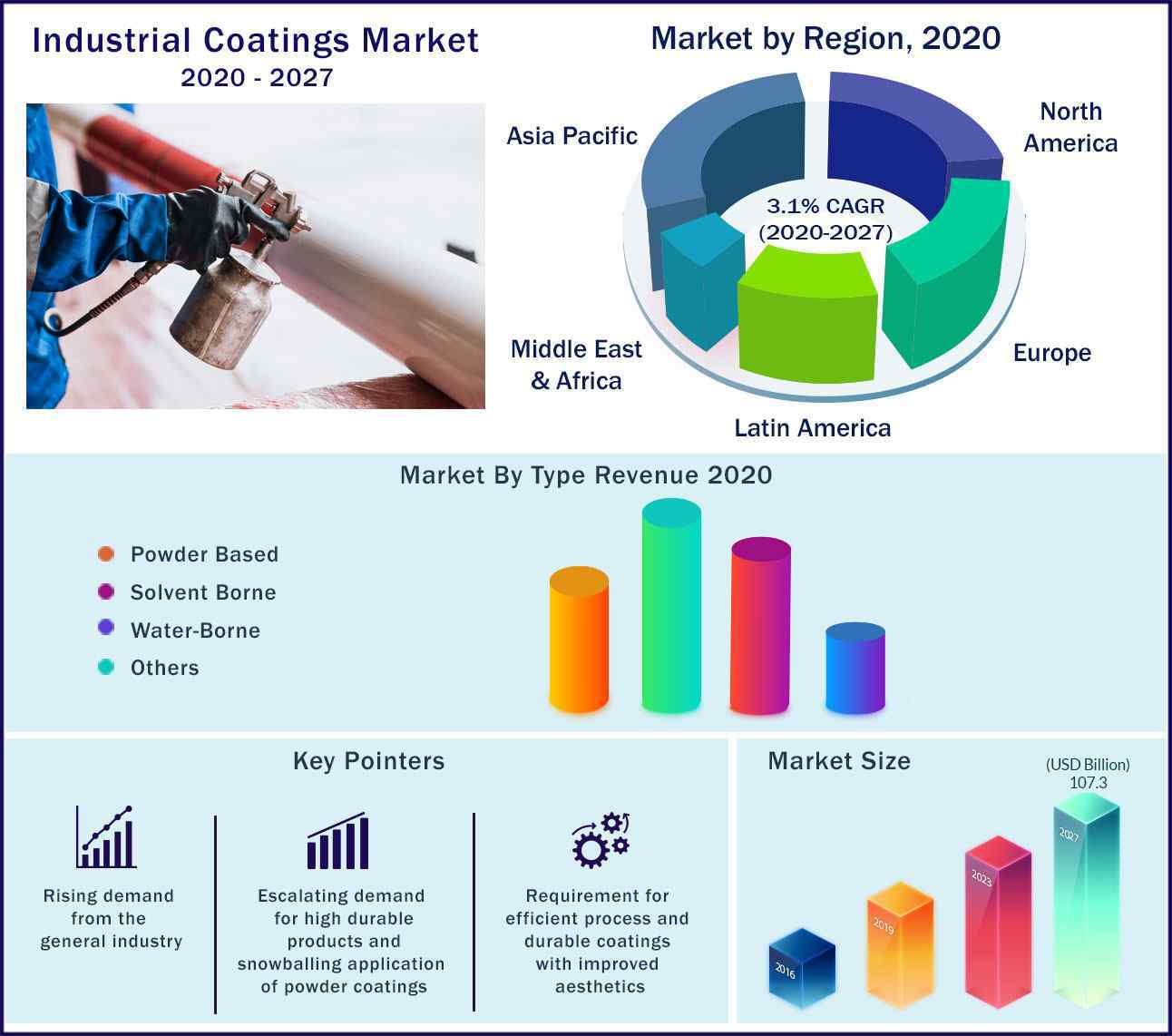 Key Companies & Market Share Insights
Global Industrial coatings industry is a consolidated market amongst the top companies accounting for foremost share of the market. Some of the important players in the industrial coatings market include:
Hempel A/S
PPG Industries, Inc.
Akzo Nobel N.V.
Axalta Coating Systems, LLC
Jotun
The Sherwin-Williams Company
Nippon Paint Holdings Co., Ltd.
Report Scope of the Industrial Coatings Market
| | |
| --- | --- |
| Report Highlights | Details |
| Market Size | USD 107.32 Billion by 2027 |
| Growth Rate | CAGR of 3.02% from 2021 to 2027 |
| Largest Market | Asia Pacific |
| Fastest Growing Market | North America |
| Base Year | 2021 |
| Forecast Period | 2021 to 2027 |
| Segments Covered | Technology, Product, End User, Regional Outlook |
| Companies Mentioned | Hempel A/S, PPG Industries, Inc., Akzo Nobel N.V., Axalta Coating Systems, LLC, Jotun, The Sherwin-Williams Company, Nippon Paint Holdings Co., Ltd. |
Segments Covered in the Report
This research report includes complete assessment of the market with the help of extensive qualitative and quantitative insights, and projections regarding the market. This report offers breakdown of market into prospective and niche sectors. Further, this research study calculates market revenue and its growth trend at global, regional, and country from 2016 to 2027. This report includes market segmentation and its revenue estimation by classifying it on the basis of product, technology, end-userand region as follows:
By Technology
Powder Based
Solvent Borne
Water-Borne
Others
By Product
Epoxy
Acrylic
Alkyd
Polyurethane
Polyester
Others
By End-user
Electronics
Aerospace
General Industrial
Marine
Mining
Power Generation
Automotive & Vehicle Refinish
Oil & Gas
Others
By Regional Outlook
North America
Europe
Asia Pacific

China
India
Japan
South Korea

Middle East & Africa
Latin America