The global industrial coatings market size was estimated at USD 145.15 billion in 2022 and is expected to hit over USD 209.40 billion by 2032, growing at a impressive CAGR of 3.9% during the forecast period 2023 to 2032. Escalating demand for high durable products and snowballing application of powder coatings are anticipated to bid several prospects for the growth of the industrial coatings market.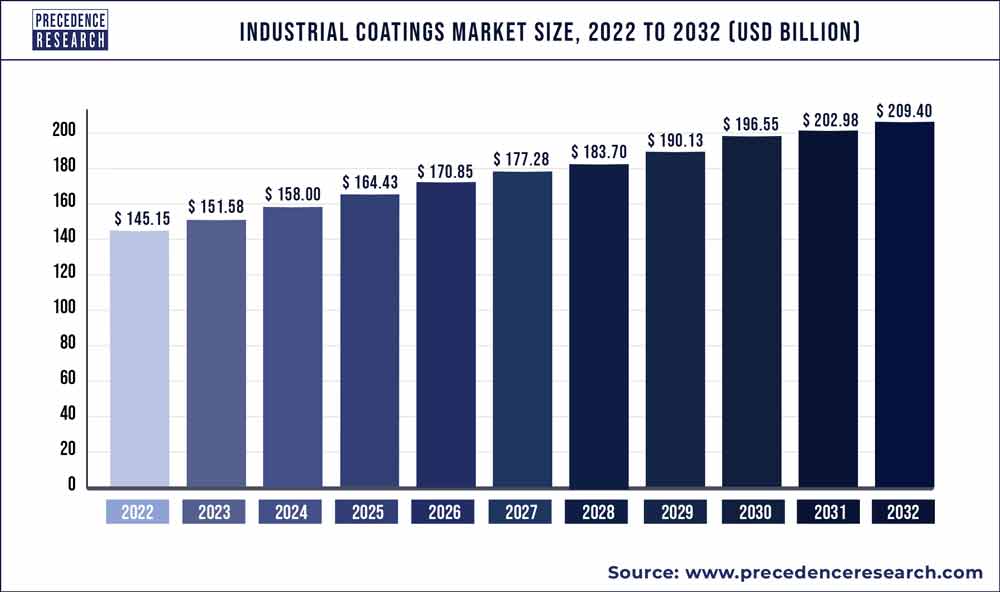 Access our Premium Real Time Data Intelligence Tool, Visit: Precedence Statistics
Key Takeaways
Asia Pacific led the global market with the highest market share of 44.6% in 2022.
By Technology, the solvent borne segment contributed more than 36.41% of revenue share in 2022.
By Technology, the Water-based industrial coatings segment is anticipated to grow at the fastest CAGR during the projected period.
By Product, the acrylic segment has held the highest revenue share of 34.1% in 2022.
By End-user, the general industrial segment captured more than 40.49% of revenue share in 2022.
Industrial Coatings Market Overview
Industrial Coatings refer to coatings, paint, and coverings. The major function of industrial coatings is to provide a safeguard to metals from corrosion, wear & tear, and the growth of algae. It is eco-friendly in nature and offers aesthetic properties to the surface of the section on which it is being applied. Industrial coatings are employed in various applications of end-use industries such as transportation, construction, oil & gas, consumer goods & appliances, and others. Industrial coatings can also be used on aluminium, steel, iron, glass, wooden surfaces, and plastic.
Industrial coatings are also employed to protect walls, floors, and roofs, against hazardous weather such as snowfall, heavy rainfall, and wind. Industrial coatings are used to replace traditional latex-based paints as it offers aesthetic features to the substrates. Industrial coatings are manufactured by using polymer substances to provide corrosion resistance, abrasion resistance, non-stick performance, and protection from various chemicals.
Polymers offer better resistance qualities to bases, acids, and chemical solvents. The coatings are also employed to give superior aesthetics, crack bridging, high durability, high flexibility, waterproofing, and are environment-friendly. Acrylic products are often used in architectural and automotive applications as they provide excellent radiant and high corrosion resistance properties. Many zinc-based coatings are implemented on steel and the presence of zinc offers a polymeric barrier to provide superior corrosion resistance.
Epoxy provides better quality for abrasion, corrosion, and weathering. All of these solutions are highly resistant to extremely high-temperature climates. Coatings are available in various forms such as water-based, powder, and e-coating which makes the materials highly resistant to water and fire. The strict regulations for reducing Volatile Organic Compounds (VOC) emissions in reducing pollution coating techniques and coating resins are resulting in high demand for environment-friendly industrial coatings. The solutions are properly applied on a primer and finished surface by using the sealant. It is also majorly used to safeguard steel or concrete from rusting.
Industrial Coatings Market in the U.S. 2023-2032
The U.S. industrial coatings market size was valued at USD 16.45 billion in 2022 and is estimated to reach around USD 22.01 billion by 2030.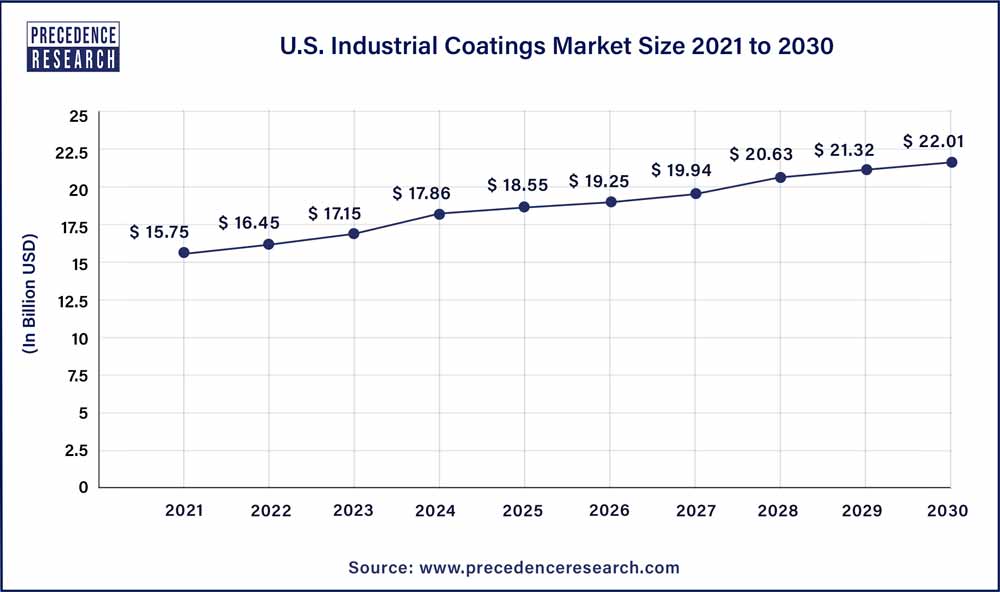 Though, Asia Pacific region emerged as most opportunistic regional market for industrial coatings, established markets in Western Europe and North America are also anticipated to exhibit optimistic spots. In 2022, Asia Pacific led the global market in terms of revenue of around 44.6% on account of obtainability of low labor at low cost, availability of cheap raw material, and budding urban population in the region. Further, presence of huge number of automotive manufacturing plants across the region also adds to the growth of the market.
China has evolved as leading consumer and led the market revenue in Asia pacific in 2019 This growth is credited to the country being the prevalent producer of automotive with a rising automotive refinishes market. However,current outbreak of COVID-19 is rigorously affecting the global industrial sector. Infrastructural expansion activities and production and operation have decelerated globally meant to limit the spread of coronavirus, which is further projected to influence the growth of industrial coatings market across the globe.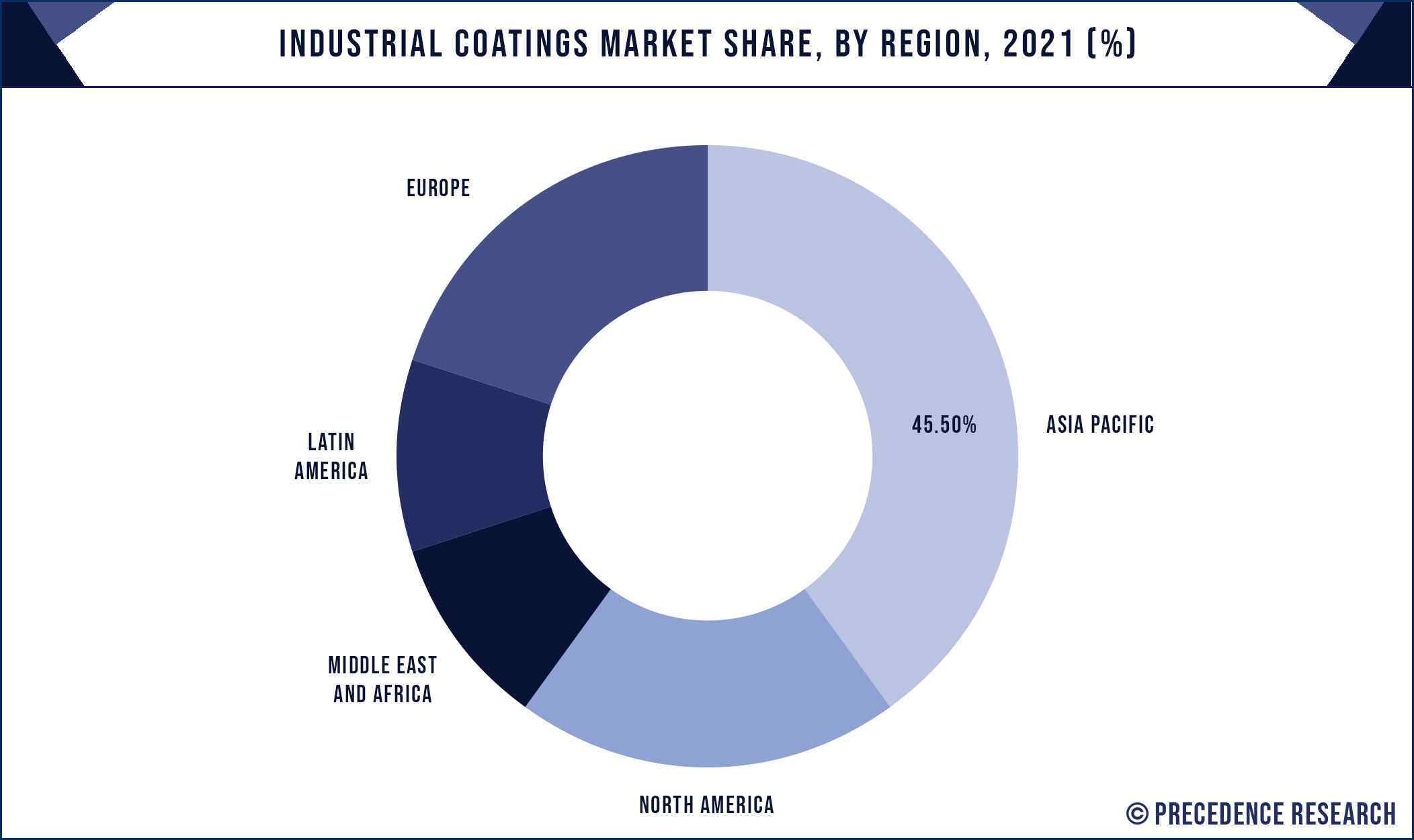 Industrial Coatings Market Revenue, By Region 2021-2030 (US$ Bn)
| | | | | |
| --- | --- | --- | --- | --- |
| Regions | 2021 | 2022 | 2030 | CAGR (%) |
| North America | 24.06 | 25.10 | 33.18 | 3.6% |
| Euorpe | 33.26 | 34.76 | 46.69 | 3.8% |
| Asia Pacific | 61.68 | 64.74 | 89.79 | 4.2% |
| LAMEA | 19.72 | 20.55 | 26.89 | 3.4% |
| Total | 138.73 | 145.15 | 196.55 | 3.9% |
COVID-19 IMPACT
The global Industrial coatings market was negatively impacted by the covid-19 pandemic. The COVID-19 pandemic has widely influenced several sectors and the Industrial coatings market is no different.
The production and supply of Industrial coatings were highly disrupted and negatively affected the various end-user industries such as marine, construction, consumer goods & appliances, automotive, and others owing to the stringent regulations of government. The industrial coatings market growth was affected adversely due to the pandemic situation which resulted in reducing demand from several end-use industries.
The industry has dealt with the fallout issues, such as plant shutdowns caused by continuous problems with the transportation and shipment of both finished goods & raw materials as well as extreme weather events. The pandemic had also created several challenges, such as businesses staying open with fewer workforce and the necessity for operations including laboratory and manufacturing work.
However, the few production lines kept running, dealt with increased absenteeism, had done health screenings to detect positive cases of the workforce and contact tracing when any positive case was found and had a very lenient attitude towards any sick period of time which had also become necessary for several companies.
With the use of appropriate masks, proper social distancing, and increased cleaning & disinfection rules, laboratories were safely operating. Although, many sites were not operating at their full-fledged, as non-laboratory workers were working from home. The pandemic has highly obstructed the demand for the Industrial coatings market globally.
Industrial Coatings Market Scope
| | |
| --- | --- |
| Report Coverage | Details |
| Market Size in 2023 | USD 151.58 Billion |
| Market Size by 2032 | USD 209.40 Billion |
| Growth Rate from 2023 to 2032 | CAGR of 3.9% |
| Asia Pacific Market Share in 2022 | 44.6% |
| Acrylic Segment Market Share in 2022 | 34.10% |
| Solvent Borne Market Share in 2022 | 36.41% |
| Companies Mentioned | Hempel A/S, PPG Industries, Inc., Akzo Nobel N.V., Axalta Coating Systems, LLC, Jotun, The Sherwin-Williams Company, Nippon Paint Holdings Co., Ltd. |
Industrial Coatings Market Dynamics
Market Drivers
Increasing Investments, Mergers & Acquisitions by Companies
PPG Industries Inc., Sherwin-Williams Company, BASF SE (Germany), AkzoNobel N.V., and Asian Paints Limited are the major companies participating in the market. To expand their market share, these businesses have used a variety of techniques, including investment and expansion, mergers and acquisitions, and the introduction of new products, which is driving the market growth. For instance, a four-year agreement with Tricon American Homes (TAH) for PPG paint products was announced in August 2020 by PPG and Sibi, a technological platform for supply chain management. In accordance with the agreement, TAH's 21,000 single-family rental properties and more than 7,000 multi-family rental properties in Arizona, California, Georgia, Indiana, Florida, North Carolina, Nevada, Tennessee, South Carolina, and Texas will all use a standard set of PPG paint items with zero or low volatile organic compounds for new construction and maintenance.
Furthermore, increasing development in developing countries like India, among others is also facilitating the growth of industrial coatings market. For instance, Asian Paints and the Gujarat Government have signed a Memorandum of Understanding (MoU) to begin the process of increasing paint production capacity from 130,000 KL to 250,000 KL and resins and emulsions from 32,000 MT to 85,000 MT. The corporation will invest a total of $11.58 billion in equipment and plant to complete the expansion, which would take place on land it already owns in the state over the course of two to three years.
Growing Demand for Eco-friendly Coatings
Industrial coatings that are environmentally friendly are setting the pace for innovation. The primary reason for this is a very straightforward one: demand for ecologically friendly coatings has exponentially increased. Since the term was first used in the coatings business decades ago, sustainability concepts have developed. The majority of corporate activities today routinely take sustainability factors into account, frequently on a daily basis. Beyond lowering volatile organic compounds (VOCs), the focus has greatly broadened to encompass energy and resource conservation, waste reduction, process efficiency improvement, the use of renewable resources, and much more.
Furthermore, businesses are also trying to influence the entire value chain and are thinking about how their actions will affect society. The good news is that modern industrial facilities are taking various measures to lessen their carbon footprint as they become more conscious of their environmental impact. Federal and state legislation, as well as rising consumer demand for sustainable corporate practises, have sped up this transformation. As a result, manufacturers and plant managers are now forced to search for environmentally friendly industrial paint choices from reputable wholesalers like Promain Paints.
Burgeoning Demand from Various End-use Industries
Industrial coatings are utilised in numerous industry sub-segments, each of which has specific performance and coating system requirements. One of the most progressive and dynamic manufacturing sectors is the industrial coatings sector, which takes great satisfaction in this fact. Industrial coatings have seen significant development in recent years, leading to intriguing new uses in every sector of the global economy. This covers every aspect, from the automobile and aviation sectors to business and residential real estate. Furthermore, the need for industrial coatings in the wood industry is being driven by rising construction activity.
An industrial coating's primary purpose is to shield a surface from the environment and other types of harm. They are used on a wide range of surfaces, including asbestos, concrete, wood, metal, glass, rubber, plastic, and leather. Industrial coatings come in an infinite number of varieties, each of which has special qualities and benefits to offer.
Rising Need for Customized Designs and Paints in Vehicles
Functional coating and customised solutions are becoming more popular in response to consumer demands and expectations. The growing demand for automobiles in both developed and developing countries as a result of rising personal incomes is ascribed to the automotive paints and coatings business. Additionally, the sector has grown towards a shift in consumer preferences toward novel paint textures and improved visual appeal for vehicles. Strict fuel emission laws regarding production procedures, paint products, and the carbon footprint of the business have led to market developments. As an illustration, surface pre-treatment of metal calls for the application of paints and coatings on the surface to improve adhesion and corrosion resistance.
Furthermore, improvements in processing and paint chemistry have been made with novel advances in paint pigments, which is supporting the market growth. For instance, interference pigments that change colour depending on the angle from which they are viewed (often referred to as the "flip flopping" effect) and flake-based aluminium pigments have improved the brilliance, colour, look, and customer satisfaction of vehicle coatings. These novel pigments were first difficult to employ with spray gun technology, but to address these difficulties, new spray guns and spray gun configurations have been developed.
Market Restraints
Health hazards, environmental problems related with vocs, and stringent regulatory policies
People who carry out their activities in a setting where they are exposed to industrial coatings that include volatile organic compounds (VOCs) may be at serious and long-term risk for health problems. Due to their high vapour pressure at ambient temperature, volatile organic compounds, also known as VOCs, are pervasive organic substances that are dangerous to human health. This high vapour pressure enables molecules from liquids and solids to evaporate or sublimate into the surrounding air. Aliphatic & aromatic hydrocarbons, ketones, esters, alcohols, glycol ethers, and ketones are some of the several organic solvent types that are utilised in coatings. The binders are dispersed or dissolved by solvents, which also reduce the coating's viscosity and thickness.
Many of the solvents used in coating formulations are human carcinogens and combustible or explosive, making them dangerous. When a coating cures, the majority of the solvents evaporates, producing emissions of volatile organic compounds (VOCs). Because of the detrimental impacts on both human health and the environment, VOC emissions are subject to a growing amount of regulation. The development of pollution prevention alternatives is motivated by environmental issues related to traditional components, coating application methods, and coating by-products.
The sector continues to struggle with chemicals as demand from various regulatory bodies increases. For instance, a new, strict regulation set by the National Science Foundation (NSF), which goes into effect in 2023, would cover the permitted amounts of Xylol and other solvents for potable water storage tank linings in the United States. For European coating manufacturers, the REACH regulation which stands for Registration, Evaluation, Authorization, and Restriction of Chemicals remains a high bar. Manufacturers of coatings have had to be careful about the chemicals used in their products due to its strict standards for various compounds.
Increasing Prices of Raw Materials
Whether the pandemic broke out in 2020 or routinely resurfaced in 2021, the negative impact of raw material costs on the coatings business continued to ferment. The phrase price increase has been observed repeatedly in recent years in the industrial coating industry. Prices of raw material have been at a high level, and the supply of various essential raw materials is in an unpredictable state. 2021 was the year of the chemical raw material market's exhibition instability across the globe. Numerous essential raw resources are in an unpredictable state of availability. Whether the coating industry's upstream suppliers, coating enterprises, or downstream channel merchants are under pressure, coupled with the environmental protection policy intensification, epidemic backlash, industry competition, among other factors that keep growing. This has ultimately resulted in the coating businesses difficulty in digesting, the coating products rising prices, which is affecting the market growth.
Furthermore, the coating industry chain of emulsions, colouring materials, additives, titanium dioxide, resins, etc. is also at an alarming rise, and in response to the pressure of high costs, Baldushi, Kansai Paint, Akzo Nobel, Carpenter and other coating firms sent letters announcing increase in the product price, up to 60%. It is understood that chemicals since the beginning of 2021 to continue the trend of last year's price increases.
Moreover, it is clear how rising raw material costs are affecting the paint industry. One of the sectors most impacted by the increase in raw material prices is the paint industry. Some businesses had to change their product prices as a result of rising raw material costs, which also increased manufacturing costs and reduced profitability. The order quantity will be impacted by the price change, which will then have an effect on the company's profit. The pricing of paint goods lagged behind and profitability was impacted due to the sharp rise in raw material costs, which led to a similar rise in production costs for paint firms. Of course, the real estate industry's storm has had a significant negative impact on paint companies in addition to how rising raw material prices have affected performance.
Market Opportunity
Prospects in shipbuilding and pipeline sectors for powder coating
Flow modifiers, levelling agents, pigments, and other additives are coupled with polymer resin systems to create powder coatings. The application of the powder coating to a metal substrate is commonly accomplished via a procedure known as electrostatic spray deposition (ESD). When it comes to shipping and shipbuilding, China is one of the biggest nations. The nation has consistently provided powder coating to the shipbuilding and pipeline industries. For the pipeline business, powder coating technology is constantly evolving. Plastic tubes are increasingly being used in a variety of industries, including shipbuilding, electronics, textiles, petrochemicals, chemicals, healthcare, pharmaceuticals, and urban construction.
All marine vessels and offshore structures need to be protected from corrosion because the marine environment is so hostile. The location of the coating system's application, such as the waterline area, hull, decks, interior, topsides, and tanks, etc., determines which coating system should be used. Paints and coatings have traditionally been the go-to solution for topside protection due to their affordability, availability, and simplicity of use. For longer-term service life, advances in zinc, polyurethane, and powder coating technologies are preferable than epoxy resin technology. Thin coatings of zinc offer cathodic protection, polyurethane is efficient and attractive, and powder coatings can meet regulatory and environmental requirements. Therefore, the powder coatings have an appealing chance to invest in these industries, particularly in the APAC and South American developing nations.
Technology Insights
Based on the technology, the solvent borne segment dominated the global industrial coating market in 2022 with highest market share 36.41%. Marine, gas, oil, and automobile industries all use solvent borne industrial coatings. The segment's growth is expected to be fueled by shorter drying periods and improved performance in open and humid situations. This growth is mainly due to swift infrastructure development and mounting general industrial sector.
Water-based industrial coatings segment is expected to witness faster rate over the forecast period, due to the rapid evaporation of water from the coating layer.
Industrial Coatings Market Revenue, By Technology 2021-2030 (US$ Bn)
| | | | | |
| --- | --- | --- | --- | --- |
| By Technology | 2021 | 2022 | 2030 | CAGR (%) |
| Powder Based | 29.55 | 30.95 | 42.25 | 4.0% |
| Solvent Borne | 50.66 | 52.85 | 69.86 | 3.6% |
| Water-Borne | 39.86 | 41.92 | 59.07 | 4.4% |
| Others | 18.65 | 19.43 | 25.36 | 3.4% |
| Total | 138.73 | 145.15 | 196.55 | 3.9% |
Product Insights
Among different product segments, acrylic was the largest product segment dominated the global industrial coating market with majority of revenue share 34.1% in 2022. They are extensively employed in structural steel, construction equipment, industrial site, pipes, metal coating, automotive, heavy casting, consumer appliances and other applications.
Characteristics including fire resistance, abrasion resistance, vapor permeability, high weathering resistance, UV light resistance and gloss retention are stimulating its demand amongst aforementioned applications. Furthermore, acrylic coatings are employed in numerous formulations comprising waterborne coating, solvent-borne, and powder-based.
Industrial Coatings Market Revenue, By Product 2021-2030 (US$ Bn)
| | | | | |
| --- | --- | --- | --- | --- |
| By Product | 2021 | 2022 | 2030 | CAGR (%) |
| Epoxy | 21.02 | 21.92 | 28.98 | 3.6% |
| Acrylic | 47.06 | 49.49 | 69.74 | 4.4% |
| Alkyd | 32.17 | 33.69 | 45.98 | 4.0% |
| Polyurethane | 14.39 | 14.98 | 19.49 | 3.3% |
| Polyester | 15.17 | 15.80 | 20.73 | 3.4% |
| Others | 8.92 | 9.26 | 11.62 | 2.9% |
| Total | 138.73 | 145.15 | 196.55 | 3.9% |
End-user Insights
Different end-users analyzed in the industrial coating market include electronics, aerospace, general industrial, marine, mining, power generation, automotive & vehicle refinish, oil & gas and others. The general industrial segment accounted highest revenue share of 40.49% in 2022. Some of the major influences motivating the growth of industrial coatings market are requirement for efficient process and durable coatings with improved aesthetics, growing demand for environmentally-friendly coatings and increasing requirement from emerging nations of Asia Pacific. Automotive OEM is an essential part of automotive engineering sector. Coatings offer outstanding durability and quality to automotive equipment.
Automotive OEM coatings offer exceptional mechanical properties that defend automobiles from environment, chemical exposure and scratches. Coating is applied on the inner parts of an automotive to develop the surface area of the automotive body. Cumulative automobile fabrication mainly in Asia Pacific region is anticipated to surge the demand for industrial coatings in this region. Further, industrial coatings find application in general industry to defend the structure from UV radiation, corrosion, wear and tear, and improve its competence. Industrial coatings can also benefit to advance abrasion and impact resistances.
Key Developments in the Marketplace:
Nippon Paint Industrial Coatings Co. Ltd a fully owned subsidiary of Nippon Paint Holdings Co. Ltd involved in the industrial coatings business, made an investment in a powder coating factory in China and Japan in October 2018.
Axalta increased its liquid industrial coatings production capacity in Florida by roughly one million gallons per year in August 2018.
To strengthen its global position in aerospace coatings, Akzo Nobel N.V. acquired Mapaero, a French aerospace coatings manufacturer, in November 2019.
PPG released digital styling software in February 2021 that allows automotive designers to generate very realistic three-dimensional modelling of car colors and effects on virtual automobile designs and surfaces.
Nippon Paint Marine announced a new antifouling technology in February 2021 that enhances antifouling performance to a level and consistency never seen before.
Industrial Coatings Market Players
BECKERS GROUP
NIPPON PAINT HOLDINGS CO., LTD.
HENKEL AG & CO. KGAA
BASF SE
JOTUN
AXALTA COATING SYSTEMS, LLC
THE SHERWIN-WILLIAMS COMPANY
AKZO NOBEL N.V.
PPG INDUSTRIES, INC.
HEMPEL A/S
Segments Covered in the Report
This research report includes complete assessment of the market with the help of extensive qualitative and quantitative insights, and projections regarding the market. This report offers breakdown of market into prospective and niche sectors. Further, this research study calculates market revenue and its growth trend at global, regional, and country from 2019 to 2032. This report includes market segmentation and its revenue estimation by classifying it on the basis of product, technology, end-userand region as follows:
By Technology
Powder Based
Solvent Borne
Water-Borne
Others
By Product
Epoxy
Acrylic
Alkyd
Polyurethane
Polyester
Others
By End-user
Electronics
Aerospace
General Industrial
Marine
Mining
Power Generation
Automotive & Vehicle Refinish
Oil & Gas
Others
By Regional Outlook
North America
Europe
Asia Pacific

China
India
Japan
South Korea

Middle East & Africa
Latin America