The global waterborne coatings market size was estimated at USD 82.28 billion in 2022 and is expected to hit around USD 139.87 billion by 2032, poised to grow at a compound annual growth rate (CAGR) of 5.5% from 2023 to 2032.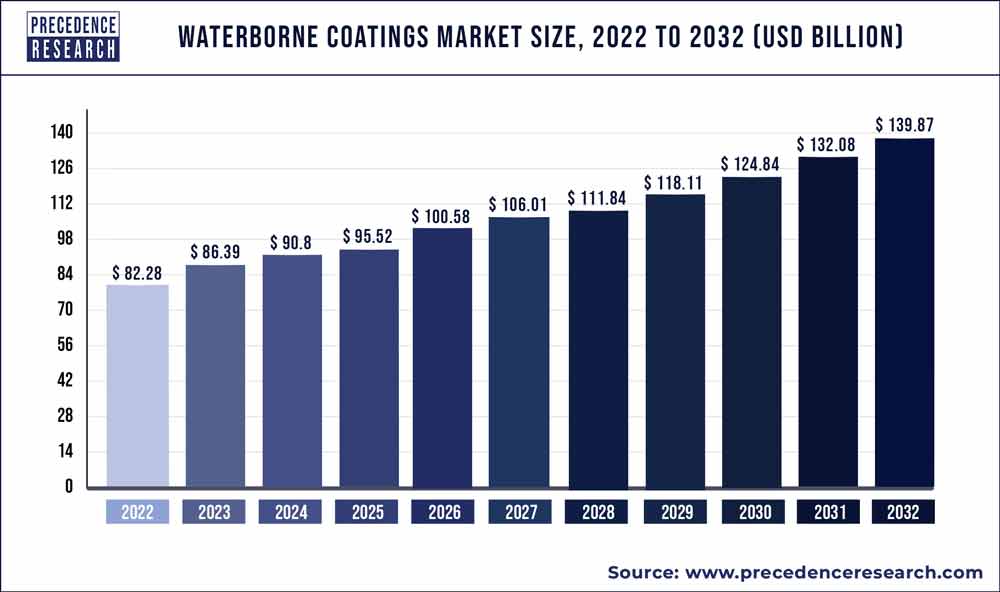 Access our Premium Real Time Data Intelligence Tool, Visit: Precedence Statistics
Key Takeaways:
The global waterborne acrylic coatings segment reached USD 44.7 billion in 2022.

The architectural applications segment is expected to reach USD 15 billion by 2032.

North America industry is projected to hit around USD 42 billion by 2032

Asia Pacific has garnered the highest revenue share of about 40.5% in 2022.
Water is used as a solvent in waterborne coatings to disperse a resin, making them eco-friendly and simple to use. It can be used to describe any complete or surface coating that uses water as a solvent to separate the resin that is put to it, which in turn forms the coating. Waterborne coatings can be made up of a variety of solvents combinations, including significant volumes of water and minor amounts of other solvents.
In India, China, and Taiwan, the usage of waterborne coatings has increased in sectors including general industrial, automotive, new building, remodel & repaint, and marine due to the rising need for high-tech electronics and the quickly changing lifestyle.
Report Scope of the Waterborne Coatings Market
| | |
| --- | --- |
| Report Coverage | Details |
| Market Size in 2023 | USD 86.39 Billion |
| Market Size by 2032 | USD 139.87 Billion |
| Growth Rate from 2023 to 2032 | CAGR of 5.5% |
| Base Year | 2022 |
| Forecast Period | 2023 to 2032 |
| Segments Covered | By Resin Type and By Application |
| Regions Covered | North America, Europe, Asia-Pacific, Latin America and Middle East & Africa |
Growth Factors
The demand for waterborne coatings is expected to increase from numerous end-use industries, including the automotive, industrial, and infrastructure sectors, in the upcoming years. These coatings are typically preferred over other traditional ones because they have a water content that is close to 80%, making them good solvents with low VOC emissions. Some of the most often utilized raw ingredients in the production of waterborne coatings are synthetic resins, surfactants, additives, and pigments. The aforementioned raw materials aid in the production of various waterborne coating types, which are then used in a variety of applications, including general industrial, architectural, wood, automotive OEM, coil, protective coatings, marine, industrial wood, metal packaging, and automotive refinishing.
The increase in automotive production in countries like Mexico, China, Malaysia, Germany, and Indonesia also supports the market expansion for waterborne coatings. Increased construction activity in developing nations in the Middle East and Asia Pacific should further help the market expand. End customers in these nations are increasingly seeking high-performance, application-specific additives and pigments with exceptional corrosion resistance and aesthetically pleasing qualities, offering appealing potential to producers of aqueous coatings.
Resin Type Insights
Depending upon the resin type, the alkyd segment is the dominant player and is anticipated to have the biggest impact on waterborne coatings market. Some paints and transparent coatings use the complex oil-modified polyester known as alkyd resin as its film-forming component. The components of an alkyd paint typically include an oil-modified polyester to create the coating layer, a solvent to help with application, such as hexane or mineral spirits, metal naphthenates to catalyze the drying reaction, and pigment to add color and conceal the coated surface.
Epoxy coatings segment has a significant position in the waterborne coating market. Epoxy coatings are used for a variety of purposes because they may produce a strong, long-lasting, and chemically resistant substance. In addition to being used in industrial production facilities, they are used in a variety of electrical, automotive, and marine applications. They are well-liked because they provide metals and other materials with a sturdy, protective coating that dries quickly. They make excellent metal protectors because of their exceptional resistance to corrosion and severe chemicals. In high-load concrete constructions, pipes, poles, pillars, and reinforcement steel are coated with epoxy-based powder coatings. A variety of advantages of epoxies for corrosion prevention are enjoyed by subterranean structural foundations and naval vessels. Due to their mechanical strength, aesthetic appeal, and resistance to corrosive substances like oil, chemicals, and weak acids, epoxy flooring coatings are frequently used in factories and warehouses.
Polyurethane resins have exceptional flexibility and durability and are made up of soft and hard segments. By altering the formulation and molding technique, different performance criteria can be met. As several different diisocyanates and polyols may be manufactured to react to produce polyurethane resin, polyurethane resin has a wide variety of uses that span many different industries. A product's shelf life and aesthetics can both be improved by adding polyurethane. Strong bonding is made easier with polyurethane adhesives, and sealing is made more secure with polyurethane sealants. Polyurethane elastomers may be molded into a variety of shapes, are lightweight, resilient to a variety of environmental stresses, and recover more quickly from adversity.
Application Insights
During the projected period, the architectural segment is anticipated to be the largest. The increased emphasis on infrastructure, which supports economic growth and raises people's quality of living, is driving more construction activity. Developed nations like the U.S., Canada, and the European Union (EU) member states want to upgrade their current infrastructure. Repair needs for bridges, dams, structures, and roads in these developed economies are predicted to propel the worldwide coatings market's expansion. Moreover, rise in population is another factor contributing to more construction of residential as well as commercial buildings. Rising population and rising demands are the core of any market to propel hence, architectural segment is driving the market.
The industrial segment is projected to grow significantly. Coatings are required in almost every sector in order to provide protection from externa factors harming the material. In addition to extending the lifespan of the current substrates, protective coatings are applied. There are systems that operate continuously in several sectors. A few of these involve the usage of harsh materials or exposure to changing climatic conditions. As a result, the equipment's structure degrades or the process becomes less efficient, leading to the shutdown of the plant or a halt in all operations. These coatings aid in averting these problems, saving on the expense of equipment repair and shutdown. Because seawater is corrosive, the marine industry is vulnerable to damage to boats, ships, and docks. In the marine industry, coatings like waterproofing coats and joints & crack filler coats are frequently utilised for maintenance.
Waterborne Coatings Market Share, By Region, 2022 (%)
| | |
| --- | --- |
| Regions | Revenue Share in 2022 (%) |
| North America | 26.4% |
| Asia Pacific | 40.5% |
| Europe | 20.6% |
| Latin America | 8% |
| MEA | 4.5% |

Regional Insights
The highest market share and dominant position in the waterborne coatings industry belong to Asia-Pacific. Demand is anticipated to rise as major automakers relocate to Asia Pacific nations including China, India, and Indonesia. Asia Pacific demand is predicted to increase as a result of this factor. The expansion in the area is anticipated to be fueled by the formation of new sectors in the region due to low labor costs and government tax incentives. High growth rates and huge investments across the automotive, and furniture industries are largely responsible for economic development. Based on the production and demand for waterborne coatings, it is one of the locations with the fastest rising populations.
The market for waterborne coatings has experienced significant growth in Europe as a result of the expansion of the construction industry brought on by the post-recession rebound. The replacement of solvent-borne coatings used in construction will also enhance demand for the product, which will fuel the expansion of the waterborne coatings market in the area over the course of the projected period. Moreover, a few regulations that strive to lower the VOC content in coatings and paints are stated in the strict regulatory framework in Germany and the Environmental Protection Act in the UK. Given that traditional solvent-borne coatings in the construction industry are being rapidly replaced by water coatings, this is certain to benefit the market for such goods.
Key Market Developments
Sherwin-Williams introduced Pro Industrial Pre-catalyzed Water-based Urethane, a single-component product with performance characteristics similar to those of a two-part coating, to assist professionals in meeting the aesthetic and functional requirements of light industrial or commercial environments.
Key Market Players:
BASF SE
AkzoNobel N.V.
PPG Industries Inc.
RPM International Inc.
The Sherwin-Williams Company
Asian Paints Limited
Axalta Coating Systems LLC
Nippon Paint Holdings Co. Ltd.
Kansai Paint Co. Ltd.
Jotun Group
Segments Covered in the Report:
By Resin Type
Acrylic
Polyester
Alkyd
Epoxy
Polyurethane
Others
By Application
Building & Construction
Automotive
Automotive OEM
Automotive refinish
Furniture & Flooring
Electronics
Marine
Paper & Printing
Others
By Geography
North America
Europe
Asia Pacific
Latin America
Middle East & Africa