The global construction chemicals market size was exhibited at USD 34 billion in 2022 and is projected to be worth around USD 83.11 billion by 2032 with a registered CAGR of 9.4% during the forecast period from 2023 to 2032.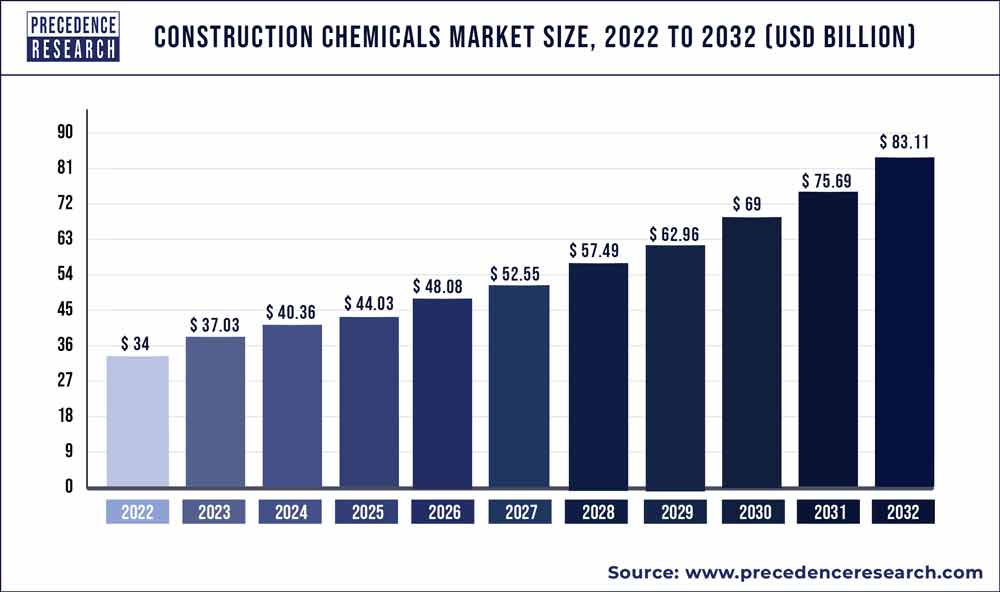 Access our Premium Real Time Data Intelligence Tool, Visit: Precedence Statistics
Key Insights
In 2022, By type, the concrete admixtures segment is expected to have the largest market share.
By application, the non-residential segment is expected to have the largest market share in 2022.
The Asia-Pacific has accounted for the majority of revenue share in 2022.
Construction chemicals are chemical substances that are mixed with cement, concrete, or other building materials during construction to hold them all together. The project will be more sustainable, and the building materials will be of higher quality. Chemical compounds called construction chemicals are utilized in construction projects. They are primarily employed to speed up the procedure and provide the buildings with greater sustainability and strength. Construction chemicals are used in various building materials to improve workability, and performance, provide functionality, and preserve the fundamental or bespoke aspects of a structure during construction. The most important component of any chemical enterprise is these compounds. The environments of the entire construction sector have changed as a result of construction chemicals. Their use has increased building material quality, and as a result, they are widely used in construction projects to provide sustainability.
Cities all throughout the world are adopting programs aimed at enhancing infrastructure. More than two-thirds of the world's population is expected to reside in urban regions by 2050. The majority of these rapid increases would be seen in underdeveloped nations. In addition, areas like Africa and Asia are predicted to have the quickest rates of urban growth because they are still relatively less urbanized than other areas. By 2050, it is anticipated that Africa's urban population would increase from 40% to 56%, while Asia's urban population will increase from approximately 48% to 64%.
Growth Factors
The demand for premix admixtures before they are employed in construction is increasing, which is driving growth in the building chemicals sector. Additionally, the diminished infrastructure durability brought on by greater rainstorms and wetted winters has led to an increase in the demand for high-quality building chemicals.
The growing demand for construction.
Increase in disposable income.
Report Scope of the Construction Chemicals Market
Report Coverage
Details
Market Size in 2023
USD 37.03 Billion
Market Size by 2032
USD 83.11 Billion
Growth Rate from 2023 to 2032
CAGR of 9.4%
Base Year
2022
Forecast Period
2023 to 2032
Segments Covered
Regions Covered

North America
Europe
Asia-Pacific
Latin America
Middle East & Africa

Key Market Drivers
The building industry's shifting dynamics - The expansion of the new construction and repair & rehabilitation sectors in developing economies is predicted to be the main driver of market growth for construction chemicals. The need for residential and non-residential structures will rise as a result of the rapid population expansion in China, India, and South Korea, which will boost industry growth. The need for various construction chemicals, such as adhesives, concrete admixtures, and cement additives, has increased as a result of this need and the rise in cement consumption. It is projected that the launch of enhanced product offerings would fuel market expansion during the projection period. Among the products are polymer-based grouts and mortars, specialty cement additives, and specialty cement additives. The technological edge that building chemicals provide improves a structure's performance and durability while reducing corrosion. The desire to prevent corrosion also drives the demand for building chemicals. Chemicals are used for this, including flooring, surface coatings, corrosion inhibitors, concrete admixtures, repair mortars, and grouts. The world market for construction chemicals is being driven by the constantly rising demand for public, commercial, and residential structures as well as the technologically sophisticated construction sector. The industry is also being driven by demand for new structures such as dams, highways, bridges, and tunnels to improve the nation's infrastructure. Construction chemical sales will likely increase as a result of this trend continuing in the years to come.
Rapid urbanization - The construction chemicals market is being swiftly throttled as a result of this overall growth in the construction sector, which is required to keep up with the ongoing rate of urbanization. The market for construction chemicals will continue to rise at a rapid rate due to rising knowledge of the benefits of employing these substances, which essentially enhance the features of construction such as compressive durability, strength, and resilience to unfavorable working circumstances. The rate at which middle-class residential housing is increasing is also anticipated to support market expansion. Many emerging markets are doing so as a result of an increase in migration to rapidly urbanizing cities. Market demand will be stimulated overall by a rise in per capita disposable income and a greater standard of living. More residential and non-residential buildings will be constructed to accommodate the escalating demand brought on by urbanization. There are structures like movie theatres, retail centers, hospitals, and restaurants in addition to residential ones. The market's growth will be accelerated as a result.
Key Market Challenges
High cost of construction chemicals - According to estimates, the market for construction chemicals will suffer from reasons including the erratic cost of energy and raw materials as well as the fluctuating economy. This aspect would therefore hinder the market's rate of expansion for building chemicals. Additionally, it is anticipated that the market expansion will be hampered by the uncertainty around the potential change in governmental rules and regulations, which extends the allotted time for project completion.
Key Market Opportunities
High investments - The market participants would profit from the government's increased focus on eco-friendly chemicals and green building criteria throughout the anticipated period of 2023 to 2032. It is also anticipated that major investments made by well-known market participants in silicate binder systems and eco-binders will aid in the building chemicals sector's sustained growth.
Segments Insight
Type Insights
On the basis of type, the concrete admixtures segment is expected to have the largest market share in 2022. In construction, cement is frequently employed as a binding agent. Concrete is made by mixing cement in precisely measured amounts with sand, water, and crushed rock. The characteristics of concrete are then enhanced by the addition of concrete admixtures. They offer advantages including a low cement-water ratio, accelerated setting time, reduced segregation, and increased permeability. The rising utilization of concrete admixtures, which is driving the expansion of the construction chemicals market, is a result of the expanding building industries in China, India, the United Kingdom, and Germany.
Chemicals used in waterproofing are intended to prevent water ingress. As a maintenance and preventative waterproofing element, waterproofing chemicals are added to concrete during the construction phase. The reconstruction of the damaged structural components is known as repair and rehabilitation. This substance consists of rust removers, anti-corrosion treatments, and epoxy-based repair mortars.
Application Insights
On the basis of application, the non-residential segment is expected to have the largest market share in 2022. The expansion of infrastructure development resulted in a predominance in the non-residential sector. The demand for highways, tunnels, dams, and bridges is hastening market expansion. The demand for more expensive, higher-quality public buildings is also being fueled by a high population rate and growing disposable economies, which is boosting the global market for construction chemicals.
The residential market is incredibly fragmented, and rising urbanization has led a significant portion of consumers to move into metropolitan areas. This market's expansion is anticipated to be fueled by shifting lifestyles, fast urbanization, rising living standards, and a rising desire for attractive residential constructions.
Regional Insights
On the basis of geography, Asia-Pacific accounted for the majority of revenue share in 2022. Due to the region's rapid growth in building and government incentives to support the infrastructure sector, Asia-Pacific currently holds a monopoly on the market for construction chemicals. Additionally, the region's market growth has been helped by a thriving residential sector brought on by the region's expanding middle class. Due to the increased demand for luxury homes, the expansion of construction projects, and the best acceptance of product development in the construction sector, particularly in Asian nations like India, China, and Southeast Asia, the region has experienced significant growth. The demand for building chemicals is ultimately fueled by the fact that Asian nations like China and India have one of the greatest rates of urbanization in the entire world.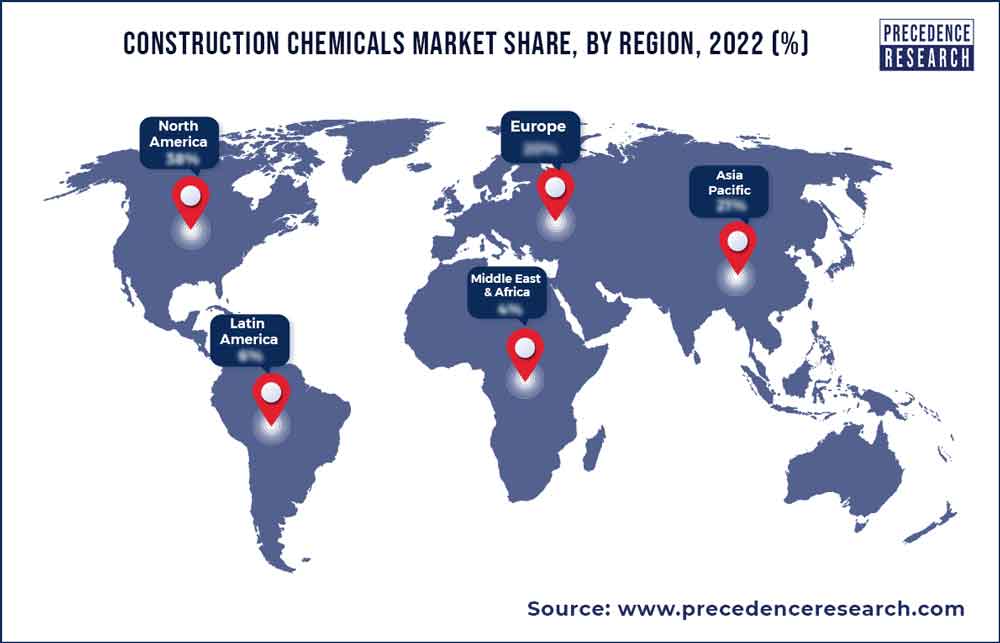 On the other hand, North America is anticipated to experience profitable growth from 2023 to 2032 as a result of the region's rising economy and strong market fundamentals for commercial real estate projects. The market for construction chemicals in this area may also grow as a result of the rising population and upcoming development projects.
Key Market Players
BASF SE
GCP Applied Technologies Inc.
MUHU (China) Construction Materials Co., Ltd.,
Holcim
M&I Materials Limited
RPM International
Sika India Pvt. Ltd.,
Fosroc Inc.,
Dow
Arkem S.A.
Ashland Inc (U.S.), Mapei S.p.A
CHRYSO GROUP
GCP Applied Technologies Inc.
Pidilite Industries Ltd.,
Dupont
SOLVAY
W. R. Grace & Co.-Conn.
Setral Chemie GmbH
Segments Covered in the Report
(Note*: We offer reports based on sub-segments as well. Kindly, let us know if you are interested)
By Type
Concrete Admixture
Surface Treatment
Repair and Rehabilitation
Protective Coatings
Industrial Flooring
Waterproofing, Adhesives
Sealants
Grout and Anchor
Cement Grinding Aids
By Application
Residential
Non-Residential
By Geography
North America
Europe
Asia-Pacific
Latin America
Middle East & Africa (MEA)