The global container logistics market is surging, with an overall revenue growth expectation of hundreds of millions of dollars during the forecast period from 2023 to 2032.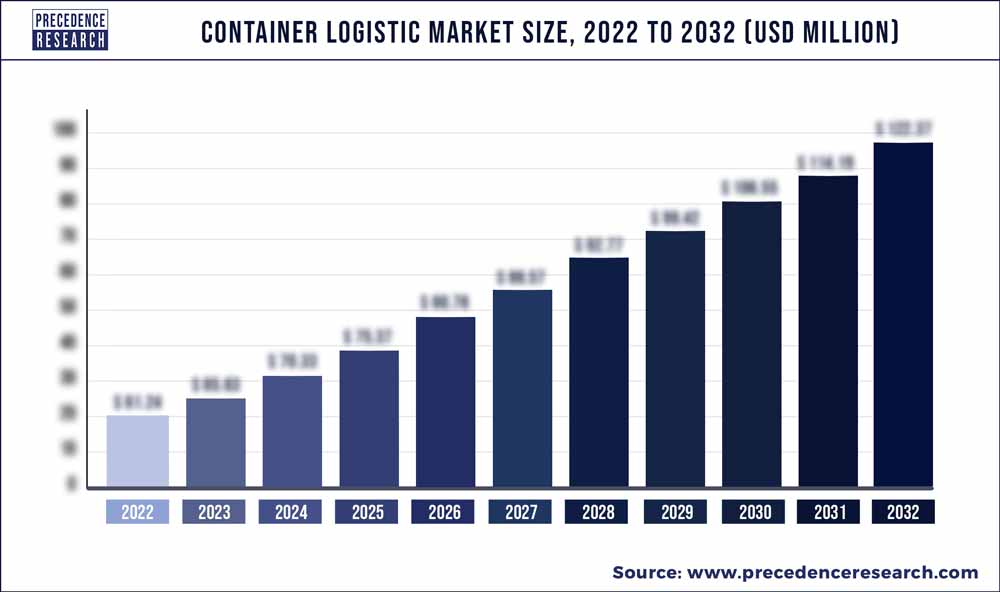 Access our Premium Real Time Data Intelligence Tool, Visit: Precedence Statistics
Market Overview:
The container logistics market is a crucial part of the global supply chain industry. It involves the transportation, management, and coordination of shipping containers to ensure the smooth movement of goods across different modes of transportation, such as ships, trucks, and trains. This market plays a vital role in facilitating international trade by enabling the safe and timely movement of goods. In recent years, the container logistics market has seen significant growth and transformation due to the expansion of global trade and the growing demand for efficient transportation and distribution of goods. Container logistics involves managing and moving shipping containers throughout the supply chain, which includes activities like containerization, freight forwarding, customs clearance, and warehousing.
Research on the container logistics market focuses on various aspects, including market size, growth trends, key players, competitive landscape, challenges, and opportunities. Its goal is to provide insights into the market dynamics and assist businesses, policymakers, and stakeholders in making informed decisions.
Growth Factor:
The container logistics market is growing due to the expansion of emerging markets. Developing economies are going through rapid industrialization, urbanization, and increased consumer demand, which has led to a rise in containerized trade. These regions present significant opportunities for container logistics providers to assist in the transportation, storage and distribution of goods. The market is seeing trends such as the development of infrastructure, investments in port facilities, and the creation of logistics hubs. Companies are using advanced technologies to improve operations, increase supply chain visibility, and enhance the customer experience. There is also a growing emphasis on sustainability, with efforts to reduce emissions and adopt environmentally friendly practices in container logistics operations.
One notable trend in the container logistics market is the adoption of advanced technologies to optimize operations. Digitalization and automation have played a crucial role in improving efficiency and transparency in container tracking, inventory management, and documentation processes.
Report Scope of the Container Logistics Market:
| | |
| --- | --- |
| Report Coverage | Details |
| Largest Market | North America |
| Base Year | 2022 |
| Forecast Period | 2023 To 2032 |
| Segments Covered | By Type, By Use, and By End User |
| Regions Covered | North America, Europe, Asia-Pacific, Latin America, and Middle East & Africa |

Market Dynamics:
Drivers:
Growing demand for specialized containers
In today's globalized and complex supply chain landscape, there has been a significant increase in the demand for specialized containers. Companies from various industries are now looking for containers that meet their specific needs, especially when it comes to transporting delicate or high-value goods. These specialized containers are designed with advanced features and technologies to ensure the safe and secure transportation of goods, even over long distances.
One area where specialized containers have become increasingly important is the transportation of pharmaceutical products. Due to the strict requirements for maintaining temperature control and ensuring product integrity, pharmaceutical companies rely on temperature-controlled containers, also known as reefer containers. These containers are equipped with precise temperature regulation systems, allowing pharmaceuticals to be transported under strict temperature conditions. This ensures that the efficacy and quality of the products are maintained throughout the entire journey. Perishable items like fruits, vegetables, and other food products need special containers that can control temperature and humidity levels. These containers play a crucial role in preserving the freshness and quality of the goods during transportation, making sure they arrive at the destination market in the best possible condition.
Restraints:
Container imbalance:
Container imbalance is referring to the uneven distribution of containers worldwide, with some regions having too many containers and others not having enough. This imbalance creates difficulties for container logistics providers, leading to inefficiencies, higher costs, and logistical complications.
When there is an excess of containers in a specific region, it means that these assets are not being fully utilized. The containers end up sitting idle, taking up valuable space at ports or storage facilities. This leads to a loss of revenue and reduced operational efficiency. Moreover, redistributing the excess containers to areas where they are needed becomes costly and burdensome. On the other hand, regions that experience container shortages face challenges in meeting the demand for containerized shipments. This can result in delays, increased transportation costs, and limited access to containers. These issues hinder trade and affect the reliability of the supply chain. To address the shortage, containers may need to be imported, which leads to higher expenses and longer lead times.
Opportunities:
Infrastructure development
Infrastructure development plays a vital role in creating opportunities for container logistics by improving the efficiency and capacity of transportation networks. Investments in port infrastructure are particularly important as they enable the handling of larger container vessels and enhance overall operational efficiency.
Deepening berths allows ports to accommodate larger ships, which can lead to economies of scale and cost savings for shipping lines. This encourages more efficient container transportation, as larger vessels can carry a greater volume of cargo per trip. Improved container handling equipment, such as advanced cranes and automated systems, streamline operations, reduce loading and unloading times, and enhance productivity at ports. Expanding storage capacities at ports helps address the growing demand for container handling and storage facilities. Adequate storage space allows for efficient container stacking, reducing congestion and optimizing the use of available land. This is particularly important in busy ports where the efficient movement of containers is critical for smooth logistics operations.
Upgrades and expansions in transportation networks, including road, rail, and inland waterways, are essential for seamless connectivity and efficient container transportation. Enhancements in road infrastructure, such as the development of dedicated truck lanes or expressways, can improve the flow of container trucks and reduce transportation bottlenecks. Well-developed rail networks allow for efficient long-distance container transportation, linking inland locations with major ports. Inland waterways offer an additional mode of container transport, providing cost-effective and environmentally-friendly options for container logistics. Overall, infrastructure development creates opportunities for container logistics by improving operational efficiency, increasing capacity, and enhancing connectivity.
Impact of COVID-19:
Before the pandemic, the container logistics market was growing steadily. This growth was driven by factors such as increasing global trade, the rise of e-commerce, and the expansion of supply chains. There was a high demand for containerized transportation services, and companies were investing in infrastructure, digitalization, and automation to improve their logistics operations. However, the pandemic caused widespread disruptions in global trade. Countries implemented lockdowns, travel restrictions, and trade barriers, leading to reduced consumer demand, factory closures, and disrupted supply chains. As a result, there was a decline in containerized trade volumes, and many industries faced challenges in sourcing raw materials and exporting finished goods. This slowdown had a significant impact on container logistics.
On the other hand, COVID-19 accelerated the shift towards e-commerce and online retail. With physical stores closed and consumers preferring contactless shopping, there was a surge in online orders. This change in consumer behavior increased the demand for containerized transportation, especially for essential goods and medical supplies, to fulfill e-commerce orders.
Segments Insight:
Type Insights:
Dry containers are the most widely used type of container globally. Approximately 90% of goods transported by sea are loaded into dry containers. These containers, which are typically made of aluminum or steel, come in 20-foot and 40-foot sizes and are suitable for transporting all kinds of cargo.
Dry storage containers are widely utilized in the shipping industry. They are available in lengths of 20, 40, and 45 feet and are specifically designed for transporting dry goods. It's important to note that these containers do not have temperature control capabilities, so they are not suitable for transporting food or chemicals that require refrigeration. Currently, there are around seventeen million intermodal containers in use globally, and a significant portion of long-distance freight resulting from international trade is transported using shipping containers. The invention of these containers played a crucial role in the globalization of commerce during the latter half of the 20th century, as it significantly reduced the cost of transporting goods and facilitated long-distance trade.
Use Insights:
The transportation sector of the container logistics market plays a vital role in facilitating the movement of goods through containerized shipping. Containers are the main mode of transport for a wide variety of cargo, including manufactured goods, raw materials, perishable items, and hazardous materials.
Container logistics providers specialize in managing and coordinating the transportation of goods using containers. They work closely with shippers, manufacturers, importers, and exporters to ensure that goods are efficiently transported from their origin to their intended destination. These providers handle various aspects of the transportation process, such as container booking, cargo consolidation, documentation, customs clearance, and arranging for the necessary transportation modes.
One of the main advantages of containerized shipping is its ability to use multiple modes of transportation. Container logistics providers coordinate the movement of containers across different modes of transportation, such as ships, trucks, trains, and airplanes, to ensure the smooth flow of goods. They optimize logistics routes, schedules, and modal connections to minimize transit times, reduce costs, and meet customer demands.
End User Insights:
The shipping industry includes container logistics services that are specifically designed to meet the needs of shipping companies and carriers. These companies use containers as the main method of transporting cargo by ships. Container logistics providers play a vital role in supporting shipping operations by managing container bookings, coordinating container movements, and ensuring efficient loading and unloading processes at ports. They work closely with shipping companies to optimize container usage, improve vessel turnaround times, and streamline logistics operations. Within the shipping industry, container logistics providers offer various services to shipping companies. These services include container tracking and visibility, container maintenance and repairs, container leasing, and documentation management. They collaborate with shipping lines to maximize vessel capacity, plan routes, and adhere to schedules, which enables smooth and reliable containerized shipping operations.
Container logistics providers also assist shipping companies in complying with regulations. This includes customs regulations, international trade restrictions, and safety standards. They help with the proper documentation and compliance with these regulations to ensure that containers can pass through ports and cross international borders without any issues.
Regional Insights:
The global container logistics market is divided into different regions, including North America, Europe, Asia-Pacific, Latin America, and the Middle East and Africa.
In North America, there is a surge in consumer demand for goods, as well as a desire from shippers to continue stocking inventory. Additionally, with the economic reopening, there may be a shift in spending back to services. These factors are driving the current demand for containerized transport of goods by ship in North America.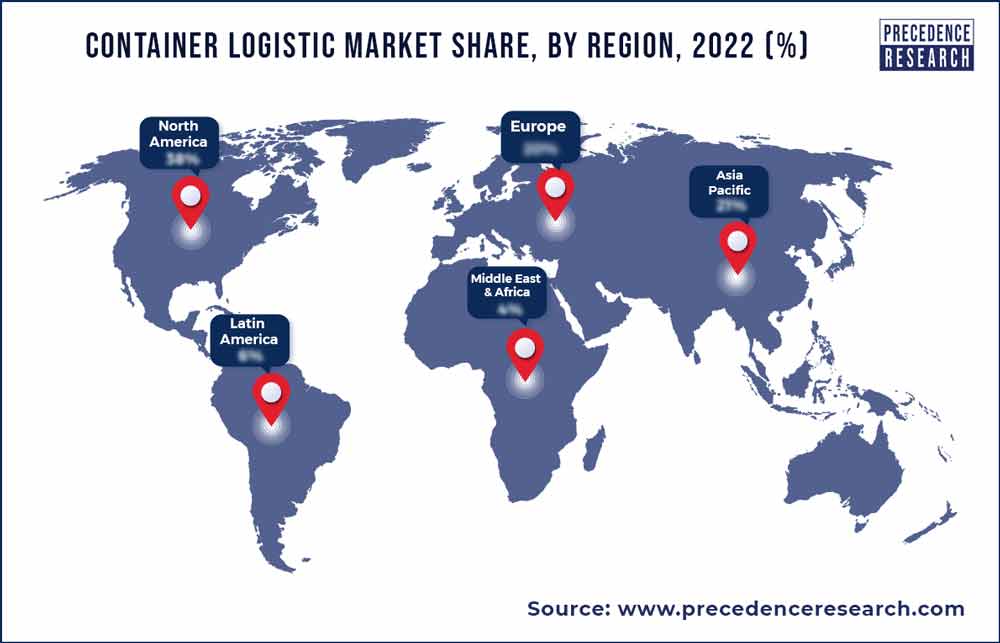 Europe is expected to see growth in the shipping container market due to the increasing number of ISO and non-ISO container manufacturing facilities. The Asia-Pacific region is projected to have the largest share of the container logistics market. This is mainly due to the significant increase in seaborne trade and the growing number of manufacturing and construction industries involved in overseas trade.
Latin America is expected to experience significant growth in the port logistics market. This is because the end consumer plays a crucial role in increasing the market growth of port logistics globally. In the Middle East and Africa region, Dubai-based Transworld Group has signed an agreement with Indian state-owned Sagarmala Development Company Ltd. This agreement aims to construct a cargo container manufacturing facility in Gujarat, which is expected to enhance competitiveness in the market.
Recent Developments:
January 2023: Evergreen Line and Port of Los Angeles announced a collaboration to develop a new container terminal at the Port of Los Angeles. The terminal will be designed to accommodate the latest generation of mega-containerships and will use a variety of technologies to improve efficiency.
February 2023: DP World and Huawei announced a collaboration to develop a smart port in Duqm, Oman. The port will use a variety of technologies, including artificial intelligence, to improve efficiency and reduce emissions.
March 2023: CMA CGM and Port of Antwerp announced a collaboration to develop a green corridor for container shipping between Asia and Europe. The corridor will use low-carbon fuels and technologies, such as shore power, to reduce the environmental impact of shipping.
April 2023: Maersk and IBM announced a collaboration to develop a blockchain-based platform for container logistics. The platform will use blockchain to track and trace containers throughout the supply chain, making it easier to ensure the security and transparency of shipments.
Key Market Players:
Maersk Line
Mediterranean Shipping Company (MSC)
CMA CGM Group
Hapag-Lloyd
COSCO Shipping Lines
Evergreen Marine Corporation
China Shipping Container Lines (CSCL)
APL (American President Lines)
OOCL (Orient Overseas Container Line)
Yang Ming Marine Transport Corporation
Segments Covered in the Report:
(Note*: We offer reports based on sub segments as well. Kindly, let us know if you are interested)
By Type
Dry Storage Container
Flat Rack Container
Open Side Storage Container
Refrigerated ISO Containers
Special Purpose Containers
Others
By Use
By End User
Shipping
Automotive
Manufacturing
Pharmaceuticals
Others
By Geography
North America
Europe
Asia-Pacific
Latin America
Middle East and Africa