The global cosmetic dentistry market size was evaluated at USD 23.17 billion in 2022 and is projected to hit around USD 41.60 billion by 2030 with a registered CAGR of 7.6% during the forecast period 2022 to 2030. U.S. cosmetic dentistry market size will reach around USD 6.38 billion by 2030.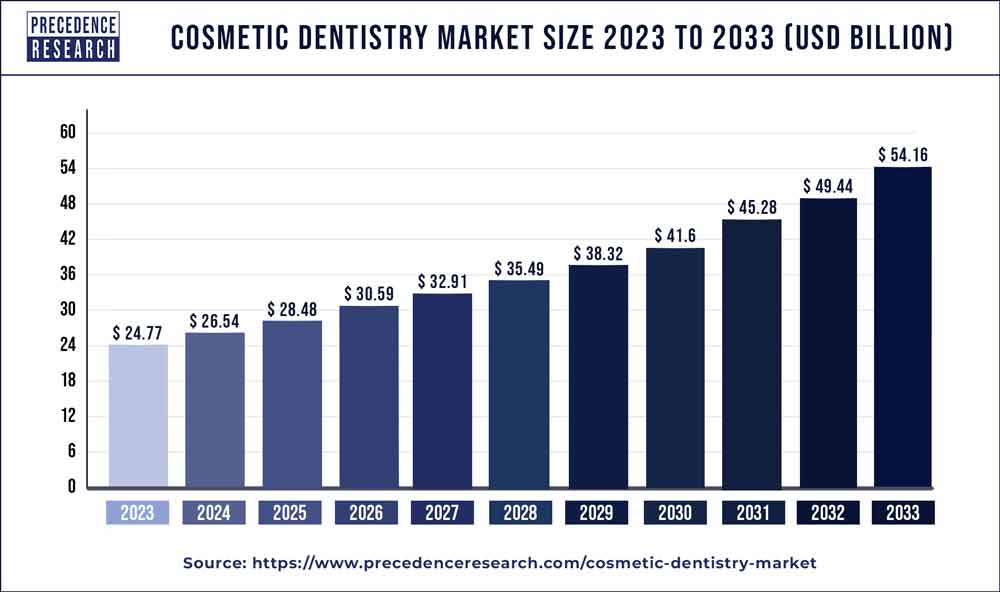 Key Takeaways:
By product, the dental systems and equipment segment has contributed the highest revenue share of around 22.24% in 2022.
By end user, the dental hospitals & clinics segment accounted highest revenue share 61.65% in 2022.
By geography, the North America region has captured the majority revenue share of around 34.55% in 2022.
The orthodontic braces segment is poised to grow at a CAGR of 8.6%.
The practice of cosmetic dentistry includes both the care of one's teeth and the care of their gums. It emphasizes dental aesthetics in order to improve the appearance of the smile, shape, size, alignment, and color of the teeth. Computer-aided design and manufacturing software is used in the creation of dental prostheses and restorations. It has several different end-user applications and is quite common in the dentistry tourism industry. The primary factor fueling the market's growth is the majority of the population's increasing health consciousness as well as the growing importance of aesthetics. Other factors that have helped to generate a positive picture for industry growth include increased disposable incomes and technological improvements.
Growth Factors
The large amount of disposable income generated by emerging countries is the primary driver of the expansion of aesthetic dentistry. The senior population in general has contributed to the growth of this industry because of age-related dental issues.
The shifting lifestyle.
Increasing technological advancements in cosmetic dentistry.
Report Scope of the Cosmetic Dentistry Market
Report Coverage
Details
Market Size in 2022
USD 23.17 Billion
Market Size by 2030
USD 41.60 Billion
Growth Rate from 2023 to 2030
CAGR of 7.6%
Largest Market
North America
Fastest Growing Market
Asia Pacific
Base Year
2022
Forecast Period
2023 to 2030
Segments Covered

By Product
By End User
By Age Group

Regions Covered

North America
Europe
Asia-Pacific
Latin America
Middle East & Africa

Key Market Drivers
Market growth from technological advances in cosmetic dentistry - More natural-looking teeth has been created as a result of the expanding usage of cutting-edge materials in dental restoration design. The business has seen the transition from old, less-advanced materials to new, more-advanced materials, such as dental cement and bonding agents, among others. Additionally, the adoption of cutting-edge technologies in dentistry, such as robots, CAD/CAM technology, and 3D printers, is contributing to the market's expansion. Additionally, the market size for aesthetic dentistry will grow as a result of investments made by dental technology businesses in new products that use minimally invasive methods and equipment, such as dental lasers. Although the industry is currently in the early stages of the acceptance curve for these technologies, penetration rates will rise, especially as more and more young dentists elect to join bigger or corporate practices rather than opening their own offices. In dentistry, the laser is used for a variety of purposes, including caries prevention, growth regulation, diagnostic uses, restoration removal and cure, bleaching, wound healing, etc., according to a 2012 research by the National Journal of Maxillofacial Surgery. Thus, increased laser use is anticipated to expand the market for cosmetic dentistry in the near future.
The increasing value of aesthetics and alterations in lifestyles - Aesthetic dentistry treatments now have more favorable prospects to be adopted as a result of rising disposable income and the desire to undergo specialized cosmetic operations. Additionally, factors fuelling the dental prosthesis market trends include the growing need for aesthetic dentistry, people's increased desire to appear attractive, and quick treatment times. Through the years, cosmetic dentistry has grown in popularity among people of all ages and in this market because of the preventative and restorative dental services it provides. The increasing number of operations is mostly the result of referrals from people who have had successful cosmetic dental surgeries. Cosmetic dentistry is one of the most popular procedures because it may significantly enhance teeth and smiles.
Key Market Challenges
The high cost of cosmetic dental work - Pricing pressure is one of the greatest problems that participants in the global cosmetic dentistry industry must deal with. The major companies in the industry have been successful in solidifying their positions in the global arena but entering local markets has proven to be quite challenging for them. This is because local markets frequently provide lower prices for items than markets outside. Currently, global companies are focusing on putting various strategies into place to manage this issue, maintain their position in the global market, and expand their presence in regional markets that are renowned for offering affordable goods.
Key Market Opportunities
Creation of cutting-edge technical solutions - Cosmetic dentistry has developed throughout time owning to the development of new dental materials that provide better results. Patient compliance has increased along with the sharp rise in demand for minimally invasive procedures. In order to prevent or dramatically minimize patient discomfort and blood loss during surgical procedures including gum raising and teeth whitening, the usage of dental lasers has increased. Adhesive dentistry, which uses composite materials to strengthen teeth and enhance their aesthetics while causing no harm to the tooth's natural components, is another area of dentistry that has gained attention. As a result, more people are deciding to get these procedures. Because of this, it is projected that the focus on the development of innovative technologies and dental materials would create new chances for market participants in cosmetic dentistry.
Regional Insights
On the basis of geography, the North America region has accounted for the majority revenue share in 2022. Due to the rising incidence of tooth-related disorders in the aging population, increased desire for medical aesthetics, and technological breakthroughs in cosmetic dentistry in this area, North America is anticipated to have a significant market share in the worldwide market for cosmetic dentistry.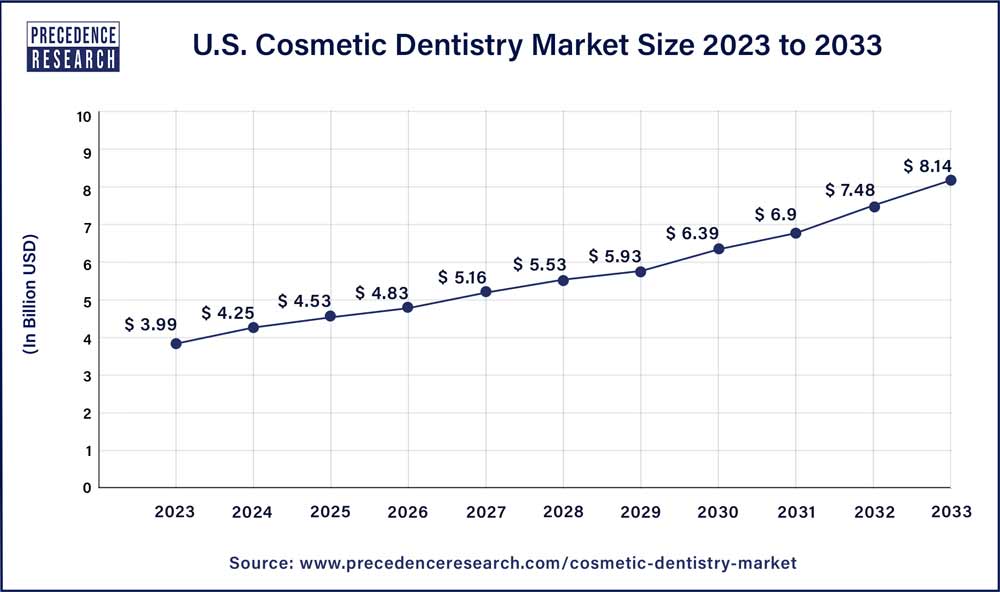 Additionally, the Asia Pacific North America region is anticipated to be more profitable for cosmetic dentistry due to the expanding disposable income in nations with large populations, such as China and India, where people are interested in boosting and improving dental health. Dental tourism has been made possible by a sizable number of dentists and dental facilities, which will favorably affect revenue development. Furthermore, due to the existence of several reputable businesses, Europe is expected to maintain its second-place ranking. In addition to this, increased edentulous rates and greater public awareness would support market expansion in this area.
The Asia Pacific region is expected to expand at the quickest rate of all regions throughout the forecast timeframe. The trend is mostly driven by a rise in the amount of disposable income being produced in developing countries like China and India. Since there are so many people living here, many of them are interested in improving their dental health for aesthetic purposes. The wide variety of dental procedures offered in this area has aided in the growth of dental tourism, which has recently contributed to the rise of the regional market.
China cosmetic dentistry market size was valued at USD 2.06 billion in 2022 and it is expected to hit around USD 4 billion with a CAGR of 8.7% from 2022 to 2030.
Japan cosmetic dentistry market size was reached at USD 1.22 billion in 2022 and it is expanding around USD 2.54 billion with a CAGR of 9.5% from 2022 to 2030.
India cosmetic dentistry market size was accounted fro USD 1.05 billion in 2022 and it is expected to hit around USD 2.21 billion with a CAGR of 9.7% from 2022 to 2030.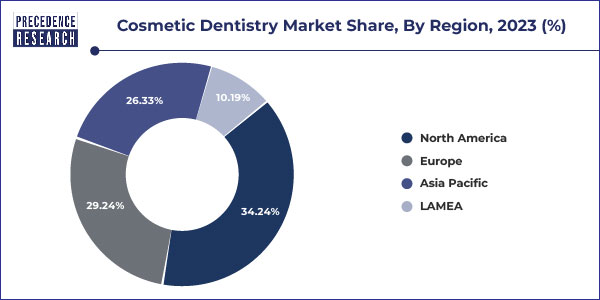 Product Insights
On the basis of product, the dental systems and equipment segment has captured the highest revenue share in 2022. This might be explained by the fact that they are used in a wide range of dental applications. Instrument delivery systems, light-curing gear, dental chairs, dental lasers, scaling units, dental handpieces, dental CAD/CAM systems, and radiography gear are a few examples of the numerous kinds of dental systems and equipment.
Additionally, dental devices and equipment are categorized as follows: As the population's desire to improve oral aesthetics has increased, so too has the use of orthodontic braces, which include both fixed and removable braces. People who are recovering from accidents and disfigurements frequently use dental implants, which are made of titanium implants and zirconium implants.
End-User Insights
On the basis of end-user, the dental hospitals & clinics segment has captured the highest revenue share in 2021. This is because there are more dental clinics and people seeking cosmetic dentistry procedures at dental offices and hospitals. Additionally, dental treatments are performed by dentists who have gained proficiency in dental procedures. Dental clinics and hospitals are skilled at performing these procedures, which helps to explain the sector's dominance.
Dental laboratories, on the other hand, are predicted to see the quickest increase throughout the projection period. It is the fastest-growing category because government-recognized dentists collaborate with dental labs to create dental prostheses like crowns, bridges, or other dental restorations.
Recent Developments
In May 2022 – Invisalign-trained clinicians may follow their patients' treatment progress with the help of Asana smiles, which Asana Inc. offers as part of their strategic collaboration with Align Technology.
Key Market Players
3M Company
J. Morita Corp.
Brasseler USA
IvoclarVivadent AG
BIOLASE Inc.
3Shape A/S
GC Corporation
Runyes Medical Instrument
DentalEZ Inc.
Henry Schein
Dentsply International Inc.
VATECH
Straumann Holdings AG
Millennium Dental Technologies Inc.
Yoshida Dental Mfg. Co. Ltd.
Align Technology
Kuraray Co. Ltd.
Zimmer Biomet Holdings Inc.
Planmeca Oy
Sirona Dental Systems Inc.
Segments Covered in the Report
(Note*: We offer reports based on sub-segments as well. Kindly, let us know if you are interested)
By Product
Dental Systems & Equipment

Instrument Delivery Systems
Dental Chairs
Dental Handpieces
Light Curing Equipment
Dental Scaling Units
Dental CAM/CAD Systems
Dental Lasers
Dental Radiology Equipment

Dental Implants
Dental Crowns & Bridges
Dental Veneer
Orthodontic Braces
Bonding Agents
Inlays & Onlays
Whitening
By End User
Dental Hospitals & Clinics
Dental laboratories
Others
By Geography
North America
Europe
Asia-Pacific
Latin America
Middle East & Africa (MEA)