The global crop protection chemicals market size was estimated at US$ 69 billion in 2022 and is expected to reach US$ 116.19 billion by 2032, poised to grow at a compound annual growth rate (CAGR) of 5.40% during the forecast period 2023 to 2032. The Asia Pacific market size was valued at USD 24.76 billion in 2022.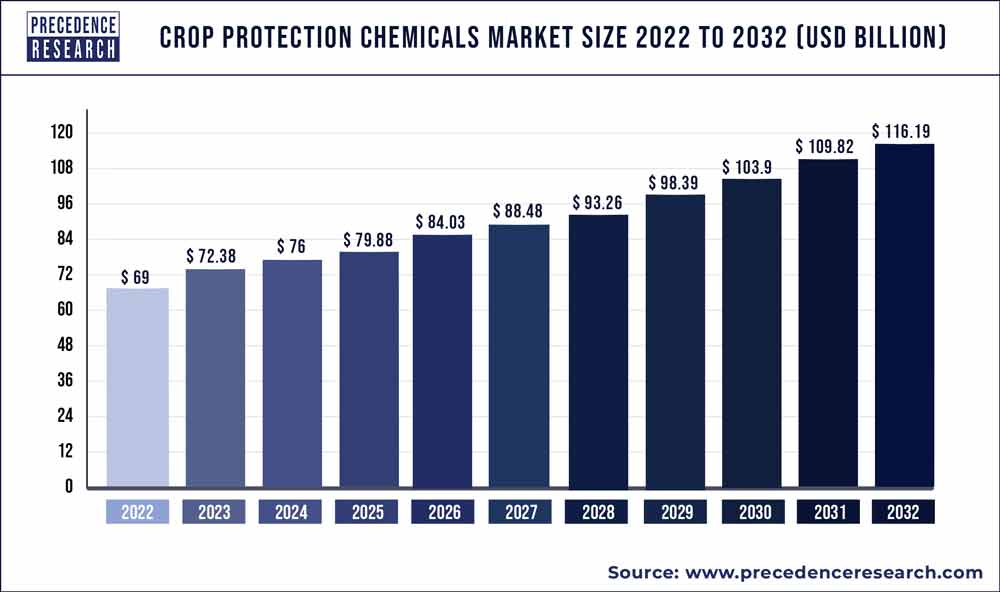 Access our Premium Real Time Data Intelligence Tool, Visit: Precedence Statistics
Key Takeaway:
By products, the herbicides segment has held 41.7% in 2022.
By crop type, the cereals & grains segment has accounted 45% revenue share in 2022.
North America region has generated revenue share of over 41% in 2022.
The Asia Pacific region has recorded 31% revenue share in 2022.
Crop Protection Chemicals Market in U.S. 2023 To 2032
The U.S. crop protection chemicals market size was valued at US$ 18.84 billion in 2022 and is projected to grow US$ 32.02 billion by 2032 with a CAGR of 5.50% between 2023 to 2032.
North America dominated the market with highest revenue share in 2022. As the world's population grows, so does demand for agricultural productivity, which is propelling the crop protection chemicals market expansion in the region. The growing concern about green farming methods and the loss of many traditional goods due to excessive use of synthetic pesticides is also driving the market for bio-based crop protection agents.
Asia-Pacific, on the other hand, is expected to develop at the fastest rate during the forecast period. The number of bio-pesticides particularly microbial pesticides, that have been registered is continuously increasing. The region's demand for bio-insecticides is expected to increase in the upcoming years as the government focuses more on environmental sustainability while maintaining agricultural output.
Growth Factors
The crop protection chemicals are a type of pesticide used to keep crops safe from insects and pests. The chemicals for crop protection are a major aspect in the chemical industry. Many crops would suffer severe losses if they were not present. The insecticides are vital in the fight against human and animal disorders. The fungicides, insecticides, rodenticides, and microbicides are all used to kill and control weeds, fungus, insects, germs, and rodents. Many pesticides have been discovered to be hazardous to human and animal health as well as the environment. The weed, worm, and fungus outbreaks have become a major barrier to agricultural quality and output in the Asia-Pacific and North America regions as a result of developments in farming methods and evolving technologies.
During the predicted period, the market operations are on the verge of a big expansion. The propelling need among the target audience for food security and safer alternatives for consumption is one of the major crop protection chemicals market facts that is supporting this growth. This has positive implications for market operations. Furthermore, a rapid increase in the worldwide population is increasing crop protection chemicals market demand among the target audience, which is distributed around the globe. The crop protection chemicals market specialists and industry executives have made assumptions about the predicted crop protection chemicals market growth during the forecast period based on all of these factors as well as the obstacles and restrictions that the market faces.
With strong growth and shifting crop mix trends and environmental laws, the crop protection chemicals market has evolved during the forecast period. The food security, growing population, shrinking arable land, and the need for increased agricultural productivity are all driving demand for more agricultural output, enhancing the crop protection industry's expansion internationally. Furthermore, throughout the projected period, rising organic farming across the globe is expected to drive the market for bio-based pesticides.
Report Scope of the Crop Protection Chemicals Market
| | |
| --- | --- |
| Report Coverage | Details |
| Market Size by 2032 | USD 116.19 Billion |
| Growth Rate from 2023 to 2032 | CAGR of 5.40% |
| Largest Market | North America |
| Fastest Growing Market | Asia Pacifc |
| Base Year | 2022 |
| Forecast Period | 2023 to 2032 |
| Segments Covered | Product, Crop Type, Source, Form, Mode of Application, Geography |
| Companies Mentioned | BASF SE, The Dow Chemical, Sumitomo Chemical Co. Ltd, Bayer Cropscience AG, Nufarm Limited, Adama Agricultural Solutions Ltd., Arysta Lifesciences Corporation, America Vanguard Corporation, Jiangsu Yangnong Chemical Group Co. Ltd |
The pesticides made without the use of chemicals are known as biopesticides. Due to environmental concerns and the potential to prevent insecticide development in biological environments, the key market players in the crop protection chemicals market are ramping up manufacturing of biopesticides. The biopesticides have been discovered to provide more targeted activity to desired pests, as opposed to traditional pesticides, which often harm a wide range of insects and birds. The biopesticides are becoming more popular among crop protection chemicals manufacturers, as standard insecticides have been linked to health risks for farmers and employees after continuous exposure. The demand for biopesticides is rising due to an increase in sustainable agriculture methods and organic farming combined with pest management.
The need for food grains has been spurred by the world's ever increasing population growth rate as well as an increase in calorie intake per capita. The crop production has increased dramatically as a result of new agricultural technologies. The widespread use of pesticides in the pre-harvesting crop growth process and post-harvesting storage procedures is credited with a considerable influence to the growth.
The chemical and synthetic pesticides are the most often utilized pesticides for crop protection. The herbicides, insecticides, and fungicides are the most commonly used pesticides. The pesticides used for crop protection and preservation are divided into fumigants, rodenticides, nematicides and other categories. The herbicides are used to eliminate undesired fungicides, plants, and weeds are used to defend against fungus and fungal spores, and insecticides are used to control insects' eggs and larvae.
Products Insights
In 2022, the herbicides segment dominated the market. This is attributed to increased use, notably of non-selective herbicides in a variety of agricultural applications. The recent advances in the production of non-selective herbicides have increased their demand for weed management in industrial and constriction fields.
The insecticides segment, on the other hand, is predicted to develop at the quickest rate in the future years. The insecticides are widely used during the growth of staple crops, which are heavily attacked by insects. Farmers are less reliant on insecticides to protect production as integrated pest management has progressed over time.
Crop Type Insights
The cereals and grains segment has accounted highest market share in 2022. The crop protection chemicals are high in demand in the cultivation of cereals and grains. The demand has been raised by diminishing cropland and a greater emphasis on the growth of food crops.
The fruits and vegetables segment is fastest growing segment of the crop protection chemicals market in 2022. On a global scale, fruits and vegetables, account for the highest market share, with considerable demand for these products to meet the high demands of the farming community.
Key Developments
UPL has undertaken significant acquisitions to boost its position in the global crop protection chemicals market. In February 2019, the corporation finalized the USD 4.2 billion acquisition of ArystaLiveScience Inc. from platform specialty products.
Sinochem and ChemChina were reformed and amalgamated in May 2021 to form a conglomerate. Both companies are situated in Beijing and each has a number of subsidiaries in other industries.
Corteva Agriscience will introduce a new mobile application in December 2020 to assist growers in protecting their crops and ensuring a more resilient and sustainable agriculture system.
BASF SE acquired unique L-glufosinate ammonium technology from AgroMet is in September 2020. The company was bought for its expertise in generating extremely concentrated weed control solutions.
The keycrop protection chemicals market players conduct substantial research and development to develop insecticides with greater requirements. These compounds are subjected to lot of restrictions, including chemical registration, codes of practice, environmental health impact assessments, product laboratory evaluations, and limitations on storage, use, and transportation.
Some of the prominent players in the global crop protection chemicals market include:
BASF SE
The Dow Chemical
Sumitomo Chemical Co. Ltd
Bayer Cropscience AG
Nufarm Limited
Adama Agricultural Solutions Ltd.
Arysta Lifesciences Corporation
America Vanguard Corporation
Jiangsu Yangnong Chemical Group Co. Ltd
Segments Covered in the Report
By Products
Herbicides

By Product
By Active Ingredients

Glyphosate
Atrazine
2,4-D
Others

Fungicides

By Active Ingredients

Chlorathalonil
Sulfur
PCNB
Maneb
Others

Insecticides

By Active Ingredients

Malathion
Carbaryl
Chlorpyrifos
Others

Biopesticides
Others
By Crop Type
Cereals & Grains
Oilseeds & Pulses
Fruits & Vegetables
Others
By Source
Synthetic Chemicals
Biologicals
By Form
By Mode of Application
Foliar Spray
Seed Treatment
Soil Treatment
Others (chemigation and fumigation)
By Geography
North America
Europe
Asia-Pacific

China
India
Japan
South Korea
Malaysia
Philippines

Latin America

Brazil
Rest of Latin America

Middle East & Africa (MEA)

GCC
North Africa
South Africa
Rest of the Middle East & Africa