The global cryotherapy market size accounted for USD 8.4 billion in 2022 and it is anticipated to reach around USD 17.18 billion by 2032, growing at a CAGR of 7.42% during the forecast period from 2023 to 2032.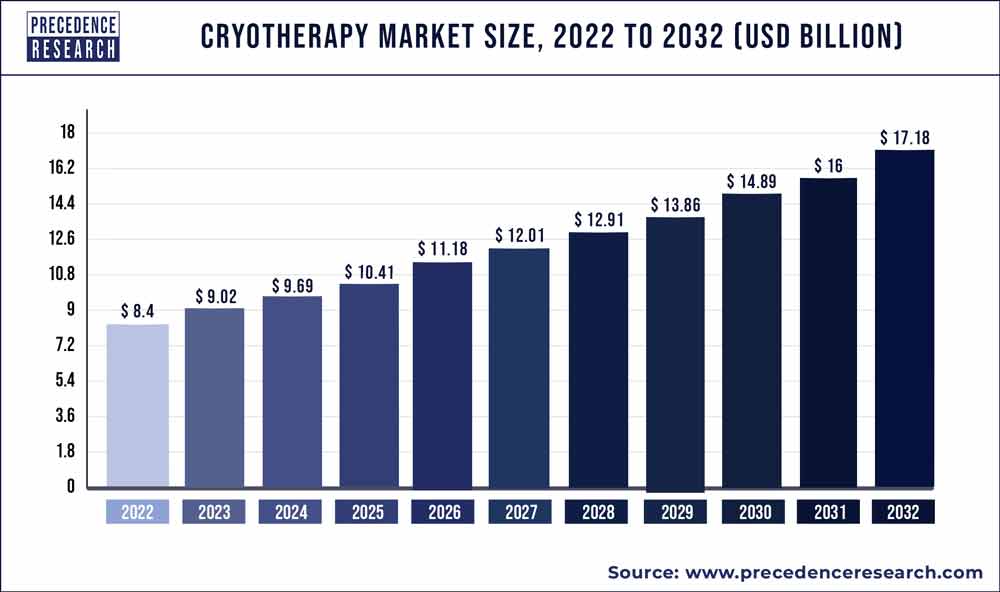 Key Takeaways:
North America captured more than 44% of revenue share in 2022.
By therapy type, the cryosurgery segment shows notable growth in the cryotherapy market during the forecast period.
By device type, the cryochamber segment is expected to grow at a significant rate during the forecast period.
By end-user, the hospitals & specialty clinics segment is expected to share the maximum CAGR during the projection period.
By distribution channel, the hospital pharmacy segment dominated the global market.
Market Overview:
Cryotherapy, also called cold therapy, is a technique in which the body is exposed to freezing temperatures for a few minutes. The purpose of using cryotherapy as it helps in the reduction of pain, swelling, spasticity, and muscle spasm, promotes repairment of the damaged tissues, is adapted by the strength trainer, and replenishes excitatory stimulus to inhibited muscles. The cold air used during cryotherapy has been cooled either electrically or through liquid nitrogen and is usually below -85°C.
Growth Factors:
The growth for the cryotherapy market is fueling due to the high prevalence of muscle injuries, skin disorders, and chronic diseases across the globe. Predominantly use of cryotherapy for improving athletes' recovery after extensive workouts has created enormous growth opportunities for the cryotherapy market. Furthermore, it enhances joint functions, facilitates sportspersons' rehabilitation, and ensures their wellness. In addition, cryotherapy helps minimize weight loss in individuals and reduces anxiety and depression. It also aids in reducing eczema symptoms and is utilized for treating solar keratosis on the skin dermis and moles. Even though it contributes towards beauty, wellness, and pain management are the major factors driving market revenue growth. Even requirements for faster healing from injuries by sportspersons and delayed aging by most film stars are escalating the cryotherapy business worldwide.
Report Scope of the Cryotherapy Market:
| | |
| --- | --- |
| Report Coverage | Details |
| Market Size in 2023 | USD 9.02 Billion |
| Market Size by 2032 | USD 17.18 Billion |
| Growth Rate from 2023 to 2032 | CAGR of 7.42% |
| Largest Market | North America |
| Base Year | 2022 |
| Forecast Period | 2023 to 2032 |
| Segments Covered | By Therapy Type, By Device Type, By Application, By End-User, and By Distribution Channel |
| Regions Covered | North America, Europe, Asia-Pacific, Latin America and Middle East & Africa |

Driver:
Rising prevalence of cancer
A large percentage of the population is affected by cancer across the globe while being one of the leading causes of mortality. Conventional chemotherapy and radiation therapy medication are proven to be effective along with a diverse range of adverse effects on various body functioning. It offers a revolutionary cold treatment, which is highly effective in removing any tissue or nerve lesion and helpful in treating cancers such as retinoblastoma, prostate cancer, skin cancer, cervical cancer, and many more through cryosurgery and less painful and minimally invasive method, so the recovery period is shorter and poses a lesser threat of spreading infection. Cryotherapy is a favorable option for people less compatible with conventional medication and surgical treatment, influencing the growth of the global cryotherapy market.
Restraint:
Risk of skin damages and rashes
There are numerous positive effects of cryotherapy on the human body. However, whole-body cryotherapy sessions can have serious risks, which include significant skin damage, such as frozen limbs, burns, and frostbite. Rigid limbs are a severe type of frostbite and cause swelling, third-degree burns, and skin blisters. Another health concern caused by cryotherapy is cold panniculitis, where the layer of fat under the skin freezes and causes a long-term rash. All these concerns caused by cryotherapy can last for a short period or may last for a prolonged period. This limits the rapid adoption of cryotherapy by acting as a major restraint for the market.
Opportunity:
Technological advancements and penetration of eCryotherapy
Multiple cryotherapy center operators have started adopting electric-driven and advanced systems for cryotherapy sessions, such advanced systems for cryotherapy are observed to address the challenges with the industry. At the same time, the penetration of fully- electric chambers for whole-body cryotherapy are observed to offer additionally incredible results. eCryotherapy chambers particularly do not use any liquid nitrogen, which automatically lessens the risk of side effects caused by the traditional cryotherapy session. eCryotherapy sessions are proven to give safer results for multiple people simultaneously. All these advancements in the chambers along with the rising penetration of eCryotherapy chambers will open significant opportunity for the market.
Segments Insight:
Therapy Type Insights:
The cryosurgery segment is expected to hold the largest share of the market. Chemotherapy-induced peripheral neuropathy (CIPN) is a severe side effect that highly occurs in cancer patients undertaking chemotherapy. There is a growing use of cryotherapy and compression therapy to prevent CIPN worldwide. For instance, decreased swelling and inflammation, decreased pain, and reduced muscle spasm, which occurs with cryotherapy, clearly should help rationalize its value in treating subacute and chronic problems. Additional well-controlled studies would help clarify the effectiveness of cryotherapy in the rehabilitation program.
Chamber therapy is expected to register the fastest growth during the forecast period. Chamber therapy helps in treating chronic wounds and other medical care. It contains 21% oxygen, whereas hyperbaric oxygen therapy provides air containing 100% oxygen. A pressurized chamber offers two to three times higher oxygen, which helps the lungs collect and absorb more oxygen. Oxygen aids the tissues in the body to heal and withstand infections. The U.S. Food and Drug Administration (FDA) has accepted hyperbaric oxygen therapy to help treat severe burns, carbon monoxide poisoning, skin grafts, radiation injuries, and severe anemia.
Device Type Insights:
The cryochambers segment dominates the global cryotherapy market. A highly furnished and latest cryo-chamber treatment can cure displeasure in a few isolated nerves and cure joint pain, nerve entrapments, benign nerve growths, etc. Even entire-body cryo-chamber therapy can cure depression and raise the performance level. The soft tissue muscle soreness can be relieved using freezing therapy in a cryo-chamber.
The cryogun segment is expected to be another most attractive segment during the forecast period. Cryogun is considered as the most used device in cryotherapy for the treatment of localized lesions, skin ailments and cancer. It contains cryogen generally used for freezing targeted tissues or cells. It is cost-friendly and lessens the medical burden on patients.
Application Insights:
Fitness is dominating the application segment in the cryotherapy market, the segment will continue to grow at a substantial rate during the predicted period. The rushed lifestyle, vigorous travel, and busy schedules often lead to muscle cramps and body aches, so a significant chunk of the population is inclined towards fitness, which emphasizes staying fit and groomed. Overtraining can lead to muscle strains, stress fractures, or tendon injuries, so the customer seeks cryo treatment as it rejuvenates the body. It reduces inflammation and puffiness and improves skin quality. For instance, Ice therapy appears to be a safe, convenient, and successful mode of treatment.
End-User Insights:
The hospitals & specialty clinics is the fastest-growing segment in the cryotherapy market. The segment is observed to generate a significant share during the forecast period. Cryotherapy is a wellness treatment that harnesses bone-chilling colds to improve the skin, body, and mental health. It is used for the treatment of various skin conditions and some cancers, including prostate and liver cancer. The demand for such treatments in hospitals and specialty clinic centers fuels the segment's growth.
The spas and fitness centers segment is expected to witness significant growth in the cryotherapy market during the projected period. Cryotherapy treatment is suitable for all skin types and helps in stimulating collagen production and tightening pores. Regular application of an ice cube can improve skin texture, tighten pores, gives a fresh feel, and boost radiance. For instance, Ice can be a valuable therapeutic agent for the treatment of arthritis, low back pain, bursitis, common musculoskeletal problems, and other inflammatory conditions.
Distribution Channel Insights:
The hospital pharmacy segment holds the largest share of the market and will continue to sustain its position during the forecast period. Hospital pharmacists are responsible for ensuring the safety and quality of medications used in cryotherapy treatments. They would verify the integrity and proper storage of cryogenic substances, monitor temperature-sensitive medications, and adhere to relevant regulatory guidelines.
The retail pharmacy segment is expected to witness a significant growth during the forecast period. Cryotherapy is often associated with health and wellness trends. A retail pharmacy serves multiple purposes such as customers seeking wellness and self-care options will be drawn to the retail pharmacy. It also takes a collaborative approach by integrating cryotherapy into existing services. For instance, this pharmacy can work with doctors, physical therapists, sports medical consultants to offer cryotherapy. This collaboration will drive both pharmacy and healthcare providers.
Regional Insights:
North America is dominating and expected to remain a significant region in the cryotherapy market throughout the predicted timeframe. The growth of the region is attributed to the surge in demand for anti-aging procedures along with the continuous innovations in the industry. The enormous demand for cancer prevalence solutions, continuous innovations in treatments and therapies along with substantial technological advancements supplement the growth of the market in North America. The United States is the largest economy in the region to deal with sun-damage restoration and to take on novel surgical procedures with a highly developed consumer wellness market and a strong focus on innovation and technological advancements. This element is observed to fuel the demand for cryotherapy and other associated treatments in the region.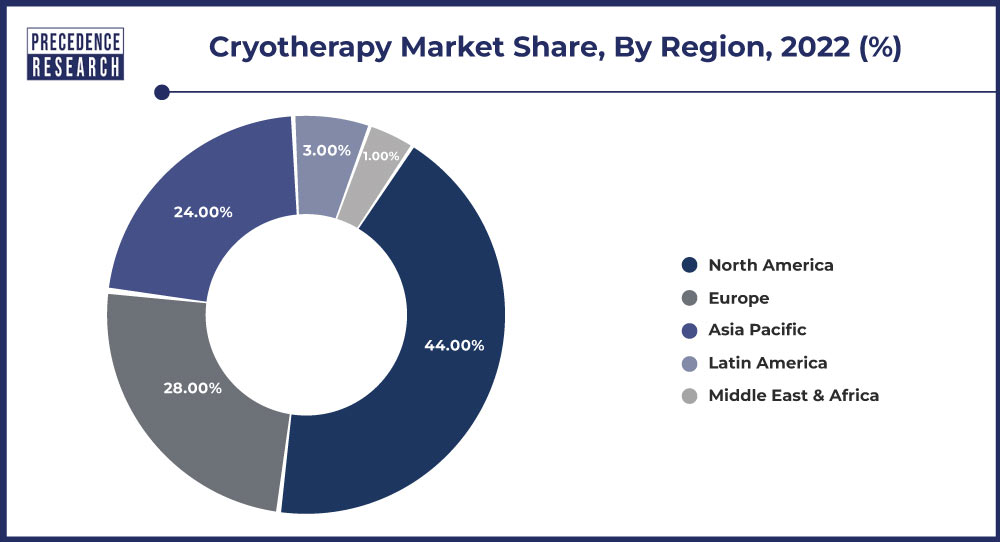 Asia Pacific is expected to witness a significant growth during the forecast period. The growth is attributed to the growing population rate, a vast consumer base, increasing healthcare expenditure and rise in diseases in the region. The advancements in technology are projected to fuel the market's expansion in countries such as China, Japan and India. Moreover, the growing acceptance for surgical treatments in the region is observed to propel the market's growth.
The rising number of cancer patients in the region is again expected to grow the demand for cryotherapy. In February 2022, an Asian Conference on Cryotherapy was held in Malaysia. The conference with the presence of multiple scholars from China, Japan, Austria and other places concluded with the significant achievements of cryotherapy in improving the poor areas of medical sciences.
Recent Developments:
In February 2023, CryoCON international cryotherapy convention took place in Dallas, Texas, from 5-6 March Art of Cryo sponsored it; the two-day event conducted and is built to bring together global industry leaders to debate the recent development in cryotherapy technology, culture, and products. Attendees were observed to learn from keynotes, discover new products, participate in panel discussions, and network with industry professionals at an official event expo.
In July 2022, The Spa Butler, one of the expanding cryotherapy industries, announced to debut a line of innovative products for the health-related community. The America Cryo, Subzero is a local aesthetic skin cooling device that arrives at subzero degrees temperatures, making cryotherapy facials cost-effective, convenient, and manageable. The easy-to-use Subzero is for sale at half the cost of nitrogen-based products.
In May 2022, iCRYO, the wellness brand, and fast-growing recovery, declared its plan to open two new regional offices in Dallas, Texas, and Loveland, Colorado, to support the system's rapid expansion. Headquartered in Houston, the corporate team relocated to a larger office when available.
In January 2022, Medtronic recorded a definitive agreement to get Affera Inc., a privately held medical technology firm in Boston. Affera designs and makes electrophysiology (EP) cardiac mapping, navigation systems, and catheter-based cardiac ablation technologies, extending Medtronic's get into the mapping and ablation navigation system market and flushing out its EP offers.
In January 2021, Pregna International Ltd. extended its status as a booming women's healthcare organization by releasing its ground-breaking cryotherapy device - CryoPop. Jhpiego enhanced the ingenious device intending to make the therapy of cervical pre-cancerous lesions accessible to all.
Key Market Players:
Brymill Cryogenic Systems
Metrum Cryoflex
Medtronic Medicale S.r.l.
Cryoalfa
Wallach Surgical Devices
Zimmer M CryoConcepts LP
Medtronic
Cortex Technology
edizinSysteme GmbH
CryoConcepts LP
Medtronic
Cortex Technology
Segments Covered in the Report:
(Note*: We offer reports based on sub segments as well. Kindly, let us know if you are interested)
By Therapy Type
Cryosurgery
Icepack Therapy
Chamber Therapy
By Device Type
Tissue Spray Probes
Gas Cylinders
Cryogun
Cryo Probes
Tissue Contact Probes
Tissue Spray Probes
Gas Cylinders
Localized Cryotherapy Devices
Cryochambers
By Application
Surgical Applications

Oncology
Cardiology
Dermatology

Cold Storage
Pain Management
Beauty & Wellness
Fitness
By End-User
Hospitals & Specialty Clinics
Cryotherapy Centers
Spas & Fitness Centers
By Distribution Channel
Hospital Pharmacy
Retail Pharmacy
Online Pharmacy
By Geography
North America
Europe
Asia-Pacific
Latin America
Middle East and Africa