The global dark fiber network market size was estimated at USD 6.14 billion in 2022 and it is predicted to reach around USD 20.95 billion by 2032, poised to grow at a CAGR of 13.06% during the forecast period from 2023 to 2032.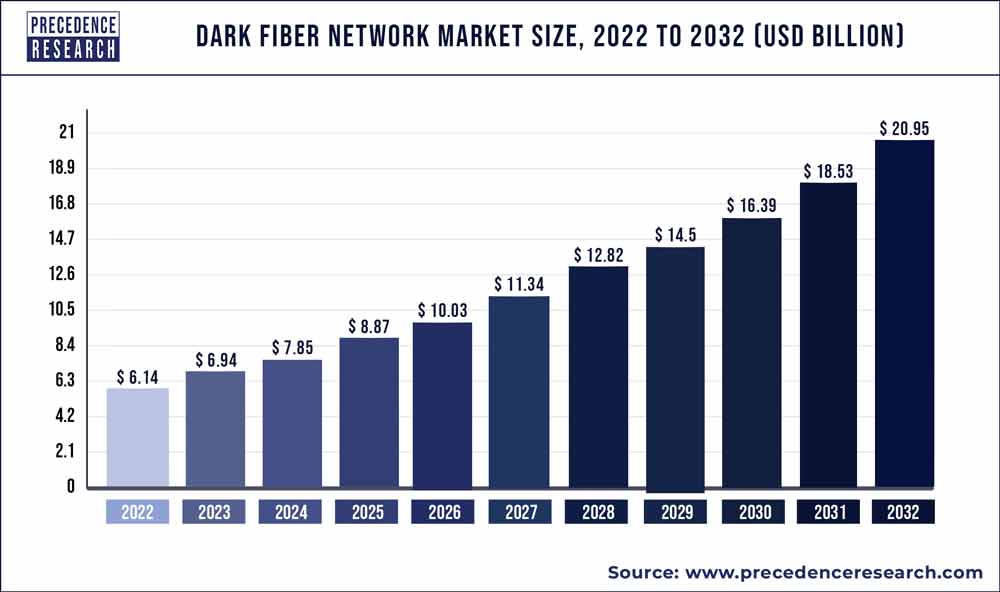 Access our Premium Real Time Data Intelligence Tool, Visit: Precedence Statistics
Key Takeaways:
North America contributed more than 32% of revenue share in 2022.
By Fiber Type, the single-mode segment dominated the market in 2022.
By Network Type, the metro segment led the global market in 2022.
By Application, the telecom segment held the largest market share in 2022.
Market Overview:
The dark fiber network market refers to the infrastructure of unused or unlit optical fiber cables that are available for lease or sale to private companies or organizations. These fiber optic cables are known as dark. They are not active or are currently not being utilized to transmit data or signals. Dark fiber networks are typically installed by telecommunication companies or network providers to expand their network capacity. By leasing or purchasing these dark fibers, businesses gain control over their own network connections, allowing them to customize and manage their data transmission and bandwidth requirements according to their specific needs.
Dark fiber network demand has been continually expanding due to the growing demand for fast, dependable, and scalable network connections. The need for dark fiber infrastructure has increased with the advent of data-intensive applications like cloud computing, video streaming, the Internet of Things, and 5G connection. Since the network connections are restricted to the company renting or controlling the fiber, dark fiber networks provide increased security and anonymity. Dark fiber networks are therefore particularly appealing to industries with stringent data privacy requirements, such as banking, healthcare, and government. A strong and substantial fiber optic infrastructure is needed for the installation of 5G networks in order to accommodate the increasing data traffic and low-latency specifications.
The use of dark fiber networks to supply the required connection for 5G installations has increased demand for dark fiber. Internet Service Providers (ISPs) are becoming more and more interested in dark fiber networks to improve their service options and increase network coverage. Internet Service Providers (ISPs) may provide high-speed internet connectivity to underserved areas without spending money on expensive network expansions by investing in dark fiber infrastructure.
Due to the continually changing nature of the dark fiber business, precise market share statistics may not be easily accessible, however several locations are renowned for their considerable adoption and growth of dark fiber networks. Given its sizable population, massive telecommunications infrastructure, and great demand for connection, the United States has historically been at the forefront of the dark fiber industry. The dark fiber market is expanding significantly in other regions as well, such as Europe and Asia-Pacific, where measures to increase broadband access, assist innovative technologies, and promote digital transformation are being supported.
Growth Factors:
The market for dark fiber networks is mostly driven by the rise in demand for fast, dependable internet access. Businesses and individuals alike need more bandwidth capacity to meet the rise in data traffic brought on by the growth of data-intensive apps, cloud computing, Internet of Things, video streaming, and 5G networks. Dark fiber networks offer the infrastructure required to handle these increasing bandwidth demands. Another important element driving the development in the dark fiber network industry is the proliferation of data centers. Organizations need reliable and scalable network connectivity between their sites and the data centers when they move their infrastructure to data centers or use cloud computing services. Dark fiber networks offer the robust connections required for quick access to cloud services and effective data transmission.
The need for dark fiber networks is being fueled by the digital transformation initiatives being implemented by many enterprises across various sectors. Organizations need reliable and secure connection as they digitize their processes, embrace Internet of Things devices, put cloud-based solutions into place, and take advantage of emerging technology. Dark fiber networks provide the capacity and adaptability required to enable these aspirations for digital transformation. The proliferation of dark fiber networks is being driven by escalating worries about data security and privacy. Dark fiber connections are preferred by businesses with sensitive data or regulatory compliance needs due to their control and exclusivity. Dark fiber networks improve security and data protection measures by removing the requirement to share infrastructure with other organizations.
Report Scope of the Dark Fiber Network Market:
| | |
| --- | --- |
| Report Coverage | Details |
| Market Size in 2023 | USD 6.94 Billion |
| Market Size by 2032 | USD 20.95 Billion |
| Growth Rate from 2023 to 2032 | CAGR of 13.06% |
| Largest Market | North America |
| Base Year | 2022 |
| Forecast Period | 2023 to 2032 |
| Segments Covered | By Fiber Type, By Network Type, and By Application |
| Regions Covered | North America, Europe, Asia-Pacific, Latin America, and Middle East & Africa |

Market Dynamics:
Driver:
Scalability and flexibility
Dark fiber networks provide scalability and flexibility, enabling businesses to tailor their network architecture to their unique requirements. Businesses who are experiencing significant growth or variations in their bandwidth needs would benefit most from this flexibility. The market for dark fiber networks is being significantly fueled by the ever-increasing need for high-speed and dependable internet access. Data security and privacy are improved due to dark fiber networks, which give businesses complete control over their network connections.
Restraint:
Initial investment and ongoing costs
Dark fiber network deployment needs a sizable upfront expenditure, which includes the cost of renting or buying the fiber strands as well as the related installation and maintenance costs. For businesses with low resources, these upfront fees may be a barrier. Dark fiber network management and operation may require specialized knowledge and technical proficiency. Organizations could have trouble finding and keeping the right talent, or they would need to rely on outside service providers, which would raise total expenses, thus impacting the growth of the market.
Opportunity:
Internet service providers
Dark fiber networks give Internet Service Providers (ISPs) the opportunity to reach more people with their network, improve the quality of their services, and connect to underserved areas. Internet Service Providers (ISPs) can expand the scope of their networks and provide high-speed internet access to a larger client base by renting or buying dark fiber. A dense and sturdy fiber optic infrastructure is needed for the deployment of 5G networks in order to meet the increasing data traffic and low-latency requirements. Telecommunications companies and network operators have a fantastic opportunity to expand their infrastructure in order to accommodate the growing demands of 5G.
Challenge:
Regulatory and legal considerations
Regulation and legal factors, such as getting required permissions, abiding by local laws, and ensuring compliance with data protection and privacy laws, may be relevant to the development of dark fiber networks. For organizations, navigating these requirements may be challenging. As more competitors enter the dark fiber industry, it gets more and more competitive. Market saturation, pricing pressures, and the need for distinctiveness to distinguish out from rivals might result from this. Particularly in rural or distant areas, the availability of dark fiber infrastructure may be constrained in some places. Accessing and using dark fiber networks may be difficult for businesses operating in these regions.
Impact of Covid-19:
The COVID-19 pandemic has had beneficial as well as detrimental impacts on the market of dark fiber networks. To be beneficial, the pandemic led to a rise in remote employment, distance learning, and online activities, which raised the demand for internet access. Due to the increasing bandwidth needs, strong networks with dark fiber infrastructure were required. The epidemic also boosted industry-wide attempts to convert into digital businesses, resulting in more spending on digital infrastructure, data centers, and cloud computing. In turn, this increased demand for dark fiber networks, which offer scalable and fast connections. Dark fiber networks met the demand for safe and reliable network connections that was also prompted by the growth of healthcare services and a growing reliance on online communication tools.
On the other hand, the pandemic delayed network construction and installation due to supply chain disruptions, temporary closures, and workforce shortages. The economic downturn's financial restrictions resulted in smaller capital expenditure budgets, which can have an influence on efforts to expand the dark fiber network The unpredictable nature of the epidemic made it impossible for organizations to accurately forecast their network bandwidth requirements, which may have an influence on investment decisions for dark fiber infrastructure.
The COVID-19 epidemic highlighted the need for dependable and expandable network infrastructure and increased interest in dark fiber networks. Although there were difficulties with delays and budgetary limitations, the growing reliance on digital technology and the demand for better connection have highlighted the importance of dark fiber networks in assisting changing business needs.
Segments Insight:
Fiber Type Insights:
Single-mode fiber held a dominant market share in the dark fiber network market in 2022. Single-mode fiber is designed to transmit a single mode of light, enabling it to carry data over longer distances with minimal signal loss. Single-mode fiber is ideal for long-distance transmission, making it suitable for intercity or international connections. It can transmit data over tens or hundreds of kilometers without significant signal degradation. Single-mode fiber has a smaller core size, allowing it to support higher bandwidth capacities.
Shorter-distance data transmission is made possible by multi-mode fiber's ability to transport numerous light modes concurrently. Multi-mode fiber is generally utilized in data centers, campus settings, or metropolitan area networks for shorter transmission lengths. It works well in situations when shorter links are adequate. Compared to single-mode fiber, multi-mode fiber has a greater core size, making it easier to couple light sources and produce less expensive transmitters and receivers.
Network Insights:
By network metro networks held the maximum share in 2022. Metro networks, commonly referred to as metropolitan area networks, serve a particular city or metropolitan region. These networks offer connection over a comparatively smaller area of land. Metro networks are primarily concerned with offering dependable high-speed connection inside a single city or metropolitan area. They provide for the networking requirements of local enterprises, and organizations.
Long-haul networks link cities, regions, and even entire nations over great distances. These networks are made for sending data over vast distances, frequently between large cities or between many regions. Since they enable seamless communication and data transfer over great distances, long-haul networks are crucial for connecting rural places. They are the foundation of both the domestic and global communication infrastructures.
Application Insights:
In 2022, telecom industry held the maximum share, since dark fiber networks provide consistent, high-speed connectivity to telecommunication service providers.
Dark fiber application is also growing in the medical field like telemedicine, healthcare data exchange, and medical imaging. These networks allow for the quick and secure exchange of medical information and photographs, as well as high-quality video consultations.
Regional Insights:
The dark fiber network market held the maximum shares in the North America in 2022. The development of fiber optic networks is only one example of the significant improvements in telecommunications infrastructure that have taken place in the United States. This gave the dark fiber market a solid platform for growth. As internet penetration is more in US, the demand for dark fiber is increasing. Dark fiber networks are now more necessary than ever due to the increasing use of Internet services and the growing need for high-speed access.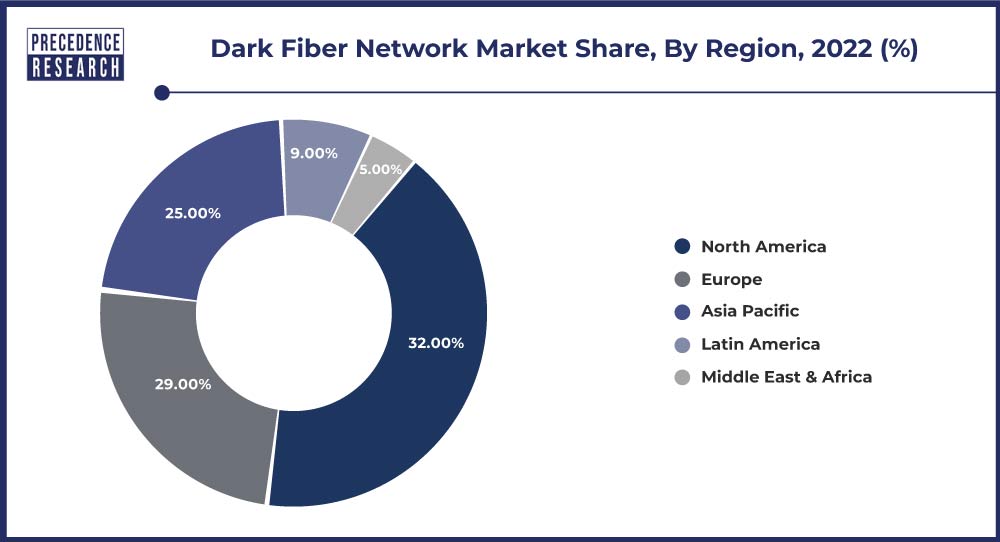 The United States has a large concentration of enterprises, organizations, and people that need dependable and high-capacity network connectivity due to its sizeable population and growing urbanization. With a robust ecosystem of businesses engaged in data-intensive industries including technology, media, entertainment, and finance, the United States is a hotspot for digital innovation. These industries depend on dark fiber networks to support their operations and provide flawless and quick data transmission due to their high bandwidth needs.
Significant investments have been made in the telecommunications sector in the US, and leading network operators and telecoms giants are aggressively building up their fiber optic infrastructure. These investments have helped make dark fiber networks more accessible and available, thus enhancing the market's position.
Recent Developments:
In November 2022, a Chicago-based owner, operator, and developer of fiber optic infrastructure made its public debut. This business specializes in creating fiber optic networks on demand. The newly formed company will offer infrastructure that is entirely safe, ubiquitous, and expandable, giving specialized routes and tactical alternate routes connecting data centers and other entities.
In May 2023, the purchase of the Belgian utility company's dark fiber division by EU Networks has been completed. Following the agreement, EU Networks stated that the integration of the duct-based network, which consists of 1,660km of fiber distributed via special routes in Brussels and long-haul routes throughout Belgium, is already underway.
Key Market Players:
Zayo Group Holdings Inc.
AT&T Inc.
CenturyLink Communications LLC (now part of Lumen Technologies)
Verizon Communications Inc.
Level 3 Communications (now part of CenturyLink/Lumen Technologies)
Crown Castle International Corp.
Windstream Holdings Inc. (now Kinetic by Windstream)
GTT Communications Inc.
Comcast Corporation
Fiber Light, LLC.
Segments Covered in the Report:
(Note*: We offer reports based on sub segments as well. Kindly, let us know if you are interested)
By Fiber Type
By Network Type
By Application
Telecom
Oil & Gas
BFSI
Medical
Railway
By Geography
North America
Europe
Asia-Pacific
Latin America
Middle East and Africa