The global data center as a service market size was reached at USD 72.4 billion in 2022 and it is projected to hit around USD 476.3 billion by 2032, growing at a CAGR of 20.73% from 2023 to 2032.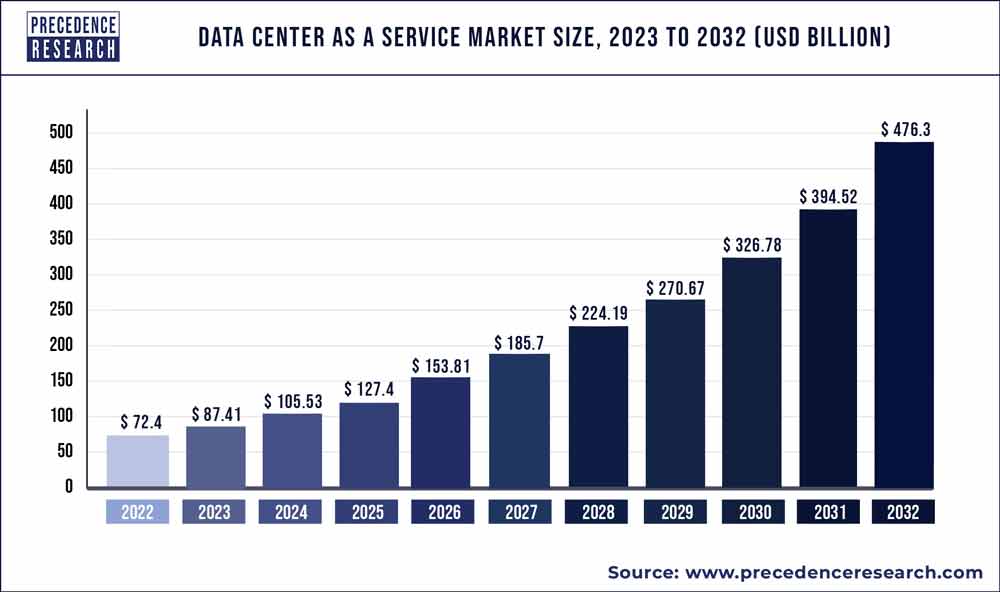 Data Center as a Service (DCaaS) is a hosting service in which clients are given access to actual data center equipment and amenities. Through a Wide-Area Network, DCaaS enables clients to remotely utilize the provider's storage, server, and networking tools. (WAN).
Growth Factor:
Enterprises have the option to move away from real infrastructure thanks to the data center as a service (DCaaS), which enables cost reductions on overhead. The cost of owning a data center is expensive, there are many connected devices on the market, and the idea of the metaverse is just starting to take off as a major component driving market expansion.
The COVID-19 outbreak caused the halting of numerous activities in numerous industries as well as the building of numerous data centers. Due to societal conventions favoring social distance and corporate work-from-home cultures, this had hardly any effect on the DCaaS market. Due to increasing data volumes, several businesses were forced to move their complete IT systems to the cloud as a result of the pandemic epidemic.
A survey conducted by Rackspace Technology in collaboration with Google Cloud in 2021 revealed that over half (51%) of the 1,400 IT executives surveyed have already migrated their infrastructure to the cloud. Additionally, 49% of the respondents expressed their intention to move their workloads from on-premises infrastructure to the cloud in the future. Additionally, the pandemic increased worldwide data quantities by encouraging more people to use social media and other digital technologies.
The usage of data centers as a service is expected to be fueled by the growing shift toward cloud computing. Thus, the COVID-19 outbreak had a favorable effect on the market, leading to positive development throughout the pandemic, which is anticipated to continue over the course of the projection period.
The need for employees and big areas was reduced by the data centers as a service. Utilizing outside cloud service providers, this idea enables businesses to decrease the number of employees working in their private data centers. Additionally, it allows vendors to construct data centers that require little to no human interaction and are readily serviced by machines. Automation is made possible and data centers' footprints can be crammed closer together, lowering running costs.
Additionally, the data center service marker is expanding quickly due to the increasing traffic, which creates numerous possibilities for development. About 70% of the resources are used to manage the data centers that handle a lot of daily traffic as a result of the rising volume of traffic. There will shortly be more chances for growth because traffic is growing daily. It will aid in utilizing the prospective sources given the expanding demand for data center services.
The increasing use of data storage portable devices in order to retrieve data irrespective of time and location is driving the growth of the data as a service market.
Furthermore, the rising demand for colocation facilities and enterprise data storage is highly escalating the growth of the market.
Also, the emerging cloud technology and adoption of service models such as IaaS, SaaS, and PaaS are tremendously boosting the data center as a service Market size during the forecast period.
Report Scope of the Data Center As A Service Market
| | |
| --- | --- |
| Report Coverage | Details |
| Market Size in 2023 | USD 87.41 Billion |
| Market Size by 2032 | USD 476.3 Billion |
| Growth Rate from 2023 to 2032 | CAGR of 20.73% |
| Largest Market | North America |
| Base Year | 2022 |
| Forecast Period | 2023 to 2032 |
| Segments Covered | By Infrastructure, By Organization Size and By Vertical Size |
| Regions Covered | North America, Europe, Asia-Pacific, Latin America and Middle East & Africa |

Key Market Drivers:
Increasing interest in cloud computing
Due to the fact that cloud computing has taken the lead as the key tendency for next-generation data centers, businesses are moving toward cloud services. The market for data centers as a service is being further strengthened by the transfer of the entire network to the cloud and the implementation of mixed clouds. The hybrid cloud architecture enables businesses to secure and manage data by allowing the storage of confidential data in a private network. As a result, the demand for data centers as a service is being driven by organizations' adoption of numerous cloud services.
Key Market Challenges:
Energy efficiency requirements and general ignorance
The massive quantity of energy used in data centers and the issue of rising temperatures are seriously affecting the market for data centers as a service. The need to manage data center technologies is also a result of the dearth of knowledge about the services. This has an impact on the use of data center services, and it is becoming more important to concentrate on raising knowledge among data center proprietors.
Key Market Opportunities:
Hyper-scale data centers are expanding
Small and large companies are increasingly adopting cloud computing solutions, which is accelerating the infrastructure growth of data centers. The market for data centers is expanding due to the development of hyperscale sites that can house thousands of computers. More than 500 data centers were deemed hyperscale in 2019, and more than 151 data centers are expected to be built in 2020, according to exchange. These elements are fueling an increase in the demand for hyperscale facilities, which is raising the price of the data centers as a service.
Segments Insight:
Infrastructure Insights:
In 2022, the servers market category had the biggest share more than 51% and is anticipated to continue to dominate during the forecast period. A complex IT system is now required due to the increasing use of various digital technologies like artificial intelligence, the internet of things, and machine learning. Additionally, there is a growing need for high-performance computing systems to support a variety of apps and solutions, such as software-defined solutions, hyper-converged infrastructure, big data analytics, and others.
Additionally, the demand for faster processing rates to handle large data volumes is anticipated to boost usage in government, military, and academic organizations, which is anticipated to spur market expansion.
Over the forecast period, the storage segment is expected to expand at the fastest pace. The expansion of both organized and uncontrolled data is responsible for this sector's expansion. Additionally, it is expected that increased utilization of streaming services and digital platforms during the pandemic will aid in the expansion of the storage market. Additionally, the networking market is anticipated to be driven by the expanding demand for easy and fast data exchange.
Organization Size Insights:
In 2022, big businesses had the highest income share—more than 50.5%. A number of major businesses are upgrading their IT infrastructure in order to operate cutting-edge applications and processes based on IoT and big data analytics. Large businesses also handle a lot of data, which necessitates a lot of storing space. The adoption of the DCaaS model in big businesses is predicted to grow as a result of these variables.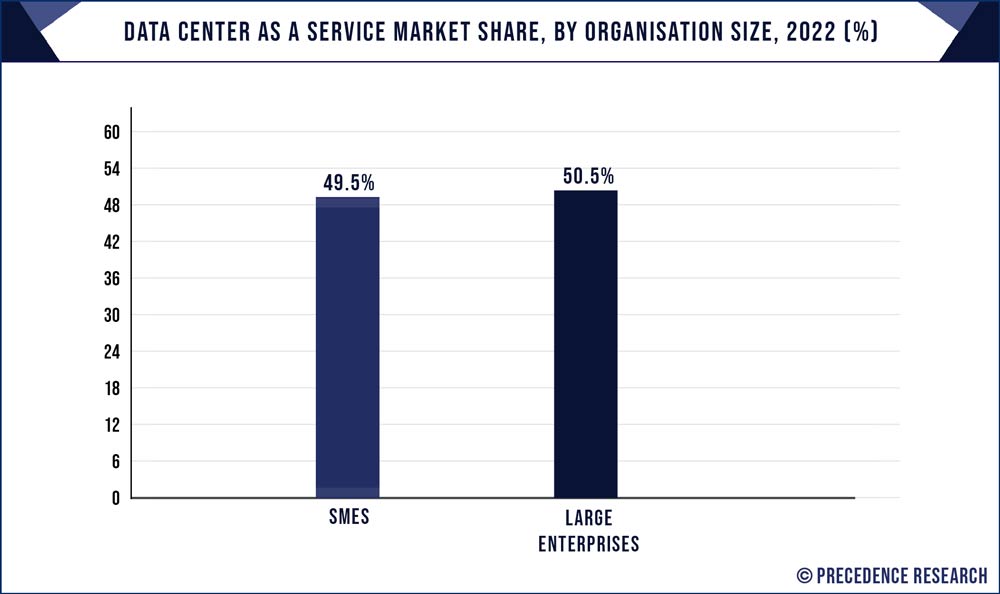 Over the forecast term, SMEs are anticipated to expand at the fastest pace. By selecting a third-party data center over on-site IT infrastructure, a number of SMEs are significantly reducing their capital expenses as they outsource services on a larger scale. As a result, DCaaS gives them a good choice for moving their tasks to the cloud and lowering overhead expenses. Government efforts are encouraging SMEs in developing nations to embrace data centers, which is good news for the industry.
For instance, a number of SMEs are predicted to use data center services as a result of government programs like "Atal Incubation" and "Digital India," which are expected to support market expansion.
Vertical Size Insights:
The biggest revenue portion in 2022 more than 21% was accounted for by the IT and telecom sectors. In the upcoming years, a significant quantity of data is anticipated to be produced due to the rollout of 5G and the increase in internet traffic worldwide. The World Bank Group estimates that in 2022, total internet traffic will hit 4.8 zettabytes, a rise of roughly 50% from 2020. Additionally, it is predicted that the demand for DCaaS will increase due to rising mobile networks worldwide, resulting in market development in the future.
The healthcare sector is expected to show the highest growth rate over the forecast time. The increased emphasis on protecting patient data and the use of cutting-edge technical tools in the healthcare industry are credited with this development. Additionally, the BFSI sector is anticipated to expand significantly over the course of the projection period as a result of consumers' growing reliance on internet banking, as well as the rising popularity of mobile wallets and online payment services. Several institutions are also moving their operations to the cloud, which is anticipated to promote market expansion.
Regional Insights:
In 2022, the North American market held the biggest sales share with over 35.8%. The demand for data handling across numerous industries and technological developments are expected to drive market expansion. Furthermore, it is anticipated that powerful telecom networks and government efforts will accelerate the adoption of DCaaS in the area.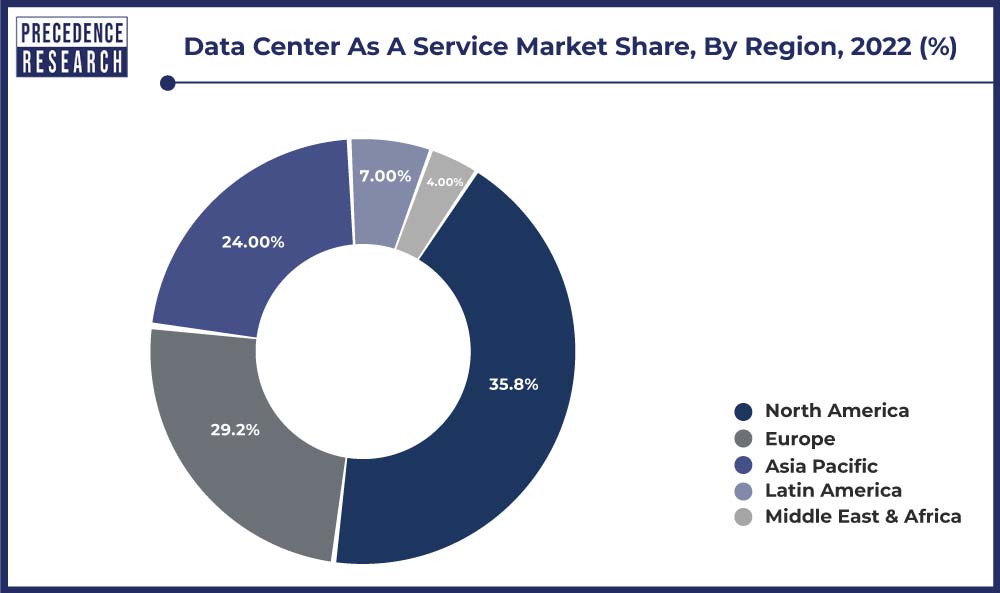 Europe's demand for DCaaS is expected to be driven by strict data security regulations across the continent. Over the projection period, Asia Pacific is anticipated to expand at the fastest pace. The expansion of data centers to handle high data quantities is responsible for this development. Additionally, the region's growing use of digital services and vast communication network are anticipated to support market expansion. In addition, the region's expanding startup and SME population is anticipated to accelerate the uptake of DCaaS.
Recent Developments:
Hewlett Packard Enterprise declared in June 2020 that its edge-to-cloud platform-as-a-service (PaaS) plan had advanced. As a result, HPE GreenLake and next-generation online services have both advanced quickly. The expansion of container administration, machine learning operations, storage, compute, data security, and networking is made possible by the new HPE GreenLake cloud services. This will aid clients in further transforming and modernizing their data and apps, whether they are located on-site, in colocation centers, or increasingly at the edge.
In April 2019, Qualcomm unveiled Cloud AI 100, a member of the ASIC family that will assist in creating various thermal spots for use in various scenarios. For improved efficiency, it will have a variety of sophisticated features.
Key Market Players:
Cloud Central Pty Ltd.
Datacom Systems (ACT) Pty Ltd.
Enterprise Data Corporation Pty Ltd.
Hewlett-Packard Australia Pty.
Dell Australia Pty Ltd.
Emantra Pty Ltd.
C3 Business Solutions Pty Ltd.
IBM Corporation
Vertiv Co.
Equinix
Segments Covered in the Report:
(Note*: We offer report based on sub segments as well. Kindly, let us know if you are interested)
By Infrastructure
Servers
Storage
Networking
By Organization Size
By Vertical Size
IT & Telecom
BFSI
Healthcare
Retail
Manufacturing
Others
By Geography
North America
Europe
Asia-Pacific
Latin America
The Middle East and Africa