The global data center automation market size was reached at USD 7.85 billion in 2022 and is projected to hit around USD 28.58 billion by 2032, growing at a CAGR of 13.79% during the forecast period from 2023 to 2032.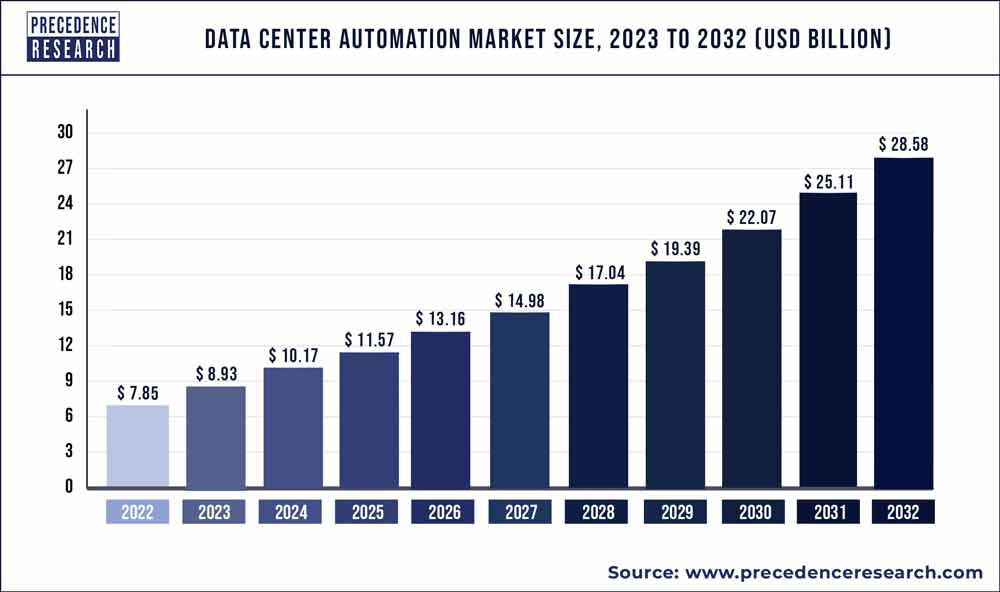 Data center automation manages and executes routine workflows and techniques such as scheduling, monitoring, maintenance, application, and delivery without human intervention. Automation of data centers improves agility and operational efficiency. It reduces the time IT spends on routine tasks and enables them to provide services on demand in a repeatable, automated manner. End users can then quickly consume these services.
Key Takeaways:
North America generated more than 42% of the revenue share in 2022.
By Solution, the server automation segment captured more than 52% of revenue share in 2022.
By Service, the installation and support services segment contributed to the highest market share in 2022.
By Deployment, the cloud segment generated more than 52% of revenue share in 2022.
By Enterprise, the large-size enterprise segment captured more than 70% of revenue share in 2022.
By Vertical, the Telecom& IT segment generated for the maximum market share in 2022.
Report Scope of the Data Center Automation Market
| | |
| --- | --- |
| Report Coverage | Details |
| Market Size in 2023 | USD 8.93 Billion |
| Market Size by 2032 | USD 28.58 Billion |
| Growth Rate from 2023 to 2032 | CAGR of 13.79% |
| Largest Market | North America |
| Base Year | 2022 |
| Forecast Period | 2023 to 2032 |
| Segments Covered | By Solution, By Service, By Deployment, By Enterprise and By Vertical |
| Regions Covered | North America, Europe, Asia-Pacific, Latin America and Middle East & Africa |

Market Dynamics:
Drivers:
The growing global use of the internet and networking has significantly increased the demand for computing power, additional storage space and complex networking. This requirement has caused infrastructure development in current data centers, raising capital and operating expenditures for data centers and enterprises. This expansion has also enhanced the complication of networking, integration, and resource pooling in data centers. These factors are critical to the growth of the global data center automation market.
To address the concerns of the growing need for resource pooling, networking simplification, and overall data center management, innovators developed the complex conception of data center automation, also known as Software-Defined Data Centers (SDDCs). This enables conventional data center operators to level up their current infrastructure effortlessly, resulting in lower overheads. This additionally contributes to the integration of server storage and networking and the streamlined management of all resources. Data center automation assists enterprises and service providers in managing their active data centers and networks by overcoming the challenges of scalability, flexibility, manageability, and cost reduction.
Restraints:
Lack of skilled professionals
Given the number of new technology innovations on the market, it is vital to have employees who are skilled in maintaining and programming advanced technologies. When addressing skill shortages, the data center skills difference is broadening. According to a study, more than half of data center workers need help recruiting staff as of April 2021. Moreover, the number of employees required to operate global data centers is expected to rise from 2 million in 2019 to approximately 2.3 million in 2025, implying that the number will increase even further.
According to the survey, 29% of respondents needed help recruiting cloud professionals, while 26% had difficulty recruiting data center facilities, engineering, and technicians. Furthermore, 25% of respondents reported needing help finding qualified candidates for network security, IT and data center management, and DevOps. Thus, the lack of skilled professionals restricts the market growth.
Opportunity:
Rapid advancement in technology
The rapid advancement in technology transforming data centers, such as server virtualization, is expected to drive the market. Many manag
ed service providers (MSPs) and data centers are migrating to Software-Defined Data Centers to reduce infrastructure burdens (SDDCs). Virtualization technologies recreate computing power and storage in software form in an SDDC model. In contrast to the traditional, inefficient method of issuing one server to each user, server virtualization enables data centers and service providers to house multiple users on a single server by segmenting servers.
Since workloads are distributed across multiple servers, virtualization improves scalability. This model effectively functions as a cloud model, with the service provider allocating data storage and processing power on an 'as needed' basis. Virtualization also improves efficiency by ensuring that resources are used to their full potential.
COVID-19 Impact:
COVID-19 had a positive impact on the data center automation market. The pandemic led to an increase in the adoption of digital services, such as e-commerce, contactless payments, e-payment, online banking, and others. This resulted in the generation of vast amounts of data. Moreover, there was a rise in internet traffic due to working from home and social distancing. Therefore there was a massive demand for data centre smooth connectivity, computing power for collaborative software for the organizations and maintaining data security and safety. Thus, the data center automation market was fueled by the crises of managing data centers during the lockdown.
Segments Insight:
Solution Insights:
Based on the solution segment, the data center automation market is segmented into network automation, server automation, and storage automation. In 2022, the server automation segment accounted for the largest market share of 52% and is expected to grow at a faster rate during the forecast period.
The growth of the segment is driven by the growing demand for efficient servers, which led to adequate network and storage facilities. Server automation benefits include clean architecture, secure and reliable, more accessible and reliable environment setup, instant feedback, software policies, range of interfaces and tools, testing and rollback of deployments. Server automation can help ease and accelerate the deployment process in various ways, beginning with the emergence of test environments.
Test environments that employ the same procedures as production enables developers to see how new features perform before releasing them to the final customer. Thus, server automation combines task and process automation to improve application deployment and administration across virtual and physical servers and provides end-to-end management via automated workflows, which reduce human errors.
Service Insights:
The data center automation market is segmented based on services: consulting, installation, and support services. In 2022, the installation and support services segment accounted for the largest market share. All services provided to set up and integrate all data center management processes into one unified, simple, and highly efficient platform are referred to as installation and integration services.
Deployment Insights:
Based on deployment, the data center automation market is segmented into on-premises and cloud. In 2022, the cloud segment accounted for the largest market share at about 52%. Businesses provide features and functions with greater efficiency and flexibility due to cloud deployment and growing cloud adoption reduces costs and maintenance requirements.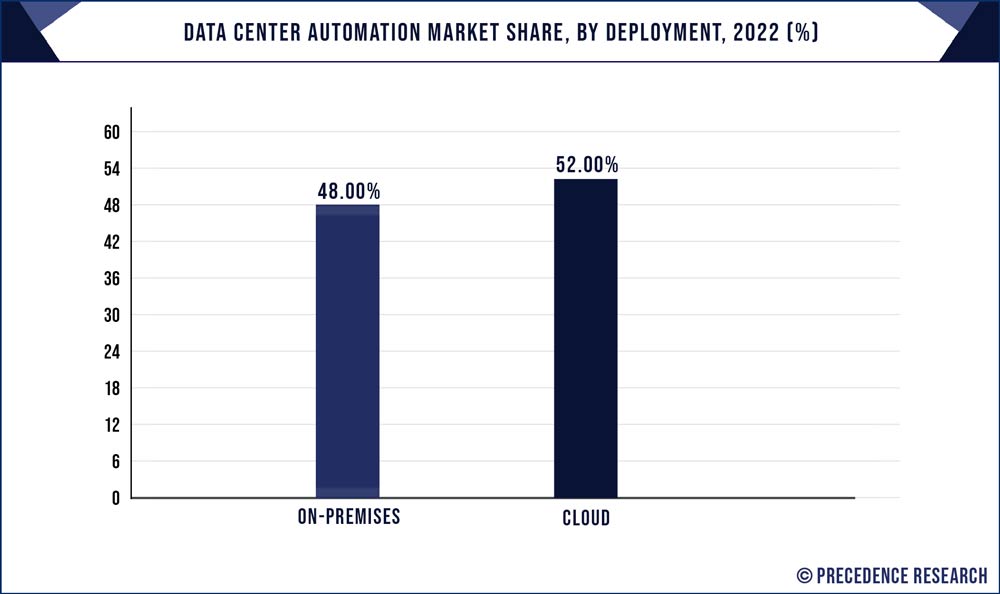 Organizations that use cloud-based solutions can gain access to a large number of data centers and cloud platforms for analysis and mapping.
Enterprise Insights:
Based on the enterprise, the market is segmented into large-size enterprises and small-size enterprises. In 2022, the large size enterprise accounted for the largest market share of about 70% and is expected to grow faster during the forecast period. Companies must store massive volumes of daily data due to the rise of complex business tools such as data analytics and big data. Multinational corporations typically select data centers with superior data security, fueling segment growth.
Vertical Insights:
Based on the vertical segment, the market is segmented into telecom and information technology (IT), media and entertainment, healthcare, banking, Financial Services and Insurance (BFSI), Public Sector, Manufacturing, Retail, and Others. In 2022, the Telecom& IT segment accounted for the largest market share. This is primarily due to the advancement of mobile technologies and the increasing demand for high-speed data services. The expansion of the IT and telecommunications industries benefited the economy by creating new jobs and business opportunities. Consumer prices have decreased due to increased competition among service providers.
Regional Insights:
In 2022, North America dominated the global data center automation market with the highest share of around 42%. The growth of this region is due to technological advancements and their adoption. It has a well-equipped infrastructure and the financial means to purchase data center automation software solutions. Furthermore, using data center automation tools improves efficiency and lowers costs for data center operations such as incident and event management. End-user industries can use it to monitor infrastructure, applications, performance, and security features.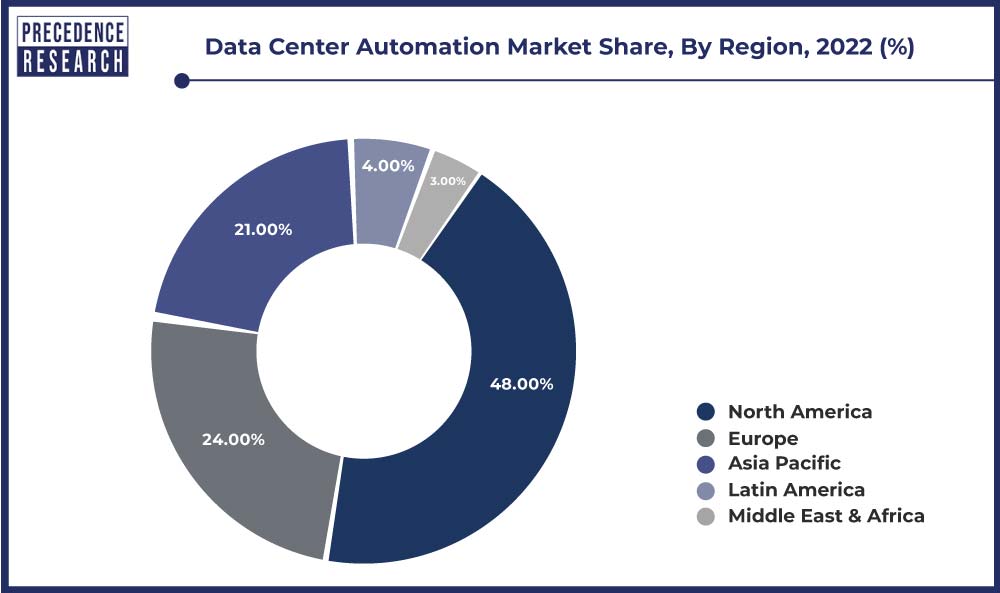 In North America, data center automation solutions used in industries such as BFSI, IT & telecom, and media & entertainment are rapidly increasing. However, due to the large number of people who use social media and the presence of developing countries such as India, China, and South Korea, Asia-Pacific is the dominant region in the global data center automation market.
Recent Developments:
In Oct 2022, Cisco invested in a dedicated India Webex infrastructure to accelerate Webex adoption, which included a new data center and the necessary regulatory licenses.
In 2022, ABB collaborated with ATS Global, a provider of smart digital transformation solutions, to expand its reach in the data center automation market. Both companies will collaborate to combine resources, test the effectiveness and benefits of potential collaborations for ABB Ability data center customers, and grow their respective businesses.
In 2022, Kyndryl, a provider of IT infrastructure services, Microsoft Corporation, and Dell Technologies have announced the launch of a hybrid cloud solution designed to support customers in mainframes, data centers, and remote environments.
Company Profiles and Competitive Intelligence:
Market players attempt to increase their market share through investments, partnerships, acquisitions, and mergers. Businesses are also investing in the development of new products. Furthermore, they are concentrating on maintaining competitive pricing. Some of the prominent market players include:
Cisco Systems Inc.
ABB Limited
Oracle Corporation
Microsoft Corporation
BMC Software
ServiceNow
Citrix Systems, Inc
Hewlett Packard Enterprise Development LP
FUJITSU
VMWare
Segments Covered in the Report:
(Note*: We offer report based on sub segments as well. Kindly, let us know if you are interested)
By Solution
Network automation
Server automation
Storage automation
By Service
Consulting service
Installation and support services
By Deployment
By Enterprise
Large Size Enterprises
Small and Medium Sized Enterprises (SMEs)
By Vertical
Telecom and Information Technology (IT)
Media and Entertainment
Healthcare
Banking
Financial Services and Insurance (BFSI)
Public Sector
Manufacturing
Retail
Others
By Geography
North America
Europe
Asia-Pacific
Latin America
The Middle East and Africa