The global dermatology lasers market size was estimated at USD 1.25 billion in 2022 and is projected to hit around USD 2.54 billion by 2032, growing at a CAGR of 7.4% during the forecast period 2023 to 2032.
The medical equipment used to treat a variety of disorders connected to the skin is called a dermatology laser. dermatology lasers are used to treat illnesses, worries about aesthetic issues, and skin conditions.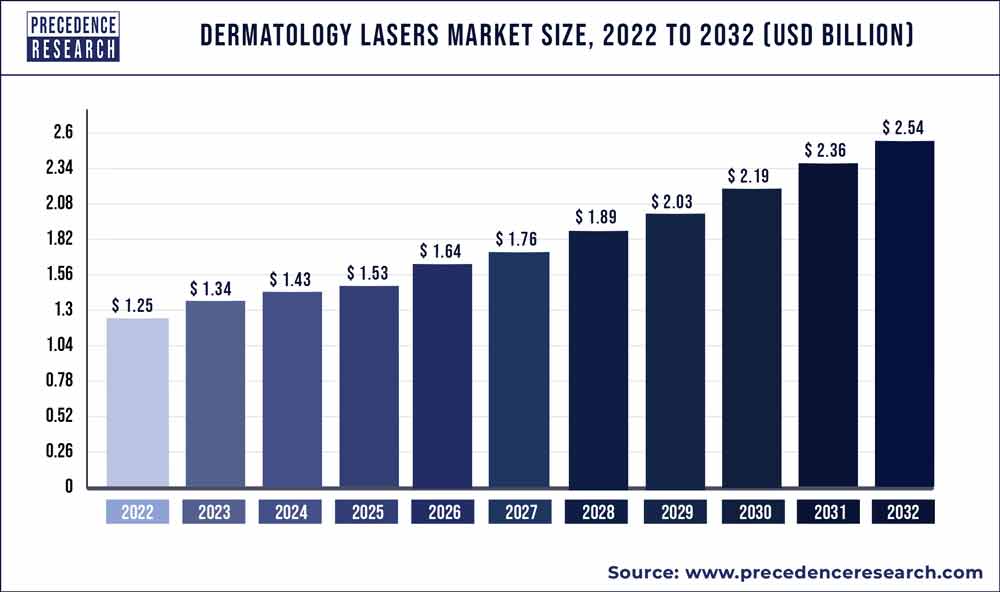 Access our Premium Real Time Data Intelligence Tool, Visit: Precedence Statistics
Growth Factor
Scar removal, hair removal, skin imperfection reduction, psoriasis therapy, wound treatments, and facial wrinkle reduction are just a few of the skin-related operations that are treated with lasers. Due to their effectiveness and focused approach, lasers have become powerful medicinal equipment in the dermatology laser devices business. The growth of the dermatology lasers market is anticipated to be aided by the development of a variety of cutting-edge laser technologies for treating numerous skin diseases, including fractional radiofrequency devices, pulsed dye lasers, alexandrite lasers, CO2 fractional lasers, solid-state lasers, intense pulsed light, and other lasers. Consumers are increasingly seeking treatments to get rid of lines and wrinkles, tighten sagging skin, and remove dark spots as a result of increased worries about their appearance and improving living standards.
Similarly to this, the market will continue to grow during the forecast period due to the growing incidence of skin issues and greater awareness of the availability of cutting-edge laser-based therapies. The projection period is expected to see a significant increase in demand for dermatology lasers. An important element driving the growth of the worldwide dermatology lasers market is people's increasing preoccupation with appearance and cosmetology. The prevalence of skin cancer is increasing. The World Health Organization predicts that between 2 and 3 million non-melanoma skin cancers and between 130,000 and 140,000 melanoma skin cancers will be diagnosed annually worldwide, which is also fueling the expansion of the global dermatology lasers market over the next years. Another significant reason driving the growth of the worldwide dermatology lasers markets is the rise in the elderly population and the baby boomers since many of them undergo laser surgeries. Additionally, the prevalence of unhealthy lifestyles that lead to skin diseases, environmental changes that affect the skin, the time-saving and effective results of lasers, their low side effects, and the rise in consumer demand for minimally invasive procedures and technologically advanced surgeries are all anticipated to propel the growth of the global cardiology lasers market during the forecast period.
One of the key aspects driving the market's expansion is the rise in demand for less invasive cosmetic operations.
Another factor influencing market expansion is the rapid improvements in laser technology combined with rising public awareness of cosmetic operations.
Expanding medical tourism and rising self-consciousness about facial appearance are two additional important factors that will support the development of a lucrative market growth potential.
Report Scope of the Dermatology Lasers Market
Report Coverage
Details
Market Size in 2023
USD 1.34 Billion
Market Size by 2032
USD 2.54 Billion
Growth Rate from 2023 to 2032
CAGR of 7.4%
Base Year
2022
Forecast Period
2023 to 2032
Segments Covered

By Product
By End User
By Indication
By Technology
By Application

Regions Covered

North America
Europe
Asia-Pacific
Latin America
Middle East & Africa

Key Market Drivers
Increasing medical care costs spending
In many countries, the amount of a person's total income that is deemed disposable grows in direct proportion to that degree of economic growth. Thanks to their increased disposable income, individuals will now have access to better healthcare facilities in their countries, which will fuel the growth of the dermatology laser market over the coming years. A number of factors, such as a rise in technical advancements, an increase in the number of individuals who can afford the treatment, and an increase in the amount of money spent on healthcare, are likely to drive the growth of the dermatology laser market.
The popularity of laser therapy is growing
The widespread use of laser therapy as a type of dermatological treatment, which has lately experienced an increase in popularity among people all over the world, is projected to contribute to the acceleration of the market's rise in the years to come. Additionally, an increasing number of patients are choosing laser treatment over other options since it doesn't cut into the skin. This pattern is anticipated to persist. Additionally, the majority of individuals opt for procedures that require less incisions to be made on their bodies; for those who follow this trend in surgical treatment choices, laser therapy is a great option.
Key Market Challenges
Product recalls are impeding growth
Numerous dermatology lasers-related product recalls have occurred over the course of the last few years. Numerous variables, such as subpar accuracy, growing technical worries, and issues with how the equipment is managed, might be blamed for the rise in the percentage of product recalls. The development of the dermatology laser market in the upcoming years would be hampered by this problem, preventing it from attaining its full potential. Dermatology lasers have occasionally been discovered to contain a manufacturing flaw or problem.
These flaws or errors might endanger both the patients receiving treatment with the equipment and the medical professionals using it, which restricts the market's growth.
Key Market Opportunities
Innovations in technology
The market for dermatology lasers is growing as a result of advances in technology, lower treatment costs, and rising average expenses associated with delivering healthcare to a population. The market for dermatology lasers is expected to expand as a result of a rise in the number of new product releases and regulatory approvals.
The introduction of new technology into the market ought to reduce the probability of difficulties. Additionally, these dermatology lasers make it easy to cure skin conditions including hypopigmented scars and striae, which are traditionally regarded to be difficult to treat. Additionally, the availability of a wide range of devices on the market, together with technological advancements, makes it feasible to produce observable results and a high degree of patient satisfaction. Therefore, these factors will cause the market to experience new, possibly lucrative possibilities.
Also, demand for dermatology laser devices is being driven by the effectiveness of laser treatments. Dermatologists advise laser treatments for conditions that aren't fully resolved or take a long time to heal when treated with conventional approaches like orally administered drugs and creams/gels. Due to their monochromatic nature, lasers are highly focused and may treat skin problems while causing no harm to the surrounding region.
The photo thermolysis process, for instance, uses a laser's capacity to control the light frequency and generate heat to kill the damaged skin tissue that is the source of the skin condition. Lasers are used to target melasma, a brown pigment in the skin, to eradicate dark patches.
Skin tone variations, fractured capillaries, acne scars, rosacea, and actinic keratosis are just a few of the skin conditions that dermatology lasers have successfully treated. Additionally, dermatology laser systems deliver quicker results and need less recovery time following treatment. Players in the market will continue to have attractive chances due to these traits.
Segments Insight
Product Type Insights
More than half of the market's value will continue to be accounted for by solid-state lasers, which remain the most common. The popularity of solid-state lasers is due to their ability to generate near-infrared wavelengths that easily absorb by the chromospheres of melanin and hemoglobin and penetrate deep into the skin.
Solid-state lasers are ideal for complex treatments because they can easily penetrate deep skin tissues such as large blood vessels and vascular lesions. As a result, demand for solid-state lasers rises.
End User Insights
The dermatology and cosmetic clinics sector now accounts for more than 2/3 of market value and will retain predominance over the projected period on the strength of the increased demand among millennials to seek treatment from skin care specialists.
Currently, dermatology and cosmetic clinics are anticipated to hold a 69.6% share of the global market. Patients are increasingly choosing private clinics over hospitals since some additional charges, such as management fees, are not associated with them.
According to predictions, hospitals will have 19.2% of the worldwide market share in 2022, while ambulatory surgical centers will hold 11.2% of it.
Regional Insights
North America is anticipated to lead the dermatology laser products market, accounting for more than 50% of the global value, thanks to rising awareness of skin disorders and a high standard of living. The richness of the area is a result of people's knowledge of skin conditions and willingness to pay for medical care. Due to the country's growing reliance on social media over the past ten years, the aesthetics industry in the United States has experienced tremendous growth. The growing desire for the ideal physique and life among celebrities and social influencers has shaped aesthetic trends and the laser treatment business in the US. The availability of a wide range of dermatology and cosmetic laser treatments, the population's rising purchasing power, the popularity of cosmetic surgery, and the presence of significant dermatology laser machine suppliers are some of the key factors predicted to influence the dermatology laser market. The prevalence of skin cancer is also expected to have an impact on the use of laser therapy, leading to higher dermatology laser sales.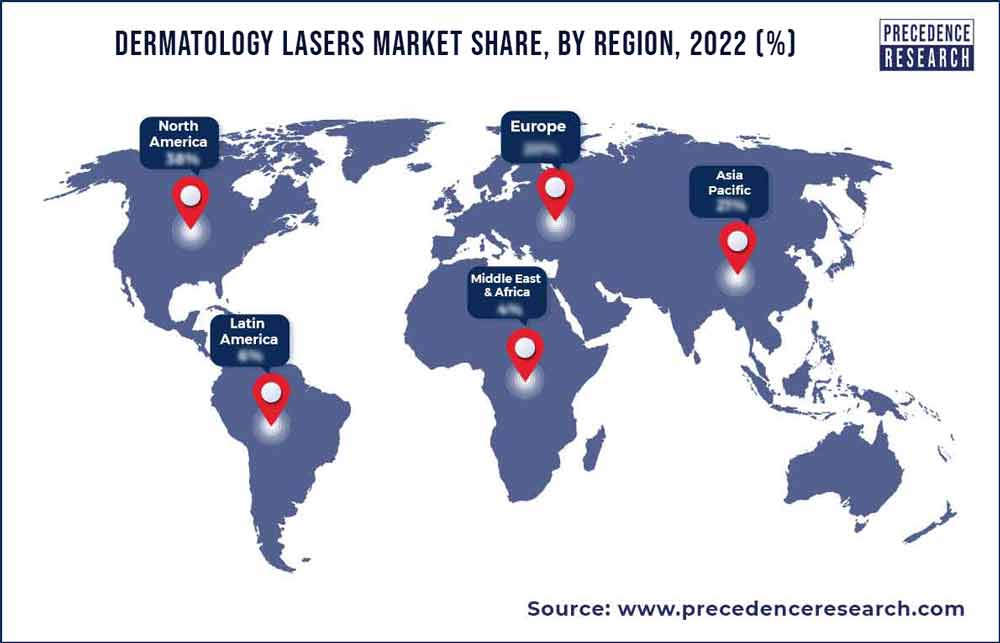 Europe is anticipated to continue to be the second-most lucrative market over the evaluation period despite its low value. Demand for dermatology lasers in the area is fueled by the social and economic effects of skin conditions as well as the support provided by the regional governments to lower the occurrence. The need for dermatology laser products grows along with the prevalence of psoriasis. The rising need for less invasive operations will similarly continue to be a major development driver in Europe. Throughout the anticipated period, East Asia would continue to be a crucial area, with a significant market share increase anticipated. The improvement in living conditions and the growth of the healthcare system in the area, both of which are paving the way for hair removal and face rejuvenation operations, are related to the market's expansion.
Recent Developments
Nurnberg, Germany announced the arrival of the ground-breaking applicator ClearSkin Pro in January 2020. This product has twice the potency of earlier treatments, giving skin a noticeably younger appearance.
In July 2018, Candela Corporation reported that their advanced 595 nm pulsed dye laser, Vbeam Prima, had received USFDA approval. With its enhanced features and added 1064 nm wavelength, this device may successfully cure a variety of skin diseases.
Key Market Players
Cutera
Cynosure
IPG Photonics Corporation
biolitec AG
Alma Lasers
Abbott
Boston Scientific Corporation
Quanta System.
Koninklijke Philips N.V.
Spectranetics
Fotona
CryoLife, Inc.
Ellex Medical
Danaher
Carl Zeiss AG
Bausch Health Companies Inc.
Candela Corporation
Canfield Scientific, Inc.
Shenzhen Mindray Bio-Medical Electronics Co., Ltd.
Segment Covered in the Report
(Note*: We offer reports based on sub-segments as well. Kindly, let us know if you are interested)
By Product
Solid-state Dermatology Lasers
Gas Dermatology Lasers
Pulsed Dye Dermatology Lasers
By End User
Hospital
Ambulatory Surgical Centres
Dermatology and Cosmetic Clinics.
By Indication
Hair Removal
Facial Rejuvenation
Tattoo Removal
Scar Treatment
Skin Cancer
Psoriasis
Vitiligo
Varicose Veins
Actinic Keratosis
Wound Treatment
By Technology
Ablative Dermatology Lasers
Non-ablative Dermatology Lasers
By Application
By Geography
North America
Europe
Asia-Pacific
Latin America
Middle East & Africa (MEA)