The global drilling fluids market size was valued at USD 8.61 billion in 2022 and is expected to reach USD 13.95 billion by 2032, growing at a CAGR of 5% from 2023 to 2032.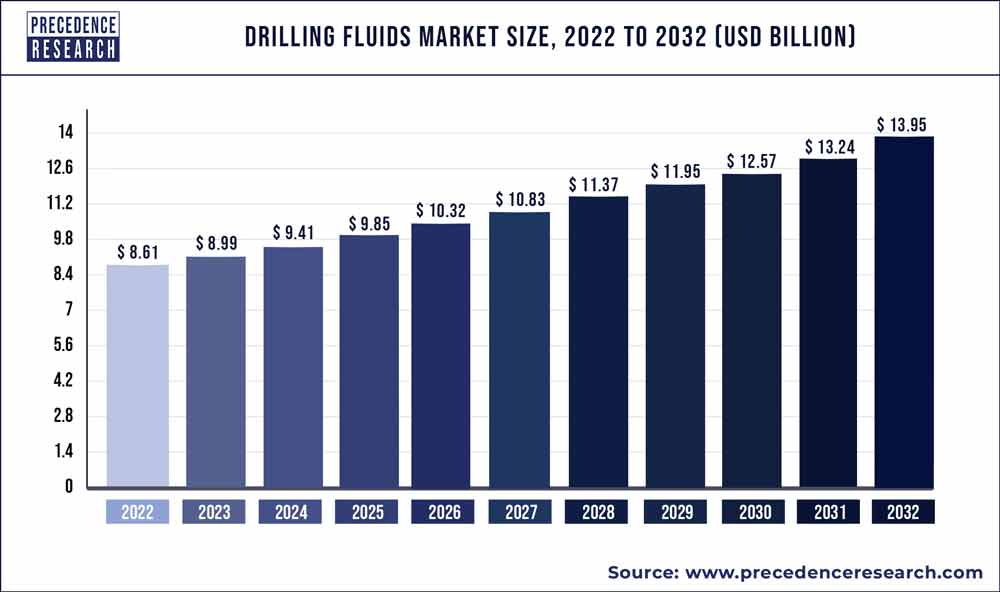 Growth Factors
Upward spending through the value chain of the oil & gas sector is projected to propel the need for drilling fluids during forthcoming years. In recent times, Exxon Mobil Corporation declared spending of USD 20 billion by 2022 for extending its oil refining plant on the U.S. Gulf Coast that might fuel the requirement for drilling fluids in this region during years to come. Additionally, initiatives for expansion of the oil and gas sector in emerging nations are expected to motivate growth of the drilling fluids market in the Asia Pacific. For example, government of India has endorsed 100% Foreign Direct Investment in private and upstream sector refining projects. Moreover, rushing investments in oil & gas exploration activities in Mexico, drilling and production accomplishments are estimated to generate a huge demand for drilling during estimate period.
The snowballing demand for crude oil has caused in an upsurge in drilling undertakings. North America contributes for maximum oil & gas production operations across the globe, shadowed by Europe. Rise in drilling undertakings directly influences the progress of drilling and completion fluids market. Multiple kinds of drilling fluids are essential dependent on the economic viabilities and geographic conditions for these operations. However, severe environmental and government guidelines regarding the utilization and disposal and usage of drilling fluids coupled with the geopolitical concerns in foremost oil manufacturing regions are estimated to confine the growth of market in the near future.
Application Insights
In 2022, onshore appeared as the prime application market segment and occupied around 60.6% revenue share of the total market. Cumulative amount of oil drilling operations to meet mounting energy requirements is projected to push the demand over for drilling fluids significantly. Furthermore, rising upstream expenditure to address oil production goals is anticipated to flourish the global oil and gas market, consequently motivating the need for drilling fluids.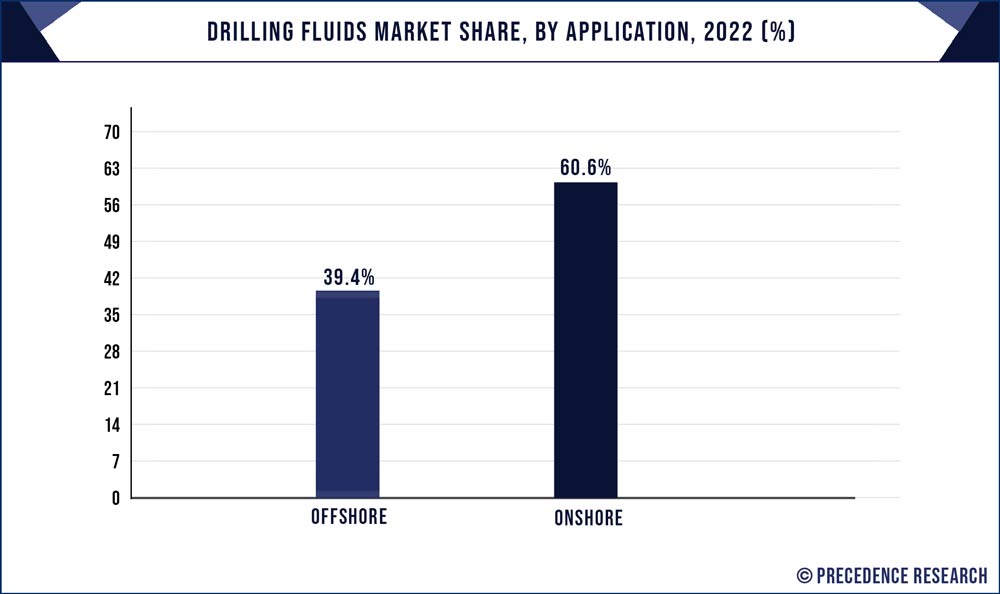 Besides, upward demand for the harsh environments, mud in deep water, and remote sites is estimated to spur requirement for drilling fluids for offshore uses. Augmented environmental hazards related with offshore locations and maintenance expenses have insisted businesses to employ water-based or synthetic fluids for economical exploration and production undertakings.
Product Insights
Among different types of product segments involved in this market, water-based fluids segment appeared as major revenue contributor and garnered more than 52.3% of the market share in the year 2022. These fluids are expected to observe augmented proliferation and progress due to their cost-effectiveness and inferior environmental bearing caused by discharged mud and cuttings. The intensifying emphasis on refining the thermal and inhibitive performance of water-based systems to contend with non-aqueous fluids utilized for stimulating applications including onshore and offshore shelf activities is expected to flourish the requirement for water-based fluids during years to come.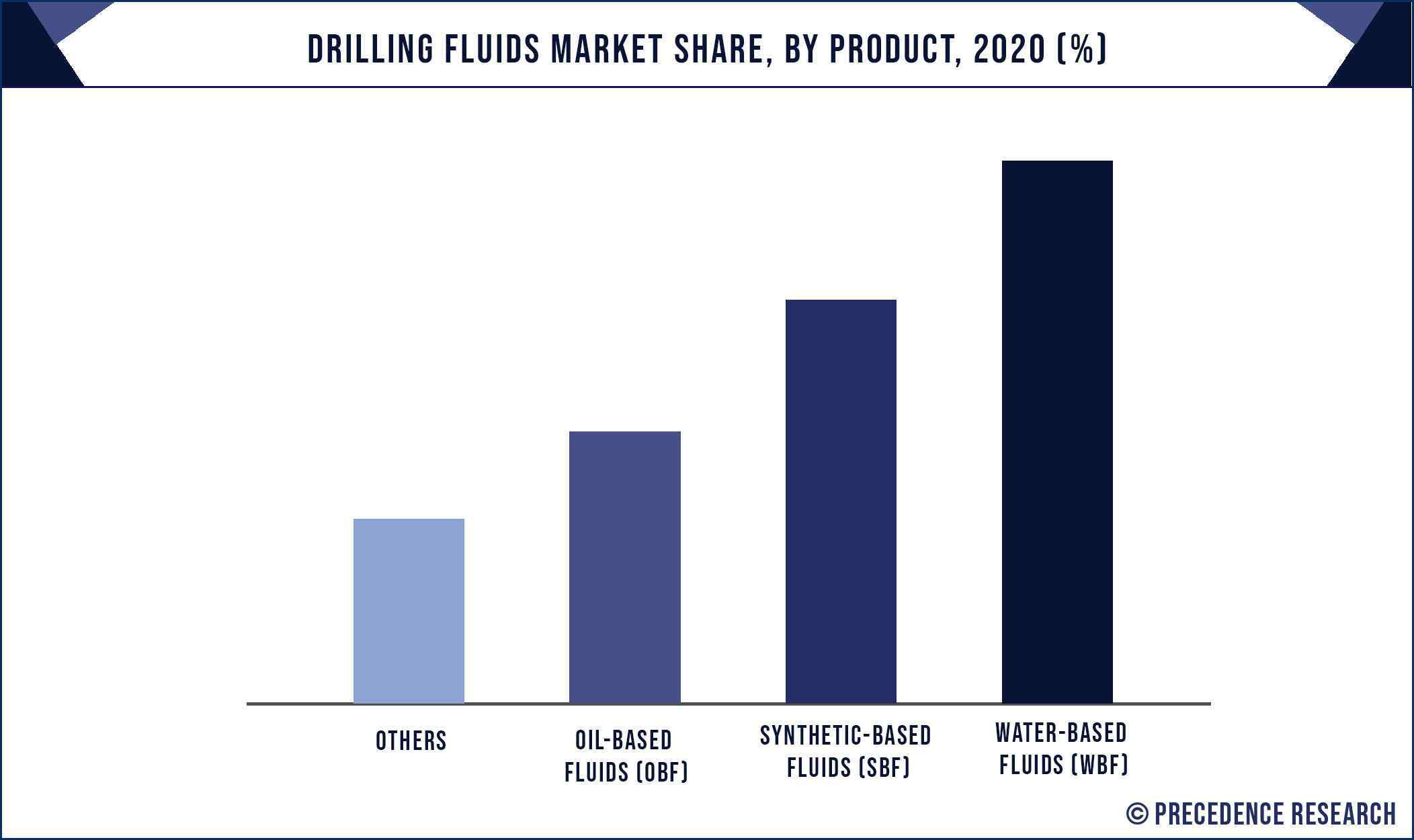 On the other hand, synthetic-based fluids segment is projected to grow significantly with fastest CAGR due to their outstanding thermal stability, lubricity, penetration rates, borehole control, which aid in plummeting the total costs.
Regional Insights
North America has held 26% revenue share in 2022. Intensifying offshore drilling movements and shale boom is motivating the attention for drilling fluids in across such regions. The escalating onshore drilling practices in the North America Middle East and Asia Pacific are propelling the awareness for drilling fluids in inland saves. Besides, neighborhood of sprawling common assets in the "Golden Triangle" (Seaward Brazil Gulf of Mexico, and seaward West Africa) is instigation great attention in the locales, which is fore seen to spur the demand for drilling fluids during next few years.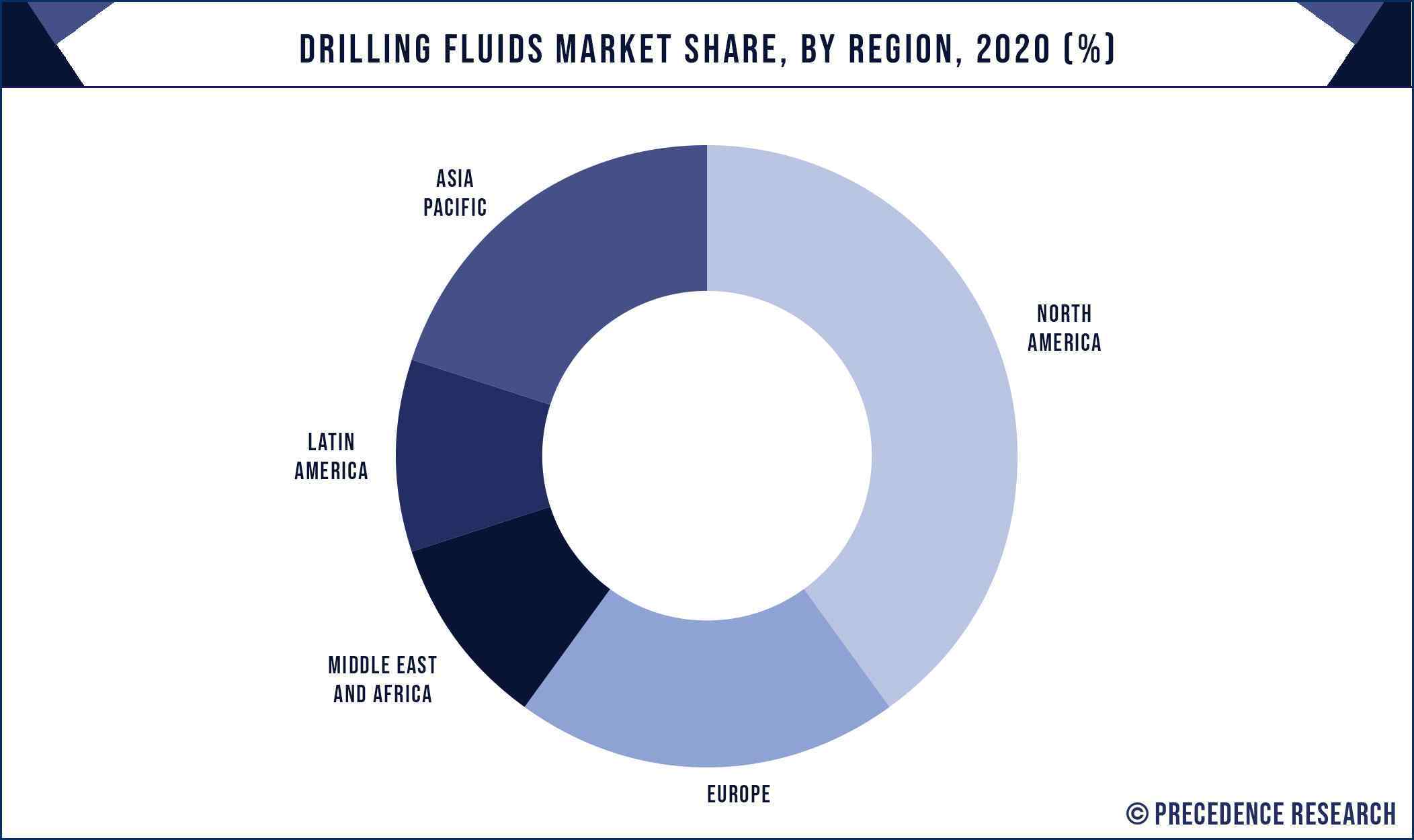 Asia Pacific region is also projected to record significant progress in the drilling fluid market. This growth is attributed to intensifying exploration of oil fields from untouched reserves. For illustration, Pakistan, Australia, Brunei, Malaysia and Papua New Guinea are some of the main nations which posses sun exploited offshore oil reserves. The ultra-deepwater and deepwater drilling operations are anticipated to upsurge in the impending future, motivated by novel findings in West Africa, Latin America, and the Asia Pacific. A mainstream offshore motion is attentive in deepwater regions, including U.S., Brazil, Angola, Nigeria, Norway and Malaysia among others. Moreover, recent detections completed in developing frontline regions, like the eastern Mediterranean Sea, the East Coast of Africa, and west coast of Australia, might suggestively lift the growth of offshore reserves.
Key Companies & Market Share Insights
At present, global drilling fluids market is experiencing tremendous competition and foremost participants are controlling the major revenue chunk of the market. Employment of nanotechnology in numerous sectors has encouraged the market contributors to incorporate this technology in the oil and gas sector. Noticeable companies of drilling fluids are engaged in the heavy spending in the expansion of drilling fluids know-how with the help of nanotechnology.
Some of the momentous companies functioning in the drilling fluids market include:
National Oilwell Varco
Schlumberger Limited
Baker Hughes Incorporated
Anchor Drilling Fluids USA, LLC
Gumpro Drilling Fluids Pvt. Ltd.
Report Scope of the Drilling Fluids Market
| | |
| --- | --- |
| Report Highlights | Details |
| Market Size | USD 13.95 Billion by 2032 |
| Growth Rate | CAGR of 5% from 2023 to 2032 |
| Largest Market | Asia Pacific |
| Fastest Growing Market | North America |
| Base Year | 2022 |
| Forecast Period | 2023 to 2032 |
| Segments Covered | By Product, By Application, and Region |
| Companies Mentioned | National Oilwell Varco, Schlumberger Limited, Baker Hughes Incorporated, Anchor Drilling Fluids USA, LLC, Gumpro Drilling Fluids Pvt. Ltd. |
Segments Covered in the Report
This research report includes complete assessment of the market with the help of extensive qualitative and quantitative insights, and projections regarding the market. This report offers breakdown of market into prospective and niche sectors. Further, this research study calculates drilling fluids market revenue and its growth trend at global, regional, and country from 2023 to 2032. This report includes market segmentation and its revenue estimation by classifying it on the basis of product, application and region as follows:
By Product
Water-based fluids (WBF)
Oil-based fluids (OBF)
Synthetic-based fluids (SBF)
Others
By Application
By Regional Outlook
North America
Europe
Asia Pacific

China
India
Japan
South Korea

Middle East & Africa
Latin America