The global e-bike market size accounted for USD 17.56 billion in 2022, and it is expected to hit around USD 44.08 billion by 2032, poised to grow at a CAGR of 9.89% from 2023 to 2032.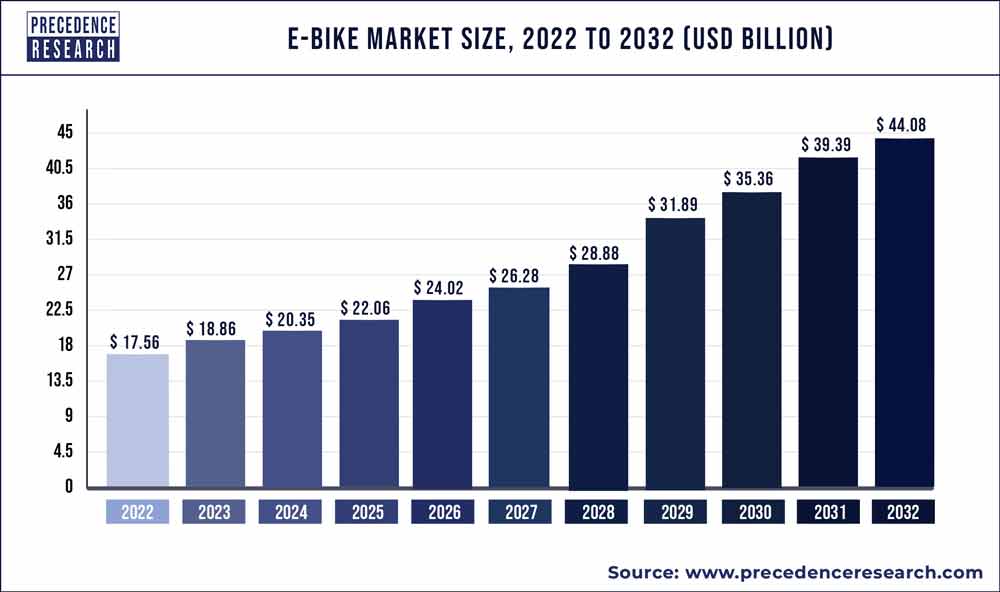 Access our Premium Real Time Data Intelligence Tool, Visit: Precedence Statistics
Key Takeaway:
Asia Pacific e-bike market size was valued at USD 26 billion in 2022.
By motor type, the hub motor segment accounted for 72% of revenue share in 2021.
The Li-Ion battery type segment is growing at a CAGR of 4% during the forecast period.
The throttle segment is expected to grow at a CAGR of 16% over the forecast period.
E-bike Market Overview
Electric bikes offer huge growth potential as they endure to gain traction in Europe as a more ecological means of transport. Sales in the U.S. is predicted to lift as associated regulations will take shape. Along with healthy European and U.S. markets and expected rebound in sales in China is projected to offer a more stable environment for the e-bike market place during years to come.
Electric bicycles (e-bikes) are similar to human-powered bicycles with small electric motor that assist or substitute the pedalling efforts. Some models of e-bike offer throttle based motor activation and some offer pedal-assist bike. Complex model with advanced electric motor and optional throttle activation are also available in the market. There are three classes of e-bike available in the market that include Class 1, Class 2, and Class 3. They are generally categorized under two speed ranges that are up to 25 kmph and second is 25-45 kmph.
Main parts of an e-bike include battery pack, electric motor, controller, throttle, PAS & torque sensor, e-brakes, display, torque arms, and hall sensors. Battery pack and electric motor used in an e-bike constitute for majority of e-bike prices. Some of the advantages associated with the application of e-bike are low operating cost, a combined advantage for both bicycle and motorbike, ecological means of transport, good for exercise.
Scope of the E-bike Market
| | |
| --- | --- |
| Report Coverage | Details |
| Market Size in 2023 | USD 17.56 Billion |
| Market Size by 2032 | USD 44.08 Billion |
| Growth Rate from 2023 to 2032 | CAGR of 9.89% |
| Largest Market | Asia Pacific |
| Fastest Growing Market | Middle East & Africa |
| Base Year | 2022 |
| Forecast Period | 2023 to 2032 |
| Segments Covered | Class, Speed, Battery Type, Motor Type, Mode, Application, Region |
| Companies Mentioned | Accell Group, Derby Cycle, Fuji-ta Bicycle Co. Ltd., Giant Manufacturing Co. Ltd., Jiangsu Xinri E-Vehicle Co. Ltd., Mahindra & Mahindra Ltd. (GenZe), Prodecotech LLC, Tianjin Golden Wheel Group Co., Ltd., Trek Bicycle Corporation, Yamaha Motor Co. Ltd. |
Some of the major trends and growth factors that govern the market growth of e-bike are discussed below:
Growing popularity of e-MTB: With the increase in global demand for cycling across the world during past 2 years, one area that has witnessed significant surge in popularity is mountain biking. As per an analysis, mountain biking and trekking market expected to grow at an accelerating rate of 10% during the upcoming years ranging from 2020-2027. Stupendous rise in adventurous sports and tourism likely to propel the market growth for e-MTB.
Growing preference for bicycles as an eco-friendly vehicle: With increasing necessity of environment-friendly transportation, popularity of bicycles is booming across various parts of the world. This is mainly because of numerous benefits offered by the cycling such as reduced CO2 emission, reduced air pollution, reduced noise pollution from other transportation modes, saves fuel cost, improves public health, less congestion on roads, and also saves construction and maintenance cost of road infrastructure.
Increasing Popularity of Mid-drive Motors: Hub motors are lighter in weight, simple in construction, and inexpensive to the manufacturers because of which it is the most commonly found motors in the e-bike. However, significant number of advantages offered by the mid-drive motors over hub motors expected to drive their demand overt the forthcoming years. Mid-drive motors offer higher torque and performance compared to traditional hub motors as it drives the crank despite of wheel; hence, multiply its power and allow to take more benefits from the gear system. In respect to maintenance too, mid-drive motors are easier to be service and maintained compared to hub motors. They can be simple removed from the e-bike by replacing nut bolts. Further, they are placed at the center of gravity of the e-bike that helps in better handling of the e-bike by better distribution of the bike weight. Thus, the aforementioned benefits of the mid-drive motor make them more popular compared to hub motors among e-bike manufacturers and the consumers.
Market Dynamics
Drivers:
Government support to reduce CO2 emission
The United States federal government aims to make half of the new vehicles sales in 2030 to be zero-emission vehicles. They are also planning to introduce a network of 5,00,000 chargers for the convenience of Americans. The demand for e-bikes is experiencing a major surge owing to the surging initiatives taken by the governments of various countries. Rising awareness regarding the health hazards associated with the usage of traditional fuel-based vehicles is proliferating the growth of the market. Moreover, growing environmental concerns due to the extensive usage of fossil fuel is leading to a surge in government initiatives. Moreover, the government is focusing on the development of electric scooters, motorcycles, and bicycles as they are more reliable and help reduce carbon footprints.
Rising cost of fuels
The prices of fuel rose significantly nearly 5 times i.e. 57% faster than overall consumer prices in India between January 2021 and August 2022. Increasing prices of fuels are shifting the demand toward the electric bike. The reason behind the rise in fuel prices is the increase in crude oil's cost which is in the hands of the Organisation of the Petroleum Exporting(OPEC) countries. Moreover, multiple governments are working on developing the charging infrastructure required for adopting electric bicycles. Federations are providing total cost benefits with the help of incentives, programs, and subsidies. People are more likely to use electric bikes because they are environmentally friendly and easy to use. As a result, it is anticipated that a rise in gasoline prices will encourage people to use electric bikes, leading to the expansion of the e-bike market.
Restraints
High cost
The high cost associated with the purchase of e-bikes is restraining the growth of the market. The additional cost of battery and electric motor makes it less accessible for budget-conscious consumers. Traditional bikes, bicycles and scooters are comparatively cheaper than electric scooters which makes it an attractive option. Moreover, the usage of lithium-ion batteries incurs additional maximum cost which is further limiting the growth of the industry.
Lack of charging infrastructure
The unavailability of adequate charging infrastructure is one of the biggest challenges in the market. E-bikes rely on rechargeable batteries for power, lack of reliable or accessible power solutions makes it not so attractive mode of transportation. Without adequate infrastructure, e-bike riders are restricted to the range of their batteries, which may limit the e-bike's utility for daily commuting, long-distance trips, or delivery services. However, the government is taking various initiatives to develop the charging infrastructure in various regions.
Opportunity
Rising trend of connected e-bikes
These smart e-bikes can transmit important information about their usage and state. Certain linked bikes can accept commands as well as other information. Networked e-bike systems enable data collection and processing. Nowadays, businesses are stepping forward to find integrated solutions. Therefore, the trend of e-bikes would allow the market to expand in the upcoming period.
By Class
Class 1 e-bike capture the largest market revenue share of nearly 45% in the year 2022 and expected to maintain its dominance during the forthcoming years as well. The rising demand for pedelecs because of their health assistance along with power assistance within the range of 25 kph that does not have any regulation on its driving likely to propel the growth for class 1 e-bikes.
In Class 2 e-bikes Segment includes both pedal-assist functionality and a throttle that enables motor activation without pedaling, are known for its ease of use. They are particularly appealing to riders who may have physical limitations or prefer a more effortless riding experience. Class 2 e-bikes are commonly used for commuting and leisure riding, offering convenience and flexibility. The availability and demand for Class 2 e-bikes might depend on regional regulations, as some areas may have restrictions on throttle-operated e-bikes. However, in regions where throttle-assist e-bikes are allowed, they can be a popular choice for riders seeking a simple and accessible mode of transportation.
Class 3 e-bikes are estimated to dominate in coming years, The Class 3 E-bikes often referred to as speed peddles, provide pedal-assist functionality with a higher maximum speed of 28 mph (45 km/h). These e-bikes cater to riders who desire a faster alternative to traditional bicycles, making them suitable for commuting longer distances or navigating through urban areas more swiftly. Class 3 e-bikes are commonly used for commuting purposes, as they offer the ability to reach destinations quicker while still benefiting from the assistance of the electric motor. However, the dominance of Class 3 e-bikes can be influenced by local regulations, as some regions may have restrictions or licensing requirements for higher-speed e-bikes.
By Motor Type
Hub motor dominated the global e-bike market with the highest revenue share of nearly 72% in the year 2022 and is expected to maintain the same trend over the forecast time frame as well. The main factor driving their demand is less or minimum maintenance required as they do not exert pressure on the drivetrain and operate independently. On the other hand, mid-drive motor estimated to grow at the fastest rate over the analysis period. This is mainly because they are directly connected to the gears and cranks of the bike and thus offers higher torque and performance compared to hub motors.
By Speed
E-bikes with a speed limit of up to 25 km/h are often classified as low-speed electric bicycles and are commonly used for urban commuting, recreational riding, and short-distance travel. They are popular among a wide range of users, including commuters, students, and casual riders. These e-bikes benefit from relaxed regulations in many jurisdictions, making them more accessible and widely adopted.
On the other hand, e-bikes with a speed range of 25-45 km/h dominate the market with X% of the market share, such as speed peddles or high-speed e-bikes, are subject to more stringent regulations and may require additional licensing, registration, and safety equipment. The market for high-speed e-bikes is typically smaller due to these regulatory restrictions and the specific needs of riders who require faster speeds for longer commutes or traveling on open roads.
By Battery Type
The market has been divided into two types of batteries: lithium-ion (Li-ion) batteries and lead-acid batteries. In 2022, the lead-acid battery sector led the market, accounting for more than 45% of the market. The segment's expansion can be due to the several advantages provided by lead-acid batteries, such as low cost and resilience. However, because these batteries are heavy and drain quickly, their use is expected to dwindle in the coming years.
From 2022 to 2032, the lithium-ion battery segment is expected to increase at a CAGR of 12.9%. According to a European Commission report, the price of lithium-ion batteries is expected to fall by approximately 70% by 2032. High charge density, high performance, lightweight, and high charging-discharging efficiency are expected to favor the adoption of these batteries, consequently aiding segment expansion.
E-bike Market Share, By Battery Type, 2020 (%)
| | |
| --- | --- |
| Battery Type Segment | 2020 (%) |
| Lithium-ion | 30.83% |
| Nickel Metal Hydride (NiMH) | 20.02% |
| Lead Acid | 46.41% |
| Others | 2.75% |
By Application
In 2022, the trekking segment accounted for more than 32% of global revenue. E-bikes are increasingly being used for leisure and hiking purposes. Furthermore, the growing awareness of performance-based adventure, as well as a rising need for leisure activities, are likely to give rise to market growth. Trekking e-bikes and eMTBs are quite adaptable, and some of them are cutting-edge. The greatest are true all-rounders, with intelligent and friendly handling that instills confidence in the city, on bike, woodland, meadow, and gravel pathways, as well as on off-road terrain.
From 2022 to 2032, the cargo segment is expected to increase at remarkable CAGR. The increasing demand for e-bikes to transport luggage from one location to another is likely to help the segment's growth throughout the forecast period. A spike in transportation and freight activity in nations such as India and China is also predicted to fuel e-bike demand.
By Component
Based on components the battery segment dominates the market with highest market share. The battery is a crucial component of an e-bike, providing power to the electric motor. This segment includes various types of e-bike batteries, such as lithium-ion, nickel-metal hydride (NiMH), or lead-acid batteries. Battery capacity, voltage, and charging systems can also be considered within this segment.
On the other hand, the electric motor is responsible for providing propulsion assistance to the rider. This segment encompasses different types of electric motors used in e-bikes, including hub motors, mid-drive motors, and friction-drive motors. Motor power, efficiency, and torque characteristics can also be considered within this segment.
Global E-bike Market Revenue (USD Million) and Growth Rate Comparison by Battery Type (2017-2030)
| | | | | |
| --- | --- | --- | --- | --- |
| Battery Type | 2017 | 2020 | 2030 | CAGR (2021-30) |
| Lithium-ion | 4,036.8 | 5,062.5 | 13,366.9 | 10.20% |
| Nickel Metal Hydride (NiMH) | 2,727.1 | 3,286.7 | 7,618.6 | 8.77% |
| Lead Acid | 6,185.7 | 7,620.4 | 18,927.2 | 9.52% |
| Others | 362.9 | 451.2 | 1,075.7 | 9.08% |
| Total | 13,312.5 | 16,420.8 | 40,988.4 | 9.58% |
Geography Review:
The global e-bike market was valued at USD 15,420 million in the year 2019 and registered a CAGR of 9.6% during the forecast time period.
Leading Market: The Asia Pacific emerged as the global leader in the e-bike industry owing to prominent growth in the production and demand volume of e-bikes in the region. Approximately 81% of the market revenue in concentrated in the region with China as the front-runner in the region accounting for more than 90% of the global e-bike production concentrated in the country. As per a data published by the China Motor World, total production of e-bike in China accounted more than 30 million in the year 2018. This anticipated to further drives the market growth for e-bike in the region.
Fastest Growing Market: The Middle East & Africa market in e-bike industry is still at its early adoption phase and reported the fastest growth during the forthcoming years. The prime factor contributing to the significant growth of the region is rapid development in infrastructure for micromobility in the region. Further, in the recent past the region seeks attractive demand for the bike sharing platforms. For instance, in December 2019, PBSC Urban Solutions, a Canada based smart bike-share solution provider announced to enter into a partnership agreement with Careeem, a leading ride-hailing company based in the Middle East, to launch e-bike sharing service in UAE. As per the agreement, the company will provide 3,500 e-bikes and 350 smart stations in the country. Hence, these initiatives in the region expected to bolster the demand for e-bikes in the region.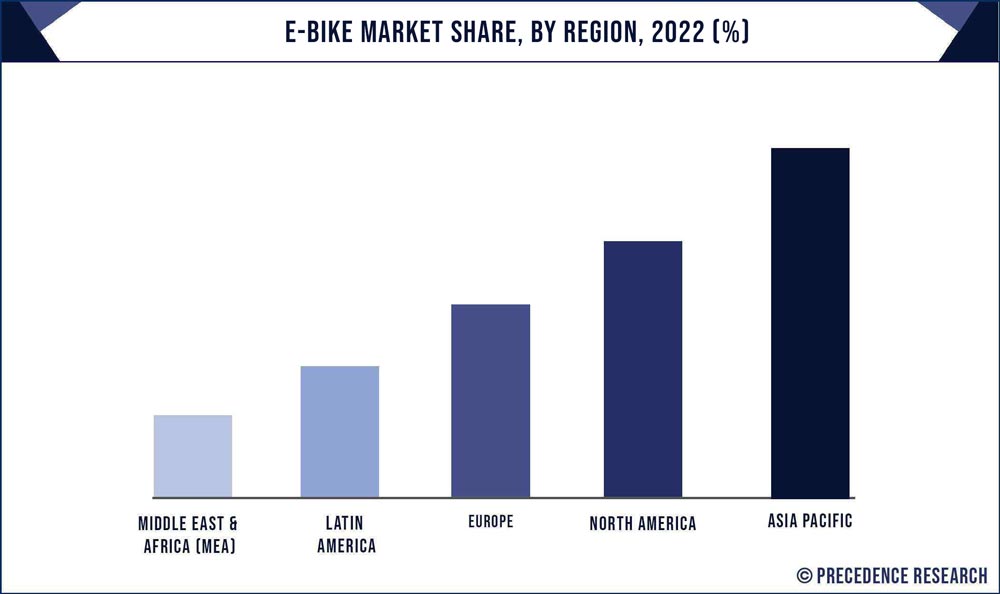 Market Competition and Players Analysis:
The market players in the global e-bike market faces intense competition among themselves owing to significant investment in order to upgrade the performance of the e-bike and make them more comfortable for the users application. The prime motive behind such investments is to make e-bike as the preferred choice for customers against their passenger cars and other private vehicles. Some of the players have prominently invested in the advancement of the e-bike drive unit in order to enhance its performance.
Key market players profiled under the global e-bike market:
Accell Group

Derby Cycle

Fuji-ta Bicycle Co. Ltd.

Giant Manufacturing Co. Ltd.

Jiangsu Xinri E-Vehicle Co. Ltd.

Mahindra & Mahindra Ltd. (GenZe)

Prodecotech LLC

Tianjin Golden Wheel Group Co., Ltd.

Trek Bicycle Corporation

Yamaha Motor Co. Ltd.
E-bike company market share, 2022
| | | | | |
| --- | --- | --- | --- | --- |
| Companies | E-bike Revenue (USD Million) | Market share in E-bike Market | E-mountain bike revenue (USD Million) | Market share in e-mountain bike market |
| Trek Bikes | 660.0 | 1.761% | 165.0 | 1.47% |
| Specialized Bicyckes | 240.0 | 0.641% | 72.0 | 0.64% |
| Canyon Bicycles | 479.9 | 1.281% | 144.0 | 1.28% |
| Scott Sports | 34.8 | 0.093% | 10.4 | 0.09% |
| Cube Bikes | 119.6 | 0.319% | 35.9 | 0.32% |
| Bulls Bikes | 3.5 | 0.009% | 1.1 | 0.01% |
COVID-19 Impact Analysis:
The global automotive sector is severely impacted by the outbreak of COVID-19 in early months of the year 2020. In several regions such as North America, Japan, Europe, and other Asian countries, the sale of automotive sector seeks decline of nearly 20%. Further, the mobility service sector was among the severely impacted industries by the coronavirus pandemic. As per a research report published by the University of Chicago, estimates that nearly 40% people have lost their jobs in the U.S. with a steep decline of around 40-50% in the consumer spending. Transit system witnesses almost 90% drop in riders. Uber also reported a decline of 70% in passenger bookings. This collectively has caused heavy loss in revenue to many industries.
Analyst View:
The global e-bike market is a highly opportunistic and competitive market owing to the shifting consumer trend towards eco-friendly mode of vehicles. In addition, manufacturers find e-bike as an economical alternate for the electric vehicles. E-bike sharing services along with support from government organization to promote the application and adoption of e-bike flourish the market growth over the upcoming years.
The global e-bike market research report classifies the market as follows:
By Class
By Speed
By Battery Type
Lithium-ion

Nickel Metal Hydride (NiMH)

Lead Acid

Others
By Motor Type
By Mode
Pedal Assist

Throttle

Speed Pedelecs
Scooter or Motorcycle

Others
By Application
Mountain/trekking

City/urban

Cargo

Others
By Component
Battery
Electric Motor
Frame with Fork
Wheels
Crank Gear
Brake System
Motor Controller
By Ownership
By Regional Outlook
North America
Europe

UK
Germany
France
Rest of Europe

Asia Pacific

China
Japan
India
Rest of Asia Pacific

Latin America

Brazil
Rest of Latin America

Middle East & Africa (MEA)

GCC
North Africa
South Africa
Rest of the Middle East & Africa