The global e-bike market size was valued at USD 17.56 billion in 2021 and is expected to reach over USD 40.98 billion by 2030, poised to grow at a compound annual growth rate (CAGR) of 9.6% from 2021 and 2030.
Electric bikes offer huge growth potential as they endure to gain traction in Europe as a more ecological means of transport. Sales in the U.S. is predicted to lift as associated regulations will take shape. Along with healthy European and U.S. markets and expected rebound in sales in China is projected to offer a more stable environment for the e-bike market place during years to come.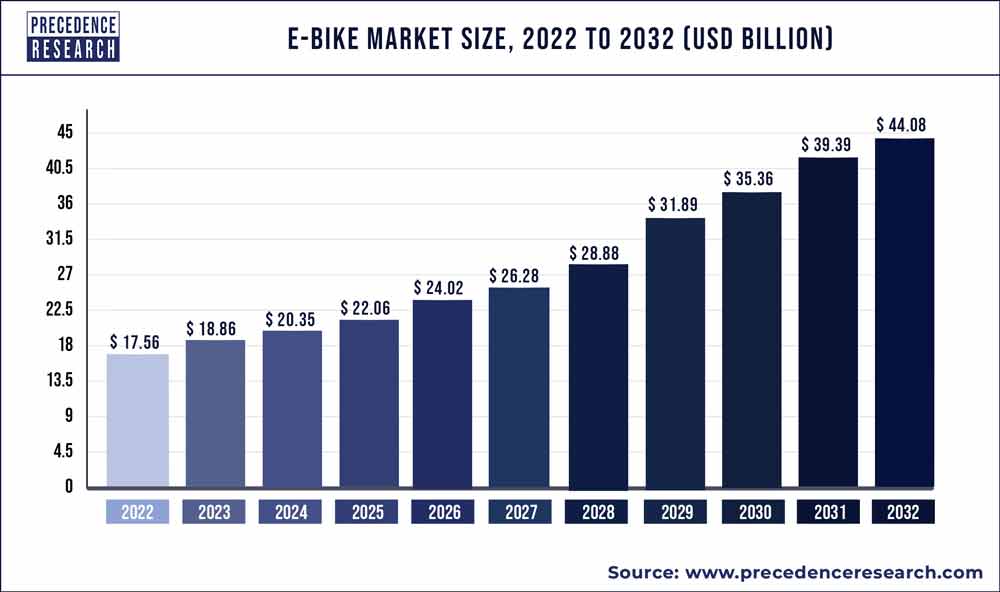 Electric bicycles (e-bikes) are similar to human-powered bicycles with small electric motor that assist or substitute the pedalling efforts. Some models of e-bike offer throttle based motor activation and some offer pedal-assist bike. Complex model with advanced electric motor and optional throttle activation are also available in the market. There are three classes of e-bike available in the market that include Class 1, Class 2, and Class 3. They are generally categorized under two speed ranges that are up to 25 kmph and second is 25-45 kmph.
Main parts of an e-bike include battery pack, electric motor, controller, throttle, PAS & torque sensor, e-brakes, display, torque arms, and hall sensors. Battery pack and electric motor used in an e-bike constitute for majority of e-bike prices. Some of the advantages associated with the application of e-bike are low operating cost, a combined advantage for both bicycle and motorbike, ecological means of transport, good for exercise.
Key Takeaway:
Asia Pacific e-bike market size was valued at USD 24.78 billion in 2021.
By motor type, the hub motor segment accounted 70% revenue share in 2021.
The Li-Ion battery type segment is growing at a CAGR of 3.2% in 2021.
The throttle segment is expected to grow at a CAGR of 14.3% over the forecast period.
E-bike Market Share, By Battery Type, 2020 (%)
| | |
| --- | --- |
| Battery Type Segment | 2020 (%) |
| Lithium-ion | 30.83% |
| Nickel Metal Hydride (NiMH) | 20.02% |
| Lead Acid | 46.41% |
| Others | 2.75% |
Some of the major trends and growth factors that govern the market growth of e-bike are discussed below:
Growing popularity of e-MTB: With the increase in global demand for cycling across the world during past 2 years, one area that has witnessed significant surge in popularity is mountain biking. As per an analysis, mountain biking and trekking market expected to grow at an accelerating rate of 10% during the upcoming years ranging from 2020-2027. Stupendous rise in adventurous sports and tourism likely to propel the market growth for e-MTB.
Growing preference for bicycles as an eco-friendly vehicle: With increasing necessity of environment-friendly transportation, popularity of bicycles is booming across various parts of the world. This is mainly because of numerous benefits offered by the cycling such as reduced CO2 emission, reduced air pollution, reduced noise pollution from other transportation modes, saves fuel cost, improves public health, less congestion on roads, and also saves construction and maintenance cost of road infrastructure.
Increasing Popularity of Mid-drive Motors: Hub motors are lighter in weight, simple in construction, and inexpensive to the manufacturers because of which it is the most commonly found motors in the e-bike. However, significant number of advantages offered by the mid-drive motors over hub motors expected to drive their demand overt the forthcoming years. Mid-drive motors offer higher torque and performance compared to traditional hub motors as it drives the crank despite of wheel; hence, multiply its power and allow to take more benefits from the gear system. In respect to maintenance too, mid-drive motors are easier to be service and maintained compared to hub motors. They can be simple removed from the e-bike by replacing nut bolts. Further, they are placed at the center of gravity of the e-bike that helps in better handling of the e-bike by better distribution of the bike weight. Thus, the aforementioned benefits of the mid-drive motor make them more popular compared to hub motors among e-bike manufacturers and the consumers.
Segment Review:
Global E-bike Market Revenue (USD Million) and Growth Rate Comparison by Battery Type (2017-2030)
| | | | | |
| --- | --- | --- | --- | --- |
| Battery Type | 2017 | 2020 | 2030 | CAGR (2021-30) |
| Lithium-ion | 4,036.8 | 5,062.5 | 13,366.9 | 10.20% |
| Nickel Metal Hydride (NiMH) | 2,727.1 | 3,286.7 | 7,618.6 | 8.77% |
| Lead Acid | 6,185.7 | 7,620.4 | 18,927.2 | 9.52% |
| Others | 362.9 | 451.2 | 1,075.7 | 9.08% |
| Total | 13,312.5 | 16,420.8 | 40,988.4 | 9.58% |
Geography Review:
The global e-bike market was valued at USD 15,420 million in the year 2019 and registered a CAGR of 9.6% during the forecast time period.
Leading Market: The Asia Pacific emerged as the global leader in the e-bike industry owing to prominent growth in the production and demand volume of e-bikes in the region. Approximately 81% of the market revenue in concentrated in the region with China as the front-runner in the region accounting for more than 90% of the global e-bike production concentrated in the country. As per a data published by the China Motor World, total production of e-bike in China accounted more than 30 million in the year 2018. This anticipated to further drives the market growth for e-bike in the region.
Fastest Growing Market: The Middle East & Africa market in e-bike industry is still at its early adoption phase and reported the fastest growth during the forthcoming years. The prime factor contributing to the significant growth of the region is rapid development in infrastructure for micromobility in the region. Further, in the recent past the region seeks attractive demand for the bike sharing platforms. For instance, in December 2019, PBSC Urban Solutions, a Canada based smart bike-share solution provider announced to enter into a partnership agreement with Careeem, a leading ride-hailing company based in the Middle East, to launch e-bike sharing service in UAE. As per the agreement, the company will provide 3,500 e-bikes and 350 smart stations in the country. Hence, these initiatives in the region expected to bolster the demand for e-bikes in the region.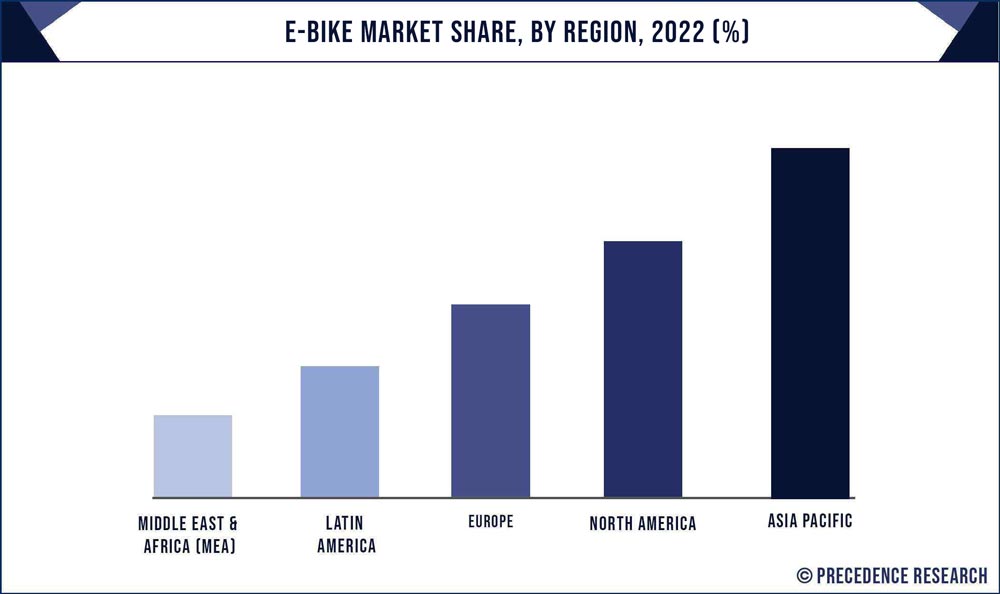 Market Competition and Players Analysis:
The market players in the global e-bike market faces intense competition among themselves owing to significant investment in order to upgrade the performance of the e-bike and make them more comfortable for the users application. The prime motive behind such investments is to make e-bike as the preferred choice for customers against their passenger cars and other private vehicles. Some of the players have prominently invested in the advancement of the e-bike drive unit in order to enhance its performance.
Key market players profiled under the global e-bike market:
Accell Group

Derby Cycle

Fuji-ta Bicycle Co. Ltd.

Giant Manufacturing Co. Ltd.

Jiangsu Xinri E-Vehicle Co. Ltd.

Mahindra & Mahindra Ltd. (GenZe)

Prodecotech LLC

Tianjin Golden Wheel Group Co., Ltd.

Trek Bicycle Corporation

Yamaha Motor Co. Ltd.
COVID-19 Impact Analysis:
The global automotive sector is severely impacted by the outbreak of COVID-19 in early months of the year 2020. In several regions such as North America, Japan, Europe, and other Asian countries, the sale of automotive sector seeks decline of nearly 20%. Further, the mobility service sector was among the severely impacted industries by the coronavirus pandemic. As per a research report published by the University of Chicago, estimates that nearly 40% people have lost their jobs in the U.S. with a steep decline of around 40-50% in the consumer spending. Transit system witnesses almost 90% drop in riders. Uber also reported a decline of 70% in passenger bookings. This collectively has caused heavy loss in revenue to many industries.
Analyst View:
The global e-bike market is a highly opportunistic and competitive market owing to the shifting consumer trend towards eco-friendly mode of vehicles. In addition, manufacturers find e-bike as an economical alternate for the electric vehicles. E-bike sharing services along with support from government organization to promote the application and adoption of e-bike flourish the market growth over the upcoming years.
Scope of the E-bike Market
| | |
| --- | --- |
| Report Coverage | Details |
| Market Size | USD 40.98 billion by 2030 |
| Growth Rate | CAGR of 9.6% from 2021 and 2030 |
| Largest Market | Asia Pacific |
| Fastest Growing Market | Middle East & Africa |
| Base Year | 2021 |
| Forecast Period | 2021 to 2030 |
| Segments Covered | Class, Speed, Battery Type, Motor Type, Mode, Application, Region |
| Companies Mentioned | Accell Group, Derby Cycle, Fuji-ta Bicycle Co. Ltd., Giant Manufacturing Co. Ltd., Jiangsu Xinri E-Vehicle Co. Ltd., Mahindra & Mahindra Ltd. (GenZe), Prodecotech LLC, Tianjin Golden Wheel Group Co., Ltd., Trek Bicycle Corporation, Yamaha Motor Co. Ltd. |
The global e-bike market research report classifies the market as follows:
By Class
By Speed
By Battery Type
Lithium-ion

Nickel Metal Hydride (NiMH)

Lead Acid

Others
By Motor Type
By Mode
Pedal Assist

Throttle

Speed Pedelecs
Scooter or Motorcycle

Others
By Application
Mountain/trekking

City/urban

Cargo

Others
By Component
Battery
Electric Motor
Frame with Fork
Wheels
Crank Gear
Brake System
Motor Controller
By Ownership
By Regional Outlook
North America
Europe

UK
Germany
France
Rest of Europe

Asia Pacific

China
Japan
India
Rest of Asia Pacific

Latin America

Brazil
Rest of Latin America

Middle East & Africa (MEA)

GCC
North Africa
South Africa
Rest of the Middle East & Africa