The global edible packaging market size was estimated at USD 1 billion in 2022 and it is expected to hit around USD 1.85 billion by 2032 recording at a CAGR of 6.4% during the forecast period from 2023 to 2032. Globally expanding processed food markets, rising demand for biodegradable packaging, and an increase in packaging innovation are the main market drivers.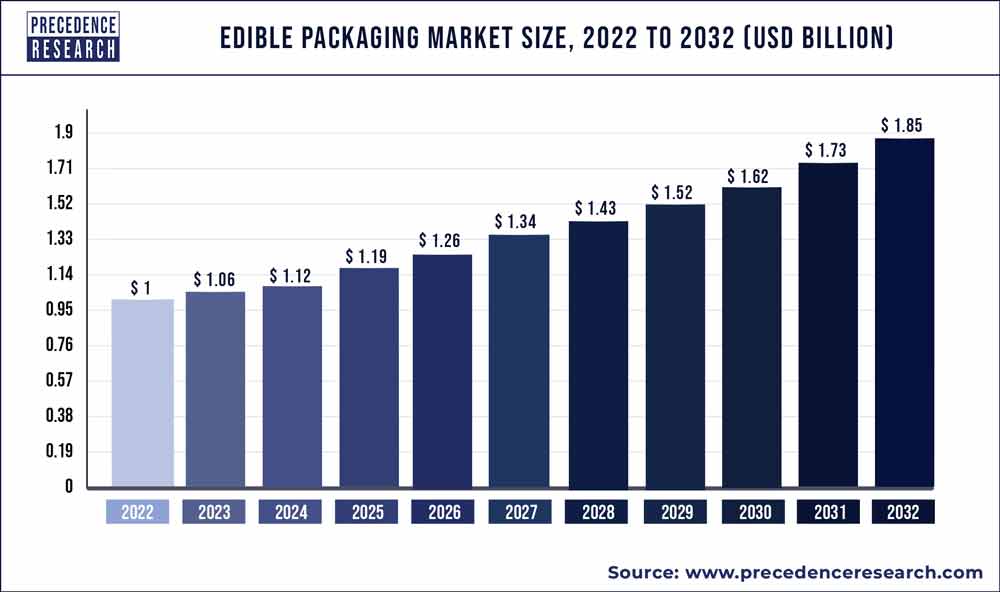 Key Takeaways:
North America accounted for 36.2% of the total revenue share in 2022.
By material, the protein segment accounted revenue share of over 48.9% in 2022.
To increase the shelf life of eating products and medicines, edible packaging is a thin substance that may either be removed before eating or utilized to wrap or coat the product. Regulations set out by the Food and Drug Administration (FDA) require packaging materials to conform to the characteristics of substances used in safe food products and to achieve the designation of "Generally Recognized As Safe" (GRAS). It is biodegradable since edible packaging is often made from biomass, such as plants and animals. The three main components of edible packaging or film are film-forming substances, plasticizers, and additives. Water, alcohol, or aqueous alcohol are utilized as an appropriate solvent to produce a film-forming dispersion (FFD) for edible films. The main components that make films include proteins, polysaccharides, lipids, and combinations or mixtures of these. Additionally, plasticizers and other useful additions are utilized to improve the protective qualities of edible film or packaging, including antioxidants, vitamins, antimicrobials, essential oils, colors, and chemical preservatives.
To prevent packaging failure, edible packaging is examined using a number of quantifiable quality indicators. Its moisture and gas barrier qualities, moisture adsorption capacity, microbiological stability, adhesion, solubility, cohesion, transparency, sensory, mechanical capabilities, and organoleptic properties are some of the important aspects that are assessed. Typically, edible packaging doesn't change the product's flavor, aroma, or appearance. However, recent innovation has made it possible for the product to add vitamins, flavoring agents, and fragrance volatiles to the packaged goods. According to the market's current developments, edible packaging options have gotten a lot of traction. The government's attempts to introduce customers to wholesome food that complies with consumption standards are the primary cause of this.
Along with leading market participants' shifting attention to the availability of novel types of sources devoted to edible solutions for foodstuff packaging, packaging technology is also improving.
Growth Factors
The market for edible packaging is expanding due to the increased desire to eliminate the wasteful use of packaging materials. About one-third of the rubbish in the world is packaging. Recycling of solid trash is therefore necessary in order to decrease the garbage produced on land due to increased awareness of environmental issues including solid waste disposal and reducing the quantity of waste created in landfills. The use of edible packaging helps keep trash out of landfills.
The industry is expanding since edible packaging is being used more frequently to keep items fresher and longer. Growing safety concerns and efficient space use are once more driving industry expansion. The desire for edible packaging is being driven by the product's capacity to have a longer shelf life, which also minimizes waste. They are an excellent choice for the packaging of various food goods since they are simple to tamper with. As a result, the market is expanding due to the increased need for food goods to have longer shelf lives.
Scope of the Edible Packaging Market
Report Coverage
Details
Market Size in 2023
USD 1.06 Billion
Market Size by 2032
USD 1.85 Billion
Growth Rate from 2023 to 2032
CAGR of 6.4%
Largest Market
North America
Fastest Growing Market
Asia Pacific
Base Year
2022
Forecast Period
2023 to 2032
Segments Covered

Material
Source
Packaging Process
End-User
Geography

Key Market Drivers
Increasing demand for processed food items - Over the course of the projection period, the market expansion will be aided by the rising demand for processed food items. Salt, fats, oils, and sugar have been added to these food products to enhance flavor and taste. Additionally, processed goods require packaging with a lengthier shelf life than edible coverings can provide. Because so many people consume processed foods, using edible coatings as well as films is anticipated to support industry expansion.
The demand for biodegradable films is rising - Over the course of the projected period, the market will see strong growth due to the increasing demand for biodegradable films in edible packaging. This reduced the need for fossil fuels and also enable new features and functions, such as biodegradability, to be offered by materials like cellulose or starch-based polymers, polysaccharides, lipid, and composite films.
Key Market Challenges
Several adverse elements - Several adverse characteristics, such as edible packaging being more sensitive to different conditions and requiring specific treatment during storage as well as transportation, significantly hinder the growth of the worldwide edible packaging market. It is anticipated that other implementation-related concerns, such as customers' reluctance to eat from their silverware or food packaging, may somewhat restrict market development. Furthermore, when edible film coatings are used, some non-edible wrapping may be required for hygiene reasons, which might further impede market revenue development. People may be concerned about the hygienic side of edible packaging.
Key Market Opportunities
Technological advancements in the packaging industry
The food packaging business is predicted to benefit from a number of technical developments, including the introduction of nanotechnology in packaging and the addition of nutritious proteins to edible food packaging. The edible packaging market is anticipated to expand more quickly over the anticipated period as demand for edible packaging goods rises in populous nations like China, Indonesia, and India. The creation of infrastructure for raw materials like plant-based sources and the creation of new government rules in favor of edible packaging is also expected to aid the market's expansion.
As worries about the use of disposable plastics and waste management grew, so did the demand for sustainable resources for food delivery and other food service applications as well as alternative natural resources for the production of edible packaging items. In the upcoming years, the market is anticipated to soar. In the upcoming years, the strategies made by the food sector, which include edible packaging components, alternatives to plastic bags, and packaging containers, will aid in accelerating the expansion of the worldwide edible packaging market.
Innovation in the edible packaging
The widespread and increasing use of the edible packaging industry trends depends heavily on innovation. Innovation frequently goes hand in hand with the improvement and development of the technology already in use, which has a significant impact on the edible packaging business. This is further encouraging the major market players to make significant investments in the creation of items that stand out from the competition, benefit the target market, and increase their revenues and sales numbers.
In order to guarantee that all food-related safety regulations are satisfied and that the food products have an impact on the consumers as a consequence of their attractiveness, businesses are stepping up their use of smart, sustainable innovation. It is anticipated that changing consumer preferences from traditional case-ready packaging to portion-size packaging would offer important growth prospects.
Consumers can utilize the necessary amounts of meat thanks to portion-sized packaging for food goods, which also helps to reduce food waste. The market for edible packaging is thus anticipated to see tremendous development prospects as a result. Thus, it is anticipated that increasing the use of portion-size packaging would encourage the market expansion of edible packaging in the near future.
Segments Insight
End-Use Insights
The main end-user industries in the global edible packaging market are a) food & beverage and b) pharmaceuticals. The product segment is frequently used in the food and beverage sector to package a variety of food items, including fresh food, bakery and confectionery, infant food, functional foods, and dairy goods. The market for edible packaging is predicted to increase over the next several years as processed food demand increases globally as a result of improving lifestyles. Over the projection period, the pharmaceutical category is anticipated to grow at the fastest rate. In the pharmaceutical sector, edible packaging is mostly utilized for capsule packing. Global pharmaceutical, as well as nutraceutical industries, have been fueled by rising health consciousness; this is anticipated to have a positive influence on product demand from 2019 to 2025.
Material Insights
On the international market, protein is a substance that is mostly chosen. With a 48.9% global revenue share in 2022, the protein material category dominated the market. Casein, collagen, whey, gelatin, soy, plants, zein, and gluten are all components of protein films. Compared to polysaccharides and lipid-based films, protein-based films have stronger gas barrier characteristics. Due to the distinctive structure of proteins, these films also possess greater mechanical characteristics as compared to other material categories. The films' inferior mechanical strength and water vapor resistance compared to synthetic polymers, however, restricts their employment in end-use industries.
As a strong barrier to carbon dioxide and oxygen at low and moderate humidity, polysaccharides are also often utilized to create edible packaging. The primary sources of polysaccharides include chitin, starch, cellulose, gum, and others. Over the next years, rising global market development is anticipated to fuel demand for polysaccharides.
Regional Insights
In 2022, North America accounted for the greatest portion of the worldwide market. Its dominant position in the worldwide market is attributed to the existence of sizable processed food and pharmaceutical sectors, as well as a sizable number of edible packaging makers. Furthermore, during the course of the forecast period, the market is expected to be driven by rising innovation in the edible packaging arena, notably in the United States.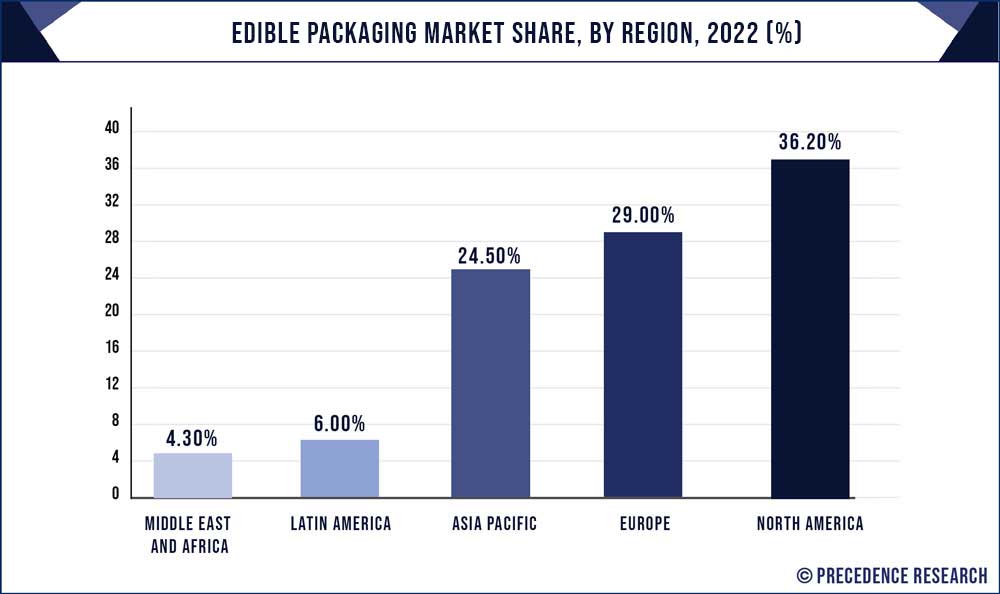 From 2023 to 2032, the Asia Pacific market is anticipated to develop at the fastest rate. The main element driving the exceptional demand for the product in the region is rising consumer awareness of the negative effects of excessive plastic use for food packaging together with expanding plastics bans. Over the next years, rising food and beverage and pharmaceutical sectors are also anticipated to boost product demand. However, it is anticipated that high production costs and hygienic problems with product transportation may impede market expansion in the area.
Recent Developments
A London-based firm called Notpla developed edible seaweed packaging as a replacement for traditional plastic packaging in October 2020.
In January 2020, Loliware, a New York-based business, began making edible straws made of algae and seaweed.
As a practical substitute for plastic packaging, a Polish designer by the name of Roza Janusz developed a biodegradable and edible packaging material called "Scoby" in October 2019.
Key Market Players
WikiCell Designs Inc. (U.S.)
Tate & Lyle Plc. (U.K.)
Safetraces, Inc. (U.S.)
JRF Technology, LLC (U.S.)
Tipa Corp (Israel)
MonoSol, LLC (U.S.)
Watson, Inc. (U.S.)
Interpack (U.S.)
Evoware (Indonesia)
Coveris Holdigs, (U.S.)
Devro plc (U.K.)
Dupont de Nemours and Company (U.S.)
Ingredion Inc (U.S.)
Nagase & Co. Ltd. (Japan),
Pace International LLC (U.S.).
Segments Covered in the Report
(Note*: We offer reports based on sub-segments as well. Kindly, let us know if you are interested)
By Material
Protein
Polysaccharides
Lipid
Others
By Source
By Packaging Process
Antimicrobial
Nanotechnology
Electrohydrodynamic
Coatings
Microorganism
By End-User
Food & Beverages
Pharmaceuticals
By Geography
North America
Europe
Asia-Pacific
Latin America
Middle East & Africa (MEA)