The global electric vehicle relay market size was valued at USD 13.58 billion in 2022 and is predicted to expand around USD 241.45 billion by 2032 with a CAGR of 33.4% from 2023 to 2032.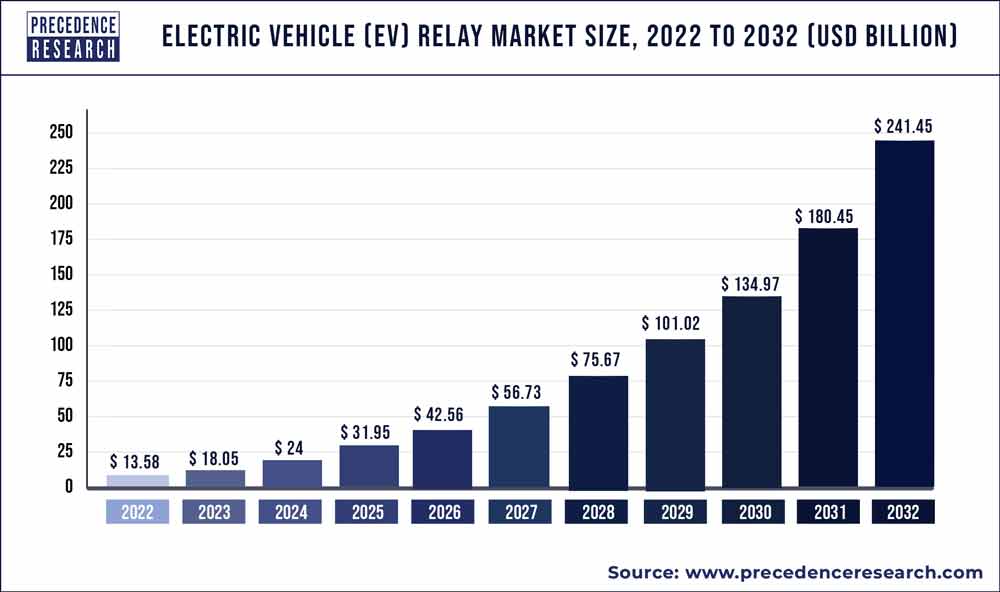 Access our Premium Real Time Data Intelligence Tool, Visit: Precedence Statistics
Relays are essential components in car electronic segments. EV Relays provide automobiles with a variety of electrical functions. The downsizing of relays is a significant market driver since larger current loads may fit into a tiny device that is compact and takes up little space. Even though it offers additional functions, it retains the vehicle's overall appearance. EV Relays are also thought to be safe due to the fact that they are housed in a sealed capsule. They are also dustproof and waterproof, and are encapsulated in hydrogen gas to prevent contact oxidation. Because most automobiles are now electronic rather than manual, the average number of relays per vehicle is likely to rise. This is yet another market driver.
The EV Relay Market is expanding as electric vehicles become more popular. Because of increased environmental concerns, this industry is likely to develop throughout the projection period. Governments have taken steps to encourage electric cars in order to reduce pollution and dangerous gas emissions. Individuals' spending power is increasing; hence the premium automobile market is expanding. As most luxury automobiles have advanced feature this is a driving factor in the EV relays market's growth.
The average amount of software and electronics per car is quickly increasing as the automobile industry transitions from hardware to software-oriented vehicles. Electronic devices with a wide variety of application areas such as safety management, engine, comfort, and infotainment that use automotive relays are used to integrate new features into automobiles. This is expected to boost market demand during the forecast period.
Another key aspect driving the introduction of automated technologies in autos is passenger safety. Over the previous few decades, automobile safety measures have significantly reduced road accidents and fatalities. In addition, the car sector is aiming to improve consumers' driving experiences. Smarter automobiles that can self-diagnose are gaining popularity and are expected to drive market expansion throughout the projected period.
Report Scope of the Electric Vehicle (EV) Relay Market
| | |
| --- | --- |
| Report Coverage | Details |
| Market Size in 2023 | USD 18.05 Billion |
| Market Size by 2032 | USD 241.45 Billion |
| Growth Rate from 2023 to 2032 | CAGR of 33.4% |
| Base Year | 2022 |
| Forecast Period | 2023 to 2032 |
| Segments Covered | Application, Product, Vehicle Type, Sales Channel, and Geography |
| Companies Mentioned | Panasonic Corp., TE Connectivity Ltd., HELLA GmbH & Co. KGaA, Furukawa Co., Ltd. (Fujitsu Limited), Hongfa Technology Co Ltd., Willow Technologies Limited, Zettler Group, Tara Relays Private Limited, Song Chuan Group Company (Song Chuan Usa, Inc.), Jiangxi Weiqi Electric Co., Ltd., Other Players |
Growth Factors
Because of the fast development of new technology, the automobile sector is expected to undergo a few structural changes in the near future. Artificial intelligence (AI) and machine learning (ML) will dramatically improve accuracy, robotic efficiency, and consistency in the manufacturing process. Level 2 automation, which includes active safety systems and driver assistance, enables OEMs to offer appealing features and increase revenue growth in the Electric Vehicle Relay Market.
Key Market Drivers
Solid-state relay adoption: Solid-state relays are likely to become low-cost in the long term, pushing the electric vehicle relays industry. In automotive applications, relays allow tiny current flow circuits to control and operate a larger circuit. Solid-state relays create an optical semiconductor signal from an electrically driven signal. They can be used in place of electromechanical relays.
Limited supply of fossil fuels: Due to the scarcity of fossil fuels, several governments and significant corporations are looking for alternative renewable resources. This has resulted in automobiles fueled by electricity, CNG, LPG, LNG, and other alternative fuels. This aspect is also likely to increase the estimated profit margin for this market throughout the forecast period.
Infrastructure development: Infrastructure development is one of the critical aspect for the widespread use of electric cars. Several corporations are investing in this sector, with plans to deploy millions of additional charging stations around Europe by 2020. This would help minimize customer range anxiety and encourage expansion in the EV relay industry.
Key Market Challenges
Lack of charging infrastructure, combined with higher EV Prices, will hurt the EV relay Market
An electric vehicle employs a battery as a power source; therefore, if the battery is significantly depleted, it must be recharged. Although the number of electric vehicles is rising in urban and metropolitan areas, there are still not enough charging stations available. Furthermore, despite government support for EVs through incentives and subsidies, electric vehicles remain pricey in comparison to other alternative engine vehicles. As electric vehicles directly utilise multiple relays for application, these problems are expected to impede the growth of the electric vehicle relay market.
Key Market Opportunities
Instabilities in geopolitical and territorial conflicts: Consistent active conflicts have occurred all across the world in recent decades. For example, the European refugee crisis began in 2015, resulting in an increase in the number of refugees and migrants requesting asylum. UAVs, for example, provide greater capabilities in combating violent extremism. Identifying and disputing elements ensures proactive counter-terrorism efforts. As a result, unmanned systems and sophisticated EV Relay are playing an important role and are projected to grow in the near future.
Increased venture capital funding: Now, venture capitalists have been pouring money into firms focusing on creating EV-related technology, such as charging infrastructure and EV relays. This suggests a high level of investment interest in this industry, which should assist drive innovation and expansion in the EV relay market.
Government Initiatives and Rising Awareness - Increased government incentives, as well as growing awareness about transportation emissions, are driving demand for electric vehicle relay. Governments all around the globe are establishing multiple carbon dioxide emission standards and laws, as well as supporting and assisting the fast commercialization of zero-emission vehicles (ZEVs). The proliferation of electric cars is expected to stimulate demand for zero-emission automobiles, which in turn is expected to boost demand for worldwide electric vehicle relays, which are used to switch several objects at once using a single output.
Segmental Insights
Application Insights
The heating application category held the biggest market share of more than 41% in 2022 and is expected to rise significantly during the forecast period. The increased need for energy-efficient solutions with improved performance will boost relay product adoption across a wide range of applications. EV Relays are used in electric cars to prevent against short-circuit and open-circuit events that, if exposed to high voltage, might damage the vehicle's electrical system or cause injury.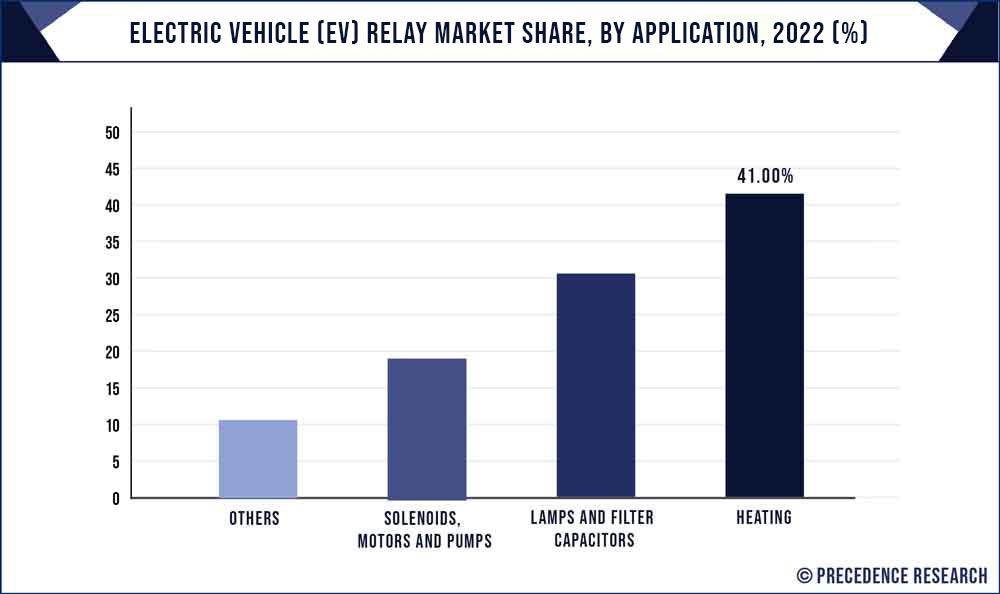 Furthermore, as compared to conventional systems, these devices help minimise power consumption by providing regulated switching between two states, which reduces engine load. These factors are expected to fuel industry growth during the forecast period, particularly in Europe and North America, where demand has been steadily rising due to increased EV production, rising consumer awareness about improved driving experiences, and environmental benefits associated with lower carbon emissions from automobiles manufacturing plants globally.
Product Insights
The PCB relay is expected to hold the biggest market share in this industry. It's found in a wide range of electrical applications, including ABS, cruise control, power steering, doors, power windows, and sunroofs. They are widely utilised in places such as Europe and North America. However, in places such as Asia-Oceania and the Rest of the World, Tier-1 manufacturers and OEMs continue to choose plug-in versions.
Plug-in relays are employed in situations where the switching function must be conducted in the presence of high vibrations, temperatures, and voltage changes. They are found in fuel injection systems, heating, ventilation, and air conditioning (HVAC) systems, as well as switching fuel pumps. These components are in high demand because of their small size, which saves a lot of room in the junction box. This phenomenon, in turn, aids in the reduction of the junction box's overall weight. The increasing use of electronic control modules in conjunction with electronic components has created a demand for smaller devices capable of bearing higher current loads.
Vehicle Type Insights
In 2022, the market for global electric passenger car relay market was worth more than USD 6.5 billion. Many governments make significant offers to encourage the sale and use of electric vehicles.
Many European governments use incentive-based schemes to promote electric vehicles. Countries such as Germany and Austria provide tax breaks and reductions. France and the United Kingdom provided EV owners with incentive payments and insurance reductions. The electric vehicle sector is expected to increase the most compared to other categories throughout the projected period. Many governments make significant offers to encourage the sale and use of electric vehicles by offering Tax benefits to the customers at the time of purchase. Furthermore, the scope of the exemption is determined by the size of the batteries used in the vehicle.
Electric Vehicle (EV) Relay Market Share, By Region, 2022 (%)
| | |
| --- | --- |
| Regions | Revenue Share in 2022 (%) |
| North America | 30% |
| Asia Pacific | 41% |
| Europe | 20% |
| Latin America | 6% |
| MEA | 3% |
Geography Insights
Over the projection period, Asia Pacific region has accounted 41% revenue share in 2022 and is estimated to be the fastest-growing regional market. The increase might be ascribed to rising electric car sales in China and India. Furthermore, favourable government policies like as tax breaks and subsidies are projected to promote EV demand in nations such as Japan, Taiwan, South Korea, and Indonesia. Due to strong demand from main application areas such as heating and cooling systems, lights and filter capacitors, and solenoids motors and pumps, Europe accounted for a considerable proportion of the worldwide EV relay market. North America is also expected to increase significantly over the next several years as OEM adoption rises and customer awareness of environmentally friendly automobiles grows.
Recent Developments
Willow Technologies just announced its new Durakool electric car relays and contactors. The Durakool electric car relay DEVR20 may also be used for non-electric vehicle relays. Relays are employed throughout electric cars and come in a variety of ratings for a variety of remote control switching applications.
In February 2022, MG Motors unveiled their forthcoming EV, the MG 4, which is set to debut in India later that year. The EV will have a 61.1 kWh battery pack and is projected to go 400 kilometres.
Volkswagen announced the creation of its ID.5 model, based on the Skoda Enayaq iV model, in January 2022. The car is intended to have a range of around 300 kilometres on a single charge.
Key Market Players
Panasonic Corp.
TE Connectivity Ltd.
HELLA GmbH & Co. KGaA
Furukawa Co., Ltd. (Fujitsu Limited)
Hongfa Technology Co Ltd.
Willow Technologies Limited
Zettler Group
Tara Relays Private Limited
Song Chuan Group Company (Song Chuan Usa, Inc.)
Jiangxi Weiqi Electric Co., Ltd.
Other Players
Segments Covered in the Report
(Note*: We offer report based on sub segments as well. Kindly, let us know if you are interested)
By Application
Heating
Lamps and Filter Capacitors
Solenoids, Motors and Pumps
Others
By Product
Plug-in Relay
PCB Relay
EV
Hybrid
By Vehicle Type
Passenger Cars
Light Commercial Vehicles
Heavy Commercial Vehicles
By Sales Channel
By Geography
North America
Europe
Asia-Pacific
Latin America
Middle East & Africa (MEA)