The global electrolyte drinks market size was estimated at USD 33.65 billion in 2021 and it is expected to hit USD 58.47 billion by 2030 with a registered CAGR of 6.33% from 2022 to 2030.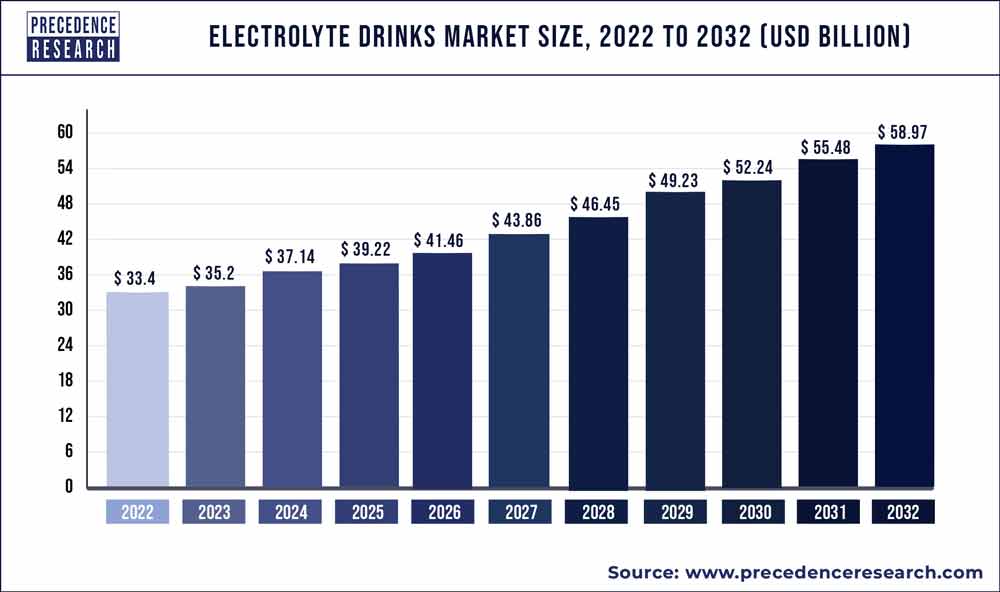 Key Takeaway:
By type, the isotonic segment accounted 57% market share in 2021.
Based on packaging, the PET jugs segment contributed 51% market share in 2021.
By distribution type, offline mode has generated highest revenue share in 2021.
North America region accounted 40% revenue share in 2021.
Market Overview
Salt and sugar are combined in an ionizing liquid such as water to make an electrolyte drink. Electrolyte drinks are frequently consumed to assist people to maintain their energy levels and recover from physical exertion. The primary goal of the drink is to compensate for electrolyte loss in athletes and those who regularly exercise. Due to a multitude of factors such as age, gender, fitness, exercise duration, and environmental impacts, electrolyte levels vary from person to person. Sodium, potassium, and magnesium are the three major electrolytes.
Electrolyte beverage manufacturers are well-known for spending millions of dollars to get sponsorship deals with major athletic events. Sponsorship has grown as the best marketing strategy and emerged as the most effective method of communication, allowing for direct linkage between a brand and an event that appeals to a certain target demographic. As a result of the foregoing improvements, sales of electrolyte drinks have grown considerably in recent years.
Report Scope of the Electrolyte Drinks Market
| | |
| --- | --- |
| Report Coverage | Details |
| Market Size in 2022 | USD 35.78 Billion |
| Market Size by 2030 | USD 58.47 Billion |
| Growth Rate from 2022 to 2030 | CAGR of 6.33% |
| Base Year | 2021 |
| Forecast Period | 2022 to 2030 |
| Segments Covered | Type, Packaging, Distribution Channels, and Geography |
| Companies Mentioned | The Coca-Cola Company, PepsiCo, Abbott, PURE Sports Nutrition, The Vita Coco Company, SOS Hydration, DRINKWEL, NORMA Group, The Kraft Heinz Company, Kent Corporation |
Market Dynamics
Consumers' changing lifestyles, such as joining fitness and health clubs, eating correct nutritional food for a balanced diet, and an increase in urbanization supplements, are driving market demand. Furthermore, rising disposable incomes, stronger consumer power, and rising demand for varied endorsements from well-known sportsmen and celebrities, as well as promotional efforts and events, are likely to drive market demand throughout the forecast period. Though, in the future year, the manufacturing of sports drinks with natural components, such as natural sweeteners, is expected to open up new chances for the electrolyte drinks industry. However, excessive consumption of electrolyte drinks is linked to health problems such as frequent urination and insomnia, which may limit the market growth.
Electrolyte drink makers are notable for putting a large number of dollars into acquiring sponsorship contracts with huge games. Sponsorship that has advanced as a top-notch promoting strategy, has arisen as the best method for correspondence, permitting a direct relationship of a brand, and occasional interest in a specific objective section. Electrolyte drink deals have expanded decisively as of late because of the previously mentioned advancements.
Sponsorship actuation marked content, and support has all assisted Red Bull with building a particular brand picture that is rapidly clearing over the drink area. The market for utilitarian refreshments is expanding at a quick rate, as shoppers are focusing closer on remaining sound. In the created markets, drinks are not generally seen exclusively as a speedy reward. Moreover, they have become more advantageous supplements and food supplement items. The area is unequivocally affected by purchasers centered around protein, health, normal, and 'liberated from' patterns. Buyers know about the advantages of sports drinks as they refuel energy and hydrate the body later or before any sort of activity or sports exercise. The buyer fragments driving the development of the market incorporate maturing purchasers searching for imperativeness, twenty- to thirty-year-olds who will attempt new items with wellbeing benefits, and occupied shoppers looking for 'fast wellbeing'. With the rising well-being worries, there is a prolonged interest in nourishment-filled, low-calorie sports drinks produced using regular fixings, like stevia and other sugar options. For example, PepsiCo Inc., sent off a zero-sugar variation of Gatorade named 'G-Zero', to draw in wellbeing cognizant purchasers. The items are accessible in flavors, for example, lemon-Lime, Orange, and Glacier Cherry.
Segmentation Insights
Type Insights
By type, the isotonic portion accounted for the most elevated share in 2021. The isotonic fragment is developing complex because of the quick expansion in the utilization of these beverages by competitors and typical buyers. The essential objective of an isotonic beverage is to build minerals and water, supplement admission, and work on athletic execution.
Such benefits of isotonic electrolyte beverages will keep the class expanding at a quicker rate than the general market over the analysis period. Nevertheless, the hypertonic portion is supposed to observe the unobtrusive electrolyte drinks market development rate throughout the study period.
Packaging Insights
Based on packaging, the PET jugs section represented the biggest piece of the worldwide electrolyte drinks portion of the overall industry in 2020 and is assessed to overwhelm the market during the analysis period. PET jugs are the most broadly used bundling material by refreshment organizations universally. The PET container business has made critical development starting from the presentation of mechanical forward leaps in PET jugs.
During the analysis period, the presentation of new advances is anticipated to advance the development of PET containers in the electrolyte drinks market. Additionally, the tetra pack electrolyte drinks packages are more demanding due to convenience (store, recycle, and easily open), availability, and ease to carry. These are benefits that increase the electrolyte drinks market.
Distribution Channel Insights
Based on distribution type, offline mode is most dominant in the market growth. During the analysis period, the electrolyte drinks market is expected to grow rapidly. Throughout the study, the electrolyte drink sector in the sports fitness market will develop due to an increase in the number of sportspeople such as weightlifters, athletes, and bodybuilders. Furthermore, the growing popularity of energy drinks among teenagers and the elderly is likely to fuel market growth in the future years. Various energy drink producers are using new technological approaches to increase drink quality, which is having a positive influence on the sports fitness market throughout the forecast period.
Also, People have increased their health consciousness which is driving the sports nutrition industry. During the analysis period, the demand for sports nutrients will be driven by an increase in the number of health clubs and fitness facilities, as well as the advent of online exercise courses. The market is dominated by sports fanatics, fitness freaks, students, and those from high-demand professions.
Electrolyte Drinks Market Share, By Region, 2021 (%)
| | |
| --- | --- |
| Regions | Revenue Share in 2021 (%) |
| North America | 40% |
| Asia Pacific | 23% |
| Europe | 26% |
| Latin America | 6% |
| MEA | 5% |
What is the Region Impact in the Electrolyte Drinks Market?
North America remains on top among provincial deals followed by Europe. However, the rising wellness pattern is finding different locales and driving marketing projections for the business sectors. The North American games drink market is supposed to flood, attributable to a rising level of urbanization and development in the number of wellness places across nations. The flooding interest for regular sugars is likewise expected to drive the development of the games to savor market in North America, inferable from the no or low happiness of calories in the sugars utilized in the fitting of the games drink by the makers in the locale. The rising number of the populace associated with different games exercises and other wellness exercises is the significant driver for the market for sports drinks in the United States, in this manner driving the North America market.
The Asia-Pacific (APAC) region has arisen as the quickest developing area, seeing a broadening of the games business and prolonged interest in well-being and wellness items. Nations like Australia, China, and India represent around 80% of the APAC sports nourishment market as far as item dispatches, because of a flood sought after. The APAC sports nourishment market is supposed to develop at a pace of 9.5% to arrive at US$15 billion by 2030, with Australia driving the portion of the overall industry alongside India and China.
As far as sports sustenance formation, nations like China, Australia, the U.S., and New Zealand are driving with 60%-70% of the offer consolidated. According to the growing desire, India will likely witness an increase in the production of these products shortly. Australia is the main country in the APAC district, catching almost 35% of the game's nutrition market. Sports nourishment deals will become significant here, with a buyer base that is quickly advancing because of the resumption of well-being and wellness focuses.
COVID-19 Impact
COVID-19 has caused havoc in the global economic and social systems. The illness has infiltrated various businesses' value and supply chains, including the electrolyte drinks industry. Lockdowns were implemented by the authorities in several sites. The COVID-19 pandemic affects the global market demand and supply chain of electrolyte drinks.
Key Market Developments
In 2021, Good Sports Nutrition, a Rosemont, Ill.- based startup, sent off GoodSport, a games drink that is 97% dairy and intends to contend broadly against driving brands. The item is declared to be accessible on Amazon.com and www.goodsport.com.
In 2020, The Coca-Cola Company expanded the Powerade Power Water and Powerade Ultra to its portfolio. These items are intended to address the change in practice propensities that are more centered around perseverance. Ultra contains half a greater number of electrolytes than exemplary Powerade and creatine. The two product offerings each have three flavors and no sugar or calories.
Key Market Players
Companies are working on broadening their presence through a variety of techniques, including constant product innovation, increased investments in emerging markets, and collaborating with online merchants to boost sales and obtain a competitive advantage. Major businesses are concentrating and increasing their operations in markets like China and India. Sports councils have also recommended these products, like the National Sports Council of Malaysia sanctioned 100PLUS, an isotonic sports drink. Due to the existence of important competitors and rising urbanization in the industry, the electrolyte drinks market is highly fragmented.
The Major Market Players Include:
The Coca-Cola Company
PepsiCo
Abbott
PURE Sports Nutrition
The Vita Coco Company
SOS Hydration
DRINKWEL
NORMA Group
The Kraft Heinz Company
Kent Corporation
Segments Covered in The Report
(Note*: We offer report based on sub segments as well. Kindly, let us know if you are interested)
By Type
Isotonic
Hypotonic
Hypertonic
By Packaging
PET Bottles
Cartons
Beverage Cans
Tetra pack
Pouches & Sachets
By Distribution Channels
By Geography
North America
Europe
Asia-Pacific
Latin America
Middle East & Africa (MEA)