The global engineering services outsourcing market size was estimated at US$ 1.55 trillion in 2022 and it is expected to hit around US$ 6.79 trillion by 2030 with a registered CAGR of 20.3% from 2022 to 2030.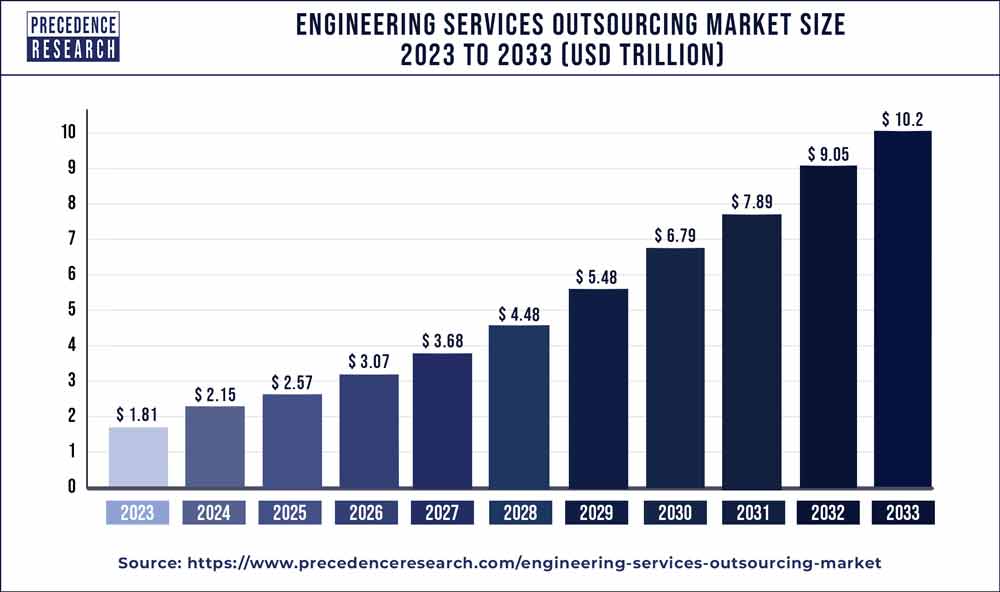 Access our Premium Real Time Data Intelligence Tool, Visit: Precedence Statistics
Key Takeaways:
North America generated more than 32.48% of revenue share in 2022.
By Services, the testing segment has contributed more than 31.25% of revenue share in 2022.
By Services, the designing segment is expected to expand at the fastest CAGR of 20.7% from 2023 to 2030.
By Location, the onshore segment accounted the highest market share of 56.88% in 2022.
By Application, the industrial segment has generated around 56.11% of revenue share in 2022.
Growth Factors
The engineering services outsourcing is the practice of hiring nonphysical engineering functions from a third party, such as prototyping, design, and testing. These services are required at the beginning of the product development and design process and make use of variety of information technology-based databases and tools. The engineering services outsourcing is used in the communications and networks industries to hire network design services, inventory management, and geographic data analytics. Aside from that, it has a wide range of applications in device remote monitoring, industrial automation, product cycle management, and supply chain management.
Outsourced engineering entails delegating specific engineering operations and duties to a team or individuals operating outside the organization. Many organizations see outsourcing to be a sensible way to gain access to low-cost offshore market.
One of the most widely outsourced design services is new product development, sometimes known as research and development. The companies that use expert engineering support for product development and design can bring their products to market considerably faster. Bringing idea to a group of highly skilled engineers and allowing them to turn it into useful end products is what research and development is all about. The research and development process is also outsourced by many market players.
Report Scope of the Engineering Services Outsourcing Market
| | |
| --- | --- |
| Report Coverage | Details |
| Market Size in 2023 | USD 1.81 Trillion |
| Market Size by 2030 | USD 6.79 Trillion |
| Growth Rate from 2023 to 2030 | CAGR of 20.3% |
| Asia Pacific Market Share in 2022 | 24.44% |
| Industrial Segment Market Share in 2022 | 56.11% |
| Base Year | 2022 |
| Forecast Period | 2023 to 2030 |
| Segments Covered | Service, Application, Location, Geography |
| Companies Mentioned | Cybage Software Pvt. Ltd, Sonata Software Limited, Tata Consultancy Services Limited, Tech Mahindra Limited, Altair Engineering Inc., Wipro Limited, HCL Technologies Limited, QuEST Global Services Ltd, EPAM Systems Inc., Accenture Plc. |
The cost reduction from lower labor wages will be a major driver for the growth of engineering services outsourcing market. Due to high cost of labor in developed and industrialized countries, companies are outsourcing their engineering processes to less expensive locations. The engineering services outsourcing allows businesses to delegate work to low-cost workforce while reducing costs associated with extra office space, labor, infrastructure, and operations. These benefits are predicted to drive engineering services outsourcing from high-cost labor countries to low-cost labor countries.
The rise of the engineering services outsourcing business, as well as the increasing usage of engineering service outsourcing, is mostly attributable to shorter product life cycles. Most business solutions are only available for a limited time, requiring resubscription or repurchase. A consumer may need to upgrade and modify their information technology infrastructure system after the contract expires, or an automobile original equipment manufacturer may require a new set of engines for an upcoming vehicle, necessitating ongoing technical upgrades.
The engineering services outsourcing company thrives as a result of the repeating nature of the services, which also increases demand for subsequent goods, moving the sector forward. When selecting an engineering service outsourcing provider, industry experience, previous initiatives, market value, and the quality of service it provides are all important aspects to consider. However, new entrants may find it difficult to break into the engineering services outsourcing market and establish a presence due to a lack of project infrastructure, business networks, and familiarity with client requirements.
One of the primary factors driving the engineering services outsourcing market's growth is the increased adoption of integrated solutions for creating and evaluating engineering systems. Additionally, growing use of engineering systems such as computer aided engineering, electronic design automation software, computer aided manufacturing, and computer aided design software is fueling the engineering services outsourcing market expansion. These applications help to improve the overall efficiency of manufacturing operations and can be used on laptops, tablets, smartphones, and computers.
Other growth inducing variables include various technical developments and the introduction of digital transformational services. The original equipment manufacturers are integrating smart manufacturing systems, artificial intelligence, robotics solutions to better product detailing and modelling which is also boosting the engineering services outsourcing market.
Component Insights
As of 2022, software segment was the highest contributor to this market, with $990.65 billion, and is anticipated to reach $4,397.27 billion by 2030, registering a CAGR of 20.5% from 2022 to 2030.
By component, the software segment accounted for the dominating share in 2022 in component segment and is also projected to be the fastest-growing segment over the forecast year. In the world of rapidly evolving technologies, a tremendous need for the development of cost-effective and high-quality solutions has been generated. Software outsourcing offers absolute services with the advantage of reduced costs and risks associated, enhanced efficiency, and improved security. The presence of existing market players and the introduction of emerging start-ups and new market players providing software outsourcing services are accelerating the growth of this segment.
All the prominent and small-scale U.S. and European companies are outsourcing vital technological tasks and are projected to raise outsourcing over the forecast period. This is attributed to the talent shortage that occurred in developed countries and they now rely on technology experts from other countries. For instance, as stated in an article published by Forbes Media LLC, in September 2022, a 4 million software developer shortage will be experienced by 2025, whereas the US Bureau of Labor Statistics predicts that nearly 200,000 developer positions would be needed each year throughout the decade. On the other hand, high competition in the market, several offices shut down, and the lack of software engineers are eminent factors generating software outsourcing popularity; thereby bolstering the growth of this segment.
As of 2022, the global engineering services outsourcing market for hardware was valued at $557.17 billion, and is anticipated to reach $2,394.01 billion by 2030, registering a CAGR of 20.0% from 2022 to 2030.
By component, the hardware segment is projected to grow exponentially over the forecast period. One of the major reasons for outsourcing a company's hardware services is cost. This is attributed to the reduced need for hiring additional employees and extending the working hours of existing employees. This factor significantly bolsters the growth of the hardware segment. Another reason supporting the costcutting associated with hardware outsourcing is, it reduces the need for the procurement of software or IT equipment. In addition to this, better productivity, delivery of more efficient products or services, and reduced time periods are some other factors responsible for thriving the growth of this segment. Furthermore, designing complex hardware systems is most of the time a complex task for even big companies. Reduced efforts for the establishment and maintenance of hardware equipment are another factor escalating the growth of this segment.
Service Insights
In 2022, the testing segment has generated a revenue share of 31.32%. The necessity to build and modify product models with improved compatibility and bug free operations has fueled the testing segment's growth in recent years. By service, the testing segment accounted for the largest revenue shareholder in 2022. Cost effectivity, testing efficiency, and access to a wide variety of testing procedures with an intervention of testing outsourcing are some of the prominent factors shaping the growth of the testing segment. In addition to this, another reason for outsourcing software testing is the availability of insufficient sources, and the internal team's expertise related to testing is responsible for expanding the growth of this segment. Testing outsourcing being popular for its functionality, better performance, and extensive usability amps up the growth of this segment. On the other contrary, when a company wants to launch an application soon on which they have worked for several weeks and lacks skills, resources, and expertise for QA testing; outsourcing can conclusively help achieve the app launch within the deadline. This phenomenon further elevates the growth of this segment.
Engineering Services Outsourcing Market, By Service, 2022-2030 (USD BILLION)
| | | | | |
| --- | --- | --- | --- | --- |
| Service | 2022 | 2023 | 2027 | 2030 |
| Designing | 284.09 | 333.84 | 688.15 | 1,281.53 |
| Prototyping | 239.40 | 280.20 | 568.50 | 1,046.36 |
| System Integration | 351.97 | 412.02 | 836.48 | 1,540.26 |
| Testing | 484.74 | 570.53 | 1,183.49 | 2,214.15 |
| Others | 187.61 | 215.88 | 407.90 | 708.97 |
The designing segment is predicted to develop at a CAGR of 20.7% in the future years. This is attributed to increasing design complexity and the need to save costs by outsourcing design to a trained but relatively low-cost workforce. By service, the designing segment accounted for the fastest-growing segment over the forecast period. Design outsourcing has helped several firms across the globe to deliver continuous projects with additional variety and quality offerings. Access to a large number of talented designers and the extensive availability of their artistic approaches are some of the striking factors reinforcing the growth of the designing segment. The rising acceptance of outsourcing designing by the digital product development industry is augmenting the growth of this segment.
In addition to this, design outsourcing thoroughly saves the company's operational costs as it doesn't require setting up a standard workplace, purchasing essential equipment, and establishing an in-house design team. This is considered one of the key factors striking the growth of this segment. Moreover, time-saving attribute outsourcing design avails trained and experienced experts ready to perform designing tasks instead of spending time recruiting and training candidates to perform their work. This factor is projected to foster the growth of this segment.
Location Insights
In 2022, the onshore segment was valued at $880.45 billion. The onshore services refer to the provision of services to an original equipment manufacturer based in the same nation as the engineering services providers. The onshore outsourcing removes language barriers and improves communication between service providers and original equipment manufacturers, resulting in better service and product delivery.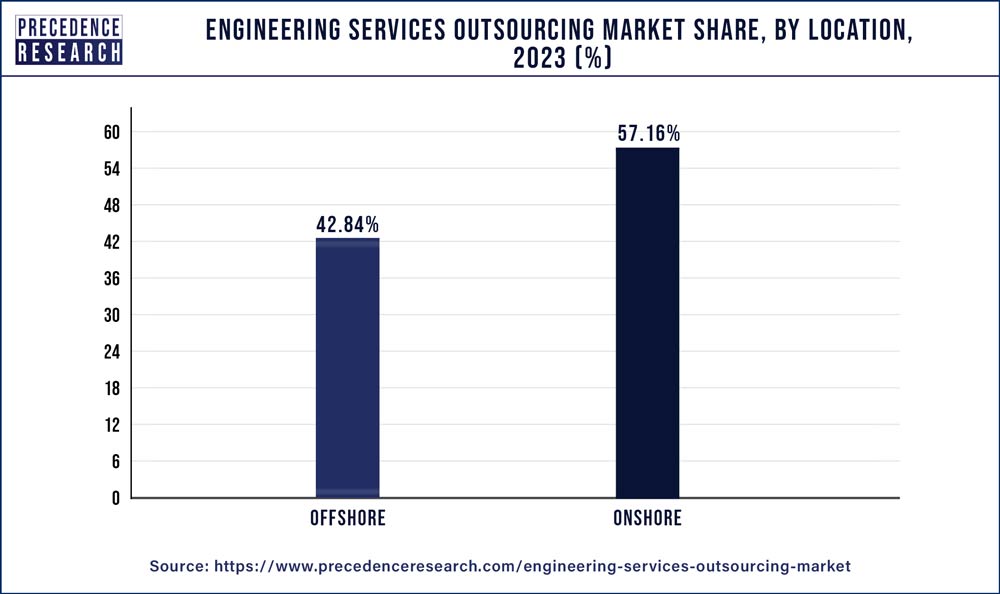 The offshore segment, on the other hand, is predicted to develop at the quickest rate in the future years. The offshore services refer to the delivery of engineering services beyond international borders. Due to the worldwide inflation rates, training expenses, high churn rates, and an increasing preference for outsourcing to onshore partners, the offshore segment is expected to develop at a rapid pace.
Application Insights
The industrial segment has contributed more than 56.11% of revenue share in 2022. Through the adoption of private, public, and hybrid clouds, industrial products manufacturing businesses are modernizing their information technology infrastructure, driving automation, and streamlining obsolete processes. One of the main factors influencing the acceptance of engineering services outsourcing is likely to be the growing relationship between Original Equipment Manufacturers (OEM) and Engineering Service Providers (ESP) (ESO). Key ESO industry actors have been encouraged by worldwide R&D activities to incorporate global delivery systems into their business strategies. Engineering service requirements have undergone a considerable shift in the market, moving from mechanical and non-core requirements to location-based core competencies.
The new strategy for product lifecycle development places a strong emphasis on ESPs' place in OEM supply chains. ESPs are creating service delivery standards that combine considerably more comprehensive engagement portfolios with a licensing framework that fosters innovation as engineering services outsourcing continues to deliver and develop. During the projected period, it is anticipated that the rising popularity of industrial, graphic, and architectural design for next-generation logistics systems would increase demand for innovative engineering.
Engineering Services Outsourcing Market, By Application, 2022-2030 (USD BILLION)
| | | | | |
| --- | --- | --- | --- | --- |
| By Application | 2022 | 2023 | 2027 | 2030 |
| Aerospace | 65.55 | 76.09 | 149.32 | 267.79 |
| Automotive | 84.01 | 99.23 | 208.68 | 394.25 |
| Industrial | 868.42 | 1,020.57 | 2,104.58 | 3,920.44 |
| Consumer Electronics | 124.75 | 145.63 | 292.37 | 533.79 |
| Semiconductors | 100.30 | 116.54 | 229.55 | 412.91 |
| Healthcare | 171.34 | 202.88 | 430.68 | 819.03 |
| Telecom | 68.88 | 81.43 | 171.79 | 325.30 |
| Others | 64.57 | 70.09 | 97.58 | 117.77 |
The industrial sector currently has the largest share of the market, and it is projected that it will maintain this position during the forecast period. Digitalization is being adopted gradually by a variety of probing services, such as drilling, blasting, crushing, and tunnelling to implement commercial and public to upgrade their information technology-driven infrastructure, promote automation, and streamline inherited procedures. Industrial product hybrid cloud producers are heavily embracing cloud architecture. The industrial industry is expected to grow as a result of the industrial internet of things' ability to reduce downtimes, find and fix errors, and lower supervision costs.
The healthcare segment is expected to witness growth at a CAGR of around 21.6% over the forecast period. The extensive investments in laboratories, medical equipment, and drugs have contributed to the segment's growth. Aggressive investments in state-of-the-art medical technology, laboratories, and drugs can fuel the expansion of the healthcare sector. The healthcare business has specifically preferred the ESPs, especially in the last few months, to manufacture treatments and vaccinations that would erase the negative effects of coronavirus, thus they noted sustained growth in their sales. To enhance clinical capability and reduce operating expenses, healthcare organizations are increasingly working with ESPs. Various healthcare organizations are forming strategic partnerships with ESPs to broaden their market reach and provide advantages that will improve the client-contractor relationship.
Many businesses view outsourcing as a secure way to access the low-cost offshore market. One of the most frequently outsourced design services is new product development, sometimes known as R&D. Presenting a notion to a team of highly skilled engineers and allowing them to develop it into useful end goods is the process of research and development. Hospitals are increasingly contracting out internal tasks to outside service companies, including IT and medical billing. Due to a lack of industry knowledge and experienced resources, hospitals are increasingly outsourcing medical billing and IT services to outside service providers. Additionally, the implementation of rules and the accreditation of service providers hold them responsible for upholding their quality standards.
Big data analytics has experienced rapid growth and has begun to play a significant role in the advancement of medical care procedures and academic research. It provides tools for gathering, managing, analyzing, and absorbing huge amounts of fragmented, unstructured, and structured data generated by existing healthcare systems. Clinical research methodologies can undergo major digital changes thanks to virtual or decentralized clinical trials, which can also improve the patient-centric environment. Technology, sophisticated software, electronic gadgets, online social engagement platforms, robotic process automation, artificial intelligence (AI), and machine learning are just a few of the many advantages offered by these technologies (ML).
Region Insights
North America was the highest contributor to this market, with $502.73 billion in 2022, and is anticipated to reach $2,150.80 billion by 2030, registering a CAGR of 19.9% from 2022 to 2030. North America is expected to develop at the fastest rate during the forecast period. The North America regional market is predicted to grow in response to the growing need for technological innovation and the continued integration of embedded software into existing models.
Given the presence of established suppliers and end-user industries that are continually implementing new and innovative technologies to increase business productivity and efficiency, North America is predicted to be the region with the largest market for engineering services outsourcing. Additionally, North America is steadily becoming the most popular offshore outsourcing site for US-based manufacturers and suppliers. A lucrative market for both parties, North America also benefits from favorable government laws that foster outsourcing operations in the region.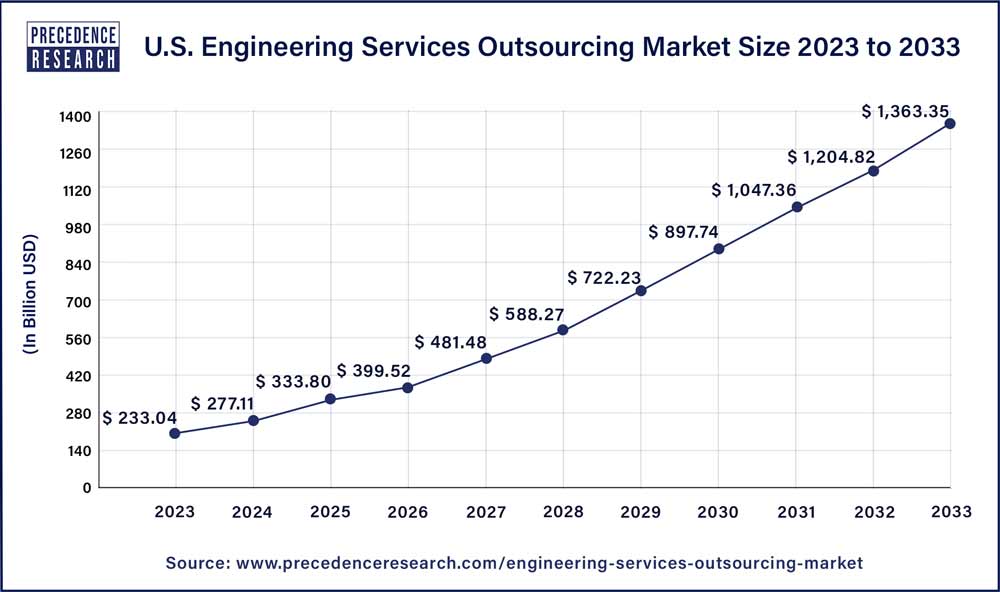 With North America utilizing offshore manufacturing capabilities to reduce production costs, exporting nations are now able to offer services in upstream areas, further lowering the overall cost of the production process. This is made possible by the deep understanding of manufacturing processes that comes along with that experience in contract manufacturing. North America's adoption of cloud services and R&D investments in new technologies are the key factors for its future growth. The rise is driven by the lack of trained software engineers and the rising demand for digital transformation. Due to the presence of original equipment manufacturers offering cutting-edge engineering solutions, North America is predicted to be the largest market for outsourcing automotive engineering services. One of the main manufacturing centers for the aerospace, building, and automotive industries is the United States.
The demand for high-quality medical devices is significant in Canada's complicated and developed medical device sector. Approximately 75% of the market for medical equipment is made up of imported goods. The main source of medical equipment for Canada is the United States. Nearly 44% of imports come from the United States due to geographic proximity, shared safety and quality standards, and other factors. The workload in the healthcare industry is anticipated to increase dramatically over the next several years due to the region's rapidly growing healthcare sector. Such conditions would increase the use of outsourcing for engineering services. This element would contribute to the expansion of the local outsourcing market for engineering services.
Engineering services outsourcing companies will become more well-known as the Industrial Internet of Things (IIoT) spreads and becomes more secure as a result of the expanding use of robotics, industrial automation, and 3D printing. Additionally, IBM Corporation is a top manufacturer of hardware and software solutions. It is a well-known research organization with a sizable portfolio of patents in the American patent market. The business provides several different services, like analytics, cloud, Watson, customer interaction, the Internet of Things, business solutions, IT infrastructure, mobile, and security. Cloud-managed, cloud advisory, and cloud migration services are some of IBM's cloud offerings that are particularly popular in this market.
Engineering Services Outsourcing Market, By Region, 2022-2030 (USD BILLION)
| | | | | |
| --- | --- | --- | --- | --- |
| Region | 2022 | 2023 | 2027 | 2030 |
| North America | 502.73 | 586.86 | 1,178.08 | 2,150.80 |
| Europe | 435.87 | 505.00 | 982.76 | 1,750.79 |
| Asia Pacific | 378.29 | 449.86 | 970.51 | 1,866.24 |
| LAMEA | 230.93 | 270.76 | 553.19 | 1,023.45 |
The Asia Pacific exhibits the fastest growth over the upcoming years. It was valued at $378.29 billion in 2022, and is projected to reach $1,866.24 billion by 2030, growing at a CAGR of 22.1% from 2022 to 2030.
The Asia-Pacific region is a center place for industrial products development as well as acquiring cost effective engineering services offered by highly skilled professionals and engineers. The region is also home to a number of well-known software outsourcing service firms.
Leading to price arbitrage, rising local outsourcing demand, and robust manufacturing bases in developing countries like China and India, the Asia-Pacific region dominates market growth. With a market share of more than 60%, Asia Pacific dominates the market for testing services. The primary forces behind this expansion are the outsourcing of IT test activities to smaller businesses and the rising demand for QA and QC services from MNCs.
Additionally, wealthy nations like the US, Japan, and Germany sometimes have relatively high labor costs. As a result, they preferred outsourcing their engineering services to countries like India, Indonesia, China, and Malaysia which are offshore and can offer good environment and skilled personnel at a reasonable price. India has the second-highest population in the world. India, which has a population of over 1.3 billion, has a sizable population of engineers and other technical professionals, who are highly sought after by multinational corporations. Due to India's strong engineering manpower, affordable labor, and global business ties, these corporations outsource engineering services to India.
The top three justifications for outsourcing engineering services to India are lower costs, higher service quality, and quicker time to market. Infosys Ltd., Wipro Ltd., and Tech Mahindra Ltd. are significant Indian businesses that contract with foreign nations to provide engineering services. China is the largest economy in the world and is a significant player in the market for outsourcing engineering services. More engineers are employed in China than in any other nation, and China also produces the majority of engineering graduates worldwide. The nation is a desirable supplier of engineering services due to its high levels of skill intensity.
One of the markets with the highest growth in the outsourcing of engineering services is the Asia-Pacific area. The Asia-Pacific region has become one of the most well-liked offshore outsourcing locations for producers and suppliers. Due to the accessibility of highly qualified engineers at affordable locations providing technologically advanced services, the presence of well-known software outsourcing service providers in the area can be credited for this increase. Additionally, the consumer electronics, telecom, and semiconductor industries—which are the main consumers of ESO services—are heavily concentrated in APAC.
The Asia-Pacific engineering services outsourcing industry is primarily driven by the growing local outsourcing demand, a strong manufacturing base, and cost arbitrage in developing nations like China and India. Both India and China have a sizable pool of engineering graduates at their disposal to assist with the functions of product design, process design, prototyping, testing, quality control, and reporting (India graduates over 400K engineering and comparable majors each year).
The Antitrust Guidelines for the Platform Economy were published by China's State Council in February 2021. According to the Chinese government, this move was taken in response to the growth of the digital economy to put an end to monopolistic behavior and encourage the long-term and healthy expansion of eCommerce. Engineering outsourcing jobs are expected to increase in the region as a result of the region's strong consumer electronics industries, improved government backing, and regulatory laws.
Key Developments
CTP SYSTEM SRL of Italy and Edelway of Switzerland were acquired by Akka in July 2017. The two engineering firms specialize in the life sciences and pharmaceutical industries, and the acquisitions have enhanced Akka's life sciences division's position as a healthcare engineering subsidiary.
The mergers and acquisitions, partnerships, new product development, business expansions, collaborations, supply contracts, agreements, and contracts are some of the important marketing strategies used by the major market players to maintain their market position. These market players act as third-party firms for the organizations who outsource business processes from them.
Some of the prominent players in the global engineering services outsourcing market include:
Cybage Software Pvt. Ltd
Sonata Software Limited
Tata Consultancy Services Limited
Tech Mahindra Limited
Altair Engineering Inc.
Wipro Limited
HCL Technologies Limited
QuEST Global Services Ltd
EPAM Systems Inc.
Accenture Plc.
Segments Covered in the Report
(Note*: We offer report based on sub segments as well. Kindly, let us know if you are interested)
By Component
By Service
Designing
Prototyping
System Integration
Testing
Others
By Location
By Application
Aerospace
Automotive
Industrial
Consumer Electronics
Semiconductors
Healthcare
Telecom
Others
By Geography
North America
Europe
Asia-Pacific

China
India
Japan
South Korea
Malaysia
Philippines

Latin America

Brazil
Rest of Latin America

Middle East & Africa (MEA)

GCC
North Africa
South Africa
Rest of the Middle East & Africa