The global epigenetics market size was surpassed at USD 1.9 billion in 2022 and it is expected to hit around USD 6.35 billion by 2032 and poised to grow at a CAGR of 12.82% from 2023 to 2032. North America epigenetics market was valued at USD 589 million in 2022.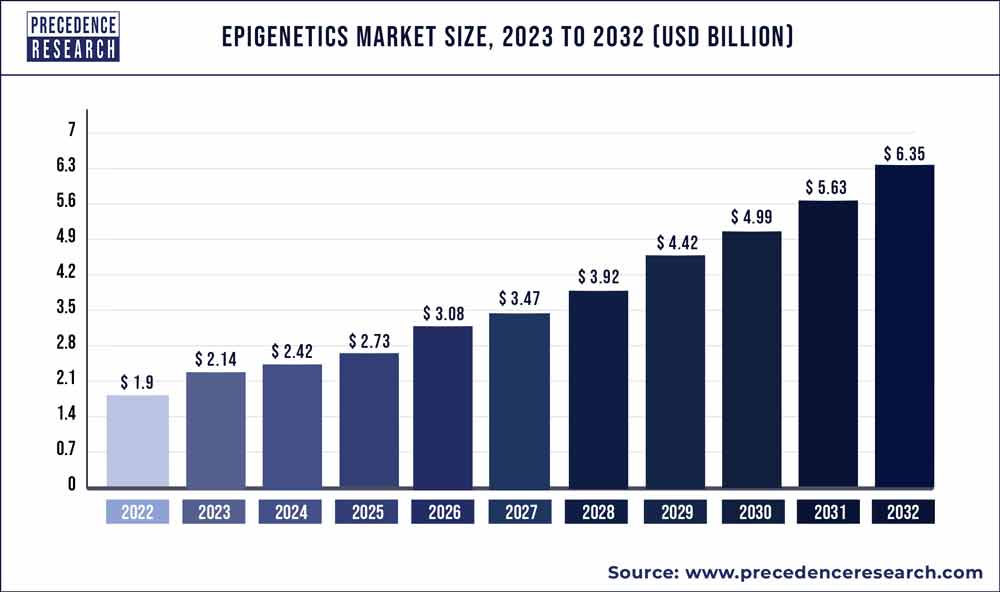 Access our Premium Real Time Data Intelligence Tool, Visit: Precedence Statistics
Key Insights:
North America region accounted more than 40% of revenue share in 2022 and is forecasted to lead the global epigenetics demand from 2023 to 2032.
The reagents product segment led the market in 2022.
The kits product segment is projected to grow the largest CAGR from 2023 to 2032.
The DNA methylation technology segment held the major share in 2022.
The oncology application segment generated more than 70% of the global market revenue in 2022.
The non-oncology application is predicted to grow at a faster rate from 2023 to 2032.
The pharmaceutical and biotechnological companies' end-user segment led the global market in 2022.
The academic and research institutes' end-user segments are expected to grow at the fastest CAGR from 2023 to 2032.
Market Overview:
Epigenetics is the investigation of changes in heritable phenotypes that occur without any modifications to DNA Sequencing. The expanding application of epigenetics is expected to propel the epigenetics industry forward. Furthermore, rising cardiovascular disease, cancer, and genetic disorder incidences, combined with enhanced R&D activities in DND sequencing, encourage the market.
Several cancers, cardiovascular diseases, respiratory infections, reproductive issues, cognitive dysfunction, and autoimmune disorder difficulties may be linked to epigenetic mechanisms, either directly or indirectly. Agents that contribute to such diseases as pesticides, heavy metals, hormones, cigarette smoke, radiation, environmental variables, viruses, or essential nutrition are also increasing, strengthening market growth.
Furthermore, the increasing aging population in different nations is likely to assist the emerging market. On the other hand, the high upfront and ongoing costs of the equipment prove to be a significant hindrance to market growth.
Report Scope of the Epigenetics Market
| | |
| --- | --- |
| Report Coverage | Details |
| Market Size in 2023 | USD 2.14 Billion |
| Market Size by 2032 | USD 6.35 Billion |
| Growth Rate from 2023 to 2032 | CAGR of 12.82% |
| Largest Market | North America |
| Base Year | 2022 |
| Forecast Period | 2023 to 2032 |
| Segments Covered | By Product, By Technology, By Application and By End-User |
| Regions Covered | North America, Europe, Asia-Pacific, Latin America and Middle East & Africa |

Market Dynamics:
Drivers
Rising prevalence of cancer
The growing number of epigenetic applications in cancer treatment as well as other disorders is predicted to propel the global epigenetics industry growth. Numerous research institutes are thoroughly investigating epigenetics with the goal of developing necessary vaccines and drugs for abnormalities that do not currently have any effective therapies assigned to them because it has been demonstrated to be highly effective in treating specific types of cancer.
Organizations such as the National Cancer Institute, Human Epigenome Consortium, and National Institute of Health have advocated for increased spending in epigenetics not only for research but also for commercialization, which is anticipated to aid global expansion in the following years.
A rise in the aging population is expected to boost market growth.
According to WHO, the worldwide population of people aged 65 and up is estimated to grow from 1 billion in the year 2019 to approximately 2.1 billion in 2050, with emerging nations accounting for a major rise. Aging is regarded as the leading cause of neurological diseases and cardiovascular diseases, so it is expected to aggravate these diseases.
Furthermore, aging weakens the body's immunity system and increases the possibility of acquiring infectious diseases. Moreover, the rising elderly population in Asian countries such as Japan, India, and China which have significant potential, is anticipated to propel market expansion over the predicted period.
Restraints
Rising R&D costs for improving novel products, as well as a stringent approval procedure, are impeding the market growth.
Before being commercialized, the appropriate regulatory authorities must approve novel epigenetic drugs. This framework for drug approval is time-consuming as well as strict. There are currently no ethical policies in emerging nations such as China and India, where the diagnostic industry has significant growth potential because of the large patient pool.
However, a shortage of skilled labor and insufficient coverage for health insurance in remote locations are two significant impediments to the expansion of this market.
Opportunities
Use in personalized medicines.
Patients are given genomic or personalized medicines after gathering genetic data as well as associated information such as levels of RNA, proteins, and various metabolites, which are crucial elements in medical decision-making for personalized medicine. For precise disease management and prediction management, genomic strategies like transcriptomics, identifying DNA sequence variations, metabolomics, and proteomics are useful.
These strategies are effective tools for bridging the gap between epigenetics and personalized medicine. Furthermore, information from a specific genome sequence, as well as the associated biomarkers, are required for personalized and genomic therapies to be recognized.
Impact of COVID-19:
COVID-19 had an encouraging effect on the epigenetics industry. Although there is no FDA-approved medicine or vaccine to cure coronavirus infection, a few therapeutic combinations have now been evaluated to help patients survive the virus. Moreover, antiviral drugs like remdesivir, rapamycin, and ribavirin, as well as epigenetic drugs like BRD4 inhibitors, DNMT1 inhibitors, and HDAC inhibitors, have been found to reduce virus activity.
Researchers have begun to understand how epigenetics may restrict viral multiplication to formulate vaccines and therapies that specifically target a virus's mutating mechanisms. Hence, the epigenetics industry is anticipated to gain from a rise in the percentage of epigenetic research and a greater understanding of epigenetic drugs used in the therapy of coronavirus infection.
Segments Insight
Product Insights
Reagents led the industry in terms of products in 2022. The epigenetic reagents are DNA modifiers and histones. Antibodies, histones, PCR reagents, electrophoresis reagents, primers, buffers, and nucleic acid reagents are common reagents of epigenetics. PyroMark Q24, an advanced reagent, uses innovative pyrosequencing chemistry to provide sequence-based quantification and detection than previously available. Epigenetic aspects such as DNA methylation, non-coding RNA, and chromatin structure influence gene regulation. The widespread use of reagents has a significant impact on the market for analytical tools and life sciences.
During the projected period, the kits sector is anticipated to grow the largest CAGR. Many biotechnology companies produce kits that are ready to use for the identification of epigenetic alterations. DNA methylation analysis and identification of histone alterations by specific enzymes are available on the market.
Epigenetic diagnostic kits diagnose disorders caused by epigenetic changes in the initial stages of therapy and evaluate the effectiveness of therapeutics. These kits rely on the principle of immunoprecipitation through the use of monoclonal antibodies.
Technology Insights
In 2022, DNA methylation held the largest share of the epigenetics industry. The covalent introduction of a methyl group to the cytosine ring in DNA results in transcription inhibition. Methylation-sensitive PCR refers to sensitive bisulfite modification followed by PCR. Technological advancements are making it possible to assess DNA methylation in a genome.
The histone acetylation sector is predicted to expand the fastest during the forecast years to improve efficacy as a result of new mechanisms. It's the enzymatic addition to a lysine molecule. Histone acetylation regulates cellular processes like chromatin dynamics and transcription, gene silencing, cell cycle progression, differentiation, DNA replication, apoptosis, neuronal repression, DNA repair, and nuclear import. Histone Acetyl Transferases (HATs) are enzymes engaged in histone acetylation, and histone deacetylases are enzymes involved in histone deacetylation.
Application Insights
In 2022, oncology accounted for roughly 70.0% of the global market revenue. The rising prevalence of cancer globally and the increasing number of cancer-related deaths are driving the segment's growth. Furthermore, the launch of new products as well as the possible commercialization of products in the pipeline in the coming years, are expected to drive segment growth.
Non-oncology is expected to grow at a faster rate during the projected period. The segment's expansion can be attributed to stringent R&D programs launched by private organizations and biopharmaceutical industries to identify epigenetic markers associated with these diseases.
Epigenetic changes are at the root of a variety of non-oncological illnesses, including metabolic disorders, neurodegenerative disorders, and infectious diseases. In order to find biomarkers for pharmaceutical research, private institutions, and biopharmaceutical companies conduct extensive research.
End-User Insights
Pharmaceutical and biotechnological companies led the global market in 2022, and this trend is expected to continue during the projection period due to enhanced R&D initiatives in genetics as well as towards the advancement of disease-specific therapies and analysis of resistance of drugs in microbes and molecular research of cancer as well as other disorders. Startups and SMEs are making investments in the epigenetics industry to create novel treatment methods.
In November 2021, Chroma Medicine announced plans to develop an epigenetic with the ability to alter how genes make proteins. This startup has received USD 125 million in funding from Newpath Partners, Atlas Venture, and other investors. The company intends to develop pharmaceuticals using gene-editing techniques. The company is planning to use gene-editing methods to develop treatments that can alter the epigenome, which is a game changer in the treatment of hereditary disorders.
On the other hand, academic and research institutes are anticipated to grow at the fastest CAGR from 2023 to 2032. The enhanced use of epigenetics products in government research institutions and university laboratories is the primary source of revenue for the academic and research institutes sector.
Regional Insights
North America region generated more than 40% of revenue share in 2022 and is predicted to lead the global epigenetics demand over the projected period due to the rising percentage of tumor patients in the area, as well as the innovative economic state of nations such as the United States and Canada, where the population's income capability is comparatively higher, and they are able to afford the cost of cancer therapies.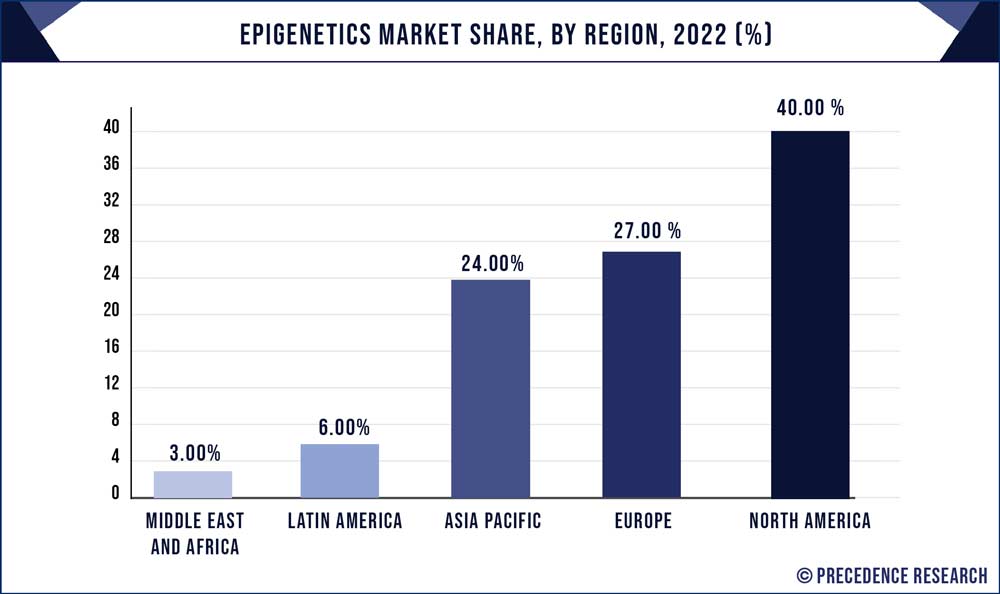 The governments' excellent healthcare reimbursement laws are anticipated to entice people to enroll in cancer treatment, which will help regional growth. Increased investment in epigenetics investigation in the United States may also support this sector. Chroma Medicine, Inc. (Chroma) was founded in November 2021 with a capital of USD 125 million to address a wide range of diseases and emerge as the technique of choice for the regulation of gene expression. Due to the aforementioned factors, the market in this region should grow.
Asia-Pacific is expected to expand significantly, owing to rising medical tourism in regions such as India and China, because of the presence of relatively lower therapies. The increasing strategic partnerships between international agencies and private players to grow their consumer records may also be related to regional growth.
Recent Developments:
Twist Bioscience Corporation introduced the Twist NGS Methylation Detection System in February 2021 for identifying methylated zones within genetic material.
Zenith Epigenetics Ltd. reported the first patient dosing with OPDIVO and YERVOY in a National Cancer Institute (NCI) sponsored trial in solid tumor cancer in February 2022.
Element Biosciences, Inc. announced a partnership with Dovetail Genomics in February 2022.
Exact Sciences, a molecular diagnostics business in the US, paid $140 million to acquire Base Genomics in December 2020.
Key Market Players
Bio-Rad
Illumina
QIAGEN
Thermo Fisher
Active Motif
Diagenode
Agilent
Merck Millipore
Abcam
New England Biolabs
PerkinElmer
Zymo Research
Segments Covered in the Report
(Note*: We offer report based on sub segments as well. Kindly, let us know if you are interested)
By Product
Kits
Reagents
Enzymes
Instruments and Consumables
Bioinformatic Tools
By Technology
DNA Methylation
Histone Modification
Other Technologies
By Application
Oncology

Solid Tumors
Liquid Tumors

Non - oncology

Metabolic Diseases
Developmental Biology
Immunology
Cardiovascular Diseases
Other
By End-User
Academic and Research Institutes
Pharmaceutical and Biotechnology Companies
Contract Research Organizations
By Geography
North America
Europe
Asia-Pacific
Latin America
The Middle East and Africa