The global facial injectable market size was valued at USD 17.6 billion in 2022 and is expected to hit USD 36.8 billion by 2032 and poised to grow at a CAGR of 7.64% during the forecast period 2023 to 2032. The North America market was valued at USD 6,694.2 million in 2022.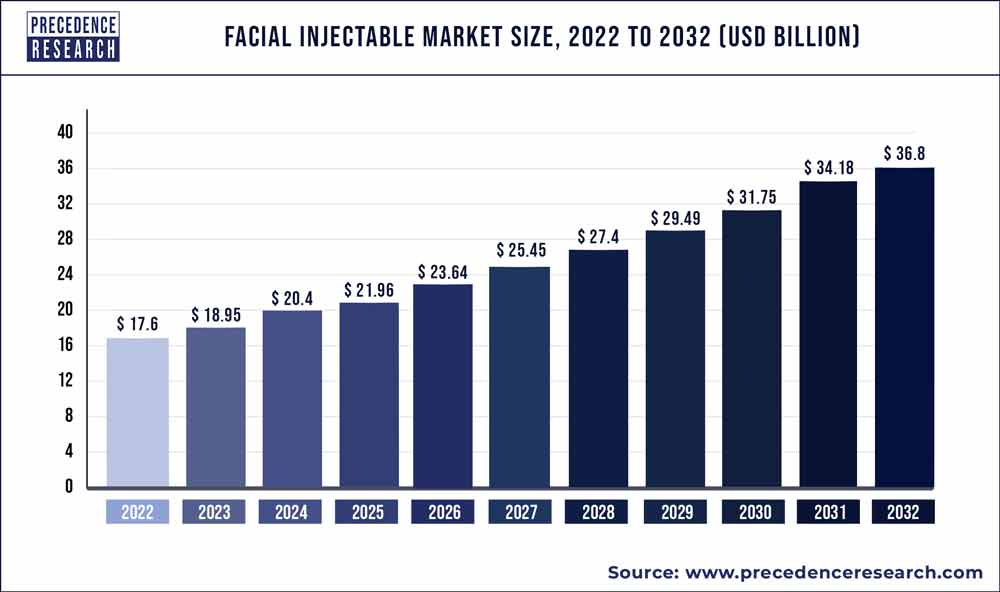 Access our Premium Real Time Data Intelligence Tool, Visit: Precedence Statistics
Growth Factors
The dermal fillers often known as facial injectables, are treatments that help with facial rejuvenation. These injectable face solutions are primarily intended to alleviate early indicators of ageing such as wrinkles and to enhance aesthetic appearance.
There has been a significant growth in disposable incomes worldwide, as well as rise in aesthetic attractiveness consciousness. As a result, as more people choose to improve their physical appearances, attitudes around cosmetic operations have shifted. A growing number of people are choosing for minimally invasive procedures like facial injectables since they are considered safer and require little to no delay. The neurotoxins like botulinum toxin as well as dermal fillers like hyaluronic acid and calcium hydroxylaptite are among the facial injectables available in the market.
The need for cosmetic procedures is being driven by an increase in the number of plastic surgeons and their networks, which is in turn increasing the demand for facial injectables. There was also Food & Drug Administration (FDA) authorization for other practitioners including as surgeons to utilize facial injectable in their clinics. The healthcare practitioners can now perform facial injectable procedures because they encounter many patients requiring facial transformation after dental treatments. The facial injectable market is likely to develop as a result of this factor.
Report Scope of the Facial Injectable Market
| | |
| --- | --- |
| Report Coverage | Details |
| Market Size by 2032 | USD 36.8 Billion |
| Growth Rate from 2023 to 2032 | CAGR of 7.64% |
| Largest Market | North America |
| Fastest Growing Market | Asia Pacific |
| Base Year | 2022 |
| Forecast Period | 2023 to 2032 |
| Segments Covered | Product, Application, End User, Generation, Geography |
| Companies Mentioned | Johnson & Johnson, Syneron Candela, Lumenis, Hologic, Solta Medical, Alma Laser, Galderma, Dickinson and Company, Antares Pharma, Novartis AG |
The facial injectable market is primarily driven by the surge in demand for aesthetic attractiveness enhancement and a preference for minimally invasive procedures. Furthermore, the facial injectable market is expected to develop due to an increase in the senior population and the advent of improved facial injectables such as synthetic calcium hydroxylaptite (CaHA) fillers. On the other hand, severe regulatory frameworks about injectable medications, as well as side effects including rashes, limit the growth of the facial injectable market during the forecast period.
The cosmetics sector is thriving in the current decade, with an estimated rapid expansion during the forecast period. The total number of non-surgical procedures such as dermal filler injections and wrinkle relaxer has increased since few decades. This development is mostly due to technological advantages such as quick recovery, less blood loss, reduced infection risk, reduced infection risk, and lower overall procedure costs. Thus, the facial injectable market has grown as the number of cosmetic treatments has increased during the forecast period.
The encouraging trends in the use of cosmetic injectables have prompted more notable corporations to become involved. These companies have engaged in a variety of research and development projects in order to develop novel fillers that fulfil unsatisfied customer needs. This has resulted in the introduction of new products as well as a rise in procedure volumes around the world. Such positive factors are projected to have a significant impact on the facial injectable market growth throughout forecast period. Another important market trend that is predicted to boost the facial injectable market expansion is the increased use of these kind of products by people of all ages.
The mergers, collaborations, partnerships, and agreements between facial injectable manufacturers are boosted by increasing demand for facial injectables, positive government assistance in terms of product approval for new application areas, and commercialization of unique solutions in the facial injectable market. Due to the rise in cosmetic tourism across Asia-Pacific, cosmetic product manufacturers are always concentrating on expanding their product reach.
As a result, corporations are turning to distribution partnerships as a means of increasing revenue from the facial injectable sector. To exploit new markets and give patients a competitive advantage, some significant market players are cooperating with various aesthetic companies other than facial injectable providers.
Thus, the expanding aesthetic consciousness and number od cosmetic operations, the development of cost effective facial injectables, and the ageing population are all factors driving the growth of the facial injectable market during the forecast period.
Market Drivers
INCREASING BEAUTY CONSCIOUSNESS AMONG PEOPLE
Social media plays a very vital role in influencing the purchasing decisions of millennials; peer recommendation carries a lot of importance. According to 2019 Hubspot data, 71% of people are more likely to purchase a product or service online when it is recommended by others. Moreover, small group of influencers are responsible for the largest share of referral branding via social media. According to Forbes, 5% of influencers who are offering product recommendations were driving 45% of social influence. Constant engagement with customers is also crucial when a company is promoting their products on social platforms.
According to a survey conducted in the UK in 2018, women are opting more for esthetic procedures due to factors such as low self-esteem, low self-rated physical attractiveness, & low life satisfaction, and all these women had one similarity—they had high media exposure. Moreover, the number of men considering such procedures was significant. In 2019, around 841,735 botulinum toxin injectable procedures were performed on men globally, according to International Society of Aesthetic Plastic Surgery (ISAPS). Owing to rising gender equality agenda and millennials with more liberal mindset, facial injectable market is expected to grow during the forecast period.
Furthermore, increasing influence of social media coupled with globalization has led to the convergence of concepts related to beauty, especially those concerning facial features. The difference in perception of desirable facial features due to difference in ethnicities is anticipated to drive the market growth. For instance, according to Pinpoint Scotland Ltd., Southeast Asians consider rounded nasal tips desirable, thus, several western fashion companies prefer employing models who possess this feature to attract this population group.
SHIFT IN CONSUMER PREFERENCE FOR MINIMALLY INVASIVE PROCEDURES
A shift from invasive to minimally invasive procedures is expected to fuel the market growth over the forecast period. For instance, according to ISAPS, 13,618.735 noninvasive procedures were performed globally in 2019, out of which 3,982,749 were performed in the U.S. Higher number of people are opting for permanent procedures such as fillers, fat grafting, and lip advancement.
The most popular procedures are fillers, as the risk associated with this treatment is very low, and fillers such as hyaluronic acid and poly-L lactic acid are easily accepted by the body, leading to minimal side effects and allergic reactions. According to the same survey, botulinum toxin filler, hyaluronic acid filler, nonsurgical fat reduction, and photo rejuvenation are some of the common and in demand noninvasive esthetic procedures globally.
Minimally invasive procedures offer advantages such as smaller incisions, shorter stays in hospitals, quick outpatient services, rapid wound healing, lesser pain, and lower risk of complications as compared to invasive surgeries. Thus, the demand for facial injectables is expected to increase during the forecast period.
According to a survey conducted on 1,000 American women in 2020 by American Society of Plastic Surgeons, 11% of participants indicated that they are more inclined to opt for minimally invasive procedure post pandemic than before COVID-19. Even during the pandemic, Botox and soft tissue fillers remained the most popular minimally invasive procedure in the U.S.
GROWING POPULATION AGED BETWEEN 25 AND 65 YEARS
According to World Population Prospects 2019, in 2050, one out of six people in the world will be over the age of 65 globally, increasing from one in 11 in 2019. According to the estimates published by United Nations, there were 703 million people above the age of 65 around the world in 2019, and the number of elderly people is estimated to double by 2050.
According to the United Nations Population Fund (UNFPA) State of World Population 2019, released in April 2020, India's population in 2019 was 1.36 billion, increasing from 942.2 million in 1994, and 6% of India's population was aged 65 and above. Between 2019 and 2050, nine out of the 10 countries with the largest percentage point increase in the share of elderly persons in the world are estimated to be in Eastern and Southeastern Asia.
According to CIA World Fact Book, around 38.58% of the total German population was between the age group of 25 and 54, and around 13.6% of the population was aged between 55 and 65 in 2018. Similarly, approximately 46.81% of the total population in China was aged between 25 and 54 in 2020.
MARKET RESTRAINT
ADVERSE EFFECTS ASSOCIATED WITH CERTAIN FACIAL INJECTABLES
Currently, only one product of botulinum toxin-B and a few products of botulinum toxin-A are commercially available in the market. Commercially available products, such as Botox and Dysport, are effective for removal of moderate to severe glabellar lines. However, adverse effects such as rash, allergic reactions, back & neck pain, nausea, and shortness of breath, which can be temporary in most cases and vary from person to person, may limit adoption of Botox in esthetic as well as therapeutic applications.
Another factor that may restrain the market growth is limited reimbursement policies, as esthetic procedures such as reducing wrinkles & removing excess skin are not covered under private and government insurance plans. However, therapeutic use of botulinum toxin is covered under reimbursement plans in most of the countries. In June 2019, Allergan announced FDA clearance of the company's supplemental biologics application for BOTOX to treat upper limb spasticity in children.
Adverse effects of some other facial injectables, such as hyaluronic acid, include legal & regulatory issues, and safety concerns, which are anticipated to impede the market growth.
There are certain adverse effects that are associated with application of hyaluronic acid cycles, such as itching and inflammation. The repetitive pain associated with multiple injection cycles is also a deterrent. A major disadvantage of injectable fillers is that it does not have a permanent effect and wears off in 6 to 18 months, requiring another injection, which in turn increases procedure cost. Moreover, according to FDA, the most worrisome risk associated with injectable fillers is unintentional injection of the fillers into a blood vessel, which can cause blocking of the blood vessels and less blood supply to the tissue leading to permanent damage. Complications include blindness and stroke.
Product Insights
The botulinum toxin Type A segment dominated the facial injectable market in 2022 with a 55% of revenue share. To reverse the effects of ageing, middle aged women are increasingly turning to injectables and fillers, such as botulinum toxin Type A. This can be attributed to the rise in applications of BoNTA in cosmetic (esthetic) procedures, improvements in facial appearance, and its effectiveness in reducing signs of aging. Moreover, BoNTA has therapeutic applications in treating benign essential blepharospasm, Meige's syndrome, strabismus or crossed eyes, Hemifacial Spasm (HFS), Oromandibular Dystonia (OMD), and focal hyperhidrosis. Botox is a minimally invasive procedure that requires less procedure time, provides high patient comfort, and delivers quicker results.
The hyaluronic acid (HA) segment is fastest growing segment in 2022 and will reach 9.7% CAGR over the forecast period. The hyaluronic acid (HA) is well-known for its capacity to retain moisture in the skin, making it appear healthier. The hyaluronic acid contains a moisture binding property that aids in the enhancement and maintenance of the necessary moisture that keeps the skin plump. Hyaluronic Acid (HA) is a glycosaminoglycan that helps in keeping the skin stable, safeguarded, and persistently renewed. HA is present in a higher concentration in eyes and joint fluid. It has a characteristic that binds moisture on the skin and helps enhance & maintain the vital moisture responsible for plumpness of the facial skin.
Cosmetic-grade HA has a low molecular weight that facilitates deep penetration of the product in epidermis, helping in retaining water in the cells and releasing antioxidants that delay the aging process. HA is used in healing wounds, skin ulcers, and burns as well as acts as a moisturizer. HA is also used as a lip filler in plastic surgery. The HA segment is expected to dominate the market over the forecast period, owing to increase in the use of HA as dermal filler or in cosmetic preparations.
According to International Society of Aesthetic Plastic Surgery, around 4,315,859 procedures of hyaluronic dermal injections were performed globally in 2019. This procedure accounts for 31.7% of top five noninvasive esthetic procedures performed in the country, indicating high demand for the procedure, which is expected to contribute to high market growth. In the U.S., around 2,619,650 procedures of hyaluronic acid fillers were performed in 2020 using Juvéderm Ultra, Juvéderm Ultra Plus, Perlane, Restylane, and Belotero, with 97% of the procedures being performed on women.
Application Insights
In 2022, the aesthetics segment dominated the facial injectable market with a revenue share of 72%. The increased usage of facial injectables for aesthetic operations such as lip lines, facial lines, and wrinkles on the face has fueled the expansion of the segment. These procedures are also used for treating frown lines, glabellar lines, filling furrows (deep wrinkles), periorbital lines, frown lines, build facial volume, superficial lines, acne scars, tear troughs, marionette lines, lipoatrophy of face, nasolabial folds, dimpling of the chin, and mouth wrinkles, which is expected to impel the market growth. Furthermore, other aesthetic applications include surgical interventions such as plastic and facelift surgeries that are used to repair, restore, reconstruct, or alter skin as well as reduce facial wrinkles. The facial Injectable such as botulinum toxin type A and calcium hydroxylapatite are majorly used during these procedures.
The therapeutic segment, on the other hand, is predicted to develop at the quickest rate in the future years. This is due to growing use of facial injectables to treat focal hyperhidrosis, blepharospasm and strabismus. The therapeutics market was valued at USD 4,798.6 million in 2022 and is expected to grow at a CAGR of 8.5% during the forecast period.
Region Insights
North America accounted revenue share of 43% in 2022. The huge senior population in the U.S. and Canada is expected to drive demand for facial injectables over the projected period. The new product launches by key market players in North America is also driving the growth of the market during the forecast period. The population aged between 25 and 65 has increased, and this age group is susceptible to skin loosening, wrinkles, dark spots & other skin conditions. As a result, there is increased demand for products used to enhance esthetic appeal and the disposable income is growing, which is expected to fuel the market growth over the forecast period.
The U.S. facial Injectable market was valued at USD 5,687.9 million in 2022 and is expected to grow at a CAGR of 9.2% during the forecast period.
The Canada facial Injectable market was valued at USD 1006.3 million in 2022 and is expected to grow at a CAGR of 8.6%.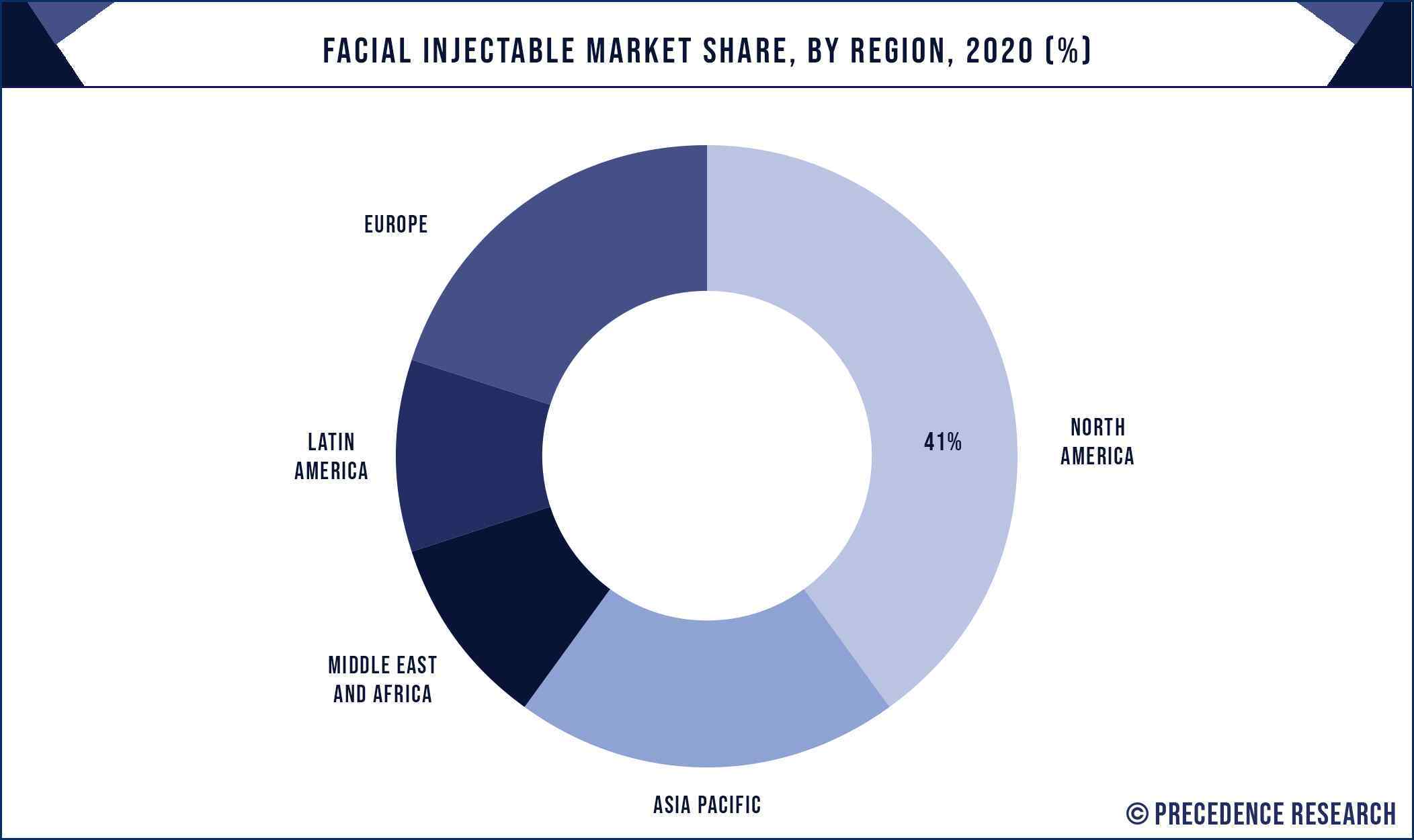 Asia Pacific facial injectable market is expected to register comparatively high CAGR of 10.2% over the forecast period due to presence of growth opportunities in this region, especially in India, Japan, and China. Presence of large population coupled with increasing patient awareness and rising disposable income are among the major drivers of the market growth in this region. Presence of large geriatric population is anticipated to be a high-impact rendering driver for this region.
China, India, and Japan are the developing economies in this region and have great potential for growth of facial injectable market. With rapidly developing economies, Asia Pacific facial injectable market is expected to witness rapid growth. This can be attributed to the growing medical tourism industry, especially in these countries.
A large number of surgical procedures performed in South Korea, Japan, and China each year are primarily driving the market growth in this region. Large number of esthetic procedures can be attributed to easy availability of advanced techniques and cost-effective treatment options.
Key Developments
Novo Nordisk won the award in December 2017 for their product OZEMPIC, a pre-facial injectable filler used to treat type 2 diabetes in adults.
Botox injectables have seen a 22 percent spike in demand, according to the American Academy of Facial Plastic and reconstructive surgery. Allergan used television to promote their product, Botox.
In August 2018, Antares Pharma and Pfizer Inc. collaborated on an injectable drug device called the rescue pen.
Jeuveau, which has been demonstrated to be helpful in decreasing wrinkles was approved by the U.S. Food and Drug Administration (FDA) in February 2019.
The facial injectables market is moderately fragmented with the presence of several companies. These market players are striving to gain higher market share by adopting different marketing strategies, such as new product launch, investments, partnerships, and mergers & acquisitions. The companies are also spending on the development of improved products. Moreover, they are also focusing on competitive pricing.
Some of the prominent players in the global facial injectable market include:
Johnson & Johnson
Syneron Candela
Lumenis
Hologic
Solta Medical
Alma Laser
Galderma
Dickinson and Company
Antares Pharma
Novartis AG
Segments Covered in the Report
By Product
Collagen
Hyaluronic Acid (HA)
Botulinum Toxin Type A
Calcium Hydroxylaptite (CaHA)
Polymer Fillers
Others
By Application
End User
Hospitals

Specialty Clinics

Spa & Beauty Clinics
By Generation
By Geography
North America
Europe
Asia-Pacific

China
India
Japan
South Korea
Malaysia
Philippines

Latin America

Brazil
Rest of Latin America

Middle East & Africa (MEA)

GCC
North Africa
South Africa
Rest of the Middle East & Africa