The global food container market was valued at US$ 283.18 billion in 2021 and is expected to reach over US$ 410.5 billion by 2030, poised to grow at a compound annual growth rate (CAGR) of 4.2% from 2021 to 2030.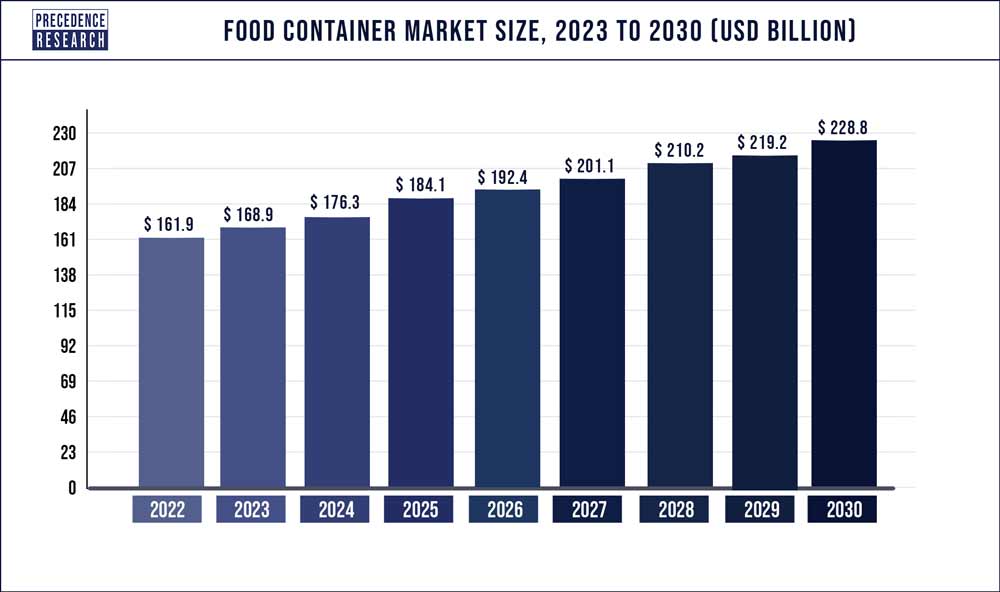 Growth Factors
The food containers are primarily used for storage, preservation, and transportation in order to extend the food's shelf life. The food containers should be durable enough to prevent spoilage or damage to the contents of the package. The food containers help to preserve the quality of food by allowing it to travel safely vast distances from its source.
There are so many different types of food containers available in the market. Food containers come in a wide variety of sizes, shapes, and colors. For several meals for groups, there are food containers made for single meals for individuals, such as lunch boxes and containers. The different types of food can be stored in containers with and without sections.
The food container market is expected to be influenced by rising consumer awareness of environmental and sustainability issues linked to food packaging. Due to its high use of packaged products, the North America holds the greatest share of the food container market, which is expected to continue during the projection period.
Among all the types of food containers, the plastic food container is very beneficial to use. For a variety of reasons, plastic food containers are typically less expensive than those made of other materials such as metal, glass, and wood. The manufacturing costs for plastic are typically cheaper than those of glass and metal, resulting in reduced selling prices. As these products may be produced in larger quantities, economies of scale benefit them. Also, these type of food containers can be recycled and reused, lowering both financial and environmental expenses.
The lids for plastic food containers are frequently included, and they can be tightly sealed using silicone gaskets and Snap-on latches. These can then keep food fresher for longer period of time by protecting it from dangerous external contaminants such as germs prevalent in the air. The total quality of the food, including its colors, flavors, and textures, can be preserved if it is kept clean, dry, and fresh inside the plastic food containers. Food stored in the aluminum containers and metal pots, on the other hand, has a much shorter shelf life. This is because condensation can collect on the lid, allowing bacteria to multiply more quickly. All these advantages make plastic as an ideal material for food containers.
The global food container market is expanding due to the growing global interest in the development of biodegradable and smart food packaging materials. Furthermore, growing urbanization and a considerable shift away from traditional staples toward processed or packaged meals will boost the growth of the food container market significantly during the forecast period.
In recent years, the growth of packaged food as one of the most profitable divisions of the global food and beverage business has fueled large scale advancements across the food container market. The ever-increasing variety of available product kinds on the food container market, as well as their expanding range of applications, present considerable growth potential for food packaging companies.
The huge rise in global food production is predicted to fuel the global market for food containers. The consumer demands for simple packaging that is easy to carry, consume, and store. As a result, it becomes critical for food container producers to stay up with evolving consumer tastes. The global food container is expected to develop at a quick pace due to advances in technology, logistical applications, distribution channels, and the packaging industry.
The increased number of families consuming packaged goods, the expanding number of working women, and the massive increase in double-income families are all contributing to the global market for food containers' healthy growth prospects. The rising population in metropolitan areas, as well as the rising number of single person households, are likely to fuel the demand for food containers.
Scope of the Food Container Market
| | |
| --- | --- |
| Report Highlights | Details |
| Market Size | US$ 410.5 Billion by 2030 |
| Growth Rate | CAGR of 4.2% from 2021 to 2030 |
| Largest Market | North America |
| Fastest Growing Region | Asia Pacific |
| Base Year | 2021 |
| Forecast Period | 2021 to 2030 |
| Segments Covered | Material Type, Product Type, Region |
| Companies Mentioned | PRINTPACK, Graham Packaging Company, Bemis Company Inc., Ball Corporation, Constar International UK Ltd., Anchor Glass Container Corporation, Crown, Berry Plastics Corporation, Plastipak Holdings Inc., Graphic Packaging International LLC |
Material Insights
The plastic segment dominated the global food container market in 2020. Due to its numerous advantages over other materials, plastic is the most widely used material in the packaging industry. Plastic is more energy efficient to manufacture than other materials and is lighter than other materials. Food containers made of plastic are commonly available and sold in retail stores. Food containers can range in quality from low to high quality depending upon its thickness.
The glass segment is fastest growing segment of the food container market in 2020. The glass containers are also becoming more popular, and they come in colored, frosted, and clear variants. Furthermore, the glass substance aids in the preservation of food for the long period of time.
Product Insights
The bottles and jars segment dominated the food container market in 2020. In the rigid food packaging market, bottles and jars are the most extensively used products in the market.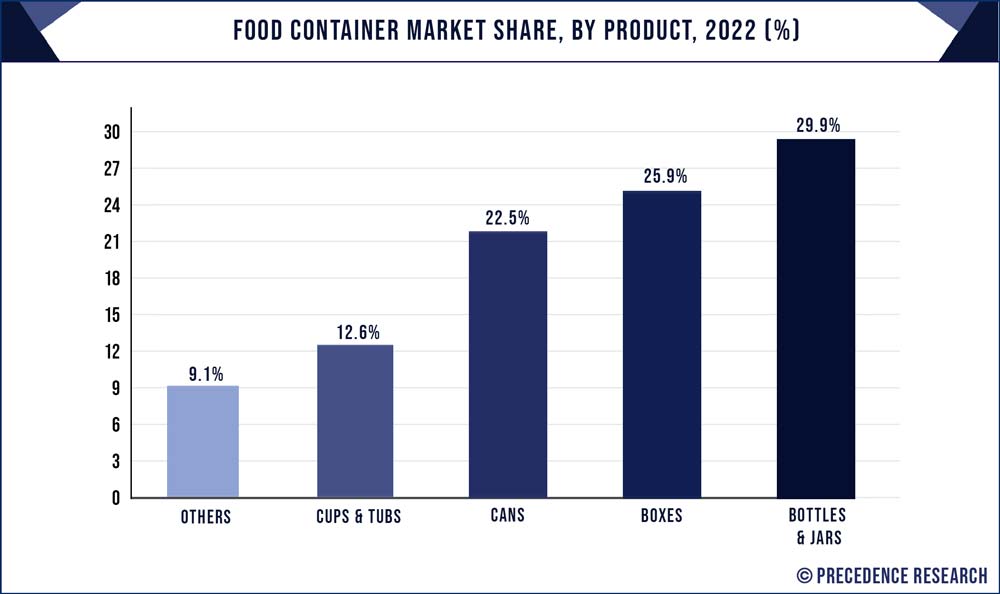 The cups and tubs segment, on the other hand, is predicted to develop at a rapid rate over the projection period. This is due to its extraordinary application, which is mostly for thick food products. It also increases the shelf life of the food products.
Region Insights
Asia Pacific region accounted market revenue share of over 36.1% in 2020. This is attributable to the Asia-Pacific region's fast expanding food processing industry, which has received substantial government assistance.
North America is expected to develop at the fastest rate of 3.5% CAGR during the forecast period. The rise in demand for packaged and convenience foods among the working population can be related to the expansion of the food container market in the North America region.
Key Developments
Ball Corporation will announce a national partnership with Blue Ocean Innovative Solutions in June 2020 to launch the Ball Aluminum Cup in stores.
Berry Global will invest in increasing production capacity of Ultra High-Performance Machine and Hand Stretch Films in March 2020.
Plastipak declared in May 2021 that it will invest in recycling at its production site in Toledo, Spain, with the goal of converting PET flakes into food grade recycled PET pellets. These pellets are made to go straight into new food containers, bottles, and performance.
The Molded Fiber Glass Tray Company released Ultra-lite totes and containers in February 2020, which are specifically created with a combination of legendary strength and lightweight that will target a new consumer base and generate more profit.
The food container market's primary marketing strategies include joint ventures, product launches, mergers and acquisitions, and business expansion to the new geographic locations.
Some of the prominent players in the global food container market include:
PRINTPACK
Graham Packaging Company
Bemis Company Inc.
Ball Corporation
Constar International UK Ltd.
Anchor Glass Container Corporation
Crown
Berry Plastics Corporation
Plastipak Holdings Inc.
Graphic Packaging International LLC
Segments Covered in the Report
By Material
Plastic
Glass
Metal
Others
By Product
Bottles & Jars
Cups & Tubs
Cans
Boxes
Others
By Geography
North America
Europe
Asia-Pacific

China
India
Japan
South Korea

Latin America

Brazil
Rest of Latin America

Middle East & Africa (MEA)

GCC
North Africa
South Africa
Rest of the Middle East & Africa