The global food flavors market size was estimated at USD 17 billion in 2022 and is expected to hit around USD 25.04 billion by 2032, poised to grow at a compound annual growth rate (CAGR) of 4% from 2023 to 2032.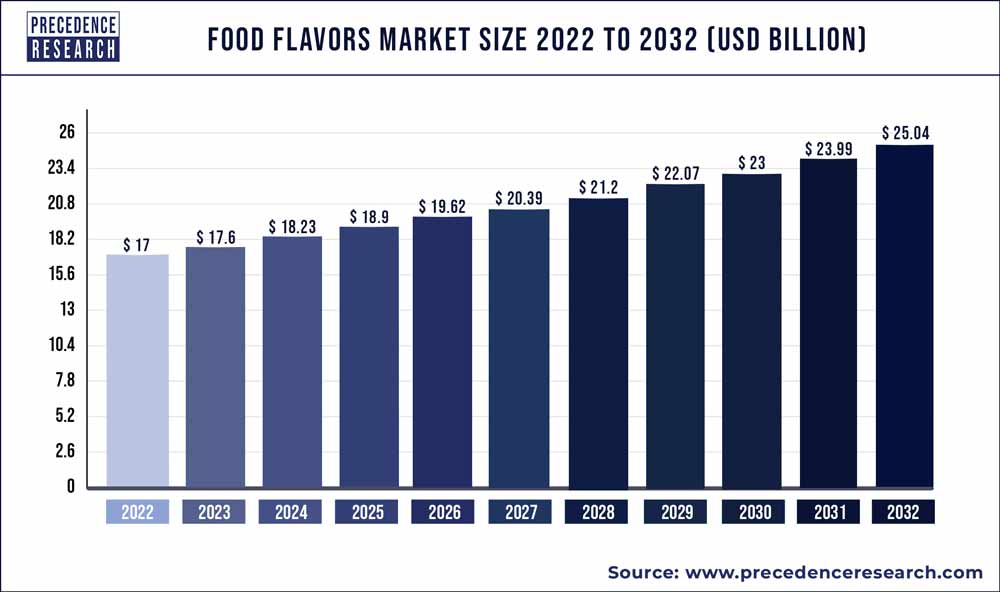 Key Takeaways:
The Asia Pacific food flavors market was valued at USD 6.4 billion in 2022.

The Asia Pacific region is expected to reach at a CAGR of 4.9% from 2023 to 2032.

Based on source, the synthetic segment accounted largest market share of over 60% in 2022.

Based on end user, the bakery & confectionery segment is projected to grow at a remarkable CAGR from 2023 to 2032.

Asia Pacific has contributed highest market share of over 42% in 2022.
Food flavors are frequently added to food products to enhance their flavor. The primary flavor additives are synthetic and natural flavors. After processing and preserving, perishable foods have a tendency to lose their flavor over time, necessitating the application of flavoring agents to help preserve the flavor. The food and beverage sector needs flavors for a variety of reasons, including the development of new products, the addition of new product lines, and the modification of existing products' flavors.
The rising consumption of various packaged eatable items and beverages is a primary driver of the global industry. All packaged consumables contain flavoring agents among other food additives. The consumption of ready-to-eat food products is popular due to the fast-paced lifestyle and rising number of working women. The market for food flavors will rise as a result of this. Natural food consumption is on the rise, and the food business is constantly looking for novel flavoring ingredients. Players in the food flavor sector have a ton of potential because of these natural flavoring ingredients.
Growth factors
The term organic consumption on food labels denotes that the food or other agricultural product was produced using approved techniques. These techniques combine biological, cultural, and mechanical activities to encourage resource cycling, advance ecological harmony, and protect biodiversity. Genetic engineering, synthetic fertilizers, and sewage sludge are prohibited. Consumers have demonstrated a preference for paying extra for grocery items that are certified organic due to the growing awareness of food adulteration and the health risks associated with synthetic food additives. Producers of organic goods benefit from organic certification by being able to charge a fair premium and gain access to rapidly expanding local, regional, and global markets.
Interest in fast food and packaged goods has increased as a result of rapidly rising earnings and urbanization. These factors are anticipated to increase demand for food and beverages since packaged goods need high flavoring loadings to retain flavor that is lost during mass production. The market for food tastes is anticipated to continue to develop mostly due to the food and beverage sector. The global food and beverage market has had strong expansion, and it is anticipated that this growth will continue in the years to come. The need for flavors to enhance the flavor of products is also anticipated to rise as attempts are made to lower the number of calories, salt, and fat in foods. Global interest in natural and organic products has increased, especially in the food and beverage industry.
Customers are generally well aware of the synthetic substances utilized in food products. Growing consumer interest in clean label products and improved consumer awareness of the usage of natural ingredients may have an impact on the use of natural food essences. By making products with flavors that are produced naturally, the manufacturers are capitalizing on the growing popularity of clean-label products. Natural flavors, as opposed to artificial flavors like benzophenone and ethyl acrylate, have lately been discovered to be dangerous. Natural flavors are utilized to give culinary items an authentic taste and flavor. As a result, the industry uses natural extracts and essential oils in several product categories to satisfy this need. As a result, the market for food tastes is expanding due to the increased demand for flavors in the food and beverage industry.
Food Flavors Market Share, By Source, 2022 (%)
| | |
| --- | --- |
| Source | Revenue Share in 2022 (%) |
| Natural | 43% |
| Synthetic | 57% |

Source Insights
Depending upon the origin, the natural segment is the dominant player and is anticipated to have the biggest impact on food flavors. The rising demand for food products that promote wellness and health is a major driver of the global market for natural food flavors. The market for natural food flavors is expected to grow as a result of a number of factors, including the health benefits of some natural colors and flavors, rising purchasing power among consumers, a rise in the demand for organic food products, and a wide variety of products with novel tastes and flavors.
Moreover, many food establishments use the organic flavors to produce real flavor. Additionally, the younger generation prefers to cook with a range of botanicals and adaptogens. This is due to a greater awareness of the detrimental effects of synthetic flavors. Ingredients in artificial flavorings have been linked to cancer and a host of other health issues over time. Many businesses manufacture natural food flavorings because the innovative use of raw materials supplied from organic farms offers the food industry considerable possibilities.
The enormous demand for artificial tastes in fast food, packaged meals, and ready-to-eat items also contributes to the expansion of this market.
Application Insights
During the projected period, the beverage segment is anticipated to be the largest in the food flavors market. Due to rising discretionary budgets among consumers, various synthetic flavors, including chocolate fruit and floral flavors, are growing in popularity in developing economies in Asia Pacific and the Middle East. Over the forecast period, the dairy, confectionery, and bread sectors are anticipated to increase significantly. Numerous flavors, including fruit flavors and natural spices, are frequently used in dairy beverages and other dairy products. It is projected that the market would rise because to the rising popularity of cocoa and fruit tastes in the bread and confectionery industries.
Apple, banana, mango, grapes, pineapple, pomegranate, berries and citrus fruits are just a few examples of the many fruits that are highly popular. They are then transformed into syrups and fruit extracts, which are then added to different foods and beverages to change or enhance flavor, aroma, or color. Hence, these applications are driving the beverage segment.
Food Flavors Market Share, By Region, 2022 (%)
| | |
| --- | --- |
| Regions | Revenue Share in 2022 (%) |
| North America | 30% |
| Asia Pacific | 42% |
| Europe | 18.4% |
| Latin America | 6.6% |
| MEA | 3% |

Region Insights
The highest market share and dominant position in the food flavors industry belongs to Asia-Pacific due to the increased demand for innovative and improved food items. The high production and sales of the food and beverage industry, the rising purchasing power of the general public, and the growing presence of significant players in the region is driving the food flavor market in the region. Moreover, the market for food flavors in the Asia Pacific region is expanding quickly as a result of the region's high consumption of processed foods and beverages. The Asia Pacific region has a developing economy and a sizable working-class population. One of the key macroeconomic variables supporting the market growth for eatable flavoring agents is population trends. Additionally, chances for numerous mid-tier businesses would be created by investments from various multinationals, particularly from important countries like China, India, and Japan. The use of various ready-to-eat/drink goods is influenced by the growing population of working women and a hectic lifestyle. Additionally, it is anticipated that the region's consumption of baked goods and confectionary items will have a very high growth potential.
North America is considered as second largest region in the consumption of food flavors. This is due to the region's consumption of numerous regional cuisines. Due to the region's migratory population, authentic food products are consumed there, which has prompted the creation of numerous international edible services. American consumers enjoy Indian and Japanese cuisine. Japanese dishes and ingredients like matcha, sushi, and ramen are very popular, which attracts both stores and eateries. Japanese food uses a variety of flavors, including umami. Umami is a flavor that prolongs the flavor of whole foods in Japanese cooking. This significantly contributes to the expansion of this market in North America.
Key market developments
The leading producer of savory flavors, Innova Foods, owned by Griffith Foods, was acquired by Synergy Flavors, Inc.

With this innovative acquisition, Synergy Flavors' savory capabilities are increased, aligning with the exciting new product development occurring in meat substitutes, sauces, sides, and snacks. Additionally, it broadens Synergy's assortment of extracts, essences, and compounded flavors into the category of process flavors, enabling their clients to stand out from the competition in the fiercely competitive food and beverage industry.
Report Scope of the Food Flavors Market
Report Coverage
Details
Market Size in 2023
USD 17.60 Billion

Market Size by 2032

USD 25.04 Billion

Growth Rate from 2023 to 2032
CAGR of 4%
Base Year
2022
Forecast Period
2023 to 2032
By Source

Natural

Essential Oil

Natural Essence

Others

Synthetic

Artificial flavors

Nature-identical flavor

By Application

Beverages

Hot drinks

Soft drinks

Alcoholic drinks

Dairy & frozen products

Dairy products

Frozen products

Bakery & confectionery

Bakery

Chocolate

Confectionery

Ice Cream

Savory & snacks

Animal & pet food

By Form

Regions Covered

North America
Europe
Asia Pacific
Latin America
Middle East & Africa

Companies Mentioned

DuPont
Archer Daniels Midland
Symrise
MANE
Taiyo International
T. Hasegawa
Synergy Flavors
Givaudan
Kerry Group
International Flavors & Fragrances
Firmenich
Sensient
Bell Flavors and Fragrances
McCormick & Company