The global functional coatings market size accounted for USD 491 billion in 2022 and is projected to hit around USD 822.93 billion by 2032, growing at a CAGR of 5.30% during the forecast period from 2023 to 2032.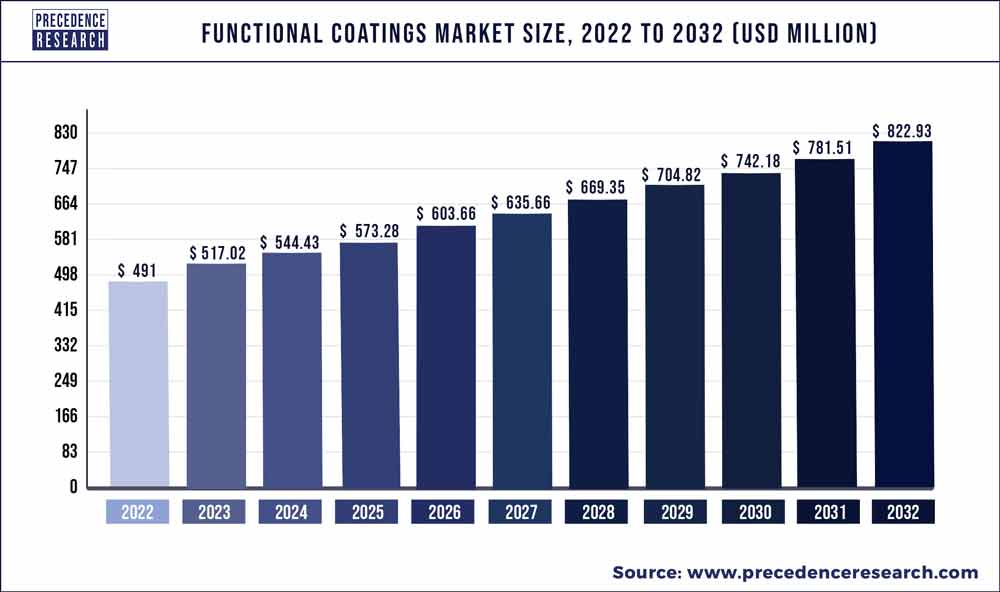 Access our Premium Real Time Data Intelligence Tool, Visit: Precedence Statistics
Key Takeaways:
Asia Pacific is expected to expand at the fastest CAGR between 2023 and 2032.
By Product Type, the corrosion-resistant coatings segment held the largest share in 2022.
By End-User, the automotive segment held the maximum market share in 2022.
Market Overview:
Functional coatings are a sort of specialised coating created to improve a surface's performance and functioning. They have a number of uses, including corrosion resistance, wear resistance, antifouling, anti-icing, and thermal management, and they may be applied to a wide range of substrates, including metals, plastics, glass, and ceramics. Polymers, nanoparticles, and other materials are used in the formulation of functional coatings. They may be customized to match specific performance needs and can be applied using a variety of techniques, such as spraying, dipping, or electroplating. Numerous sectors, including automotive, aircraft, building, electronics, and marine, among others, use them.
Growth Factors:
Strong demand from end-use sectors including automotive, aerospace, construction, electronics, and marine, among others, is driving the global market. Functional coatings are being used more often in various sectors as a result of the need to increase product functionality, performance, and durability while lowering maintenance costs and raising energy efficiency. The market for functional coatings is characterized by considerable technological breakthroughs.
The expansion is being fueled by rising R&D investments. To provide improved functionality and performance, new technologies including nanocoatings, smart coatings, and self-healing coatings are being developed. The need for functional coatings that provide improved protection and durability for these materials is being driven by the growing usage of lightweight materials including composites, plastics, and metals in a variety of sectors. Regulators are putting more pressure on the worldwide functional coatings industry to employ fewer dangerous chemicals and to promote environmental sustainability. New coatings that are safer and more ecologically friendly are being developed as a result.
Report Scope of the Functional Coatings Market:
| | |
| --- | --- |
| Report Coverage | Details |
| Market Size in 2023 | USD 517.02 Billion |
| Market Size by 2032 | USD 822.93 Billion |
| Growth Rate from 2023 to 2032 | CAGR of 5.30% |
| Largest Market | North America |
| Fastest Growing Market | Asia-Pacific |
| Base Year | 2022 |
| Forecast Period | 2023 to 2032 |
| Segments Covered | By Product Type, By End-User |
| Regions Covered | North America, Europe, Asia-Pacific, Latin America and Middle East & Africa |

Market Dynamics:
Driver:
Increasing use of lightweight materials
The worldwide market for functional coatings is mostly driven by the rising usage of lightweight materials like aluminium, composites, and plastics in a variety of sectors. Because they provide advantages including increased fuel economy, decreased emissions, and greater performance, lightweight materials are in demand across a variety of sectors, including automotive, aerospace, construction, and electronics. However, lightweight materials are frequently more prone to deterioration and damage than more sturdy materials like steel, aluminium is robust and lightweight, yet it is susceptible to corrosion in some situations. Composites can be vulnerable to damage from collisions or abrasion yet are nonetheless lightweight and sturdy. Although they might be lightweight and useful, UV radiation and chemicals can cause plastics to deteriorate over time. Lightweight materials can benefit from the damage prevention offered by functional coatings.
Restraints:
Fluctuating raw material prices
Functional coatings must include raw ingredients since they influence the final product's quality. For various reasons, fluctuating raw material costs can be a major restraint for the worldwide market for functional coatings. For functional coatings, the cost of raw ingredients might make up a sizeable amount of the overall production cost. Price fluctuations can have an effect on a manufacturer's profitability and make it difficult to maintain stable pricing for consumers. Supply chain disruptions can result from changes in raw material pricing because manufacturers may find it difficult to get the commodities with the quantities and at the prices they need. Due to the potential for manufacturing and delivery delays, businesses may need to cut their pricing in order to remain competitive in a highly competitive market. But it can be challenging to maintain constant pricing due to volatility in raw material costs, which can result in price wars and lower company profitability.
Fluctuations in raw material costs may have an influence on the availability of certain materials since producers may be forced to use substitutes or find alternative suppliers. This may affect the finished product's quality and qualities, resulting in decreased demand and dissatisfied customers. The creation of novel materials may also affect the market for conventional raw resources, causing price changes. For instance, the development of biodegradable materials may affect the market for functional coatings' raw material prices by reducing the need for conventional plastic-based coatings.
Opportunity:
Increasing demand from the automotive industry
The growing need for high-performance coatings in the automotive sector, one of the primary end users of functional coatings, offers a considerable potential opportunity for the functional coatings market. Automotive makers are seeking for coatings that give better functionality such improved corrosion resistance, thermal insulation, and friction reduction in response to the rising demand for fuel-efficient and environmentally friendly automobiles.
Functional coatings are also being employed in the creation of driverless cars and advanced driver assistance systems (ADAS), where they are essential to improving the efficiency and dependability of these systems. For instance, coatings with anti-glare and anti-fog qualities can enhance the visibility of sensors and cameras used in ADAS and driverless cars, while coatings with thermal management qualities can assist in controlling the temperature of vital parts like batteries and electronics.
Additionally, the popularity of electric cars is boosting the market for functional coatings since these cars need specialised coatings that can resist the demanding circumstances of their electric powertrains. The need for specialised coatings with increased capabilities like higher electrical conductivity and corrosion resistance is anticipated to increase dramatically along with the demand for electric cars.
Impact of COVID-19:
Global supply chains have been disrupted by the epidemic, and delays in the delivery of raw materials and completed commodities have resulted from limitations on the movement of goods and services. The functional coatings industry has been impacted by this, and producers are now having trouble finding raw materials and meeting client demands for their goods. Additionally, the makers of functional coatings have seen pressure on their profit margins due to rising logistics and transportation costs.
Certain industries, including construction, aerospace, and automotive, have seen a decrease in demand for functional coatings as a result of the epidemic. These sectors have seen a reduction in demand for their goods and services due to the economic downturn and limitations on travel and mobility, which has resulted in a commensurate decline in the market for functional coatings. The pandemic has also caused significant infrastructure and building projects to be postponed or cancelled, which has had an additional negative impact on the market for functional coatings.
The epidemic has sped up the transition to digitization across a number of businesses, including the market for functional coatings. Companies have been forced to rely more on digital communication channels for sales, marketing, and customer support due to limits on travel and in-person meetings. As a result, functional coatings producers are putting more emphasis on digital marketing and e-commerce platforms in order to reach clients and broaden their market reach.
Segments Insight:
Product Type Insights:
Corrosion-resistant coatings held the maximum share in 2022 and are anticipated to account for the majority of the market because of the high demand from end-use sectors including the automotive, aerospace, and marine. The purpose of corrosion-resistant coatings is to shield metallic surfaces from the corrosive effects of exposure to external elements such moisture, salt, and chemicals. The automotive, maritime, and oil & gas sectors, among others, all often utilise these coatings. The need for long-lasting, high-performance coatings that can endure challenging environmental conditions is predicted to increase significantly in the coming years, which will propel the market for corrosion-resistant coatings.
Surfaces that are prone to wear and tear from friction, abrasion, and impact are engineered to perform better and last longer with wear-resistant coatings. Numerous sectors, such as the production of industrial equipment, aircraft, and automobiles, employ these coatings. The need for high-performance coatings that can increase the tenacity and lifetime of goods is projected to push the market for wear-resistant coatings to expand at a faster rate in the next years.
End-User Insights:
The application of functional coatings to enhance the performance, longevity, and functionality of automotive parts and components has driven the growth of the automotive sector to represent the largest market segment in 2022. The growing need for coatings that can improve the functionality, performance, and longevity of automotive parts and components has made the automobile sector a significant end-user of functional coatings. Automotive applications for functional coatings include brake systems, engine parts, and external and interior surfaces. Due to the increasing need for lightweight materials and cutting-edge technologies that may increase fuel economy and lower emissions, the automotive sector is also anticipated to represent the largest market segment in the future.
Another significant end-user of functional coatings is the aerospace sector, which is motivated by the demand for high-performance coatings that may improve the robustness, effectiveness, and safety of aircraft components. Aerospace applications include the use of functional coatings on structural materials, turbine blades, and engine parts. Increasing expenditures in the research and development of innovative coatings that can enhance aircraft performance and lower maintenance costs are predicted to make up a sizable portion of the market in the aerospace sector.
Regional Insights:
The fastest-growing market at the moment is in the Asia Pacific area, and this trend is anticipated to continue in the years to come. This may be due to various factors including the existence of rapidly expanding economies like China and India, rising infrastructure development spending, and rising demand from end-use sectors like the automobile, building, and electronics industries. Due to the country's substantial industrial base, rising end-use industry demand, and rising R&D expenditures, China is the Asia Pacific region's largest market for functional coatings. In addition, the region is home to the biggest automobile market in the world, a crucial end-use sector for functional coatings. With rising investments in infrastructure development, rising demand from the construction sector, and the existence of significant market competitors, India is another important market for functional coatings in the Asia Pacific area.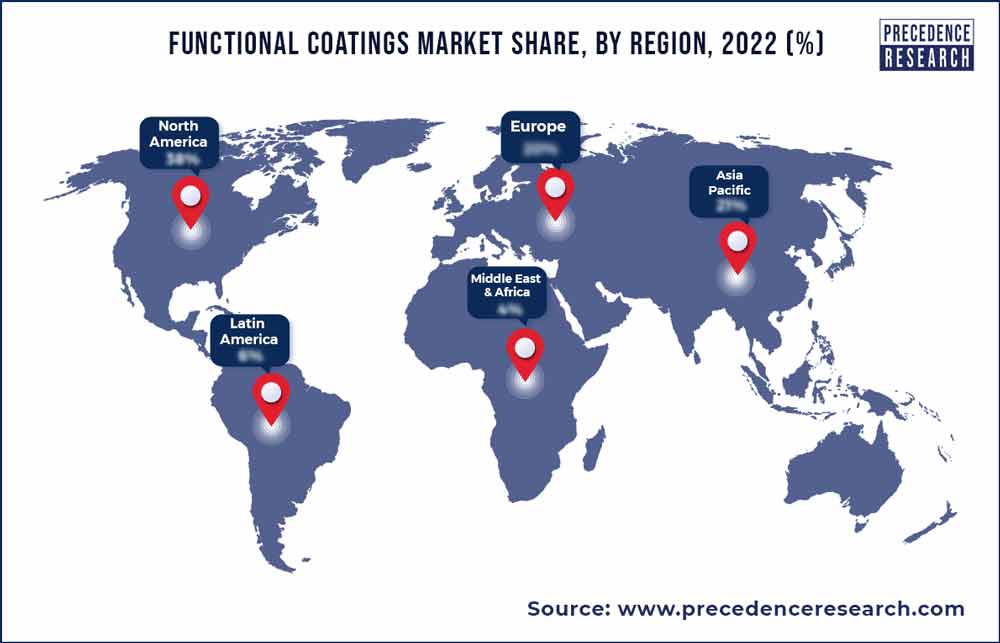 The automotive and electronics sectors, which are important end-use markets for functional coatings, are also expanding in the nation. Due to comparable factors including rising end-use industry demand and rising R&D expenditures, other countries in the Asia Pacific region, including Japan, South Korea, and Southeast Asian nations, are also seeing considerable expansion in the functional coatings market.
One of the main geographical markets for functional coatings is North America, and in the years to come, it is anticipated that this market would expand at a greater rate. Strong demand from end-use industries including the automotive, aerospace, and construction sectors drives the North American market. Due to its robust industrial base and technical breakthroughs, the United States has the largest market in the area. Due to increased governmental pressure and customer demand, there is a growing trend in North America towards the usage of sustainable and ecologically friendly coatings. New functional coatings have been created as a result, and they perform better and are more environmentally friendly.
The development of novel coatings that provide superior performance and durability is characterized by strong investment in R&D efforts in the North American market. As a result, cutting-edge technologies with enhanced functionality, such as nanocoatings, and smart coatings, have been created. Due to strict restrictions governing the use of dangerous chemicals in the functional coatings sector in North America, new coatings that are safer and more environmentally friendly have been developed. Additionally, this has prompted the introduction of more sustainable production techniques and technology.
Recent Developments:
In November 2021, PPG Industries launched a new line of functional coatings for the automotive industry.
In October 2021, stahl's performance coatings and polymers business was acquired by AkzoNobel.
Key Market Players:
Akzo Nobel N.V. (Netherlands)
Axalta Coating Systems LLC (US)
BASF SE (Germany)
PPG Industries Inc. (US)
Sherwin-Williams Company (US)
Kansai Paint Co. Ltd. (Japan)
Nippon Paint Holdings Co. Ltd. (Japan)
Jotun (Norway)
RPM International Inc. (US)
The Dow Chemical Company (US)
Wacker Chemie AG (Germany)
Segments Covered in the Report:
(Note*: We offer report based on sub segments as well. Kindly, let us know if you are interested)
By Product Type
Corrosion-Resistant Coatings
Wear-Resistant Coatings
By End-User
By Geography
North America
Europe
Asia-Pacific
Latin America
Middle East and Africa