The global gas processing market size accounted for USD 201.45 billion in 2022 and is projected to surpass around USD 379.57 billion by 2032, growing at a CAGR of 6.54% between 2023 and 2032.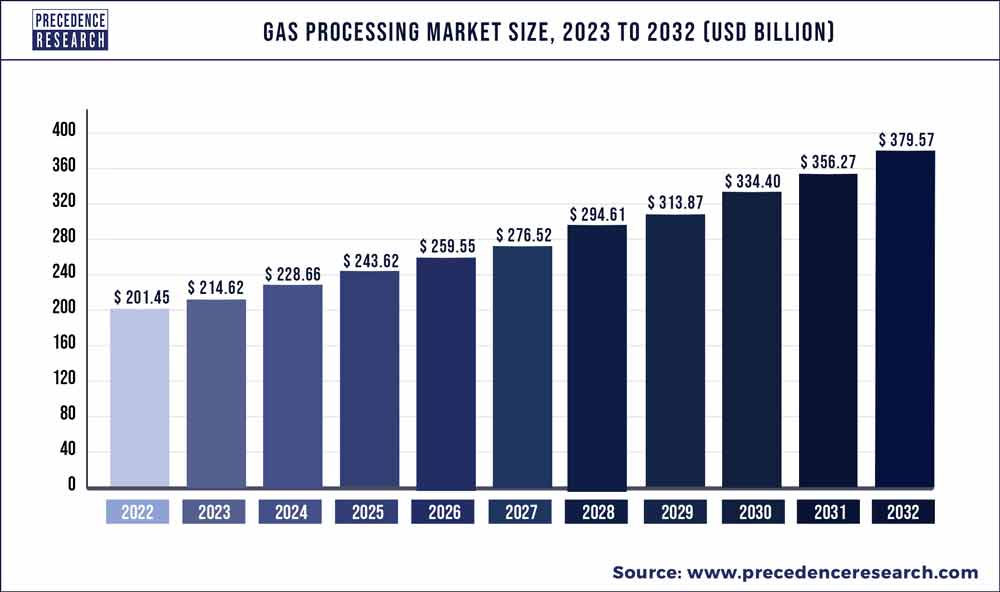 Key Takeaways:
By Type, the dry gas segment generated more than 58 % of the revenue share in 2022.
By Application, the acid gas removal segment is expected to generate for a maximum revenue share between 2023 and 2032.
North America region captured to the biggest revenue share in 2022.
Market Overview:
Natural gas collected from oil and gas wells is processed to separate the hydrocarbons and remove contaminants in order to produce value-added products like dry gas and NGL. Natural gas demand is rising, which is propelling the sector. Natural gas is necessary because of its quantity, adaptability, and ability to be cleaned up.
The increased usage of natural gas in transportation has increased the demand for natural gas. Another factor driving the growth of the business in emerging nations is the availability of natural gas for power generation. During the projection period, this rising natural gas consumption will help the global gas handling sector grow.
In order to produce dry natural gas of pipeline quality, a series of industrial processes known as gas processing must be used to remove pollutants, contaminants, and higher molecular-weight hydrocarbons from natural gas that is raw. Gas processing starts at the wellhead. The geology of the region, along with the kind, depth, and direction of the subsurface deposit, affect the natural gas in its raw form collected from producing wells. In the same reservoir, natural oil and gas are frequently discovered.
Growth Factors:
Demand for natural gas has increased, which is driving the market. Due to its abundance, adaptability, and clean-burning qualities, natural gas is in high demand. The growth in natural gas use in the transportation sector has led to an increase in global natural gas consumption. The market is expanding as a result of the developing world's need for natural gas for electricity generation. Increased natural gas usage is anticipated to fuel the gas processing market's expansion in the ensuing years.
To increase the technical and financial feasibility of gas processing activities, numerous innovative technologies are being developed. These new technologies are designed to reduce energy use, which will result in significant financial savings for gas processing companies.
By bringing down the cost of gas-processing operations, new technologies are propelling the expansion of the global market for gas processing. The adoption of other energy sources, operational problems with gas processing, and changes in oil and gas prices are all likely to impede the market's expansion.
These factors are probably going to have a big impact on investors and upstream oil and gas companies, which could lead to a decrease in natural gas supplies if upstream investments decline. As a result, the growth of the global gas processing market will be constrained by these restrictions.
Report Scope of the Gas Processing Market:
| | |
| --- | --- |
| Report Coverage | Details |
| Market Size in 2023 | USD 214.62 Billion |
| Market Size by 2032 | USD 379.57 Billion |
| Growth Rate from 2023 to 2032 | CAGR of 6.54% |
| Largest Market | North America |
| Base Year | 2022 |
| Forecast Period | 2023 to 2032 |
| Segments Covered | By Type, By Application, and By Industry Vertical |
| Regions Covered | North America, Europe, Asia-Pacific, Latin America and Middle East & Africa |

Market Dynamic:
Drivers:
Growing demand for natural gas
Crude oil wells, gas wells, and condensate wells are the three types of wells from which raw natural gas is predominantly derived. Associated gas is the common name for natural gas that originates from crude oil wells. This gas may have been dissolved in the crude oil and released as the pressure was dropped during production, or it may have been present as a gas cap above the crude oil in the subsurface reservoir.
Non-associated gas is natural gas that originates from gas wells and condensate wells where there is little to no crude oil present. While condensate wells also generate raw natural gas along with other low molecular weight hydrocarbons, gas wells normally only produce raw natural gas.
Restrain:
Increasing competition from substitutes
Both fermentation procedures with ultimate carbon dioxide removal, which have been technically and commercially demonstrated at various biogas plants, and gas-conditioning of synthesis gases from coal or biomass gasification can be used to produce substitute natural gas. Regarding gas composition, the production of SNG from the biomass gasification product gas typically necessitates conditioning procedures including methanation, carbon dioxide removal, and hydrogen enrichment (COSR).
An exception is SNG production by AER gasification. SNG can be produced by methanation alone, without a separate carbon monoxide shift reaction and carbon dioxide removal, thanks to the H2-rich product gas from the AER process.
Opportunity:
Discovery of new gas fields
In order to improve gas quality and protect the environment from pollution, a procedure known as gas treatment involves removing unwelcome gases from the air, natural gas, and freshwater by adding cleaning agents. These cleaning solutions work incredibly well to remove dangerous carbon and varnish buildup from the fuel system.
Gas treatment techniques, used in gas plants and refineries to eliminate acid gases like hydrogen sulphide and carbon dioxide gases, are employed in most traditional applications, including are additionally used in gas plants and refineries to eliminate acid gases like hydrogen sulphide and carbon dioxide gases, are employed in the majority of traditional applications, including such ammonia and synthesis gas plants and liquefied petroleum gas (LPG) facilities. In recent years, a number of businesses have introduced cutting-edge gas treatment technology.
Impact of Covid-19:
The coronavirus illness 2019 (COVID-19), which has not been seen since the Spanish flu after the First World War, presents significant concerns to people all over the world. The lockdown policy was initially implemented in China. The economic system, the ecology, and the energy supply chain were all significantly impacted by the policy. The primary conduit of the country's energy system is typically thought to be the natural gas pipeline network.
The natural gas pipeline infrastructure is built to satisfy market demand in a reliable and long-lasting manner. In earlier research, the assessment index—which measures how well the natural gas pipeline system can meet market demand—was used to estimate the gas supply reliability. Both supply-side and demand-side strategies, where the supply side is defined by the gas supply capacity, affect the reliability of the gas supply.
Segments Insight:
Type Insights:
The rapid increase of natural gas production, expanding NGL adoption initiatives, and rising demand for natural gas are some of the reasons propelling the worldwide gas processing market. Pressure-assisted stripping (PAS) technology increases the effectiveness of gas purification processes by more than 25% by reducing the demand for heat generation.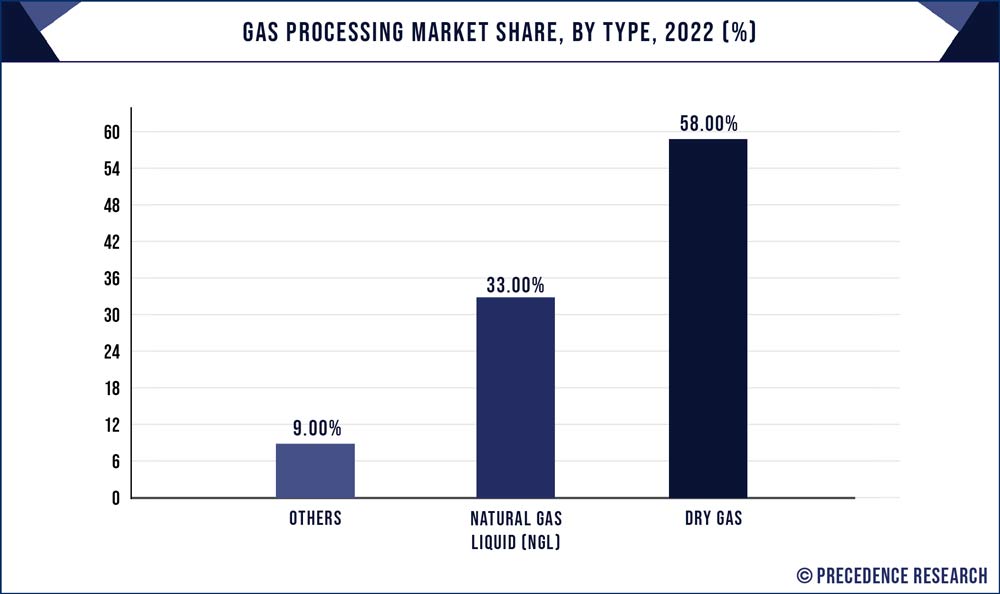 Similarly, by improving our understanding of the instability and operational failures of compressors during the acid-cleaning process, dynamic compressor model technology helps to lower operational expenses. These technological advancements in gas processing are viewed as crucial market trends for the industry and will help the market grow.
Natural gas use is expanding because its combustion results in fewer greenhouse gas emissions than that of other fossil fuels. Due to increased shale oil and gas drilling in the US and CBM and shale gas drilling in China, these two countries account for the majority of the world's natural gas production. As a result, the need for gas processing is increasing due to rising natural gas production as a result of increased investments and upstream oil and gas operations, which in turn is driving the market's rise.
Application Insights:
Dehydration and acid gas removal are the two application-based segments of the global market for gas treatment. Due to the rising demand for natural gas as a cleaner energy source and the increased observance of environmental regulations by different enterprises, the acid gas removal segment is anticipated to account for a notably substantial revenue share throughout the projected period.
Acid gas removal is the process of eliminating carbon dioxide (CO2) and hydrogen sulfide (H2S) from vapour streams. Acid gas removal (AGR) units are a vital component of Integrated Gasification Combined Cycle (IGCC) power plants. The majority of gas processing plants feature an acid gas removal stage to get rid of carbon dioxide and hydrogen sulphide, which are acid gases.
During the course of the projected period, the dehydration segment is anticipated to experience consistent revenue growth. Dehydration is the process of taking moisture out of natural gas and gaseous mixtures. It frequently comes before either low-temperature gas processing or gas pipeline transportation.
Dehydration also reduces the possibility of hydrates cooling and producing ice blockages in the pipes, enabling uninterrupted operation of downstream process equipment and pipelines. Most dehydration techniques rely on either moisture absorption or moisture evaporation during gas cooling.
Regional Insights:
The North America market accounted for the biggest revenue share in the worldwide gas treatment market in 2022, due to the rising demand for natural gas in nations across this region, especially in the U.S. and Canada. The United States consumed around 30.66 trillion cubic feet (Tcf) of natural gas in 2021, which is equal to 31.73 quadrillion British thermal units (quads) and 32% of the country's overall energy consumption. In the electric power industry, natural gas is used to produce valuable thermal output in addition to electricity. Around 37% of the natural gas consumed in the United States in 2021 was used for electric generation.
Natural gas is additionally utilised in the industrial sector as a fuel for combined heat and power systems, process heating, a raw material (feedstock) in the production of chemicals, fertiliser, and hydrogen, as well as a leasing and plant fuel. The industrial sector made up over 33% of all natural gas usage in the United States in 2021. Furthermore, the increased adoption of natural gas in power generation and industrial applications creates a high demand for gas processing and boosts revenue growth of the market in this region.
Recent Development:
By becoming the sole owner of the modest ING roloading station in Klaipeda, Lithuania, on April 1, 2020, Polskio Gornictwa Naftowe I Gazownictwo (PGNIG) gave the business access to Baltic Sea markets and simplified the logistics of supplying LNG to customers in northeastern Poland.
BP expands into offshore wind after purchasing U.S. assets. The agreement represents BP's first foray into the offshore wind industry and is a key component of a new strategy that will see the British oil giant accelerate the transition away from fossil fuels in order to achieve its net-zero emissions targets.
The acquisition of InterOil Corporation by ExxonMobil has been finalised. This deal was approved by Yukon's Supreme Court. In the transaction, ExxonMobil acquired all of InterOil's outstanding common shares. As a result of this agreement, ExxonMobil will be able to generate money for both its shareholders and the people of Papua New Guinea.
A novel technique for extracting high-value natural gas products has been developed by BASF SE. This process includes purifying natural gas for pipeline transfer with the simultaneous recovery of valuable helium, liquid hydrocarbons, and purified CO2.
Key Market Player:
Gazprom
Exxon Mobil
China National Petroleum
Royal Dutch Shell
BP
Chevron
Total
Statoil
ConocoPhillips
Eni
Segments Covered in the Report:
(Note*: We offer report based on sub segments as well. Kindly, let us know if you are interested)
By Type
Dry Gas
Natural Gas Liquid (NGL)
Others
By Application
Acid Gas Removal
Dehydration
Others
By Industry Vertical
Metallurgy
Healthcare
Chemical
Others
By Geography
North America
Europe
Asia-Pacific
Latin America
The Middle East and Africa