The global generative AI in customer services market size was valued at USD 308.4 million in 2022 and it is expected to surpass around USD 2,897.57 million by 2032, growing at a CAGR of 25.11% over the forecast period from 2023 to 2032.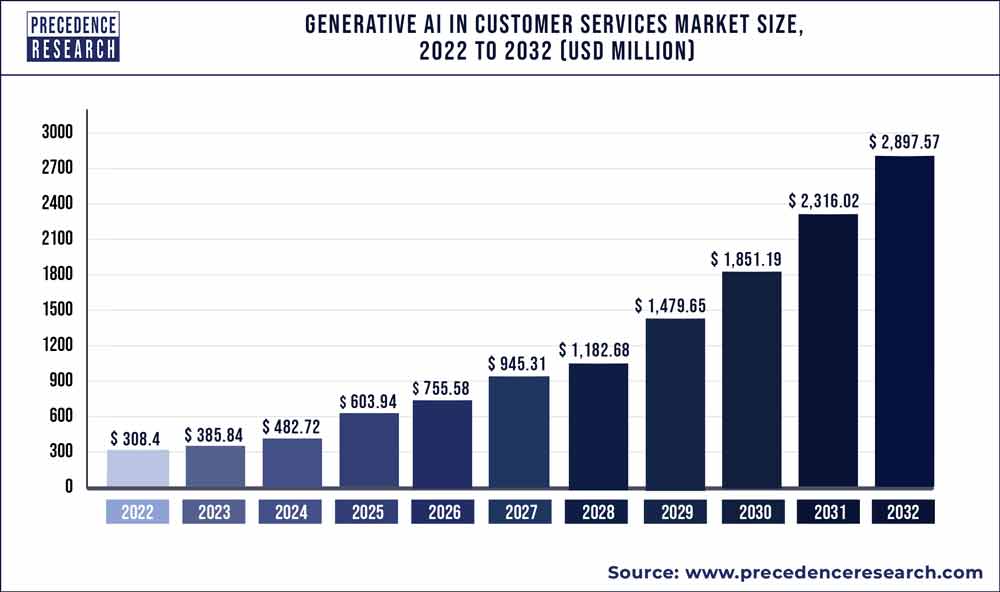 Access our Premium Real Time Data Intelligence Tool, Visit: Precedence Statistics
Key Takeaways:
North America generated more than 48% of the revenue share in 2022.
Asia- Pacific is expected to expand at the fastest CAGR from 2023 to 2032.
By deployment, the cloud-based segment shows a leading growth in the generative AI in the customer services market.
By industry, the healthcare segment contributed more than 45% of the revenue share in 2022.
By application, the chatbot segment is expected to grow at the highest CAGR during the projection period.
Market Overview:
Being a prominent branch of artificial intelligence solutions, generative AI is having its hands on almost every sector now. In recent years, advancements in artificial intelligence solutions has brought generative AI with advanced algorithms to support operations by generating database. The generated analytics can be in the form of written content, images, texts or audio.
Generative AI in customer services is developing as it can handle complex personalized interactions and customer inquiries. Numerous uses of generative AI may be found in customer service, including providing quick information to clients, a genuine discussion, conversation flows to prevent writer's block, and fostering creativity by giving authors response templates.
In June 2023, CNBC claimed that Amazon would invest $100 million into a center that would assist companies in using generative AI. Alongside the investment, Amazon will hire new data scientists and engineers for the facility. The firm has stated that it will not be a primary facility, but an application targeted to generative AI.
Growth Factors:
Customer care companies can benefit from generative AI in various ways, such as the ability for companies to automate interactions with customers, save money and time, provide real-time solutions and precise services that has boosted client satisfaction, and streamline issue resolution. It can even better propose solutions to client queries, providing customer service representatives with speedy response alternatives and facilitating productive discussion. Companies have found it challenging to manage customer care using only individuals due to the expansion of the e-commerce sector and an increasing number of online transactions. These variables will exponentially raise the market in the following years.
In May 2023, Tata Consultancy Services (TCS) disclosed the official launch of its new product, TCS Generative AI, a strategic collaboration with Google Cloud that employs Google Cloud's generative AI services to design and deploy personalized solutions for the company that assists in utilizing the power of this innovative new technology to speed up their expansion and transformation.
Report Scope of the Generative AI in Customer Services Market:
| | |
| --- | --- |
| Report Coverage | Details |
| Market Size in 2023 | USD 385.84 Million |
| Market Size by 2032 | USD 2,897.57 Million |
| Growth Rate from 2023 to 2032 | CAGR of 25.11% |
| Largest Market | North America |
| Fastest Growing Market | Asia Pacific |
| Base Year | 2022 |
| Forecast Period | 2023 to 2032 |
| Segments Covered | By Deployment, By Industry, and By Application |
| Regions Covered | North America, Europe, Asia-Pacific, Latin America, and Middle East & Africa |

Driver:
Rising focus on improving customer experience
Without the need for human agents, generative AI enables companies to provide 24/7 customer service, providing clients can get help whenever they need it, this increases satisfaction, and create an improved customer experience. Companies can cut the expenses of recruiting and educating human agents through automated customer service with generative AI. AI chatbots are more affordable than hiring and staffing an extensive customer care workforce since they can handle multiple client inquiries simultaneously. By offering a more individualized and practical experience, generative AI may assist organizations in improving customer satisfaction and enhancing sales and client relations.
For example, Using AI algorithms, an online streaming service (such as Prime, Hotstar, Netflix, etc.) can suggest films or TV series to users based on their viewing habits and tastes. Customers are more likely to find the goods at this level of customization, which raises the rate of client satisfaction. Thus, the rising focus on improving the customer experience for satisfaction boosts the growth of the market.
Restraint:
Concerns with data privacy and security
Customer privacy and security concerns arise when generative AI is used in customer service because it involves gathering and processing customer data. Companies should take strict data protection procedures to uphold client confidentiality and adhere to applicable laws. For instance, generative AI tools may be susceptible to data breaches, leading to unauthorized access or exposure of sensitive user information, if proper safety precautions are not in place, which may result in invasions of privacy and possible misuse of personal information. Users' trust and privacy rights may be violated if generative AI technologies do not seek the necessary consent or give upfront details about how data is gathered, handled, and shared. Thus, such privacy concerns act as a restraint for the market's growth.
Opportunities:
Rising emphasis on improving brand's proactive customer support
As companies and organizations continue to focus on building their brand image, the demand for generative AI solutions is prone to boost. The emphasis on improving proactive customer support is one of the measures taken by companies for the same. By analyzing user behavior, browsing routines, and previous information, generative AI systems can respond proactively to client demands. It raises customer fulfillment and loyalty while increasing satisfaction levels by anticipating consumer needs and providing proactive support.
For instance, according to a Gladly survey, 82% of consumers will spend more money on companies that provide excellent customer service. Such transformation from companies to improve their proactive customer support services is observed to offer a plethora of opportunities for the market's growth.
Segments Insight:
Deployment Insights:
Cloud-based show significant growth in the generative AI in customer services market during the predicted period, the ease of access and availability of operations 24/7 with cloud computing promote the growth of the segment in the customer care industry. Facebook, Twitter, and LinkedIn are a few examples of online platforms that offer customer care services with the cloud-based deployment of generative artificial intelligence.
On the other hand, the on-premises segment is expected to sustain its position in the market by growing at a noticeable rate. Resources are deployed inside and inside an organization's IT infrastructure in an on-premises environment. A business oversees managing the solution and all the processes connected to it. Companies that handle sensitive data, like those in the banking and government sectors, prefer to have the safety and confidentiality that an on-premises environment offers.
Industry Insights:
The healthcare segment shows significant growth in the generative AI in customer services market during the predicted period. Generative AI offers services to the healthcare industry that ultimately generate significant revenue and hold substantial market share, such as AI-driven robots in hospitals for surgical procedures, more individualized patient care that will improve outcomes for patients, detecting payment fraud like duplicate payment, quicker and more precise medical imaging through offering clearer scans, as well as in the registration in health plans.
The healthcare industry across the globe has already shown a positive tilt towards the adoption of artificial intelligence-based solutions. As an illustration, AI techniques are already being utilized to improve scan clarity by reducing image noise. AI and machine learning can help speed up scan times, which lowers the patient's exposure to radioactivity and increases comfort. As a result, AI and machine deep learning algorithms can automatically detect common problems in diagnostic images, requiring less human involvement.
The retail segment is expected to grow at a substantial rate in the generative AI in customer services market during the forecast period. Personalized product recommendations, price monitoring and optimization, customer chatbot development, fraud detection and prevention (such as fake returns or purchases), and other capabilities of generative AI algorithms can all help retail and e-commerce businesses save money while gaining the trust of their customers.
For instance, the international clothing retailer H&M has integrated a voice assistant powered by generative AI into its mobile app. Customers can use the assistant to place orders, find products, and get answers to frequently asked inquiries. The workload of H&M's customer support personnel has been decreased, and the general client experience has been enhanced thanks to the voice assistant.
Application Insights:
The chatbot segment is expected to be dominant in the generative AI in the customer services market during the predicted period. being on of the most integral part of generative AI solutions, chatbots are widely used in healthcare, e-commerce and telecom industries. The rising application of chatbots by the travel and hospitality sector is observed to promote the segment's growth during the forecast period.
Businesses are deploying chatbots that use generative artificial intelligence (AI) to instantly respond to client inquiries. These chatbots can comprehend the historical context of the customer's question using natural language processing and deliver precise responses.
For instance, Delta Air Lines has developed a chatbot that uses generative AI to assist clients in finding flights, checking in, and even tracking their bags. The chatbot, known as "Ask Delta," has been a tremendous hit and has 20% less call center volume.
The virtual Assistants segment is the fastest growing segment in the generative AI in customer services market throughout the forecast period. Virtual assistants can have many functions and work across various platforms and devices. Through voice-based tasks, it typically engages in natural language conversation with customers. By integrating with multiple services and applications, these AI virtual assistants enable users to quickly access information, manage their schedules, and operate innovative home equipment. For instance, several businesses are experimenting with voice assistants powered by generative AI that can comprehend and reply to customer inquiries in a conversational manner.
Regional Insights:
North America is dominating and expected to remain a significant region in the generative AI in customer services market throughout the predicted timeframe. The rapid adoption of artificial intelligence-based solutions by multiple industries in North America has supported the market's growth. Considering the advantages of artificial intelligence solutions, North America shows an enormous demand for such solutions, especially having an emphasis on consumer satisfaction. The use of generative chatbots powered by AI-driven virtual assistants is pervasive in this area due to the intense concentration of tech enterprises and sectors that cater to customer-oriented industries.
As an illustration, Amazon, headquartered in the United States, uses GenAI to suggest products to its consumers based on their purchases, browsing history, and other factors.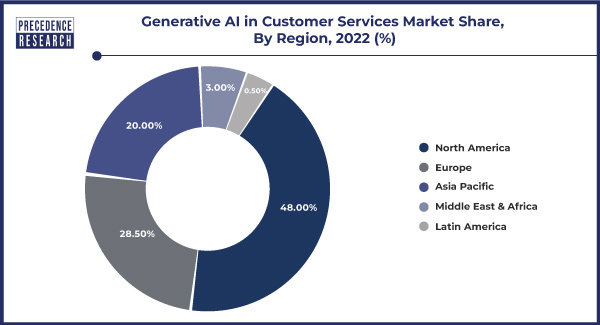 Asia- Pacific is expected to show a noticeable rate of growth in the generative AI in customer services market during the forecast period. In this region, generative AI for customer support has made significant advances. The rapid expansion of the customer service industries in countries like China and India has facilitated the broad adoption of AI technologies to effectively handle many client inquiries. Moreover, substantial government support for the adoption of AI-solutions in industries boosts the growth of the market in Asia Pacific.
For instance, In April 2023, Fumio Kishida, the prime minister of Japan, stated that the nation encourages the growth of commercial applications for generative AI tools like OpenAI's ChatGPT.
Recent Developments:
In May 2023, with generative AI, Infosys introduced a range of AI services that will improve human capabilities and create new business prospects.
In April 2023, Amazon declared it offers a tailored generative AI service via its cloud computing system, aiming to attract business clients who want to integrate AI into their operations. This is a departure from other tech giants focused on customers' approaches to AI.
Key Market Players:
Microsoft Corporation
IBM Corporation
Amazon Inc.
Google Inc.
Oracle Corporation
Haptic Technology
Segments Covered in the Report:
(Note*: We offer reports based on sub segments as well. Kindly, let us know if you are interested)
By Deployment
Cloud-based
On-premise
Hybrid
By Industry
Healthcare
Retail
Finance
Telecommunications
By Application
Chatbot
Virtual Assistants
Personalized Recommendation's
Sentiment Analysis
By Geography
North America
Europe
Asia-Pacific
Latin America
Middle East and Africa