The global generative AI in industrial design market size was valued at USD 164.33 million in 2022 and is expected to be worth around USD 1,483.36 million by 2032, poised to grow at a CAGR of 24.61% during the forecast period from 2023 to 2032.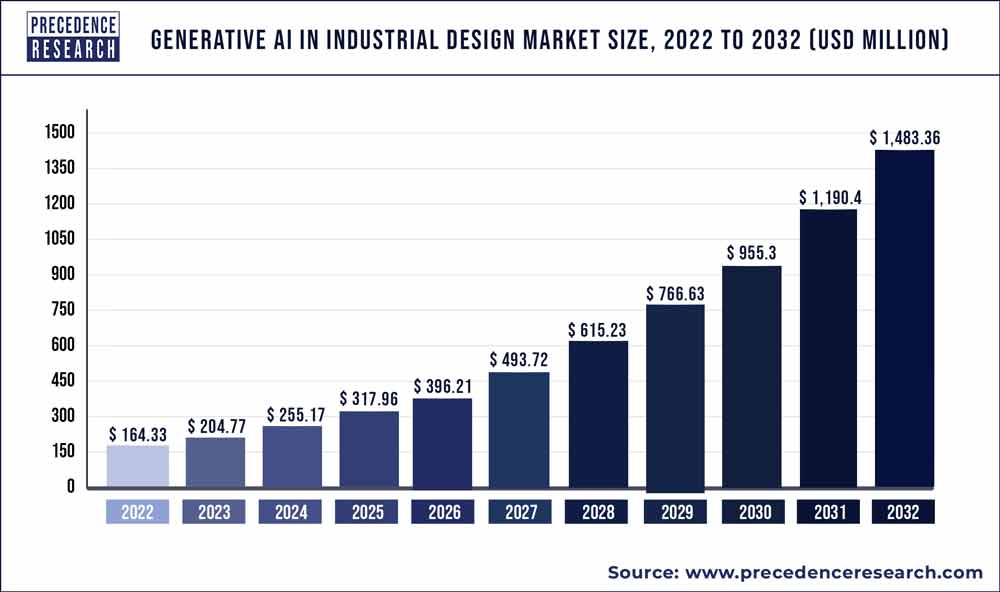 Access our Premium Real Time Data Intelligence Tool, Visit: Precedence Statistics
Key Takeaways:
North America region contributed more than 47% of revenue share in 2022.
By deployment model, the on-premises segment accounted more than 61% of revenue share in 2022.
By application, the product design segment is expected to show considerable growth in the generative AI in the industrial design market.
By industry, the automotive segment is projected to share the maximum CAGR during the projection period.
Market Overview:
Generative AI in industrial design significantly aims to enhance creativity, efficiency, and problem-solving and is leveraged to help designers in numerous aspects of the design process. AI works on design workflow by repetitive tasks automatically by making technical drawings and conducting material research. AI algorithms can also create design variations and concepts based on specified criteria, propelling ideas and stimulating creativity. The demand for industrial design is increasing, allowing designers to target more strategic and groundbreaking aspects. Furthermore, evaluating the designs' performance, people efficiency, and aesthetics in virtual environments saves time and resources.
In April 2023, SofySense, a unique mobile app testing solution that combines artificial intelligence (AI) and no-code automation, has been officially launched by the software testing platform Sofy. The newest solution improves Sofy's current platform and includes clever software testing AI connected with GPT to help with quality control.
Growth Factors:
Generative AI allows designers to explore various design options, quickly generate multiple iterations, and provide design alternatives by inputting design parameters and constraints. This capability facilitates design optimization by finding solutions that meet specific requirements, such as material efficiency, structural integrity, or ergonomic considerations. It is a powerful tool for designers, facilitating collaboration between humans and machines. Designers can leverage AI-generated designs as a starting point and then apply their creative judgment, intuition, and expertise to refine and finalize the designs. This collaboration between human creativity and AI capabilities often leads to more innovative and effective design outcomes.
For instance, In May 2023, Infosys launched Infosys Topaz. It provides the advantage of the recent ways to create value from the latest technologies and interconnected ecosystems, improving efficiency for people, companies, and communities. Infosys Topaz merges Infosys-applied AI architecture to develop an AI-first core that empowers customers to provide cognitive solutions to raise value creation.
Report Scope of the Generative AI in Industrial Design Market:
| | |
| --- | --- |
| Report Coverage | Details |
| Market Size in 2023 | USD 204.77 Million |
| Market Size by 2032 | USD 1,483.36 Million |
| Growth Rate from 2023 to 2032 | CAGR of 24.61% |
| Largest Market | North America |
| Base Year | 2022 |
| Forecast Period | 2023 to 2032 |
| Segments Covered | By Deployment Mode, By Application, and By Industry |
| Regions Covered | North America, Europe, Asia-Pacific, Latin America, and Middle East & Africa |

Driver:
Ability to facilitate design education
Generative AI models assist inexperienced designers in identifying and learning from market trends by creating new designs and variations that will provide an in-depth understanding of various designs and refined aesthetic taste. It offers novel suggestions and unconventional design solutions, generate designs based on existing models or concepts, and gives designers a set of unexpected ideas and options. Designers can create designs that are better suited for production, resulting in improved manufacturability, reduced material waste, and enhanced overall product quality.
Restraint:
Concerns with intellectual property and originality
The outcomes generated by the generative AI solutions can be already published by some other creators in history, this can create a potential concern about harming intellectual property rights. It is essential to protect intellectual property rights while utilizing generative AI techniques and ensure that the created designs do not violate any already-existing patents, trademarks, or copyrights. Designers should carefully study the developed techniques for optimal originality and to prevent legal problems.
Opportunity:
Improved aesthetics
Ergonomics and functionality are essential when improving an aesthetic life and developing a good design with ergonomics and usefulness. An improved catchy visual is generally derived concerning ergonomics and functionality. A well-designed product is more enjoyable as creating aesthetically pleasing and ergonomic products is feasible when aesthetics is considered in the design process. Industrial design enhances the visual development of the product at the end. Thus, the demand for improved aesthetics and the overall appearance of the product opens a set of opportunities for the market.
For instance, In July 2023, Ikea's Space10 employed generative AI to reevaluate how to create sofas, addressing their inefficient, clunky size by making furniture that can fit within an envelope. With an interactive map encouraging designers to create dinnerware from more locally accessible materials, the trend has now migrated into the kitchen.
Segments Insight:
Deployment Model Insights:
On-premises has the largest share in the generative AI in the industrial design market during the forecast period. On-premises software is set up on the computers and servers of clients and businesses. On-premises computing makes seamless collaboration of designers, engineers, and other users possible. Based on user feedback, designers and AI systems can collaborate closely to iterate and refine designs in real-time. Additionally, existing design instruments and workflows can be easily integrated with generative AI systems because of the on-premises infrastructure.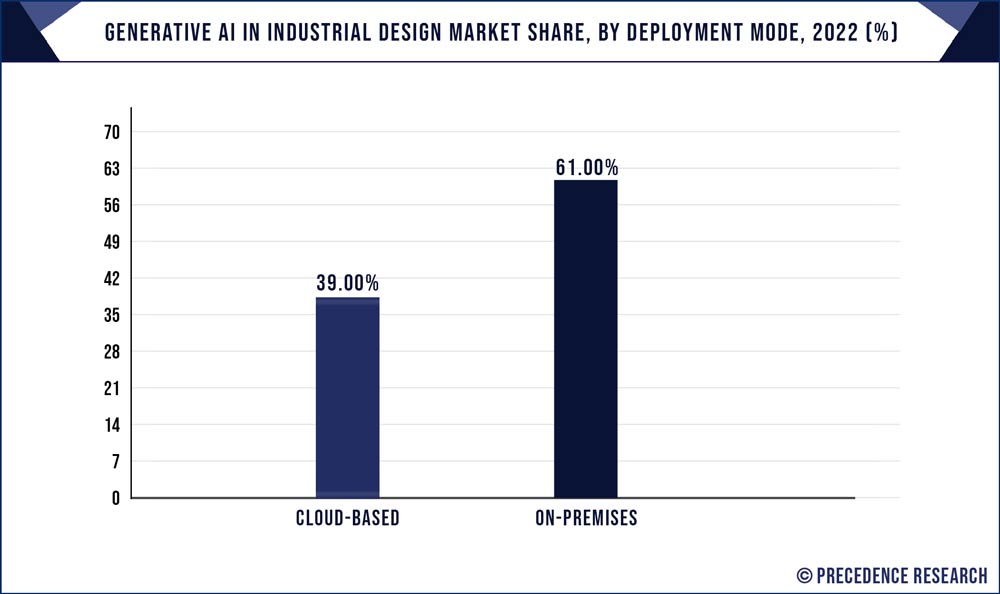 The cloud-based segment is expected to be the most attractive segment of the market during the forecast period. Due to the scalability of cloud-based services, which enables businesses to readily adapt their resources to match changes in need without requiring extra hardware or facilities, the cloud-based segments will also grow in the future. Due to the lack of significant initial investment or continuing maintenance expenditures, cloud-based solutions are often more affordable than on-premises alternatives. Additionally, because designers and clients can access these solutions from any location with a broadband connection, they provide greater adaptability and access.
Application Insights:
The product design segment is expected to be the dominant in the generative AI in the industrial design market during the predicted period. Generative artificial intelligence (AI) technology has increased the popularity of industrial design across architects and engineers for product design, as it offers multiple design recommendations based on many criteria, including weight, cost, material, and load, designers can swiftly iterate on designs and explore various design options because of generative AI. Engineers use algorithms to input parameters for design and objectives, resulting in several design iterations. The next iteration includes different shapes, material payouts, and combinations, allowing designers to investigate cutting-edge design choices that have gone unnoticed through conventional design procedures. For instance, Designers can use generative design methods with Autodesk Fusion 360, automating the generation of design choices and enabling quick study and refinement.
The prototyping and simulation segment is expected to register the fastest growth in the generative AI in the industrial design market during the forecast period. Generative AI is used in the engineering project prototyping and manufacturing phases to reduce material waste and production costs. The method also reduces iterations and speeds the transition from conceptualization to physical realization. Prototypes facilitate communication with manufacturers because they give a tangible depiction of the anticipated design, materials, and building techniques. This reduces production and guarantees that the finished product reflects the designer's intentions. By using generative models, engineers may produce optimum designs that consider production restraints, material attributes, and performance criteria. Industrial designers extensively employ prototyping to test their concepts, improve functionality, and produce products that meet customer expectations. Rapid prototyping and simulation of design concepts are made possible using generative AI, allowing designers to identify and improve designs before physical manufacturing while conserving time and money.
The customization segment is expected to witness significant growth in the generative AI in the industrial design market during the predicted period. By offering unique design solutions to each client, generative AI can revolutionize product customization. AI algorithms can produce original product design variants by considering preferences, user feedback, and other relevant data. This enables buyers to modify and customize their purchases to suit their tastes and unique needs.
Industry Insights:
Automotive is expected to be dominant in the generative AI in the industrial design market during the predicted period. The demand for the automotive industry is increasing as generative AI is assisting with new designs, safety, efficiency, and manufacturing processes are faster and cheaper. It promotes marketing as GPT-3 by generating blogs, sales emails and DALL-E-2 generate images which attract popularity. It helps in designing custom parts which will save time and money. Introduction of automotive vehicles (AVs) by eliminating field tests. It works in collaboration with IoT to predict maintenance in real time and even helps in budgeting, investing and allocation of resources by identifying patterns and predicting outcomes.
For instance, advanced driver assistance systems (ADAS) improvement depends heavily on generative AI. Tesla's AI-powered autopilot system uses generative AI models to analyze and learn from various driving situations, continually enhancing its capabilities.
The construction & architecture segment is the fastest growing segment in the generative AI in industrial design market. Generative AI can considerably accelerate the design process, enabling designers to investigate more ideas in less time. Massive volumes of data can be analyzed by generative AI algorithms, which can then produce design options depending on particular criteria such as consumer demand or requirements, site features, or environmental considerations.
Regional Insights:
North America is dominating and expected to remain a significant region in the generative AI in industrial design market throughout the predicted timeframe. In addition to having a strong technical base, North America is home to many AI research centers, universities, and businesses that has encouraged creativity and the creation of modern generative AI tools that can be successfully integrated into industrial design workflows. The time and effort needed to create and iterate designs is decreased to generative AI, which automates and streamlines numerous design process steps. By lowering labor expenses and avoiding design flaws, this efficiency helps businesses save money. Generative AI enables designers to explore a larger design space by producing several design variations and possibilities. As a result, more innovative and distinctive designs are created by pushing the limits of conventional design methodologies.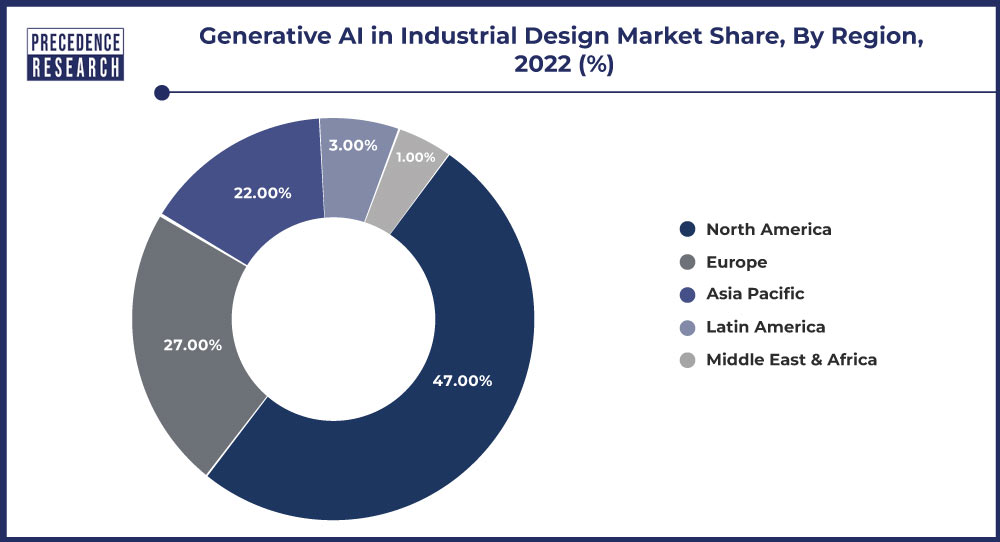 Europe shows lucrative growth in the generative AI in the industrial design market during the forecasted timeframe. Numerous famous universities and research centers in Europe have made substantial contributions to the domains of AI and related fields. Organizations like University College London have conducted innovative studies on generative AI and its uses in industrial design. Many European governments have acknowledged the potential of AI to boost economic growth and competitiveness. They have therefore put supporting policies in place and provided sizeable money for AI research and development. Industrial design is one of the fields where generative AI has grown as a result of this investment. Numerous creative enterprises and businesses focusing on generative AI and industrial design have emerged in Europe. These organizations have made effective tools and platforms that improve user experience by utilizing cutting-edge technology like machine learning, deep learning, and neural networks.
Recent Developments:
In February 2023, the leader in Swedish software, Hexagon AB, stated that it has been gradually expanding its 3D printing and other digital manufacturing capabilities. The debut of Nexus, a platform co-created with Microsoft that combines a number of Hexagon technologies into a single cloud-based ecosystem, marks the culmination of its work in space.
In January 2023, Samsung announced that its Bespoke line of customized appliance decorations will allow refrigerators and other products to display generative AI art. The newest line of refrigerators from the company will include a Bespoke refrigerator that can be customized with unique creations, artwork, or favorite pictures. To customize the kitchen, MyBespoke customized panels encourage to design an amazing refrigerator. Samsung claimed that MyBespoke supports home design fads that showcase individuality and taste using novel materials, vibrant hues, and creative designs.
In December 2022, Divergent Technologies Inc., an expert in green manufacturing technology with the first modular virtual manufacturing for the automobile sector, announced a 100 million USD investment from Hexagon AB.
In July 2022, Engineering teams announced that it may use Ansys to cut through complexity and create the next wave of goods that will change the world. Ansys 2022 R2's new features span physics, engineering specialties, and business sectors to support the scalability and interoperability required to understand actual product performance.
Key Market Players:
Autodesk, Inc.
Siemens
Ansys, Inc.
Dassault Systèmes SE
PTC Inc.
Hexagon AB
Adobe Inc.
Segments Covered in the Report:
(Note*: We offer reports based on sub segments as well. Kindly, let us know if you are interested)
By Deployment Mode
By Application
Product Design
Customization
Material Design
Prototyping and Simulation
Other Applications
By Industry
Automotive
Aerospace
Furniture
Construction & Architecture
Other Industries
By Geography
North America
Europe
Asia-Pacific
Latin America
Middle East and Africa