The global generative AI in legal market size was valued at USD 52.27 million in 2022 and it is expected to reach around USD 781.55 million by 2032, growing at a CAGR of 31.06% during the forecast period from 2023 to 2032.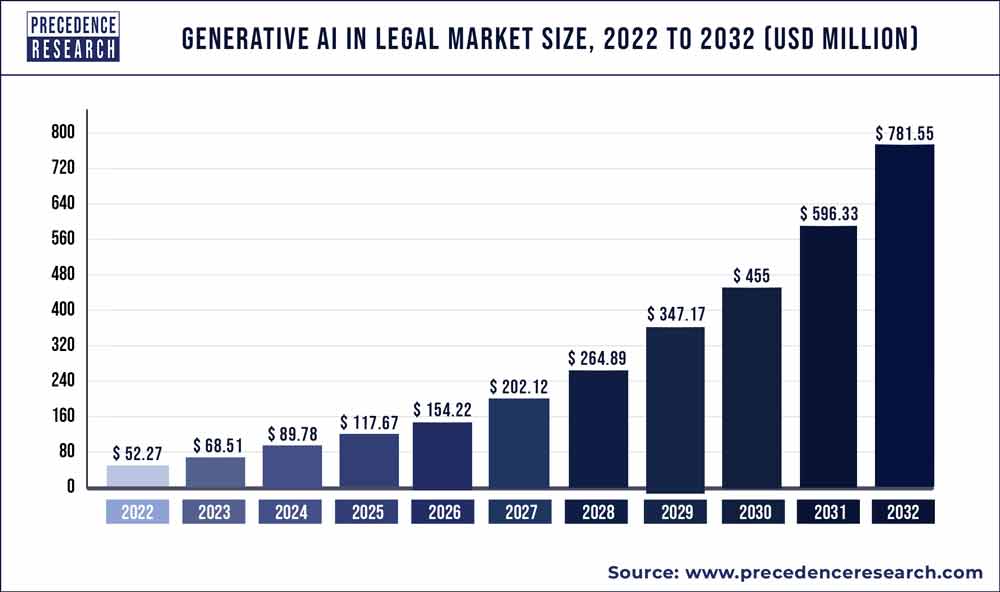 Access our Premium Real Time Data Intelligence Tool, Visit: Precedence Statistics
Key Takeaways:
North America dominated the global market with the largest revenue share of 37% in 2022.
Asia Pacific is expected to accounts a substantial revenue during the forecast period.
By the Deployment model, the on-premises segment shows a substantial growth in the market during the forecast period.
By Application, the document review segment carries the largest revenue share in the generative AI in legal market.
By End-user, the law firms segment is expected to share the maximum CAGR during the projection period.
Market Overview:
AI is already being employed in the legal business by automating primary legal papers and extracting specific contract provisions. However, generative AI can go one step further with these applications. Generative AI technologies, that can develop multiple kinds of material, might be applied in various ways to boost productivity and save costs. In the legal sector, generative AI can be used to provide a simple overview of a legal topic and aid in legal research to create a complex agreement from a knowledge base of sample agreements.
This tool may allow legal practitioners, who heavily depend on templates, to converse with legal chatbots to request the creation of a purchase agreement while verbally describing the key company legal terms and the specific provisions they want to see. Additionally, as generative AI develops, it can annotate a contract prepared by opposing counsel by teaching the program to recognize off-market clauses. People with legal skills will need to review the outcomes of AI and for judgments based on experience. AI can automate tedious administrative and regular tasks for lawyers, boosting efficiency. The immense promise of generative AI will be recognized if the problems and issues are first fixed and responsible creation of generative AI tools receives high priority.
Growth Factors:
By quickly evaluating a sizable number of legal texts, precedents, and case law, generative AI-powered technologies can improve legal research. Legal professionals may find pertinent information and make better decisions due to this. Numerous legal operations, including contract creation, legal research, and document analysis, can be automated with generative AI. By doing so, repetitive and labor-intensive duties can be completed with much less time and effort, freeing legal professionals to concentrate on more intricate and strategic issues.
A significant part of the legal environment is recognizing potential data breaches, reviewing privacy policies, and verifying that companies comply with data protection laws. Generative AI can help with these tasks. Generative AI can lower legal expenses and boost productivity for law firms and companies with legal departments by automating duties and streamlining procedures. As generative AI technology develops, more advanced models can be created, providing the legal industry with even better options and prospects.
Report Scope of the Generative AI in Legal Market:
| | |
| --- | --- |
| Report Coverage | Details |
| Market Size in 2023 | USD 68.51 Million |
| Market Size by 2032 | USD 781.55 Million |
| Growth Rate from 2023 to 2032 | CAGR of 31.06% |
| Largest Market | North America |
| Base Year | 2022 |
| Forecast Period | 2023 to 2032 |
| Segments Covered | By Deployment Model, By Application, and By End-User |
| Regions Covered | North America, Europe, Asia-Pacific, Latin America, and Middle East & Africa |

Driver:
Automation and efficiency
Using generative AI, automating time-consuming tasks like contract preparation, document drafting, and legal research is feasible. The productivity increase that could result from this automation would allow legal professionals to focus on more strategic and complex aspects of their work. By examining massive regulatory data, generative AI can assist legal departments in evaluating compliance requirements and potential hazards. As a result, businesses can stay current on legislation and proactively spot any compliance problems. Legal briefs and other types of legal writing can be aided by generative artificial intelligence (AI). It can recommend pertinent case citations, legal arguments, and even writing styles based on historical data, resulting in more convincing and well-organized legal content. Thus, the automation and efficiency offered by generative AI systems is observed to act as a driver for the market.
Restraint:
Ethical considerations and unauthorized practices
One significant issue is whether artificial intelligence-generated legal content counts as the unlicensed practice of law. Giving legal advice without authorization can have substantial repercussions for the AI provider and the end users because legal services are highly regulated. Strict ethical rules govern how the legal profession does its business. Lawyers have a responsibility to represent clients skillfully and protect client confidentiality. These moral guidelines must be followed when integrating generative AI into legal operations. Thus, the ethical considerations and concerns with unauthorized practices pose a restraint for the market's growth.
Opportunity:
Legal research and case analysis
By quickly evaluating massive numbers of statutes, case law, and legal documents, generative AI can improve legal research. Artificial intelligence (AI)-powered systems can assist lawyers in finding pertinent precedents, spotting trends, and offering insights that might underpin legal arguments and tactics. Generative AI can help predict potential outcomes by analyzing past cases and their effects. Law firms and attorneys can use this technology to make more informed decisions about case strategies and settlements. These AI models can continuously learn from new legal cases, regulations, and developments, ensuring up to date with the latest legal trends and insights. It can identify legal precedents and patterns in case law that may take time to be apparent to human researchers. This aids lawyers in building stronger arguments and identifying relevant legal principles.
Segments Insight:
Deployment Model Insights:
The on-premises segment is expected to witness a significant growth rate in the generative AI in legal market during the predicted period. On-premises AI systems benefit from lower latency and quicker response times since data processing and AI model construction are local processes. When it comes to time-sensitive legal chores like contract review, legal research, and case analysis, this real-time or very real-time response is quite helpful.
The legal industry deals with private and sensitive data. Whereas the on-premise deployment of generative AI solutions provides better data privacy and security because the data stays in the regulated environment of the enterprise. Maintaining customer confidentiality and abiding by numerous data protection standards may depend on this level of data control. Internet access may need to be improved or available in some legal contexts. On-premises AI guarantees that crucial AI-powered programs and services continue working without internet connectivity.
The cloud-based segment is expected to register the fastest growth in the generative AI in legal market during the forecast period. Large training datasets and powerful computers are needed for generative AI models. The infrastructure required to process, examine, and store enormous amounts of legal data is provided by cloud-based solutions, which improves AI model training and performance. Cloud-based options make generative AI technology more widely available.
These cutting-edge AI models are accessible to law firms and legal practitioners without requiring them to make significant infrastructure or hardware investments. Pay-as-you-go models are available on cloud platforms, allowing consumers to scale their AI usage to meet their demands. The amount of time spent on various legal activities can be significantly decreased by utilizing cloud-based generative AI, increasing overall productivity and efficiency. Streamlining procedures and eliminating the need for human labor can also result in financial savings for law firms.
Application Insights:
The document review segment is observed to show significant growth in the generative AI in legal market during the forecast period. The most expensive e-discovery stage is document review because of outsourcing and the high expense of hiring attorneys. It often accounts for 70% to 80% of the overall cost of e-discovery. To reduce excessive expenditures, litigants try to reduce the number of documents they must review. E-Discovery's processing phase aims to organize the remaining data for practical, cost-effective document review by removing extraneous information and arranging the remaining data.
End-User Insights:
The law firms segment is expected to have a dominant position in the generative AI in legal market throughout the predicted period. Generative AI can analyze past case data to predict potential outcomes in ongoing cases. As these predictions are not definitive, generative AI can assist lawyers and clients in making more informed decisions. In mergers and acquisitions or contract review processes, these AI tools can quickly understand and extract precise information from large volumes of documents, which helps identify potential risks and assists in due diligence procedures.
The in-house legal department segment is the fastest-growing segment in the generative AI in legal market. Contract drafting, legal research, and document review are routine activities that in-house legal teams frequently handle. Generative AI can automate these procedures, which will save legal experts a lot of time and work. With AI's help, lawyers may concentrate on more intricate and strategic legal issues, ultimately increasing productivity. Instead of outsourcing work to outside suppliers, businesses can better control the confidentiality and security of their sensitive legal information by using in-house generative AI solutions. Contracts are frequently handled by in-house legal teams in significant volumes. To ensure that arrangements are consistent, current, and compatible with legal requirements, AI-powered technologies can streamline the contract management process.
Regional Insights:
North America is dominating and expected to remain a significant region in the generative AI in legal market throughout the predicted timeframe. Generative AI is being widely adopted in the region in order to produce legal documents, contracts, and legal texts. By automating the preparation of standard legal documents, this technology is observed to save time and costs by eliminating the need for manual drafting. The enormous demand for generative solutions for e-discovery and document reviewing processes in the region with infinite legal cases going on has promoted the growth of the market. Artificial intelligence-powered tools can help lawyers perform legal research more effectively. To deliver insights and pertinent facts to support legal arguments, these systems can instantly evaluate enormous amounts of legal data, including case law, statutes, and expert legal views.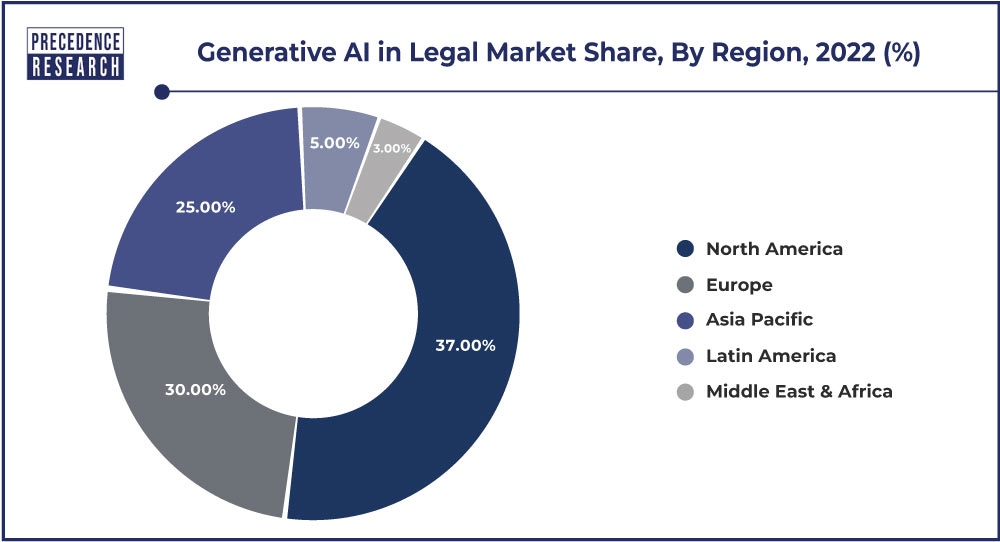 Asia Pacific is expected to generate substantial revenue during the forecast period. The legal industry has not been exempted from Asia Pacific's exceptional adoption rate of new technologies across various sectors. Legal professionals in the area have quickly noticed the potential advantages of generative AI for activities like contract analysis, legal research, and document automation as AI technologies continue to advance. There has been a rise in AI development-focused digital startups in Asia Pacific. Many of these startups have concentrated on developing generative AI programs especially suited to the legal sector. The expanding ecosystem of AI entrepreneurs has facilitated the expansion of AI solutions in the legal industry.
Due to economic expansion, increased commerce, and foreign investments, legal activities have increased dramatically in Asia-Pacific. There is a need for more effective and scalable solutions for handling legal paperwork and processes as the workload in this field grows, which generative AI may provide. Through government programs and legislation, some nations in Asia Pacific area have actively pushed for the development and uptake of AI technologies. These initiatives have made it easier for private businesses, academic institutions, and governmental agencies to work together to study and apply generative AI solutions in the legal field.
Recent Developments:
In June 2023, announcing the signing of a binding contract to buy Casetext for $650 million in cash, Thomson Reuters Corporation, a multinational content and technology corporation, proposed acquisition that will enhance Thomson Reuters' current AI guidance and expand on its recent initiatives, which include a pledge to spend more than $100 million every year on AI capabilities, the creation of new experiences across its product line, and a fresh plugin with Microsoft and Microsoft 365 Copilot for lawyers.
Key Market Players:
IBM Corporation
Open Text Corporation
Thomson Reuters Corporation
Veritone Inc.
ROSS Intelligence Inc.
Luminance Technology Ltd.
LexisNexis Group Inc.
Neota Logic Inc.
Kira Inc.
Casetext Inc.
Segments Covered in the Report:
(Note*: We offer reports based on sub segments as well. Kindly, let us know if you are interested)
By Deployment Model
By Application
Document Review
Legal Research
Contract Analysis
Prediction of Legal Outcomes
Other Applications
By End-User
Law Firms
In-House Legal Department Corporation
Government Legal Departments
By Geography
North America
Europe
Asia-Pacific
Latin America
Middle East and Africa