The global generative AI in real estate market size was valued at USD 351.9 million in 2022 and it is projected to reach around USD 1,047 million by 2032, registering a CAGR of 11.52% from 2023 to 2032.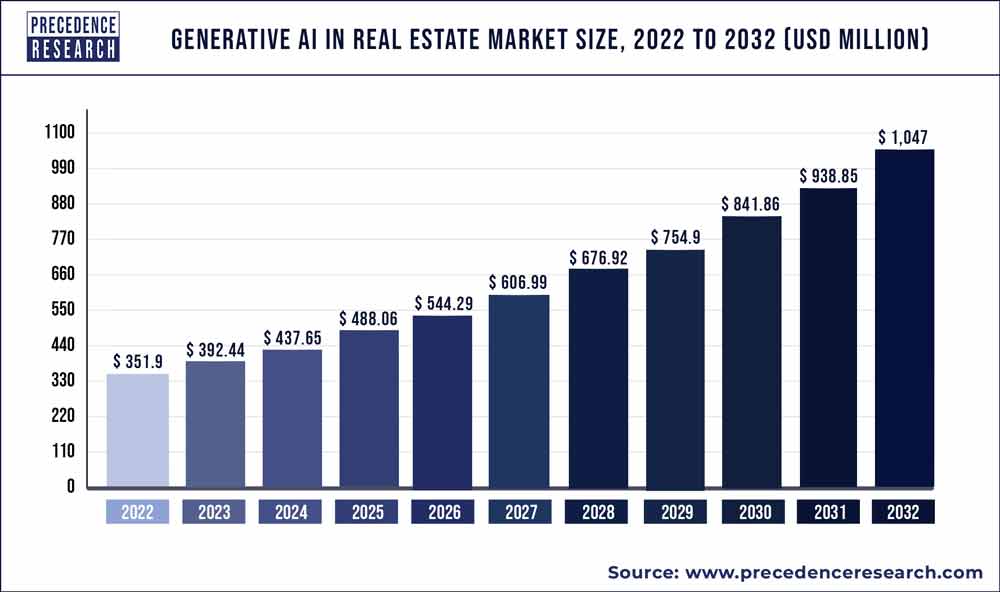 Key Takeaways:
North America contributed more than 41% of revenue share in 2022.
By component, the services segment shows a leading growth in the generative AI in real estate market.
By deployment mode, the cloud-based segment generated more than 60% of the revenue share in 2022.
By application, property valuation is the dominating segment in the generative AI in real estate market during the forecast period.
By end-user, the real estate agents segment shares the maximum CAGR during the projection period.
Market Overview:
Generative AI in real estate market revolves around offering generative models, particularly artificial intelligence (AI) designs, to produce accurate and pertinent material or data. Realistic photos of properties that are yet to exist can also be generated using generative AI algorithms. Generative AI solutions are capable of creating property lists, virtual tours, floor plans, and architectural designs to boost the efficiency of sales and marketing in the real estate industry. Generative AI serves various advantages for real estate market participants, such as producing realistic property images and virtual staging for void spaces, urban planning simulations, accurate property valuation, client experiences evolved through AI assistants, and time and assets savings in marketing and sales efforts.
Growth Factors:
Generative AI in real estate market will enhance transparency by enabling more authentic, swifter, and traceable transactions, and improve the ease of selling, buying, and renting by considering time and effort such as reviewing. Another factor that acts as a growth factor for the market is the capability of generative AI in shortlisting home seekers, speeding up the entire process of from discovery to completion and reshuffling legal documentation. Moreover, generative AI offers easily available dashboards and easily consumable formats, in real-time, this element highlights the growth of the market. Reduction in fraudulent transactions by identifying and minimizing suspicious data are a few other factors that promote the growth of the market.
Report Scope of the Generative AI in Real Estate Market:
| | |
| --- | --- |
| Report Coverage | Details |
| Market Size in 2023 | USD 392.44 Million |
| Market Size by 2032 | USD 1,047 Million |
| Growth Rate from 2023 to 2032 | CAGR of 11.52% |
| Largest Market | North America |
| Base Year | 2022 |
| Forecast Period | 2023 To 2032 |
| Segments Covered | By Component, By Deployment Mode, By Applications, and By End-User |
| Regions Covered | North America, Europe, Asia-Pacific, Latin America, and Middle East & Africa |

Driver:
Rise in urbanization and upsurge in population
The demand for real estate has increased with rapid industrialization and population growth, opening doors for developers and investors to meet housing and infrastructure requirements, construction activity, and property sales opportunities. This element drives the market's growth exponentially. Generative AI can help in efficient urban planning by analyzing large amounts of data, including population density, land use, and transportation patterns. It can produce alternative designs, maximize the use of available space, and offer suggestions on how to sustainably accommodate an expanding population. It can have different design options, assess the viability, and give construction teams effective plans. It can help create properties specially made to suit consumer's demands and preferences. Using demographic information and personal choices, generative AI algorithms can produce designs tailored to the specific needs of certain population segments.
As the urbanization and population rate keep growing, the demand for new construction is viable to grow in upcoming years, which is observed to drive the growth of the market by boosting the adoption rate of generative AI solutions in the real estate sector.
Restraint:
Economic instability
Downturns or inflation can reduce need, tighten lending standards, and impede investor trust. These factors are responsible for producing threats to real estate development and sales. Economic fluctuations like recessions or inflation can badly affect so financial stability is crucial to ensure blooming real estate markets. Market volatility and ambiguity regarding the real estate industry can rise due to economic instability. This volatility might make it challenging to correctly forecast market trends, which is essential for using generative AI algorithms effectively. These algorithms produce insights and forecasts by using previous data and trends. Such historical trends might not hold during unstable economic times, which would restrict the precision and dependability of generative AI models.
Changes in the regulatory framework governing real estate transactions and the property markets may result from economic turmoil. Economic crises may lead to the introduction of new rules or changes in government policy, which may impact the creation and application of generative AI in the real estate industry. Implementing productive AI solutions may be complicated and delayed by complying with new laws or adjusting to altered legal frameworks.
Opportunity:
Shift in demography
Shifting demographics as a senior population or shifting household composition creates opportunities for real estate sectors specializing in senior, student housing, or multi-generational to benefit from the demographic shift. Urban planners must modify towns and cities to meet changing population dynamics due to demographic transitions. Generative AI can help simulate and visualize various urban development scenarios based on demographic forecasts. Decision-makers can assess the effects of multiple development plans and make well-informed decisions regarding infrastructure, zoning, and services for the public by creating digital models of cities and communities. Changes in location and amenity choices are frequently a result of demographic transitions. Generative AI may examine demographic information to produce insights on the sites and facilities that appeal most to demographic groups. Real estate investors and developers can use this information to find lucrative opportunities in developing markets or modify current properties to better meet the needs of shifting demographics.
Segments Insight:
Component Insights:
The service segment shows significant growth in the generative AI in the real estate market during the predicted period. Service providers use chatbots or virtual assistants that respond to client inquiries, offer detailed information about the property, and assist with buying and even selling. The services segment also utilizes generative AI for analysis of the market information and other data, this helps in educating consumers as well as companies about the trends in the industry.
The software segment is expected to register a notable growth in the generative AI in the real estate market during the predicted period. Software tools serve accurate property valuations drawn on location, market information, and amenities. It even utilizes generative AI's capability to automatically list properties which include pictures, descriptions, and virtual tours. This automatically manages property activities such as rent collection, maintenance requests, and contract management
Deployment Mode Insights:
The cloud based segment shows attractive growth in the generative AI in real estate market during the forecast period. The demand for cloud-based solutions exceeds the market as cloud-based solutions can be accessed anywhere with an internet connection, allowing realtors to use the applications and tools involving generative AI from multiple appliances.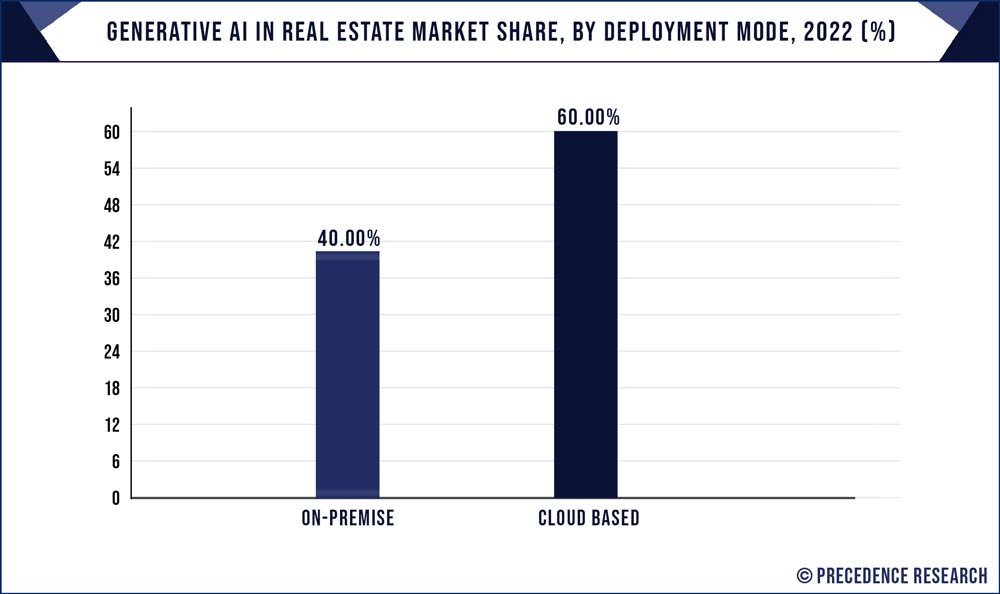 Cloud-based services can be scalable, allowing for more processing power, storage, and computational capability when required, making them suitable for large-scale datasets and complex AI algorithms.
Application Insights:
The property valuation segment is expected to dominate in the generative AI in real estate market during the projected period. Generative AI can analyze vast property data, including historical sales data, property traits, and market trends, and create precise property valuations, such as the venue and amenities, the size, and the property's condition, to develop predictions of current market situations and trends in property values. It also helps designers and architects explore new options, develop innovative solutions for specific design problems, and generate predictive models for maintenance that consider previous data, device specifications, and environmental factors to determine maintenance importances.
The predictive maintenance segment is expected to witness significant growth in the generative AI in real estate market during the projected period. By streamlining maintenance schedules, cutting waste, and extending equipment lifespan, AI can contribute to both expense and resource savings. Reducing mistakes made by people, incidents, and faults can increase safety and quality.
End-user Insights:
The real estate agents segment is anticipated to be the most lucrative segment in the market during the forecast period. The segment is leading in the market owing to the capabilities of generative AI for human agents, as agents can benefit from generative AI tools to evaluate a property that creates accurate and timely valuations using data about its market value and particulars. Generative AI can aid in creating property listings by impulsively creating appealing descriptions, creating 3D models or virtual tours, and identifying suitable images. AI-powered chatbots can help agents answer customer queries and provide information about properties or scheduling viewings. They also aid in renting or buying and can help property managers with various aspects of their work.
The property managers segment is expected to register the fastest growth in the generative AI in real estate market during the predicted period. Property managers may handle maintenance requests more effectively using generative AI. AI systems can comprehend and respond to tenant inquiries, compile pertinent data, and automatically deploy the proper maintenance staff or schedule repairs. Employing a chatbot or virtual assistant driven by machine learning and natural language processing algorithms will allow property managers to automate the procedure of logging and categorizing maintenance requests.
The property management task has been made simple by generative AI, which enables the automatic production of documents, such as lease agreements or inspection reports. Property managers can apply generative AI systems to forecast maintenance requirements and optimize schedules. Property managers may expedite the rental application process by gathering, validating, and processing the necessary data and conducting background checks and free up more time to concentrate on finding the ideal tenants.
The segment architect shows a significant growth in the generative AI in real estate market.
Algorithms of generative AI can be used by architects to swiftly investigate numerous design options. Building dimensions, site circumstances, program needs, and aesthetic preferences are just a few examples of the details that architects can input to generate several design versions to test and refine. Even architectural designs can be optimized by taking several performance requirements into account. By providing design parameters and desired performance outcomes, the algorithm can produce design solutions that maintain the optimal balance of these elements. Based on objectives, including structural stability, cost of energy, and aesthetic appeal, algorithms can produce optimum shapes and structures. These solutions can assist architects in pushing the limits of conventional design methodologies and investigating new architectural possibilities.
Regional Insights:
North America dominates the global generative AI in real estate market and the region is expected to sustain its dominance during the forecast period. The United States has been leading in the adoption of generative AI for the real estate industry in cities such as New York, Los Angeles, and San Francisco, which are observed as major contributors for property valuations. Moreover, substantial demand for personalized recommendations and virtual staging along with the rapid adoption of advanced technologies in the region promote the growth of the market. A strong tech ecosystem in the region is helping to develop new AI startups and technology firms, eventually stimulating real estate growth.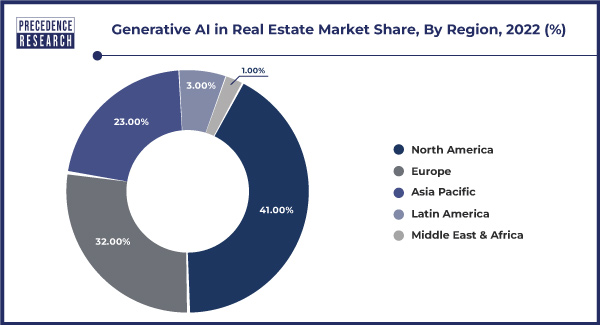 Asia Pacific is registered to show significant growth in the generative AI in the real estate market during the forecast period. Developing countries in the region are well known for their booming real estate sector. Along with this, the rising application of proptech solutions in the estate industry is observed to promote the market's growth in the region. The real estate sector in the region is observing an enormous demand for digitized solutions such as online property sales, this element acts as a growth factor for the market in Asia Pacific.
Recent Developments:
In June 2023, Cohere, an AI base model firm that competes with OpenAI, raised $270 million in a funding round backed by Salesforce Ventures, Nvidia, and Oracle.
In March 2023, Salesforce Ventures released the latest $ 250 million generative artificial intelligence fund to boost the startup ecosystem and develop responsible AI. The fund will previously invest in four companies: Anthropic, Hearth.AI, You.com, and Cohere.
Key Market Players:
Autodesk
OpenAI
Gridics
Cherry
HqO
ai
Io
Matterport
Archistar
Segments Covered in the Report:
(Note*: We offer reports based on sub segments as well. Kindly, let us know if you are interested)
By Component
Software Tools
Services
Platforms
By Deployment Mode
By Applications
Property Valuation
Building Design
Predictive Maintenance
Energy Management
By End-User
Real Estate Agents
Property Managers
Architects
Engineers
By Geography
North America
Europe
Asia-Pacific
Latin America
Middle East and Africa