The global glass filter market size was valued at USD 4.2 billion in 2022 and it is expected to hit around USD 7.25 billion by 2032, growing at a CAGR of 7.24% during the forecast period from 2023 to 2032.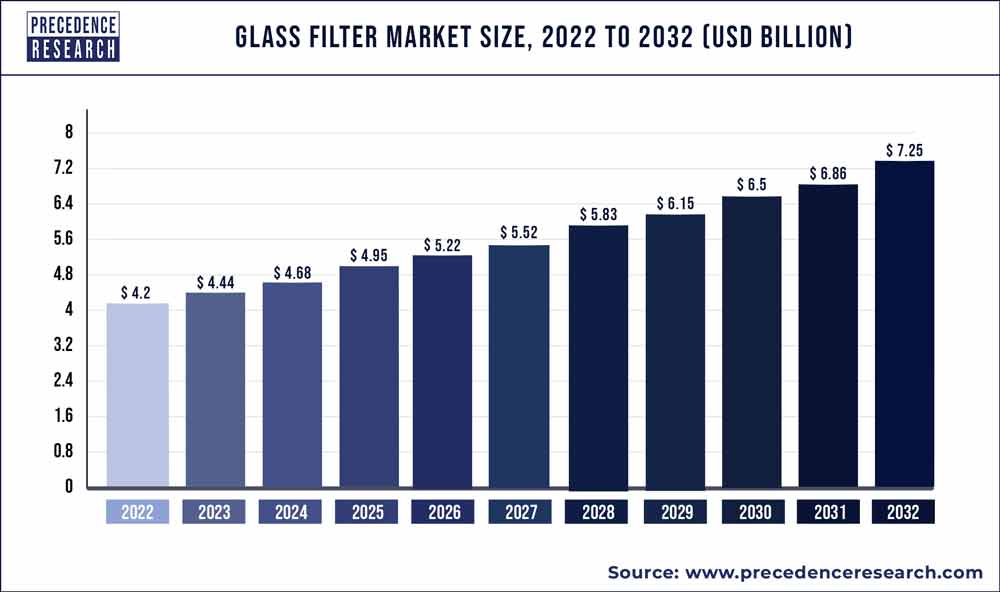 Key Takeaways:
North America dominated the global market in 2022.
By application, the photography segment led the global market in 2022.
By Type, the color filter segment dominated the global market in 2022.
The glass filter market refers to the industry involved in the manufacturing and distribution of filters made from glass materials. Glass filters are commonly used in various applications to modify or control the transmission of light or other electromagnetic radiation. They are intended to transmit, absorb or reflect the specific wavelengths and range of wavelengths in a selective manner. Factors that have an impact on the market for glass filters include technological advancement, increasing demand for high-quality optics, growth in the photo and imaging sector as well as a growing application of glass filters to medicine and science research. In addition, demand from the automotive sector for applications such as sunroof filters and headlamp filters is also observed on the market.
The glass filter is made by various types of glass material, such as borosilicate glass, soda-lime glass and specialized glasses having special optical properties. These filters are available in different shapes, sizes and configurations to satisfy the specific requirements of each application. Technological developments, increased demand for superior quality optics in different industries and a growing application of glass filters in new sectors such as Virtual RealityAR9 and Augmented RealityAR9 are anticipated to drive the Glass Filter Market over the next few years. In addition, demand for glass filters is likely to increase in the lighting industry due to a growing focus on environmental sustainability and energy efficiency solutions.
Report Scope of the Glass Filter Market:
| | |
| --- | --- |
| Report Coverage | Details |
| Market Size in 2023 | USD 4.44 Billion |
| Market Size by 2032 | USD 7.25 Billion |
| Growth Rate from 2023 to 2032 | CAGR of 7.24% |
| Largest Market | North America |
| Base Year | 2022 |
| Forecast Period | 2023 to 2032 |
| Segments Covered | By Type and By Application |
| Regions Covered | North America, Europe, Asia-Pacific, Latin America, and Middle East & Africa |

Key Market Drivers:
Increasing demand for high-quality optics
An important driver of growth in the glass filter market is the growing demand for high-quality optics. The need to scan accurately and precisely is of crucial importance in a number of industries, for example, photography, imaging, aeronautics, or medical devices. In order to achieve better image quality, color clarity and control of lighting, higher-quality optical systems play a crucial role in encouraging the demand for glass filters. In the field of photography, professional photographers and enthusiasts alike strive for exceptional image quality and creative effects. Glass filters are used to control light transmission, adjust color balance, and manage exposure. Filters for enhancing image clarity, reducing the amount of glare and adding fine art elements into images are often applied such as neutralizing densities, polarizers or color correction filters.
Increasing demand for high-quality optics and glass filters on smartphones is anticipated with the continuing growth of the photographic industry, due in large part to the popularity of Social Media Platforms and the continuous development of photographic cameras. High-quality optics are also used in the medical device industry for applications such as endoscopes, surgical microscopes, and diagnostic equipment. Glass filters are used to improve image quality, and contrast, and allow for more accurate diagnosis and treatment.
Furthermore, for selective transmission of special wavelengths of light into biological samples to be accurately scanned and analyzed by researchers and healthcare professionals, the use of specialized glass filters is also used on fluorescence microscopy and spectroscopy. The demand for superior-quality optics and glass filters in health care is expected to increase significantly as a result of technological advances which are making it possible to develop highly-resolution imaging systems and the increasing number of patients demanding improved healthcare.
Therefore, A growing demand for high-quality optics is contributing to the growth of the glass filter market. The use of filter glass enables the industry, including photography, imaging, aeronautics, and medical devices, to achieve a high degree of precision with regard to its light control, color accuracy and image quality. The demand for high-quality optics and accessories such as glass filters is expected to increase with the continued evolution of this sector, resulting in attractive business opportunities for manufacturers and suppliers.
Rising adoption of smartphones
An important driver of growth in glass filters is the increasing adoption of smartphones. Smartphones have become an integral part of our daily lives, and their popularity is increasing all over the world. The demand for highly efficient optics and glass filters on smartphones has been sharply increased as consumers have more and more become interested in taking photographs, sharing photos via social network sites or cherishing great moments.
Recent years have seen remarkable advances in smartphone cameras, where manufacturers continue to refine their image sensors, lens systems and software algorithms with a view to enhancing the photographic experience. However, a large number of users on smartphones are looking outside for accessories other than glass filters to further increase their flexibility and creative control. Glass filters which enable users to control light, create artistic effects and improve image quality have a great impact on smartphones' photography. Neutral-density NK filters allow users to record long exposures or maintain a balanced exposure in bright lighting conditions and are most commonly used for the control of exposure. In difficult environments, ND filters also help to minimize glare and enhance contrast in the images.
In addition to photography, there is a demand for filters on smartphones. With the increasing popularity of video content creation and social media platforms, users are looking for ways to elevate their videos and live streams. Glass filters such as color filters or special effect filters can add artistic flair, alter the mood, or create captivating visuals in video footage. The demand for glass filters continues to be driven by this increasing trend toward videoconferencing on smartphones. As competition grows between mobile phone producers, manufacturers are adding more lenses and advanced camera systems to their products in order to distinguish themselves on the market. This trend has the potential to open up opportunities for users who have a built-in filter capability, enabling them to add special glass filters directly into their lenses, thereby further strengthening the market for solar filters in phones.
Therefore, the market for glass filters has been significantly influenced by the increasing adoption of smartphones. The demand for excellent quality optical and glass filters has increased significantly as users of smartphones increasingly focus on camera usage and seek ways to improve their creative capabilities. The manufacturers respond to this demand by offering a wide range of filters specifically designed for smartphones, which are suitable for the evolving needs of mobile photographers and videographers. The glass filter market is expected to grow further over the next few years, driven by advances in mobile camera technology.
Key Market Challenges:
Availability of substitute technologies
A significant challenge for the growth of the glass filter market has been the availability of alternative technologies. Alternative solutions to recreate or replace physical glass filter functionalities have become available in modern fast-evolving technical environments, via techniques such as Digital Post Processing. The demand of traditional glass filters could be reduced by the availability of alternative technologies, which would have an impact on market growth. A broad range of filter effects, which can be used on images or videos taken after capture are available in digital post-processing software and applications. These software-based filters can simulate the effects of a number of glass filters, e.g. color correction filter, polarizing filter, or Neutral density filter. They're easy to use, enabling users to change filter settings and make changes in postproduction with no need for physical filters.
Digital filters have been widely adopted by photographers and content creators for reasons of ease of use, as well as their ability to preview and change effects without delay. In addition, for many users, this is an appealing proposition because of the cost-effectiveness of digital filters over buying and transporting multiple physical glass filters. The challenges arising from the emergence of alternative technologies have been aggravated by the increasing use of computational photographic technology in smartphones. Mobile phone manufacturers are investing in advanced camera systems that use software algorithms to achieve desired effects without the need for external glass filters. Camera improvements such as portrait mode, HDR and AI-based image enhancement are being incorporated into the camera to reduce dependence on physical filters for smartphones.
The special advantages offered by glass filters compared to other technologies should be stressed by producers in order to overcome this challenge. It shall also highlight the optical quality, precision and tangible advantages of using a physical glass filter. Where the advantages of glass filters in terms of optical performance, durability, and specific effects can make a difference, manufacturers can focus on specific applications, niche markets or premium segments.
Moreover, it can help to raise awareness and stimulate demand by providing customers with information about the distinctive characteristics of glass filters as well as their creative possibilities. To make glass filters a necessary tool for artists and content creators, it may be helpful to support the value of physical filter elements in terms of color accuracy, light control or their practical impact on image quality.
Key Market Opportunities:
Emerging technologies
The glass filter sector has great potential for growth owing to the development of new technologies. The rapid development of new technology such as Virtual Reality VRAR, Autonomous Vehicles and 3D Sensing creates new demand for Advanced Optical Solutions. These systems are heavily dependent upon precise control of light, color accuracy and filter capabilities which can be dealt with by glass filters. Glass filters are a critical part of the user experience enhancement in Virtual Reality and Augmented Reality sectors. VR headsets require high-quality optics to deliver immersive visual content, while AR devices need filters to improve image clarity and reduce glare. Glass filters can help optimize light transmission, control reflections, and enhance color fidelity, providing users with a more realistic and engaging virtual or augmented environment.
Another opportunity for the glass filter market is expected to come from the increasing number of vehicles that are driven autonomously. As self-driving cars grow more common, they rely on improved sensing technology for navigation and object detection, such as LiDAR (Light Detection and Ranging) and cameras. Glass filters can be employed in these sensors to filter out undesirable wavelengths, improve signal-to-noise ratios, and improve data gathering accuracy. As autonomous driving technologies advance, demand for excellent glass filters in automotive applications is projected to rise.
Furthermore, in the field of 3D sensing, which also includes depth perception and spatial mapping, it is vital to rely on accurate light components such as glass filters. Glass filters must be used to control the transmission of light, reduce noise and remove unwanted signals when using 3D sensing techniques in facial recognition systems, gesture recognition, augmented reality equipment or industrial automation so as to enable precise and reliable 3D detection capabilities.
Segments Insight:
Type Insights:
On the basis of type, the market is segmented into color filters, neutral density filters, heat absorbing filters, and others. The most widely used type of glass filter is the color filter, which is used to selectively transmit or absorb specific wavelengths of light. In order to minimize the light intensity without affecting its color, it is appropriate to use undispersed density filters. Filters that absorb heat are used to protect optical devices from heat damage.
Application Insights:
By application, the market is segmented into photography, imaging, telecommunications, and others. Photography is the largest application for glass filters and is used to improve the quality of images by reducing glare, increasing contrast, and correcting color casts. Imaging is another major application for glass filters and is used in a variety of applications, such as medical imaging, security, and industrial inspection.
Regional Insights:
By region, the market is segmented into North America, Europe, Asia Pacific, and Latin America. North America is the largest market for glass filters, followed by Europe and Asia Pacific.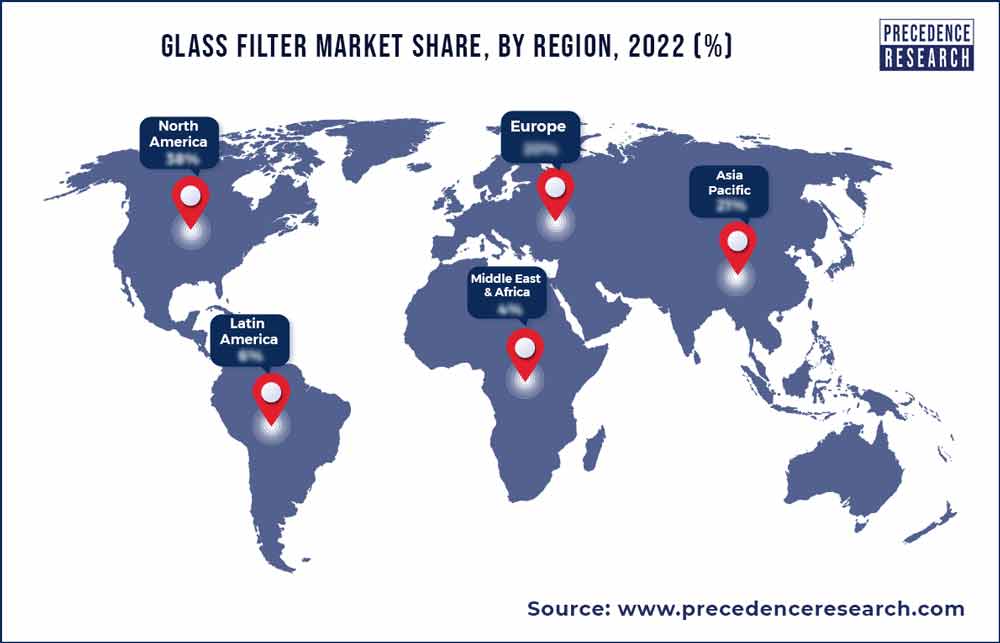 The growth of the market in North America is driven by the increasing demand for high-quality products and the growing adoption of glass filters in a variety of applications.
Key Market Players:
HOYA
Schott AG
Schneider
Isuzu Glass
Sherlan Optics
Kopp Glass
Shanghai Optics (S.O.)
WTS Photonics
Esco Optics
Segments Covered in the Report:
(Note*: We offer reports based on sub segments as well. Kindly, let us know if you are interested)
By Type
Color Filters
Neutral Density Filters
Heat Absorbing Filters
Others
By Application
Photography
Imaging
Telecommunications
Others
By Geography
North America
Europe
Asia-Pacific
Latin America
Middle East and Africa