The global glaucoma market size was estimated at USD 6.92 billion in 2022 and it is expected to hit around USD 13.02 billion by 2032, poised to grow at a CAGR of 6.52% during the forecast period from 2023 to 2032.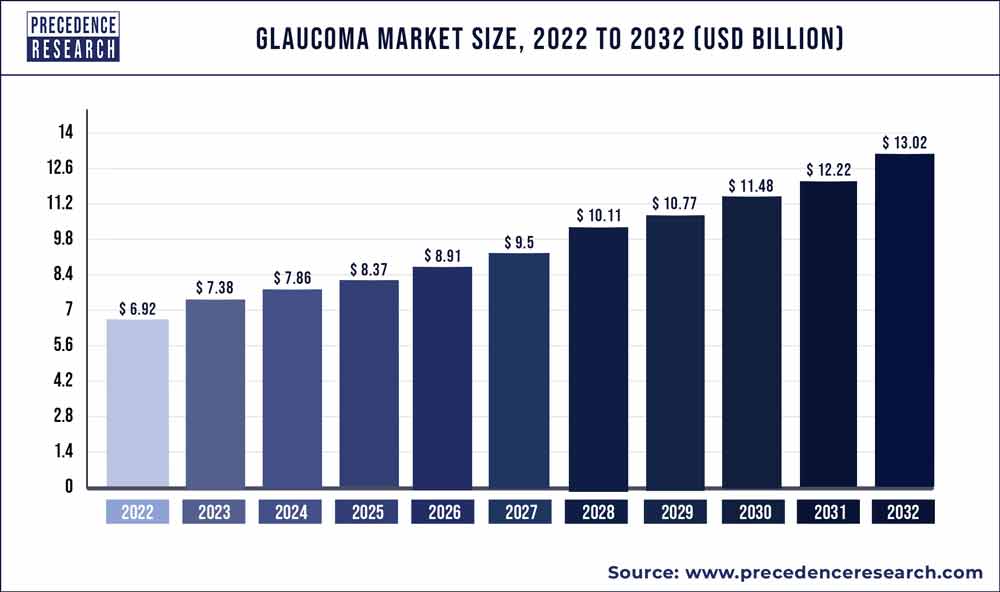 Access our Premium Real Time Data Intelligence Tool, Visit: Precedence Statistics
Key Takeaways:
North America is projected to dominate the global market during the forecast period.
Asia Pacific is expected the record the fastest CAGR from 2023 to 2032.
By disease type, the open angle segment industry dominated the market during the forecast period.
Based on drug class, the prostaglandin analog portion will escalate to treat the sickness, which has several benefits, including one daily dose's effectiveness.
By distribution channel, the hospital pharmacy segment dominates the market growth over the forecast period.
Market Overview:
One of the most prevalent ocular conditions seen in secondary and primary care settings, glaucoma is the third most common cause of blindness in the general population. Glaucoma is a condition that damages the optic nerve of your eye and gets worse over time. It frequently has to do with an increase in pressure inside your eye. The optic nerve that transmits images to your brain may get damaged due to increased intraocular pressure in your eye. Glaucoma can, within a few years, result in total blindness or irreversible vision loss if the disease develops. The glaucoma market is the demand for medications and therapies used to treat glaucoma. Over the past ten years, glaucoma drugs have become more widely accessible, while laser trabeculoplasty has become more popular, leading to a decline in invasive incisional surgery. The rising prevalence of glaucoma, rising activities to raise awareness of glaucoma, and technical breakthroughs in the field of ophthalmology are the main drivers of the growth of the glaucoma treatment market. The second most common cause of blindness in the world is glaucoma.
A Northwestern Medicine study in mice has discovered novel glaucoma therapeutic targets, including preventing a severe form of the disease in children and discovering a potential new class of medication for the most prevalent type of the disease in people. The study attempted to replace the glaucoma-causing genes' function using gene editing and a novel, durable, non-toxic protein therapy (Hepta-ANGPT1).
By 2040, India's rate of glaucoma eye disease is predicted to double, according to an ophthalmologist. Approximately 12 million Indians suffer from glaucoma, with 40–50% of cases of this eye condition going undiagnosed. Globally, January is recognized as Glaucoma Awareness Month, during which numerous awareness initiatives are carried out to raise awareness of eye diseases.
Growth Factors:
In 2019, statistics from the WHO indicated more than 60 million glaucoma patients worldwide.
The rising prevalence of glaucoma, rising attempts to raise awareness of glaucoma, and technical breakthroughs in the field of ophthalmology are the key drivers of the growth of the glaucoma treatment market. The second most common cause of blindness in the world is glaucoma. In most cases, increased intraocular tension is to blame. The main therapeutic objective is to reduce intraocular pressure, and this is done by either increasing or decreasing aqueous fluid output.
In 2019, statistics from the WHO indicated more than 60 million glaucoma patients worldwide.
Glaucoma is responsible for nine to twelve percent of all blindness cases in the nation, or more than 120,000 people. Only around half of people with glaucoma know they have it, as symptoms frequently don't appear until the condition is advanced.
Therefore, the market is anticipated to expand rapidly throughout the forecast period due to increased glaucoma occurrences.
Report Scope of the Glaucoma Market:
| | |
| --- | --- |
| Report Coverage | Details |
| Market Size in 2023 | USD 7.38 Billion |
| Market Size by 2032 | USD 13.02 Billion |
| Growth Rate from 2023 to 2032 | CAGR of 6.52% |
| Largest Market | North America |
| Fastest Growing Market | Asia Pacific |
| Base Year | 2022 |
| Forecast Period | 2023 To 2032 |
| Segments Covered | By Disease Type, By Drug Class, and By Distribution Channel |
| Regions Covered | North America, Europe, Asia-Pacific, Latin America and Middle East & Africa |

Market Dynamics:
Driver:
The demand for efficient prescription eye drops for glaucoma is driving its treatment
Manufacturers and industry participants in the glaucoma treatment market aim to create newer drug combinations and prescription eye drops to control glaucoma at an early stage. Numerous biomedical and pharmaceutical businesses invest in product development to reduce the pressure on healthcare facilities. Beta-blockers, carbonic anhydrase inhibitors, alpha-agonists, cholinergics, prostaglandin analogs (PGAs), beta-blockers, carbonic anhydrase inhibitors, carbonic anhydrase inhibitors, and some combination therapies are some of the drugs used to treat glaucoma. By promoting fluid evacuation from the patient's eye, these medications aid in lowering intraocular pressure. However, instances of drug recalls by essential industry players need to be improved for the global glaucoma treatment market to expand. Failure to meet regulatory requirements and observable contaminants in various medicine combinations are the leading causes of these product recalls. When regulatory requirements are not met, patients, medical professionals, and the public become anxious and skeptical.
In the upcoming years, the market for glaucoma treatment may expand thanks to alternative methods that don't require much medicine and provide long-lasting comfort. Laser therapy, selective laser trabeculoplasty, and minimally invasive glaucoma operations, sometimes known as MIGs, are a few alternative treatments for glaucoma. Both methods lower intraocular pressure by causing the patient's eye to produce more fluid.
Restraint:
Side effects associated with the drugs
For the treatment of glaucoma, there are many medications available. Several possible adverse effects of glaucoma drugs include Analogs of prostaglandins
Prostaglandin analogs: PGAs raise uveoscleral outflow, which lowers IOP. Hypertrichosis, conjunctival hyperemia, irreversible iris darkening, darkening of the periorbital skin, prostaglandin-associated periorbitopathy (PAP), cystoid macular edema (CME), and non-granulomatous anterior uveitis are a few potential side effects of these medications. Following the start of PGA, hypertrichosis frequently develops between 6 and 12 months later. Trichiasis needing epilation has also been documented. The eye and periorbital skin often get darker due to PGA-induced melanogenesis. Ptosis, deepening of the lid sulcus, enophthalmos, dermatochalasis, and loss of periorbital fat are some of the involutional changes to the eyelids that make up PAP. However, those familiar with bimatoprost (> 93.3%) may recognize the syndrome.
Alpha-2 adrenergic agonists: By reducing the output of aqueous humor, alpha-2 agonists reduce IOP. A popular selective alpha-2 adrenergic agonist is brimonidine. Six to nine months after starting the medication, brimonidine can result in acute follicular conjunctivitis in 5% to 9% of individuals. After 15 months, a delayed follicular reaction has been documented. Another alpha-2 adrenergic agonist, apraclonidine, has a greater incidence (30–48%). Alpha-2 adrenergic agonists frequently cause dry mouth, which is a side effect that can be related to a systemic action. The lipophilic nature of this drug class and its capacity to pass the blood-brain barrier may make children and older adults more susceptible to central nervous system side effects, including lethargy, apnea, hypotension, and bradycardia.
Beta blockers' adverse effects include weariness, low blood pressure, and a slowed heartbeat. People with a history of asthma or other respiratory diseases may experience shortness of breath when using beta-blockers. Beta-blockers can also alter cardiac activity by lowering the amount of blood the heart pumps, which may reduce the pulse rate and slow the heart's reaction time during exercise. Depression and decreased libido are uncommon side effects.
Carbonic Anhydrase Inhibitors: Mental fuzziness, memory problems, depression, kidney stones, frequent urination, and carbonic anhydrase inhibitors can also result in burning or a loss of strength in the hands and feet and an upset stomach. These drugs come in pill form, and the eye drops might cause stinging, burning, and other uncomfortable eye effects.
Opportunity:
Pipeline treatment
The main driver of the market expansion during the projection period will be the numerous pipeline medicines for the currently developed condition. One of the most recent innovations is a brand-new drug for glaucoma treatment created by the University Of Minnesota College Of Pharmacy's Department of Medicinal Chemistry and Institute for Therapeutics Discovery & Development (ITDD). Netarsudil mesylate, ripasudil hydrochloride hydrate, latanoprost, PH-011, PH-012, netarsudil mesylate, latanoprost, (bimatoprost + timolol), and (latanoprost + netarsudil) are some of the top glaucoma medications under development. In most cases, prostaglandin analogs are the first line of treatment.
NCX 470 (Nicox SA): NCX 470, a PGA made from a nitric oxide-donating substance, has demonstrated promise in clinical trials. In decreasing IOP and treating glaucoma and ocular hypertension, the solution outperformed bimatoprost in prior animal research.
In 2021, recently the manufacturer announced the outcome of the dose-response Phase II trial (Dolomites), which demonstrated that patients taking the innovative medication had IOP-reducing benefits that were noticeably greater than those taking latanoprost.
In the Phase II studies, latanoprost was administered at a concentration of 0.005%, while topical NCX 470 was supplied at 0.065%. According to the manufacturer, NCX 470 effectively reduced patients' IOP levels by up to 1.4 mmHg more than latanoprost at all-time points during the 28-day trial.
Cromakalim prodrug 1 (CKLP1) is an ATP-sensitive potassium channel opener being studied by researchers from the United States and the United Kingdom. It is one of two potential medications that use a new mechanism of action involving the reduction of episcleral venous pressure (EVP).
Omidenepag isopropyl (Omdi, Santen) is a medication available in Japan and other Asian countries since 2018; however, the FDA has not yet approved it. Omdi is a selective EP2 prostanoid receptor agonist that is not prostaglandin-based. Its safety and effectiveness have been demonstrated in numerous research. One of these studies indicated that Japanese patients with open-angle glaucoma or ocular hypertension experienced sustained IOP reductions for 52 weeks when Omdi 0.002% was treated alone or concurrently with timolol 0.5%.
A recent clinical trial included 190 patients Omdi 0.002% was well tolerated and non-inferior to latanoprost 0.005% in lowering IOP in patients with ocular hypertension or primary open-angle glaucoma.
May 2022, the released drug's most recent trial indicated that "Omdi showed an IOP-lowering effect in eyes with various types of glaucoma and using various therapeutic regimens in real-world clinical practice," according to the study's authors.
Segments Insight:
Diseases Type Insights:
The diseases type in the disease-type sector, the open angle led the market, which is anticipated to continue throughout the expected time frame. The condition's high prevalence explains why this is distinct from other types of glaucoma. Primary open-angle glaucoma (OAG) is the most prevalent kind of glaucoma. If the eye usually functions, fluid exits the anterior chamber through the gap between the cornea and iris and disappears from view. When OAG is present, the liquid slowly leaks out and accumulates, increasing the pressure inside the eye and potentially leading to a gradual loss of eyesight. The market for open-angle glaucoma care and therapies is growing due to the aging population's growth and the frequency of chronic eye diseases. Open-angle glaucoma may not manifest symptoms in the early stages and often advances slowly. Blind patches generally appear as the disease progresses since peripheral vision is typically the first to be compromised.
On the other hand, acute angle-closure glaucoma (ACG), also known as angle-closure or narrow-angle glaucoma is less common and happens when the iris blocks the angle. If ignored, ACG can quickly result in visual loss. The "angle" between your iris and cornea "closes" as they get closer to one another. Your canals are entirely blocked by acute angle closure glaucoma. Like a piece of paper slipping over a sink drain, it prevents fluid from flowing through it.
Drug Class Insights:
The drug class, segmental demand will increase as prostaglandin analogs, which have several benefits, including effectiveness with a single daily dose, are used more frequently to treat the condition. The category is also anticipated to grow significantly due to the increased demand for prostaglandin medications used in combination therapy. The prostaglandin analog industry retained the most significant market share for the drugs because they successfully decrease intraocular pressure and have fewer adverse effects than other therapies. The prostaglandins section also includes subsections for latanoprost, bimatoprost, travoprost, and other substances. Combination medicines are a further emerging option for treating complex and rapidly progressing glaucoma in some rare instances. The expanded study of prostaglandin analogs has altered how glaucoma patients use this pharmaceutical class.
In some rare cases, combination medications are another growing therapy for treating challenging, rapidly developing glaucoma.
Distribution Channel Insights:
The distribution channel Hospital pharmacies are anticipated to hold the largest market share throughout the projected period. The large selection of products for diverse treatment modalities is to blame for the massive growth. Patients' preference for hospital pharmacies when purchasing prescription drugs aids revenue growth. It will also strengthen market estimates by offering insurance coverage and payment guidelines for pharmaceutical purchases conducted in hospital settings. The retail pharmacy segment is anticipated to experience the most significant increase. The growing preference for treatments in outpatient settings among older people is expected to fuel the growth of the retail pharmacy category.
Regional Insights:
One of the main factors contributing to North America's dominance in this sector is its practical treatment framework and sophisticated hospital diagnosis infrastructure. Since the problem worsens gradually, efficient diagnostic instruments allow for early identification. The increasing number of FDA approvals and medicine launches for the treatment in the area is supporting the increase. More than 3 million Americans have glaucoma, and open-angle glaucoma is the most prevalent type, according to research from the Bright Focus Foundation.
In September 2020, the two glaucoma medications introduced by Micro Labs USA were dorzolamide 2% and dorzolamide-timolol. Micro Labs USA intends to launch new ophthalmic solutions that are now undergoing FDA evaluation and development to satisfy the rising demand.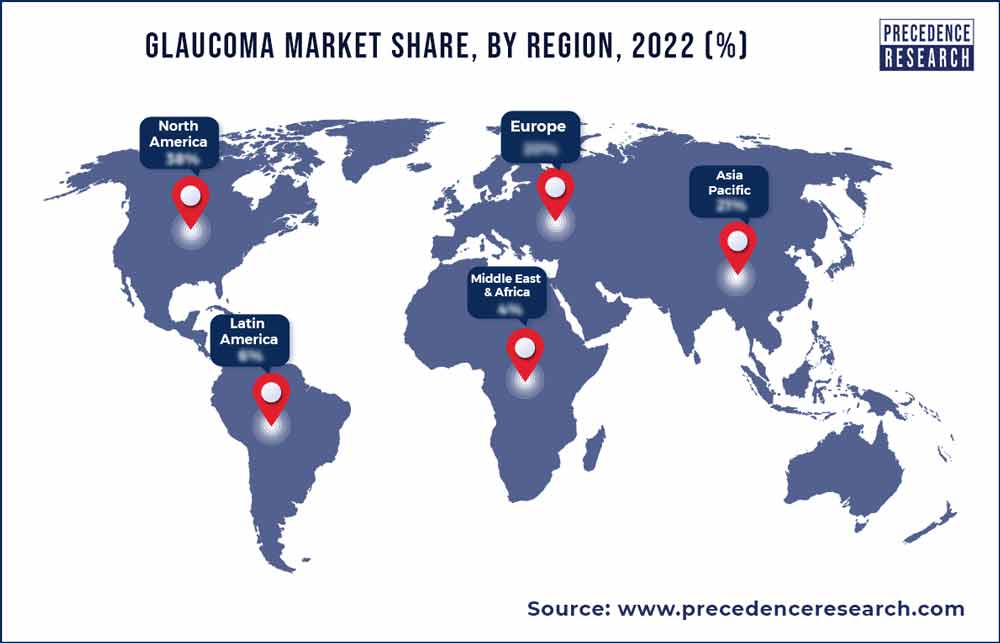 Additionally, Allergan Plc announced in July 2019 that the US Food and Drug Administration (FDA) had accepted the New Drug Application (NDA) for Bimatoprost Sustained Release. The first sustained, reversible implant for treating people with primary open-angle glaucoma or ocular hypertension would be called bimatoprost SR. The excellent reimbursement situation in Europe is predicted to be perfect, which will encourage people to use glaucoma therapies. Glaucoma treatments are currently among the approved, subsidized therapeutic commodities that UK residents can access through the National Health Service (NHS).
On the other hand, due to the region's aging population, which is exceptionally high in countries like China and Japan, Asia-Pacific is predicted to grow faster in the market. Public spending is lower in Asia, and most medical operations are fee-for-service. The largest markets are Japan and South Korea, but China will grow at the highest rate due to rising healthcare costs and accelerated economic expansion. Additionally, the availability of potent generics, particularly in countries like India, will cause the number of anti-glaucoma medications to increase. However, compared to the growing regions of Asia and the Pacific, Japan will have the most significant development in the surgical industry. Additionally, the number of anti-glaucoma medications will rise due to the availability of solid generics, particularly in nations like India. However, Japan will experience the most significant growth in the surgical business when compared to other developing Asia-Pacific nations.
Recent Developments:
September 2022, The U.S. Food and Drug Administration (FDA) today approved OMLONTI® (omidenepag isopropyl ophthalmic solution) 0.002% eye drops for the reduction of elevated intraocular pressure (IOP) in patients with primary open-angle glaucoma or ocular hypertension, according to a joint statement from Santen Pharmaceutical Co., Ltd. and UBE Corporation (head office in Ube; from now on "Santen" and "UBE")
April 2023, On April 23–27, 2023, in New Orleans, the Association for Research in Vision and Ophthalmology (ARVO) 2023 Annual Meeting will feature five presentations sponsored by the Janssen Pharmaceutical Companies of Johnson & Johnson.
Key Market Players:
Novartis
Santen Pharmaceutical
New World Medical
Ellex Medical Lasers
Abbott Laboratories
Johnson & Johnson
Ziemer Ophthalmic SystemsTopcon
Lumenis
Allergan
Segment Covered in the Report:
(Note*: We offer reports based on sub segments as well. Kindly, let us know if you are interested)
By Disease Type
Open Angle Glaucoma
Angle Closure Glaucoma
Other
By Drug Class
Prostaglandin Analog
Beta Blockers
Adrenergic Agonist
Carbonic Anhydrase Inhibitors
Others
By Distribution Channel
Hospital Pharmacy
Retail Pharmacy
Online Pharmacy
By Geography
North America
Europe
Asia-Pacific
Latin America
Middle East and Africa