The glutamic acid market size was reached at USD 12.63 billion in 2022 and it is expected to expand around USD 22.3 billion by 2032, anticipated to increase at a CAGR of 5.9% from 2023 to 2032.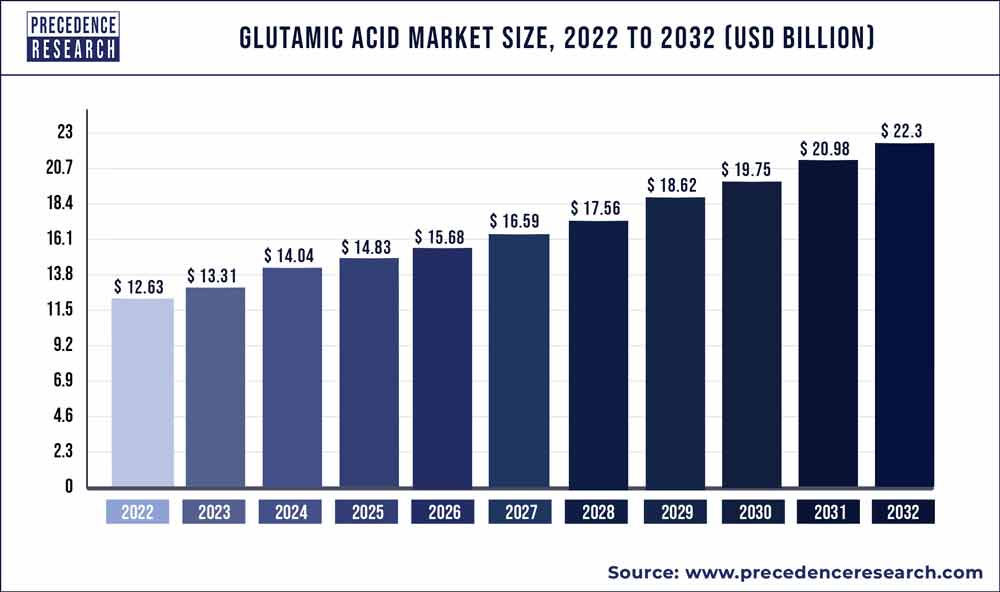 Access our Premium Real Time Data Intelligence Tool, Visit: Precedence Statistics
In the near future, it is predicted that the rising demand for animal feed will be accompanied by an increase in the use of food enhancers and additives in the food and beverage sector. A number of economies have been devastated by the COVID-19 virus's proliferation, and supply networks in several industries have been seriously damaged.
Therefore, it is expected that any changes in the demand from the end-use industries would have a direct effect on the demand for glutamic acid. The demand for glutamic acid in the food and beverage and pharmaceutical industries has been positively affected by people's growing knowledge of the need of consuming nutritious goods.
The product is produced through the fermentation process, which includes the phases of fermentation, evaporation, carbon adsorption, centrifugation, crystallization, and ion exchange, utilizing the necessary raw ingredients. Because the goods produced by the fermentation process are of such high quality and purity, it has become more popular among producers. However, the procedure requires a lot of cash and uses a lot of water and energy.
The non-essential amino acid glutamic acid usually referred to as glutamate, is vital for the efficient operation of cells. The amino acid is necessary for eliminating extra nitrogen from the human body as well. Glutamic acid is a key excitatory neurotransmitter in the neurological system. The amino acid participates in a variety of cognitive processes in the brain, including memory and learning, and is essential for synaptic plasticity. The precursor glutamic acid is used to create inhibitory GABA. Overstimulating glutamic acid has been associated with conditions including lathyrism, amyotrophic lateral sclerosis, and Alzheimer's. Additionally, the amino acid has been linked to epileptic convulsions. Glutamate helps ulcers heal more quickly, fights weariness, and boosts cognitive function.
Scope of the Glutamic Acid Market
| | |
| --- | --- |
| Report Coverage | Details |
| Market Size in 2023 | USD 13.31 Billion |
| Market Size by 2032 | USD 22.3 Billion |
| Growth Rate from 2023 to 2032 | CAGR of 5.9% |
| Largest Market | Asia Pacific |
| Fastest Growing Market | North America |
| Base Year | 2022 |
| Forecast Period | 2023 to 2032 |
| Segments Covered | |

Growth Factors
The glutamic acid industry is still expanding strongly thanks to its many benefits. The food and beverage industry's growing need for food enhancers, food additives, and animal feed are some of the key drivers of this product's rising demand. The pharmaceutical, beverage, and food industries have seen a growth in glutamic acid demand as consumer knowledge of the benefits of eating healthful goods has grown. Due to the rising global population, rising consumption of meat and dairy products, rising disposable income, and rising demand for healthier, more nutritious, tastier, and higher quality meat food products, the processed food and animal feed industries stand out and will experience significant growth.
This pattern would support the market expansion for glutamic acid. Because glutamic acid is employed as a flavor enhancer in ready-to-eat and processed foods as well as in food additives, glutamic acid market growth is anticipated to be boosted throughout the projected period. Furthermore, more and more people who care about their health are choosing natural food additives over synthetic food additives. Manufacturers are exploring a number of strategies to offer cutting-edge food items in order to adapt to the changes in the eating habits of today's customers. The glutamic acid market is anticipated to expand faster as a result of these changing customer preferences.
Since there won't be any travel restrictions following the epidemic, it will be simple to provide the products, which has led to a surge in demand for nutritional supplements and nutritious food items. The longer-term persistence of COVID-19 had an impact on the supply chain since it was disrupted and it was harder to get food products to customers, who at first reduced demand for goods. However, after COVID, there has been a marked increase in demand for dietary items that promote health and well-being as a result of growing knowledge of the long-term advantages of amino acids in balanced diets.
Key Market Drivers
Steady growth in industries
An amino acid necessary for the synthesis of proteins is glutamic acid. The demand for animal feed as a result of the rising consumption of poultry products like chicken, pork, beef, turkeys, and geese, as well as the rising demand for aquatic products like fish and shrimp, is expected to fuel market growth over the forecast period. These factors together with the rising consumption of such acids as food additives and enhancers in the food and beverage industry are also expected to contribute to the market growth.
To maintain their manufacturing capacity, buyers want long-term contracts at market-competitive prices. It is anticipated that rising demand from producers of functional foods and pharmaceutical businesses would have an impact on product pricing. As a result, during the anticipated timeframe, buyer power is anticipated to remain high.
Consumer awareness toward healthy and nutritious foods
Future glutamic acid market expansion is anticipated to be fuelled by consumer awareness of wholesome meals. Growing public knowledge of health concerns aids in preventing the onset of some diseases. Due to its qualities, food containing glutamic acid is advantageous to memory as well as general physical well-being. Thus, as consumer interest in eating wholesome foods grows and health-related awareness among the general population rises so does demand glutamic acid.
For instance, the market for healthy eating, nutrition, and weight reduction increased from $912 billion in 2019 to $946 billion in 2020, according to the Global Wellness Institute, a non-profit organization with headquarters in the US. Additionally, the sub-sector for foods and beverages with a healthy label had the most revenue in 2020 ($680 billion), followed by the sub-sectors for vitamins & supplements ($137 billion), and weight loss goods & services ($128 billion). As a result, rising consumer awareness of the benefits of eating wholesome foods is fueling the glutamic acid market's expansion.
Key Market Challenges
The excessive intake of glutamic acid can lead to fatigue problems - Some problems are preventing market expansion. Overconsumption of glutamic acid can cause headaches and weariness, which might impede market expansion.
Key Market Opportunities
Increase in the number of initiatives taken by amino acid manufacturers
The producers of amino acids will have more opportunities to develop the worldwide amino acids market as they debut new products, expand their operations, make investments, and take other efforts. Due to their numerous health benefits, including their ability to build muscle, support body tissue repair, and maintain healthy skin, hair, and nails, amino acids are becoming more and more in demand across a range of industries, including food and beverage, cosmetics, pharmaceuticals, and dietary supplements.
As consumer knowledge of the health advantages of amino acids grows, so will the market's need for them, allowing producers to introduce new goods, boost production capacity, and raise capital to produce a range of amino acid-based products for diverse end users.
Segments Insight
Application Insights
In 2022, the market was led by the food and beverage application sector, which had a revenue share of approximately 81%. This is explained by glutamic acid's expanding use as a taste enhancer in the food and beverage sector. Generally speaking, canned vegetables, processed meat, salad dressings, carbohydrate-based snacks, soups, and dairy items like ice cream, bread, and cheese employ monosodium glutamate (MSG), a component of glutamic acid, as a taste enhancer. The demand for glutamic acid in the food and beverage industry is anticipated to rise due to convenience foods and ready-to-drink drinks' rising popularity throughout the world.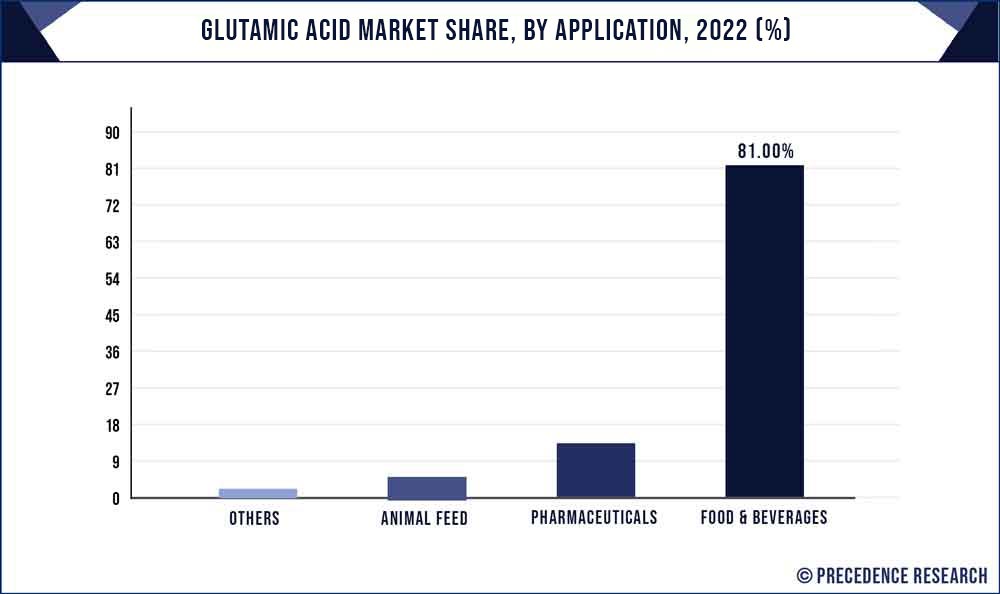 Over the projected period, the category for pharmaceuticals is expected to grow at the highest revenue-based CAGR of 8.2%. Glutamic acid is used in pharmaceutical applications to treat a number of illnesses, including epilepsy, muscular dystrophy, neurotransmission imbalances, and cognitive and behavioral issues in people, as well as to avoid nerve damage during chemotherapy. Favorable government policies supporting the pharmaceutical business and expanding private company investment are anticipated to stimulate the pharmaceutical industry, which is anticipated to increase glutamic acid usage in the upcoming years.
Glutamic acid is used in the personal care and cosmetics sector to modify the pH levels in cosmetics and personal care items. It is utilized in a variety of items, including anti-aging creams, infant products, eye cosmetics, hair care products, skincare products, and bath products. Due to its ability to promote skin health, prevent free radical damage, and retain moisture, it is utilized in anti-aging and acne lotions.
Glutamic Acid Market Share, By Region, 2022 (%)
| | |
| --- | --- |
| Regions | Revenue Share in 2022 (%) |
| North America | 24% |
| Asia Pacific | 51% |
| Europe | 18% |
| Latin America | 4% |
| MEA | 3% |

Regional Insights
With a revenue share of over 51% in 2022, Asia Pacific led the market and is anticipated to expand at the highest rate during the forecast period. This is attributable to the growth of end-use businesses in the region's rising economies, including animal feed, pharmaceuticals, cosmetics, personal care, and food and beverage. With a capacity of more than 187 million metric tonnes yearly, China is one of the leading feed producers in the area.
Due to the large population of livestock, the need for animal feed is expected to increase in nations like China and India. As a result of the increasing demand for meat in regional cuisines, pork and poultry has become the most popular animal types in the Asia Pacific region. Due to extensive cow farming operations, Vietnam and Thailand are two of the region's most important markets for animal feed.
In 2022, North America held the second-largest market share. The rising demand for medicines and animal feed is expected to be a major factor in driving glutamic acid consumption in North America. The substance is used in the pharmaceutical industry to create a range of medications for the management of various illnesses, including epilepsy and cognitive issues. The pharmaceutical industry in North America is anticipated to reach USD 633 billion by 2024, achieving a CAGR of 3.8% during the projected period, according to research released by a U.K. based pharmaceutical firm in 2020.
The Organization for Economic Co-operation and Development (OECD) ranks North America's consumption of dairy goods like cheese as second only to that of Europe. According to a Dairy Food article from April 2019, the average amount of cheese consumed per person in North America grew from 11.7 pounds in 1995 to 15 pounds in 2017. Thus, it is predicted that over the course of the forecast period, the market in the area would be driven by the rising demand for a variety of food and beverage items in North America.
Recent Developments
October 2020 - The Agrinos Group of enterprises was purchased by American Vanguard Corporation (AVC), a US-based agrochemical firm, for an unknown sum. Through this purchase, AVC's Green Plant liquid nutrition solutions, which have shown great development in the Central American market, are anticipated to be complemented by Agrinos's range. Agrinos is a full-service producer of biological inputs with headquarters in the US.
Key Market Players
Ajinomoto Co., Inc.
Akzo Nobel N.V.
Evonik Industries AG
Sichuan Tongsheng Amino acid Co., Ltd.
KYOWA HAKKO BIO CO., LTD.
Ottokemi
Hefei TNJ Chemical Industry Co., Ltd.
Suzhou Yuanfang Chemical Co., Ltd.
Global Bio-chem Technology Group Company Limited
Ningxia Yipin Biological Technology Co., Ltd.
Market Segmentation
(Note*: We offer reports based on sub-segments as well. Kindly, let us know if you are interested)
By Application
Food & Beverages
Pharmaceuticals
Animal Feed
Others
By Geography
North America
Europe
Asia-Pacific
Latin America
Middle East & Africa (MEA)