The global grow lights market size was accounted at USD 5.9 billion in 2022 and it is expected to attain around USD 24.44 billion by 2032, expanding at a CAGR of 15.27% during the forecast period from 2023 to 2032.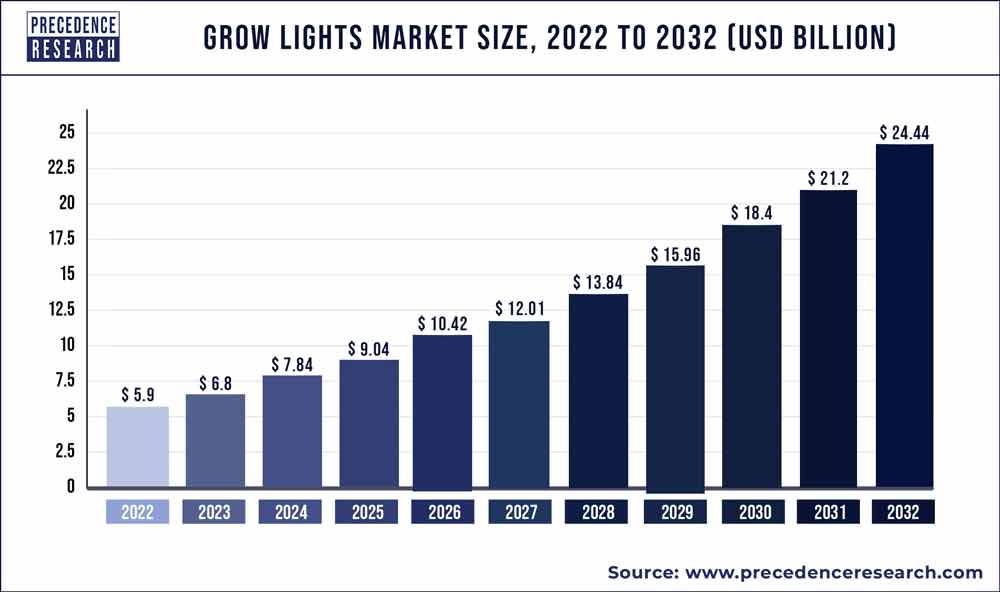 Access our Premium Real Time Data Intelligence Tool, Visit: Precedence Statistics
Market Overview:
The grow lights market refers to the industry that focuses on the production, sale, and use of artificial lighting systems designed specifically for plant growth. These lighting systems are commonly used in indoor farming, greenhouse cultivation, and horticulture applications where natural sunlight is limited or unavailable. Due to the growing acceptance of indoor farming methods like hydroponics and vertical farming, the grow light industry has seen tremendous expansion. Grow lights give farmers the ability to give plants enough light energy, stimulating their development and increasing harvests.
LED grow lights, high-intensity discharge lights (including HPS and metal halide), fluorescent lights, and induction lights are among the several types of grow lights that are offered in the market. Driven by advances in light-emitting diode technology, the industry for grow lights has experienced a revolution. LED grow lights give exact spectrum outputs that can be tailored to the needs of certain plants, are energy-efficient, and have a long lifespan. LED grow lights have replaced older lighting technologies like high-pressure sodium and fluorescent lighting in the market. The market for grow lights has benefited from the increased demand for and knowledge of sustainable agriculture practices.
Growth Factors:
The increasing adoption of indoor farming techniques, such as vertical farming and hydroponics, is one of the significant drivers. The market for grow lights has seen a radical change as a result of the improvements in LED technology. In comparison to conventional lighting technologies, LED grow lights provide benefits including energy efficiency, a longer lifespan, and spectrum outputs that can be adjusted. The market development overall is being aided by the growing use of LED grow lights.
Another driving factor is the increased customer desire for locally farmed and fresh products. Urban agriculture and greenhouse horticulture are receiving more attention as a result of the rising demand for high-quality fruits, vegetables, and herbs. Grow lights let farmers produce fresh, regional produce all year round, satisfying growing customer demand. Environment Under Control Agriculture, which includes greenhouse agriculture and indoor farming, is growing quickly. Grow lights are essential for establishing ideal growth conditions in regulated settings.
It is possible to maximize crop quality, production, and uniformity by carefully controlling illumination factors. Government assistance and incentives also contribute to market share growth. Through incentives, subsidies, and financing schemes, several governments across the world support sustainable agriculture practices, including indoor farming. By lowering financial obstacles, this assistance encourages producers to embrace cutting-edge equipment like grow lights. Another important factor is people's growing understanding of sustainable agricultural methods. With their low heat output and energy efficiency, LED grow lights support sustainable agriculture. The growing use of LED grow lights among growers and environmentally conscious organizations is expanding market share.
Report Scope of the Grow Lights Market:
| | |
| --- | --- |
| Report Coverage | Details |
| Market Size in 2023 | USD 6.8 Billion |
| Market Size by 2032 | USD 24.44 Billion |
| Growth Rate from 2023 to 2032 | CAGR of 15.27% |
| Largest Market | North America |
| Base Year | 2022 |
| Forecast Period | 2023 To 2032 |
| Segments Covered | By Light Source, By Installation Type, and By Application |
| Regions Covered | North America, Europe, Asia-Pacific, Latin America, and Middle East & Africa |

Market Dynamics:
Driver:
Increasing demand for indoor farming
The need for grow lights is being driven by the rising popularity of indoor farming methods and the requirement for year-round crop production. Artificial lighting systems may be used to create regulated conditions and increase crop yields in indoor farming. Energy efficiency, a longer lifespan, and adjustable spectrum outputs are just a few benefits of using LED grow lights. The popularity of LED grow lights in numerous applications is being fueled by ongoing improvements in LED technology, such as increased efficiency and spectrum control. The need for energy-saving and eco-friendly lighting solutions is being driven by the focus on sustainable agriculture methods.
Restraint:
High start-up cost
For larger-scale companies, installing a grow lights system might need a sizable upfront expenditure. Due to the cost of purchasing, setting up, and using the required electrical components, some growers may experience financial challenges which might hamper the market growth. Different plants require different light spectrums for optimum development. It can be difficult and complicated to control and fine-tune the spectrum output of grow lights to satisfy the unique requirements of various crops. Growers may find this intricacy challenging, especially those who are new to indoor farming.
Opportunity:
Expansion of urban agriculture
A significant opportunity for the grow lights industry is presented by the growth of urban agriculture. In order to support indoor and vertical farming activities in urban settings, the demand for efficient lighting solutions will rise as urban spaces are used more often for food production. Growing crop management and productivity prospects are provided by ongoing developments in grow light technologies, such as spectrum control, smart lighting systems, and Internet of Things integration. These developments might raise the grow light systems general efficacy and efficiency.
Challenge:
Market competition
The grow light market is getting more and more crowded with businesses selling a variety of goods. For manufacturers and suppliers, differentiating products and keeping a competitive advantage in terms of technology, performance, and cost can be challenging. High-intensity lighting systems can produce a lot of heat from grow lights. For optimal growth conditions and to avoid plant damage, proper heat control is essential. To solve this problem, effective cooling systems and suitable ventilations are installed. To guarantee maximum performance and longevity, grow lights require routine maintenance such as cleaning and replacing parts. It can be difficult to manage maintenance schedules and deal with problems as they arise, especially in large-scale operations with many of grow lights.
Impact of Covid-19:
The COVID-19 pandemic led to an increased demand for indoor farming as people became more aware of the vulnerabilities in global food supply chains. The popularity of indoor farming methods like hydroponics and vertical farming was sparked by the spike in interest and demand for locally produced food, which also raised the need for grow lights. Home gardening activities significantly increased as people spent more time at home as a result of lockdowns and limitations.
Global supply systems, including those for the production and delivery of grow lights, were interrupted by the epidemic. Supply shortages and lengthier lead times for farmers and suppliers were brought on by trade restrictions, factory closings, and transportation issues that caused production and delivery delays. The pandemic's effects on the economy reduced farmers' purchasing power, which led some of them to postpone or scale down their purchases of grow light systems. Restaurants and other significantly pandemic-affected industries like hospitality saw a temporary pause in market expansion. Grow light system installation, upkeep, and service were complicated by COVID-19 regulations and social segregation policies. The entire operations of growers were impacted by the limited access to facilities and distant work arrangements that hampered timely installation and maintenance activities.
Segments Insight:
Light Source Insights:
In the grow light market, the LED light segment held a dominant market share in 2022. Energy efficiency, a longer lifespan, customized spectrum outputs, and fine control over light intensity and photoperiod are all features of LED grow lights. Due to these advantages, LEDs have been the product of choice for many growers.
Compact fluorescent lights and T5 fluorescent lights are frequently utilized in smaller-scale projects like indoor gardening and seedling growth. They are renowned for being reasonably priced, simple to operate, and appropriate for low-light plants or young plants. The cool spectrum of light that fluorescent lights provide is ideal for vegetative development.
Installation Type Insights:
In the grow light market, the new installation segment held a dominant market share in 2022. The use of grow light systems in freshly constructed or specially designed indoor agricultural facilities is referred to as "new installations." In these installations, grow lights are incorporated into the facility's initial design and construction strategies. The ability to optimize lighting plans, electrical systems, and environmental controls from the outset is one of many benefits of new installations.
Retrofit installations entail the installation of grow light systems in buildings already in use but not originally intended for indoor agriculture or grow light uses. Through retrofitting, producers may modernize their lighting system with more cutting-edge and effective technology, such LED grow lights.
Application Insights:
In the grow light market, the application of indoor farming held a dominant market share in 2022. Grow lights are mostly used in indoor farming. It entails the growing of crops in controlled indoor settings without or with little access to natural sunlight. Grow lights are essential for supplying the light energy required for photosynthesis and plant development. They provide producers the ability to design the best lighting scenarios, including light spectra, intensities, and photoperiods, according to the requirements of various crops and growth phases.
Commercial greenhouses are yet another significant setting where grow lights are used. Utilizing natural sunlight, greenhouses offer a regulated environment for agricultural development. To maintain ideal growth conditions and increase crop yield, however, grow lights must be used as supplemental illumination in areas with little sunshine or during specific seasons.
Regional Insights:
North America has emerged as a leader in the grow light market and dominated the market with a greater market share in 2022. The region has been at the forefront of adopting advanced agriculture practices, particularly indoor farming, and controlled environment agriculture. Considerable investments have been made in vertical farms, greenhouse facilities, and indoor cultivation operations, all of which heavily rely on the use of grow lights. This widespread adoption of advanced agriculture practices has led to an increased demand for grow lights in North America. America's reputation for outstanding technical innovation and development is well-deserved.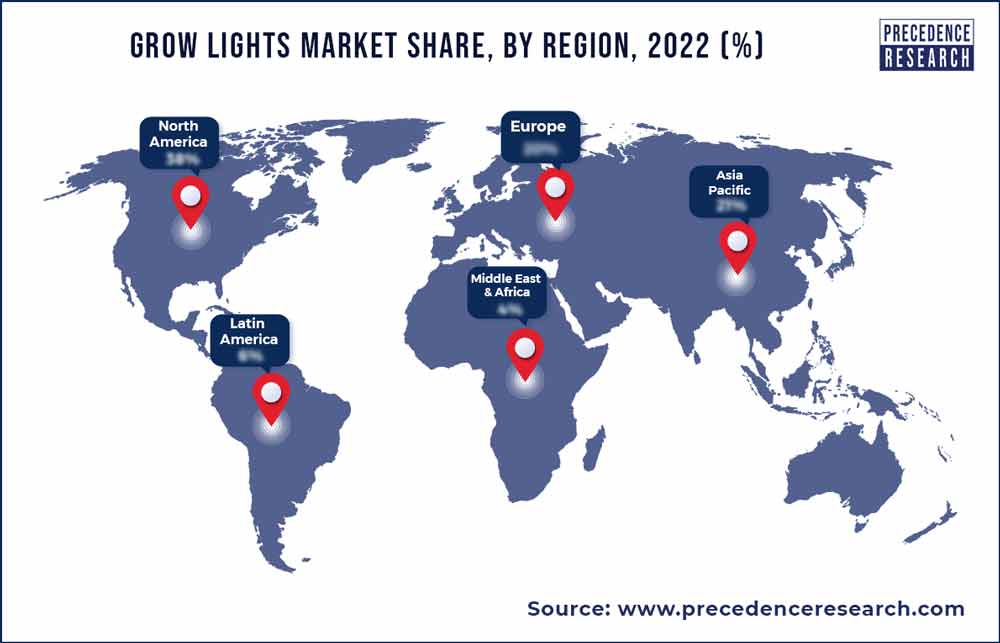 The main form of grow light utilized in the business, LED technology, has made significant strides in this area. Its technological superiority has been essential in helping the grow light sector win a large market share. The regulatory climate in North America has also supported the expansion of the grow light industry. Through the provision of incentives, grants, and subsidies, governments and regulatory organizations have actively encouraged sustainable agriculture practices, including indoor farming. By encouraging producers to use grow light systems, these programs have increased market share in the area.
In North America, there has been an increase in customer demand for fresh food that is farmed nearby. Customers have demonstrated a preference for locally grown, high-quality produce that is free of pesticides. The rise of indoor farming methods, which mainly rely on grow lights, has been prompted by this increasing need. As a result, the need for grow lights has significantly increased in North America to meet the rising demand for locally produced items.
Recent Developments:
In February 2023, Fluence, a leading global provider of energy-efficient LED lighting solutions for commercial cannabis and food production, has support the widespread expansion of pharmaceutical-grade medical cannabis cultivation operations in Portugal.
In September 2022, K&S announced that its subsidiaries Kulicke and Soffa Luxembourg S.R.L. had entered into an acquisition agreement with Taiwan Province automation equipment company Gaokejing Jetta, and that K&S would acquire the designated dispensing assets and dispensing business of Yifu, a subsidiary of Gaokejing Jetta, a dispensing equipment and solution manufacturer.
Key Market Players:
Philips Lighting (now Signify)
General Electric (GE)
Osram
Fluence by OSRAM
California Lightworks
Helio spectra AB
Advanced LED Lights
Gavita International
Cree, Inc.
Black Dog LED
Segments Covered in the Report:
(Note*: We offer reports based on sub segments as well. Kindly, let us know if you are interested)
By Light Source
High-intensity Discharge Lights
Light Emitting Diodes
Fluorescent Lights
By Installation Type
New Installations
Retrofit Installations
By Application
Indoor Farming
Vertical Farming
Commercial Greenhouse
By Geography
North America
Europe
Asia-Pacific
Latin America
Middle East and Africa