The global gynecological devices market size was exhibited at USD 9.41 billion in 2022 and is projected to hit around USD 26.72 billion by 2032, growing at a compound annual growth rate (CAGR) of 11% throughout the forecast period 2023 to 2032.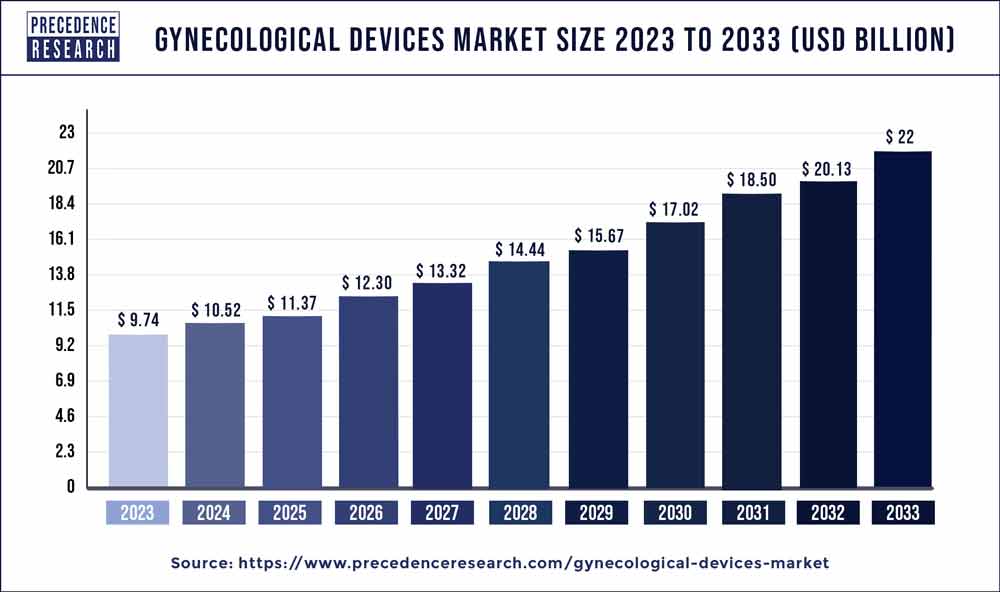 Access our Premium Real Time Data Intelligence Tool, Visit: Precedence Statistics
Gynecological devices are the instruments that are only used in gynecological procedures include assisted reproduction, uterine fibroid remobilization, colposcopy, hysteroscopy, pelvic floor electrical stimulation, female sterilization, pelvic organ prolapsed repair, endometrial resection, fluid management, and many others. A gynecological device is a piece of apparatus used at the time of surgery or an operation to perform certain tasks or attain some outcomes, such as altering biological tissue or providing access to monitor it.
Key Takeaways:
On the basis of product, the surgical instruments segment led the market and accounted more than 50% of the total revenue in 2022.
On the basis of end-use, the hospitals & clinics segment led the market and captured more than 65% of the total revenue in 2022.
On the basis of geography, the North America region generated more than 39% in 2022
Growth Factor
The gynecology devices market is growing faster due to the rising incidence of gynecological illnesses. Over 90% of cervical cancer fatalities occur in low- and middle-income countries, according to the WHO. Both menstrual cramps and endometriosis abnormally positioned patches of tissue seen solely in the lining of the uterus are gynecological.
In addition, endometrial cancer, which accounts for around 2.5% of all cancer cases detected worldwide, is the most common kind of cancer in women. The sixth most common disease in women, accounting for 3% of all cancer cases among females, is ovarian cancer. As a result, it is anticipated that in the near future, the incidence of the aforementioned illnesses, especially those needing surgical intervention, will boost gynecological device adoption. The US Food and Drug Administration (FDA) has modified its pharmaceutical review procedures throughout the years to expedite the release of innovative drugs; nevertheless, the agency's clearance of medical devices appears to be the exact reverse. Strict paperwork and compliance requirements add to the development expenses that device manufacturers must bear by causing delays in approvals.
Additionally, it has been found that administrative delays rather than technology concerns account for non-pioneer entrants' average taking 34% longer, or 7.2 months, than pioneer entrants. If the clearance procedure takes longer, a manufacturer's costs for bringing a ground-breaking medical product to market might rise by US$6.7 million. Small-scale producers are less inclined to innovate due to the high costs. The delay prevents patients from receiving treatments that might save their lives. In the next years, the market for gynecology devices is anticipated to benefit from developments in therapies and equipment including robotic endoscopy and sub dermal contraceptive implants.
An increase in gynecological illnesses and the availability of cutting-edge women's medical equipment are what are fueling the growth of the worldwide gynecological device market.
The gynecology device market is anticipated to develop as a result of the growing adoption of automation technologies like robots in the treatment of gynecological illnesses.
The Gynecology Devices Market is expanding due to the rising incidence of gynecological illnesses such vaginal, ovarian, uterine, and cervical cancer worldwide.
Move away from alternate and riskier therapies and toward mechanical methods of removing uterine tissue.
Report Scope of the Gynecological Devices Market
| | |
| --- | --- |
| Report Coverage | Details |
| Market Size in 2023 | USD 10.45 Billion |
| Market Size by 2032 | USD 26.72 Billion |
| Growth Rate from 2023 to 2032 | CAGR of 11% |
| Base Year | 2022 |
| Forecast Period | 2023 to 2032 |
| Largest Market | North America |
| Fastest Growing Market | Asia Pacific |
| Segments Covered | By Product, and By End Use |
| Regions Covered | North America, Europe, Asia-Pacific, Latin America and Middle East & Africa |

Key Market Drivers
Increase in Gynecological Disease Incidence
The need for healthcare payer services is being driven by the expanding insurance coverage of the world's population. It is also anticipated that emerging countries like India would experience an increase in health insurance coverage as a result of beneficial government initiatives. For instance, the Union Budget of 2021 increased the FDI threshold in insurance from 49 to 74%, and state-owned general insurance companies received a boost of USD 413.13 million to assist them become more solid financially. The significant losses brought on by the rise in healthcare fraud also increase the need for healthcare payer services, which propels the worldwide market's growth. The global market for gynecology devices is benefiting from a discernible rise in health insurance enrollment.
Key Market Challenges
The expansion of the market would be hampered by worries regarding pelvic organ safety
Over the course of the projected period, worries regarding the safety of pelvic organ prolapse are anticipated to restrain market expansion. The vaginal mesh should only be used in difficult instances where there are no other effective therapies available in Europe. The growth of pelvic organ prolapses and the market as a whole may be constrained by the generally bad reputation surrounding litigation, regulatory scrutiny, and the use of meshes.
Key Market Opportunities
Government programs
Government programs to manage the region's expanding population are projected to raise knowledge of birth control and family planning, which will in turn fuel regional product demand. The demand for modern contraception among women of reproductive age was around 90.1% in 2019 and is anticipated to stay constant through 2030, according to UN Population Facts. China is also one of the nation's having birth control laws. The region's market is anticipated to develop as a result of the increased incidence of gynecological problems and the rise in surgical procedures. A research that appeared in the journal Gynecology and Pelvic Medicine estimates that at China's Department of Gynecology in 2019, 13,934 gynecological procedures were carried out.
Use of robotics in gynecological equipment
One type of computer system that facilitates surgery is robotics. The demand for a wide variety of surgical devices rises as a result of skilled gynecologists using robots. Modern robotic technology can be used to successfully treat cancer and other gynecological conditions. Additionally, in order to boost profits, manufacturers of medical devices are committed to utilizing robotic operations. As a result, the market for gynecological devices is anticipated to grow due to the quick adoption of automation technologies like robotics in the treatment of gynecological diseases.
Segments Insight:
Product Insights
In 2022, the surgical instruments market segment led the sector and generated 50% of the total revenue. Throughout the projected period, it is predicted that widespread use of endoscopic devices and female contraceptives will sustain the segment's leadership. To give one example, CooperSurgical had a 26% rise in net sales for surgical equipment used by obstetricians or gynecologists in hospitals. Additionally, as surgical procedures increase internationally, there is a growing demand for surgical tools that are simple to autoclave and extremely durable. Growing public knowledge of birth control procedures and technologies is predicted to boost sector expansion. Additionally, the market's expansion is being significantly influenced by the rise in female sterilization operations. According to the United Nations' 2019 report on contraceptive usage by technique, around 840 million women worldwide out of 1.99 million women of reproductive age use contemporary methods of contraception. Female sterilization and intrauterine devices are the two contraceptive techniques most often used by women of reproductive age, at rates of 11.5% and 8.4%, respectively.
During the projection period, the diagnostic imaging systems sector is expected to grow at a profitable CAGR. The rise is due to an increase in both planned and unplanned pregnancies throughout the world. The United Nations Population Fund estimates that about half of all pregnancies worldwide or around 100 million conceptions annually are unintended. Imaging techniques such as magnetic resonance imaging, ultrasound, computed tomography, or even plain radiography are used to explore and diagnose pregnancy-related issues.
End Use Insights
Based on end-uses, the hospitals & clinics category, which generated more than 65% of the total revenue in 2022, led the market. In hospitals and clinics, the use of cutting-edge medical equipment and the growth in demand for gynecological surgery are mostly to blame for the high proportion. Modern surgical substitutes are efficient and offer a superior experience. For instance, in January 2022, the Hominis Surgical System, a robotic surgical system created by Memic Innovative Surgery, was put to use at The Women's Hospital at Jackson Memorial, Kendall Region Medical Center of HCA Florida Healthcare, and AdventHealth Celebration.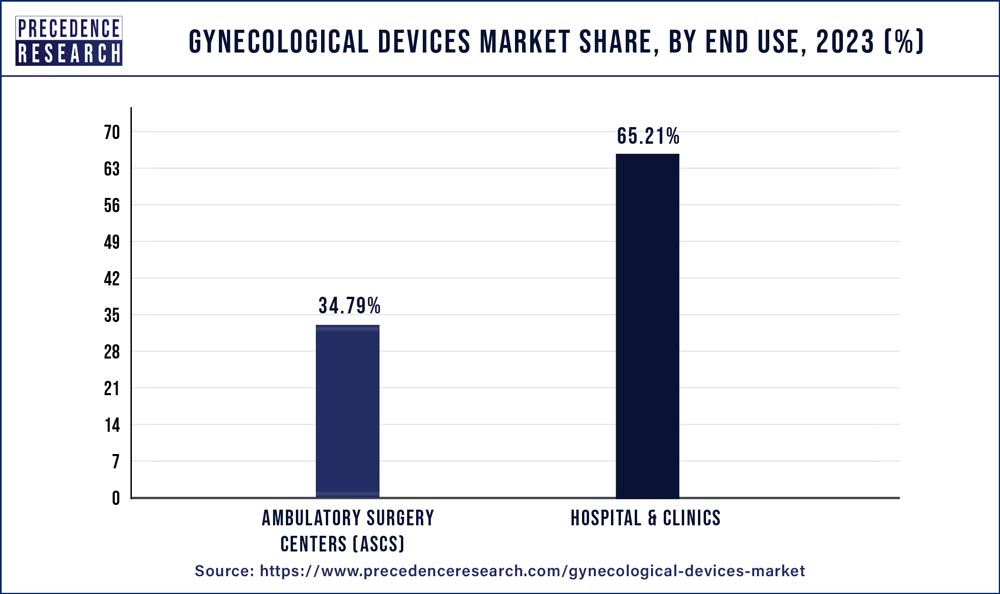 The device, which is FDA-approved, provides less invasive therapy options for gynecological surgeries. Throughout the forecast period, the end-use sector for ASC is predicted to grow at the fastest rate. The segment's growth may be attributed to the fact that these institutions are less costly than some other healthcare facilities like clinics and hospitals. Gynecological treatments, such as laparoscopic procedures, hysterectomy, oophorectomy, and others, were among the most commonly performed major ambulatory procedures among younger females in the U.S., according to the Nationwide Ambulatory Surgery Sample database. In the United States, about 420,000 major ambulatory gynecological operations were performed in 2019.
Gynecological Devices Market Share, By Region, 2022 (%)
| | |
| --- | --- |
| Regions | Revenue Share in 2022 (%) |
| Asia Pacific | 25% |
| North America | 39% |
| Europe | 27% |
| Latin America | 6% |
| MEA | 3% |

Regional Insights
The greatest market share in 2022 belonged to North America, which generated more than 39% of the global industry's revenue. It is predicted to maintain its dominance throughout the project due to the presence of established healthcare infrastructure, increased levels of knowledge regarding the accessibility of diagnostic tests & treatments, and improved reimbursement coverage.
Asia Pacific, on the other hand, is predicted to see the fastest growth rate over the forecast period. As a result of government initiatives to curb population growth, it is projected that increasing understanding of birth control and family planning will raise regional product demand. According to the United Nations Population Facts, the demand for modern contraception among women of reproductive age was approximately 90% in 2019 and is predicted to remain stable through 2032. China is also one of the countries having birth control legislation. The market in the area is expected to rise as a result of the increased number of surgical procedures and gynecological disorders. For instance, the Department of Gynecology in China performed 14,000 gynecological treatments, according to a report published in the journal of Gynecology and Pelvic Medicine.
Recent Developments
In October 2021, Hologic, Inc. signed a legally binding contract to buy surgical equipment maker Bolder Surgical from the United States. Devices for laparoscopic dissection, diving, and vessel sealing, such as Bolder's CoolSeal, the JustRight 5 mm stapler, and the JustRight 3 mm vessel sealer, will be included in the acquisition.
The first gynecological procedure in Panama was carried out in July 2021 using the Hugo Robotic-Assisted Surgery (RAS) system, which was created by Medtronic Plc.
Key Market Players
Boston Scientific Corporation
Ethicon Inc.
Karl Storz Gmbh & Co. KG
Cooper Surgical Inc.
Hologic Inc.
Medtronic plc
Olympus Corporation
Stryker Corporation
Richard Wolf GmbH
MedGyn Product Inc.
Segments covered in the report
(Note*: We offer report based on sub segments as well. Kindly, let us know if you are interested)
By Product
Surgical Equipment
Gynecological Imaging Devices
Portable Tools
By End Use
Hospital & Clinics
Ambulatory Surgery Centers (ASCs)
By Geography
North America
Europe
Asia-Pacific
Latin America
The Middle East and Africa