The global hepatology market size was reached at USD 13.02 billion in 2022 and it is expected to hit around USD 40.22 billion by 2032, poised to grow at a CAGR of 11.94% during the forecast period from 2023 to 2032.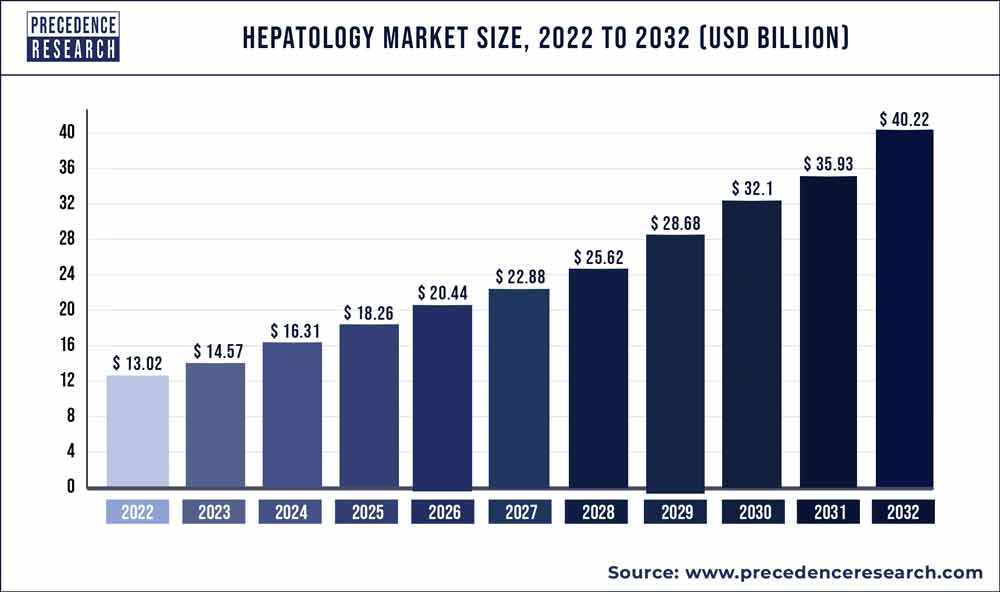 Access our Premium Real Time Data Intelligence Tool, Visit: Precedence Statistics
Key Takeaways:
North America is expected to dominate the hepatology market during the forecast period.
By treatment type, the antiviral drugs segment is expected to be the dominating segment throughout the forecast period.
By disease type, the hepatitis segment is expected to be the leading segment of the market. On the other hand, the liver cancer segment will grow at a significant rate during the forecast period.
Market Overview:
The hepatology market focuses on diseases and conditions related to the liver. It encompasses various areas such as hepatitis, liver cirrhosis, fatty liver disease and liver cancer. The global market has been witnessing a significant growth due to factors such as increasing prevalence of liver disorders, rising awareness about liver health and improved diagnostic methods. Chronic liver diseases are generally caused by excessive alcohol consumption, exposure to aflatoxins and certain genetic conditions. Key players involved in the global hepatology market are investing in research and development to develop innovative treatments and therapies for liver related ailments.
Growth Factors:
Complications relating to the liver are caused by an increase in the prevalence of liver diseases such as hepatitis, fatty liver disease, and liver cancer, improvements in medical technology, diagnostics, and therapies for liver disorders, and changing lifestyles such as poor diets and alcohol consumption. The aging population and increased vulnerability to liver illnesses along with the growing knowledge of the necessity of early identification and treatment of liver health are a few other factors for the growth of the market. The market expansion is fueled by advancements in healthcare infrastructure, accessibility to healthcare in underdeveloped areas, and investments in pharmaceutical and therapeutic research & development for the liver.
Report Scope of the Hepatology Market:
| | |
| --- | --- |
| Report Coverage | Details |
| Market Size in 2023 | USD 14.57 Billion |
| Market Size by 2032 | USD 40.22 Billion |
| Growth Rate from 2023 to 2032 | CAGR of 11.94% |
| Largest Market | North America |
| Base Year | 2022 |
| Forecast Period | 2023 To 2032 |
| Segments Covered | By Treatment Type and By Disease Type |
| Regions Covered | North America, Europe, Asia-Pacific, Latin America, and Middle East & Africa |

Driver:
Increasing incidence of liver diseases
The hepatology market is expanding due to the rising prevalence of liver illnesses like liver cirrhosis, hepatitis, and fatty liver disease. There is an increased need for hepatology diagnostic procedures, drugs, and cutting-edge therapies as these disorders become more common. As a result, more investments are being made in research and development, which has prompted the market launch of novel therapies and technologies to meet the expanding needs of patients. The hepatology market has also grown due to the increased awareness of liver health and the value of early diagnosis.
Restraint:
High cost of production
The probability that patients with financial constraints would receive the essential therapy is decreased when drugs and treatments are expensive due to high production costs. As some patients may require assistance to continuously afford their prescribed prescriptions, expensive medications may cause poor patient adherence to therapies, which could compromise treatment outcomes. Pharmaceutical corporations may refrain from investing in hepatology research and development due to high production costs, limiting the possible innovation.
The high cost of production may lead to discrepancies in the availability of cutting-edge treatments, depriving some areas or populations of the most recent developments in hepatology. The high cost of manufacturing may deter prospective rivals from accessing the hepatology industry, which would restrict the development of substitute, potentially less expensive treatments. Healthcare systems, insurance companies, and patients may need help to afford these specific therapies due to high production costs that can result in increased prescription prices.
Opportunity:
Liver transplantation solutions
Advancements in liver transplantation techniques, including organ preservation methods, transplant immunosuppression, and post-transplant care, can improve patient outcomes and create opportunities for related products and services. The hepatology industry has a substantial possibility for liver transplantation treatments since they may effectively treat end-stage liver illnesses. The need for liver transplants has increased due to improvements in medical technology and organ transplantation methods, as well as conditions such as liver failure, cirrhosis, and hepatitis. This presents a profitable opportunity for medical enterprises to create novel approaches to enhance transplant success rates and patient outcomes, such as organ preservation technology, transplant diagnostics, and immunosuppressive medications.
Segments Insight:
Treatment Type Insights:
The antiviral drugs segment is expected to be dominant in the hepatology market during the predicted period. Antivirals support the body in fighting off certain viruses that can cause disease and are also preventive. It can protect from obtaining viral infections or spreading a virus to others because disease risk progress is closely associated with a patient's serum HBV DNA level. Antiviral therapy for liver diseases or conditions may subdue viral replication, stabilize liver function, improve survival rate, enhance the severity of the hepatic disorder, improve clinical symptoms and lifestyle, and extend patient survival.
The vaccines segment is expected to register a notable growth rate during the forecast period. The hepatitis B vaccine prevents the harsh liver disease that can grow when adults or children are infected with the hepatitis B virus. Individuals who have other liver disorders such as hepatitis C, Wilson disease, hemochromatosis, autoimmune hepatitis, fatty liver, primary biliary cirrhosis and cirrhosis should all receive vaccination for hepatitis A and B.
On the other hand, the chemotherapy segment is expected to show significant growth in the hepatology market during the forecast period. Chemotherapy is a cancer treatment that operates one or more anti-cancer drugs as part of a regulated chemotherapy regimen. It can be used at any stage of cancer, from IA/IB to IV. The rising prevalence of liver cancer is observed to promote the segment's growth during the forecast period.
Disease Type Insights:
The hepatitis segment is expected to be the leading segment of the market. Hepatitis B is a viral infection that attacks the liver and generally spreads through contact with infected fluids such as semen, blood, vaginal fluids, and saliva. Numerous blood tests are available to detect and check people with hepatitis B. Few laboratory examinations can differentiate acute and chronic infections and tailor the severity of liver disease. Ultrasound, fibro scan, and physical examination can also be carried out to determine the level of liver fibrosis and scarring and monitor liver disease growth. It is preventable after injecting a vaccine. All these factors collectively promote the segment's growth.
Moreover, the potential of drug development for hepatitis in the global pharmaceutical industry supports the segment's growth. For instance, Bepirovirsen is a drug used to cure chronic hepatitis B, and researchers are currently focused on developing a new formula by combining Bepirovirsen with other therapies to raise the drug treatment's efficacy. Therefore, the future is hopeful for curing chronic hepatitis with new drugs entirely.
On the other hand, the liver cancer segment will grow at a significant rate during the forecast period. The ongoing research and development activities for the therapy development for liver cancer promotes the segment's growth. Chronic infection with hepatitis B or hepatitis C elevates the risk of liver cancer with the changes. The American Cancer Society stated that about 41,210 new patients would be diagnosed for primary liver and intrahepatic bile duct cancer in the United States in 2023. This rising number of liver cancer cases is expected to force researchers and the overall healthcare industry to develop and adopt advanced liver cancer treatment of therapies in upcoming years.
Regional Insights:
North America has its largest revenue share in 2022 and is expected to sustain its dominance in the hepatology market throughout the predicted timeframe. The presence of a strong diagnosis system that maintains the accuracy of illness identification and treatment outcomes have improved the overall position of North America in the global market. In addition, the availability of diagnostic techniques, hepatic imaging techniques, and therapeutic approaches have supplemented the market's growth in North America.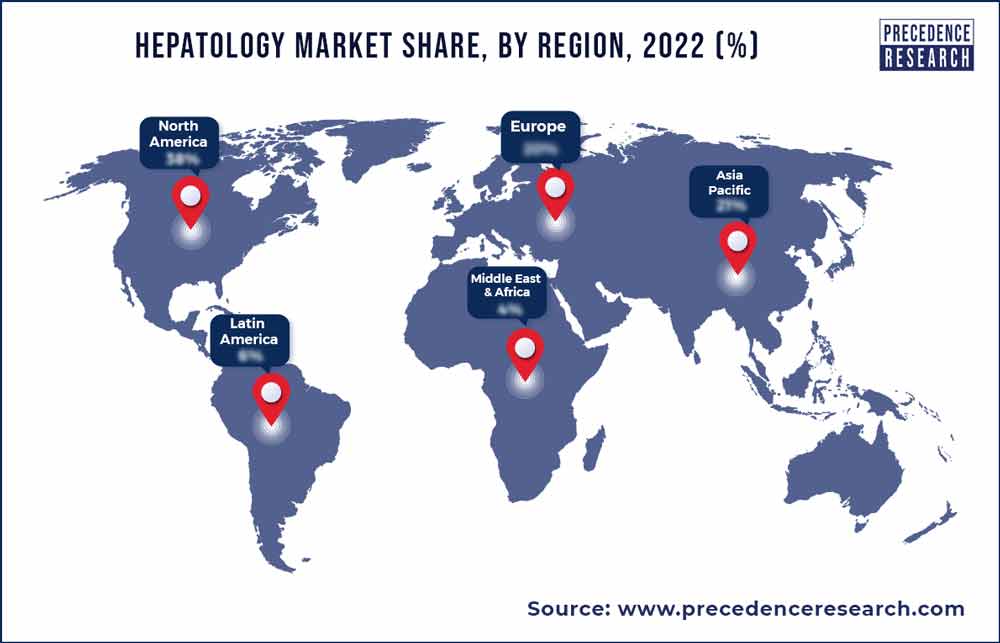 Moreover, available healthcare policies for treatments along with healthcare insurance and government initiatives for better access to treatments in the region support the market's expansion. Campaigns for health awareness, educational activities, and developments in medical research have all contributed to raising public awareness of liver illnesses and enabling early diagnosis and treatment in the region. Additionally, the strong pharmaceutical and biotechnology industries promise the innovation of novel therapeutic development for liver conditions.
The burden of chronic liver illnesses has increased in North America due to the aging population, fueling demand for hepatology treatments. The hepatology industry has significantly impacted North America, where healthcare providers, pharmaceutical firms, and academic institutions always seek to enhance the standards of diagnostic methods and therapeutic options available for liver illnesses.
Asia Pacific is expected to witness the fastest rate of growth during the forecast period. In Asia-Pacific, the prevalence of liver illnesses such as alcoholic liver disease, viral hepatitis, and non-alcoholic fatty liver disease (NAFLD) has increased, increasing the need for hepatology treatments and pharmaceuticals. The industry has been pushed by improvements in medical technology and therapies for liver disease. The emergence of cutting-edge remedies, such as hepatitis C direct-acting antivirals, has improved treatment outcomes and give patients access to powerful drugs. The region has seen an increase in liver disease screens and diagnostics due to a better understanding of liver health and the value of early detection and treatment.
Recent Developments:
In June 2023, Zydus Lifesciences began a Phase IV real-world data registry trial to examine the advantages of Saroglitazar Magnesium in non-alcoholic fatty liver disease (NAFLD) individuals with comorbidities. The "Phase IV evidence-XI" study will include about 1,500 male and female NAFLD patients with comorbidity (type 2 diabetes mellitus, obesity, metabolic syndrome, dyslipidemia, or —200 patient each).
In October 2022, Salix Pharmaceuticals published the Salix Liver Health Annual Trends Report, which contains the most recent data on the treatment of chronic liver disease (CLD) that include a continued rise in hospital admissions and mortality due to CLD and cirrhosis and knowledge that may avoid early diagnosis and the best management of CLD, cirrhosis, and its complications.
Key Market Players:
Astellas Pharma Inc.
Merck & Co. Inc.
Abbott Laboratories
Bristol- Myers Squibb
AbbVie Inc.
Emergent BioSolutions Inc.
F. Hoffmann- La Roche AG
Eli Lilly and Company
Viatris Inc.
Gilead Sciences, Inc.
Segments Covered in the Report:
(Note*: We offer reports based on sub segments as well. Kindly, let us know if you are interested)
By Treatment Type
Antiviral Drugs
Vaccines
Immunosuppressants
Targeted Therapy
Chemotherapy
Corticosteroids
Immunoglobulins
By Disease Type
Hepatitis
Liver Cancer
Genetic Disorders
Autoimmune Diseases
Non- Alcoholic Fatty Liver Diseases
Others
By Geography
North America
Europe
Asia-Pacific
Latin America
Middle East and Africa