The global hepatitis B market size was valued at USD 4.47 billion in 2022 and is expected to hit around USD 6.45 billion by 2032, growing at a CAGR of 3.37% during the forecast period from 2023 to 2032.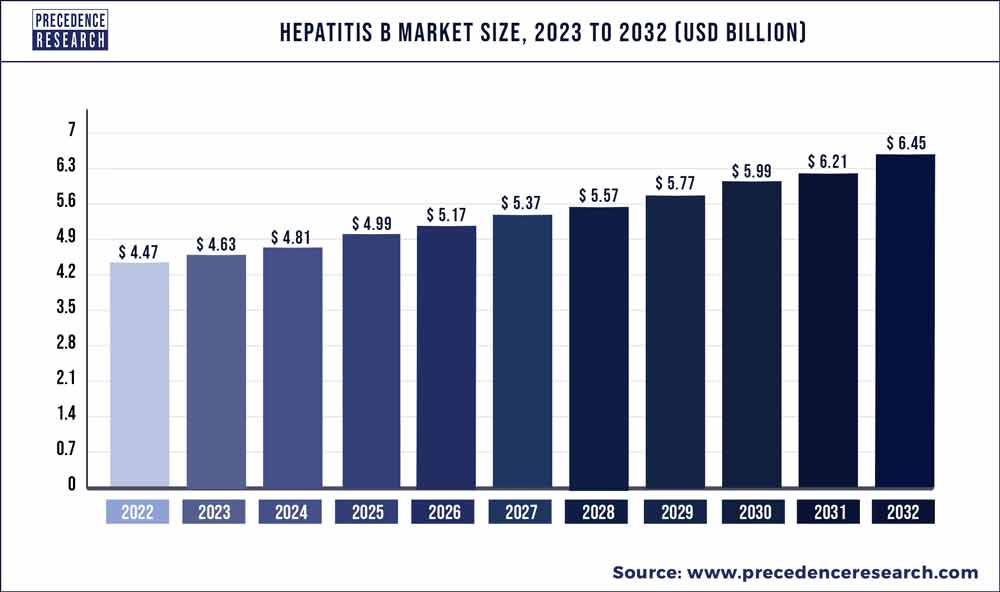 Key Takeaways:
North America region dominated the global market in 2022.
Asia Pacific region is expected to expand at the fastest CAGR between 2023 and 2032.
By Type, the chronic segment generated the maximum market share in 2022.
By Distribution Channel, the hospital & retail pharmacies segment captured the highest revenue share in 2022.
The hepatitis B virus, which can be prevented by vaccination, causes hepatitis B, a liver illness. (HBV). When blood, semen, or other bodily fluids from a person infected with the virus reach the body of a person who is not infected, hepatitis B can be transmitted.
This can happen during pregnancy or delivery, during sexual interaction, or when exchanging needles, syringes, or other injection tools used to inject drugs. Not everyone who has recently contracted HBV experiences signs, but those who do may experience fatigue, poor appetite, stomach discomfort, nausea, and jaundice. Hepatitis B is frequently a transient disease. Others may develop a chronic, long-lasting infection that can cause severe, even life-threatening health problems, such as liver disease or liver cancer.
Growth Factors:
The market will expand as a result of factors including the expansion of the pharmaceutical industry, an aging population, rising healthcare costs, urbanization improving monitoring and screening methods, and a rise in liver cancer and cirrhosis deaths brought on by HBV. Rigid competition, management issues, a lack of diagnostic resources, the high expense of medical care, and legal restrictions, on the other hand, would pose a threat to the market's expansion.
Growth in pharmaceutical research and development, cooperation, innovation, and research, high demand for biomarker based tests, HBV treatments under development, government efforts, and increased public awareness are a few noteworthy trends that may be observed.
Research and development efforts have advanced
Increasing new drug clearances for hepatitis and rising new drug releases
Increasing prevalence of viral hepatitis B
Government support that is favorable for raising awareness of hepatitis
Increasing incidence of chronic illnesses
R&D in the pharmaceutical business is expanding
Report Scope of the Hepatitis B Market:
| | |
| --- | --- |
| Report Coverage | Details |
| Market Size in 2023 | USD 4.63 Billion |
| Market Size by 2032 | USD 6.45 Billion |
| Growth Rate from 2023 to 2032 | CAGR of 3.37% |
| Largest Market | North America |
| Fastest Growing Market | Asia Pacific |
| Base Year | 2022 |
| Forecast Period | 2023 to 2032 |
| Segments Covered | By Type, By Treatment, and By Distribution Channel |
| Regions Covered | North America, Europe, Asia-Pacific, Latin America and Middle East & Africa |

Key Market Drivers:
Research and development efforts have advanced - The rise in the prevalence of hepatitis B increased R&D efforts, clinical trials of hepatitis drugs, an increase in the number of product launches and item endorsements, and the development of new hepatitis drugs for the treatment of various hepatitis types are the main factors driving the growth of the hepatitis therapeutics market. The market is growing rapidly due to increasing collaborative research activities for pipeline development of effective drugs. In addition, continued awareness of hepatitis treatment due to collaborations and associations in major organizations and the presentation of less approach hepatitis treatment are other factors driving the market growth.
Rising new drug releases and increasing new drug permits for hepatitis B - Over the course of the forecast period, more regulatory authorities are expected to approve hepatitis B drugs, which is expected to grow the global market for hepatitis B. For instance, in November 2022, Gilead Sciences, Inc. U.S. Food and Drug Administration (FDA) has approved the supplemental new drug application (sNDA) for Vemlidy (tenofovir alafenamide) 25 mg tablets as a once-daily treatment for chronic hepatitis B virus (HBV) infection in pediatric patients 12 years of age and older with compensated liver disease. Additionally, the FDA previously authorized Vemlidy, a novel, targeted prodrug of tenofovir, in 2016 as a once-daily treatment for adults with chronic HBV infection and compensated liver disease. The launch of novel hepatitis medication therapies is anticipated to drive market expansion during the anticipated timeframe.
Government programs to raise knowledge of hepatitis and how to treat it - Hepatitis B is extremely prevalent and can cause serious liver cirrhosis, which can be fatal. Furthermore, it is anticipated that over the course of the forecast period, government initiatives to raise awareness about hepatitis and its treatment will spur market development. For instance, a virtual gathering called the "World Hepatitis Summit (WHS)" took place in June 2022. The World Health Organization co-sponsored the World Hepatitis Summit 2022. (WHO). The summit offers a venue for the large hepatitis community to assess current development and exchange thoughts, stories, and best practices for overcoming the many difficulties associated with viral hepatitis.
Key Market Challenges:
The cost of hepatitis treatments is high - The market for hepatitis medications is predicted to grow slowly over the anticipated period due to the high capital needed for hepatitis pharmaceutical production. Because they are made from expensive basic materials like active pharmaceutical ingredients (APIs) and pharmacological intermediates, hepatitis medications are expensive. Since skilled labor is needed, the intricate process of producing, separating, and utilizing raw materials for the creation of pharmaceutical and biopharmaceuticals treatments raises the price of medications overall.
Key Market Opportunities:
Rising hepatitis B infection rates - The most prevalent serious liver infection in the globe and a threat to public health globally is hepatitis B. It can spread up to 100 times faster than the HIV/AIDS infection. Additionally, it is the main factor in liver cancer, which is the second-leading cause of cancer-related fatalities worldwide (also known as hepatocellular carcinoma, or HCC). The hepatitis B virus has infected about two billion individuals. Additionally, each year an estimated 1.5 million individuals contract the disease for the first time.
Segments Insight:
Type Insights:
By type, Hepatitis B is further classified into chronic and acute. In 2022, the segment of chronic hepatitis had the largest proportion. In addition, new hepatitis drugs are being developed for the treatment of different hepatitis types, along with increased research and development efforts and hepatitis drug clinical trials. Expanding study collaboration for the development of potent medications in the pipeline also encourages significant market growth. A unique factor that encourages market development is the promotion of affordable hepatitis therapeutics. This knowledge is being raised through alliances and joint efforts within significant organizations.
Treatment Insights:
Most individuals who are diagnosed with hepatitis B require lifelong treatment. Starting treatment will rely on a number of variables, such as whether the virus is causing cirrhosis, or scarring or inflammation of the liver, as well as other infections like hepatitis C or HIV, as well as whether your immune system is being compromised by medication or an ailment. The use of treatment lowers your chance of developing liver disease and stops you from spreading the infection to others.
The most likely therapies include antiviral drugs. A number of antiviral medications, such as entecavir (Baraclude), tenofovir (Viread), lamivudine (Epivir), adefovir (Hepsera), and telbivudine, can aid in the battle against the virus and reduce the rate at which it can harm your liver. These medications are ingested orally. To enhance treatment response, your doctor may advise taking two of these drugs at once or taking one of these drugs along with interferon.
Distribution Channel Insights:
In 2022, the segment of hospital & retail pharmacies had the largest revenue share. The hospital & retail pharmacies sector is predicted to have the highest income in 2021 and to dominate the market throughout the projection period. The significant market share can be attributed to the numerous patients who seek hepatitis B diagnosis and treatment immediately at the hospital. In addition, the sector is anticipated to have significant growth opportunities due to the rising number of hospital & retail pharmacies providing hepatitis B treatments in emerging economies.
Regional Insights:
Due to the rising rates of bacterial infection, changes in clinical procedures, and accessibility to the most effective treatments for viral infections in this area, North America currently holds a monopoly on the global market for hepatitis B treatment. Additionally, the expensive cost of healthcare in North America stimulates the local market. The European market is divided into Western Europe and Eastern Europe on a regional premise. Due to the presence of cutting-edge medical facilities and growing viral infection rates among the populace, Europe is predicted to lead the market in terms of new cases of hepatitis B.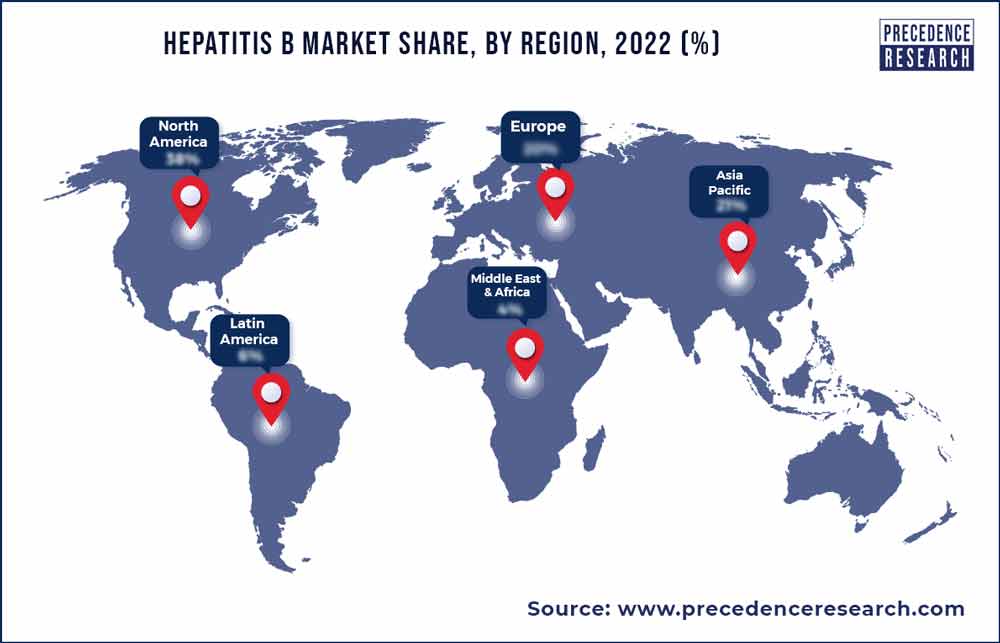 Hepatitis B and C impact many people in the European area, according to a data sheet from the World Health Organization. In terms of the market for hepatitis B treatments, Asia Pacific is anticipated to expand at the fastest rate through 2022. Market expansion is aided by the quickly expanding medical diagnostics industry, rising rates of bacterial infection, and a sizable population of HIV-positive individuals. The Middle East and Africa, on the other hand, have the lowest market share for hepatitis B treatments because of strict government regulations, the presence of underdeveloped economies, a lack of awareness, and low healthcare spending in the area.
Recent Developments:
In November 2022 - Gilead Sciences, Inc. received approval from the U.S. Food and Drug Administration (FDA) for the supplemental new drug application (sNDA) for Vemlidy (tenofovir alafenamide) 25 mg tablets as a once-daily treatment for chronic hepatitis B virus (HBV) infection in pediatric patients 12 years of age and older with compensated liver disease.
In April 2022 - According to Gilead Sciences, Inc., Veklury (remdesivir) for pediatric patients therapy older than 28 days, weighing 3 kg, has received FDA approval of its new drug application (sNDA). Patients who have COVID-19 or mild COVID-19 are thought to be at a high risk of hospitalization or passing away. The Veklury non-hospitalized adult and adolescent patients treated for severe COVID-19 received this clearance for sNDA.
In April 2022- An international biopharmaceutical firm called Antios Therapeutics, Inc. has created cutting-edge therapies for the management of chronic hepatitis B virus. The U.S. Patent and Trademark Office recently revealed that the patent application for phosphoramidates for the treatment of hepatitis B virus had been granted. Along with other treatments and processes, the compositions include the brand-new Active Site Polymerase Inhibitor Nucleotide (ATI-2173) from Antios.
In January 2022- Tenofovir alafenamide tablets manufactured by Lupin were given the go-ahead by the US Food and Drug Administration to treat chronic hepatitis B viral infection.
Key Market Players:
Accord Healthcare Inc.
Apotex Corp.
Arbutus Biopharma
Arrowhead Pharma
Aurobindo Pharma Limited
Bristol-Myers Squibb Company
Gilead Sciences, Inc.
GlaxoSmithKline
Lupin Pharmaceuticals, Inc.
Merck & Co., Inc.
Par Pharmaceutical, Inc.
Teva Pharmaceuticals
Zydus Pharmaceuticals
Segments Covered in the Report:
(Note*: We offer report based on sub segments as well. Kindly, let us know if you are interested)
By Type
By Treatment
Immune Modulator Drugs

Pegylated Interferon
Interferon Alpha

Antiviral Drugs

Tenofovir disoproxil
Entecavir
Telbivudine
Lamivudine
Others

Vaccine
Surgery (Liver Transplant)
By Distribution Channel
Hospital & Retail Pharmacies
Online Pharmacies
By Geography
North America
Europe
Asia-Pacific
Latin America
Middle East and Africa