The global hepatitis D market is surging, with an overall revenue growth expectation of hundreds of millions of dollars by 2032 and is expected to expand at a remarkable CAGR of 3.12% from 2023 to 2032.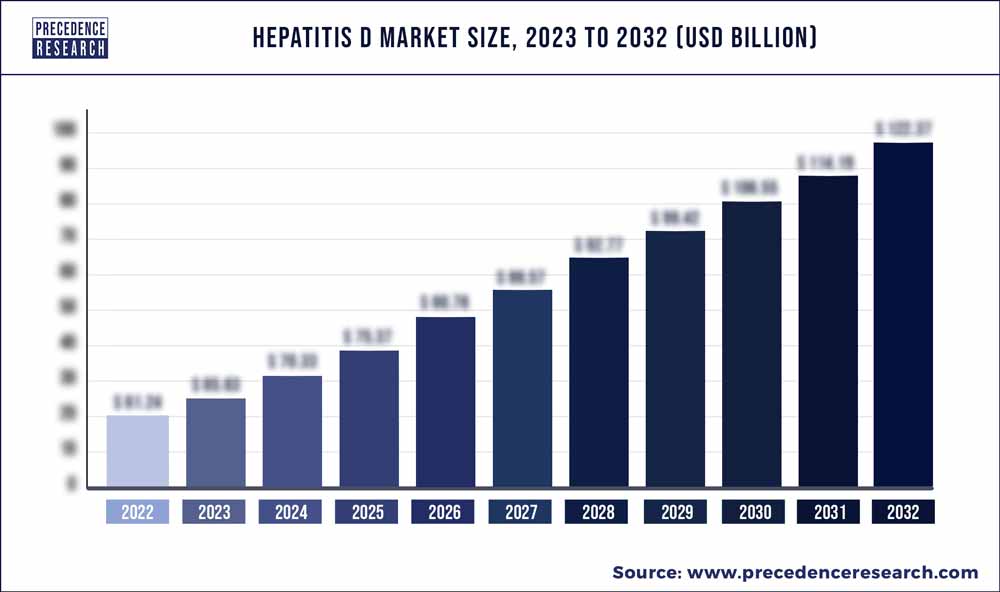 Access our Premium Real Time Data Intelligence Tool, Visit: Precedence Statistics
The hepatitis D virus (HDV), which depends on HBV for reproduction, causes hepatitis D, an inflammation of the liver. Absence of the hepatitis B virus prevents hepatitis D transmission. The co-infection of HDV and HBV is regarded as the most severe type of chronic viral hepatitis because it leads to hepatocellular carcinoma and liver-related mortality more quickly. The only way to avoid contracting HDV is through hepatitis B vaccination.
Key Takeaways:
North America is predicted holds the global market
Asia Pacific is expected to expand at the fastest CAGR through 2022.
By Type, chronic hepatitis segment contributed the largest share in 2022.
By Distribution Channel, the hospital & retail pharmacies segment contributed the largest revenue share in 2022.
Growth Factors
The prevalence of hepatitis D and B is increasing, and eating an unbalanced diet frequently will slow the market's growth. Due to increasing healthcare costs, increased government funding, and increased efforts by both public and private groups to spread awareness of the disease, there will be an increase in demand for infections with the hepatitis delta virus (HDV). The market will continue to grow as a result of additional variables like alcohol abuse and the increasing prevalence of intravenous drug use. Additionally, concurrent HBV and HDV infection can cause a mild-to-severe or even fulminant hepatitis, whereas super-infection with HDV on chronic hepatitis B speeds up the progression of the disease in all ages and affects 70% to 90% of individuals.
Alcohol addiction and an increase in the use of intravenous drugs
An additional drug clearance
New treatments are being developed
Increasing prevalence of viral Hepatitis D
Government support that is favorable for raising awareness of hepatitis
Increasing incidence of chronic illnesses
R&D in the pharmaceutical business is expanding
Report Scope of the Hepatitis D Market:
| | |
| --- | --- |
| Report Coverage | Details |
| Largest Market | North America |
| Fastest Growing Market | Asia Pacific |
| Base Year | 2022 |
| Forecast Period | 2023 to 2032 |
| Segments Covered | By Type, By Diagnosis, and By Distribution Channel |
| Regions Covered | North America, Europe, Asia-Pacific, Latin America and Middle East & Africa |

Key Market Drivers:
Rise in the prevalence of hepatitis D
The defective single-stranded RNA virus known as hepatitis delta virus (HDV) depends on the presence of the hepatitis B virus (HBV) for both expression and replication. The viral infection hepatitis D results in liver inflammation. This further impairs liver functions and results in chronic liver issues like liver cancer and scarring.
In addition, hepatitis D signs include nausea, vomiting, fatigue, lack of appetite, jaundice, joint pain, abdominal pain, and dark urine. Now a days, hepatitis D prevalence is on the rise, and a high intake of an unbalanced diet will affect the market's growth rate. For instance, the Hepatitis D virus (HDV) affects nearly 5% of people worldwide who have a chronic Hepatitis B virus infection, according to data released by the WHO in 2022. (HBV).
Furthermore, the market for hepatitis delta virus (HDV) infections will grow as a result of rising healthcare costs, rising government funding, and rising government and private organization initiatives to raise awareness of the disease. In addition to this, other factors including alcohol abuse and increasing incidence of intravenous drug abuse will drive the market growth.
Research and development efforts have advanced
The rise in the prevalence of Hepatitis D increased R&D efforts, clinical trials of hepatitis drugs, an increase in the number of product launches and item endorsements, and the development of new hepatitis drugs for the treatment of various hepatitis types are the main factors driving the growth of the hepatitis therapeutics market.
The market is growing rapidly due to increasing collaborative research activities for the pipeline development of effective drugs. In addition, continued awareness of hepatitis treatment due to collaborations and associations in major organizations and the presentation of less approach to hepatitis treatment are other factors driving the market growth.
Government programs to raise knowledge of hepatitis and how to treat it
Hepatitis D is extremely prevalent and can cause serious liver cirrhosis, which can be fatal. Furthermore, it is anticipated that over the course of the forecast period, government initiatives to raise awareness about hepatitis and its treatment will spur market development. For instance, a virtual gathering called the "World Hepatitis Summit (WHS)" took place in June 2022.
The World Health Organization co-sponsored the World Hepatitis Summit 2022. (WHO). The summit offers a venue for the large hepatitis community to assess current development and exchange thoughts, stories, and best practices for overcoming the many difficulties associated with viral hepatitis.
Key Market Challenges:
The cost of hepatitis treatments is high
However, the high cost of treatment and side effects from hepatitis D like liver failure, liver cirrhosis, and hepatocellular carcinoma will limit market expansion. The hepatitis delta virus (HDV) infection market will face additional challenges during the forecast period due to a lack of knowledge about preventative measures.
Furthermore, the hepatitis medications is predicted to grow slowly over the anticipated period due to the high capital needed for hepatitis pharmaceutical production. Because they are made from expensive basic materials like active pharmaceutical ingredients (APIs) and pharmacological intermediates, hepatitis medications are expensive. Since a skilled labor is needed, the intricate process of producing, separating, and utilizing raw materials for the creation of pharmaceutical and biopharmaceutical treatments raises the price of medications overall.
Key Market Opportunities:
Rising ongoing clinical trials
Pegylated interferon is the only medication for hepatitis D that is currently authorised. (PEG-IFN). It works by boosting the immune system's ability to combat the infection. When administered once a week for 48 weeks, a tiny proportion of patients (30%) go into remission. New study indicates longer-term injections have higher success rates. Although they have no impact on hepatitis D, oral nucleosides (antivirals) approved for hepatitis B are occasionally used in conjunction with interferon therapy to help control high hepatitis B viral loads. In addition, seven medications are currently undergoing clinical studies to determine how well they work to treat the hepatitis D virus. (HDV). Therefore, an increase in clinical trials will also present market possibilities.
Segments Insight:
Type Insights:
By type, Hepatitis D is further classified into chronic and acute. In 2022, the segment of chronic hepatitis had the largest proportion. In addition, new hepatitis drugs are being developed for the treatment of different hepatitis types, along with increased research and development efforts and hepatitis drug clinical trials.
Expanding study collaboration for the development of potent medications in the pipeline also encourages significant market growth. A unique factor that encourages market development is the promotion of affordable hepatitis therapeutics. This knowledge is being raised through alliances and joint efforts within significant organizations.
Diagnosis Insights:
On the basis of diagnosis the market is categorized into blood tests, elastography, liver biopsy, serologic testing and others. In order to identify hepatitis D, doctors primarily use blood tests. High levels of anti-HDV immunoglobulin G (IgG) and immunoglobulin M (IgM) are also used to identify and confirm HDV infection, and HDV RNA can be found in serum. HDV RNA assays, which are used to assess response to antiviral therapy, are not standardized, and HDV diagnostics are not generally accessible.
distribution channel Insights:
In 2022, the segment of hospital & retail pharmacies had the largest revenue share. The hospital & retail pharmacies sector is predicted to have the highest income in 2021 and to dominate the market throughout the projection period. The significant market share can be attributed to the numerous patients who seek Hepatitis D diagnosis and treatment immediately at the hospital. In addition, the sector is anticipated to have significant growth opportunities due to the rising number of hospital & retail pharmacies providing Hepatitis D treatments in emerging economies.
Regional Insights:
Due to the rising rates of bacterial infection, changes in clinical procedures, and accessibility to the most effective treatments for viral infections in this area, North America currently holds a monopoly on the global market for Hepatitis D. Additionally, the expensive cost of healthcare in North America stimulates the local market. The European market is divided into Western Europe and Eastern Europe on a regional premise.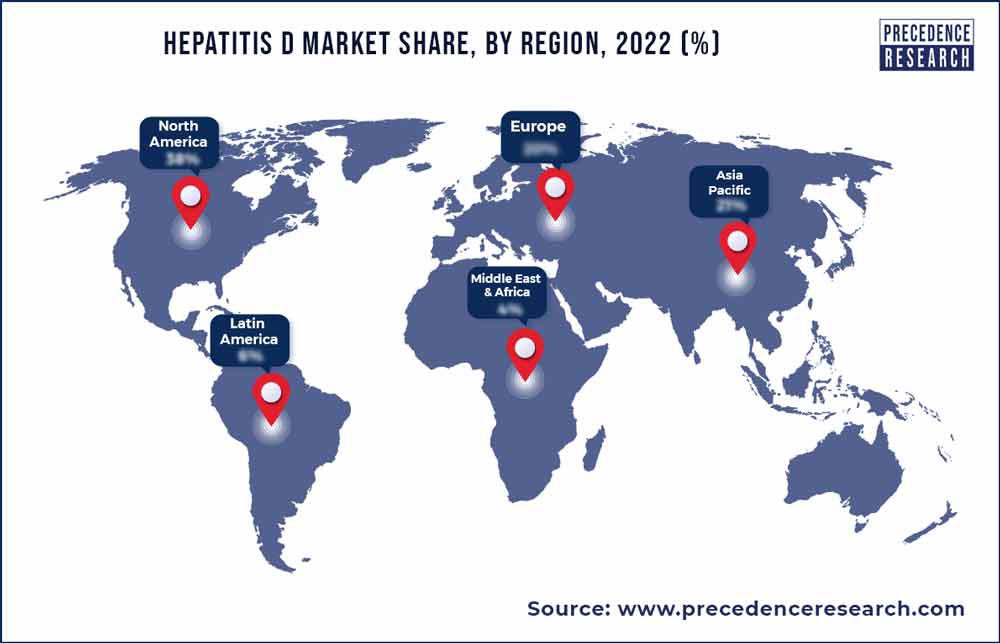 Due to the presence of cutting-edge medical facilities and growing viral infection rates among the populace, Europe is predicted to lead the market in terms of new cases of hepatitis B. Hepatitis D and C impact many people in the European area, according to a data sheet from the World Health Organization. In terms of the market for Hepatitis D treatments, Asia Pacific is anticipated to expand at the fastest rate through 2022. Market expansion is aided by the quickly expanding medical diagnostics industry, rising rates of bacterial infection, and a sizable population of HIV-positive individuals.
The Middle East and Africa, on the other hand, have the lowest market share for Hepatitis D treatments because of strict government regulations, the presence of underdeveloped economies, a lack of awareness, and low healthcare spending in the area.
Recent Developments:
In April 2022- An international biopharmaceutical firm called Antios Therapeutics, Inc. has created cutting-edge therapies for the management of chronic Hepatitis D virus. The U.S. Patent and Trademark Office recently revealed that the patent application for phosphoramidates for the treatment of Hepatitis D virus had been granted. Along with other treatments and processes, the compositions include the brand-new Active Site Polymerase Inhibitor Nucleotide (ATI-2173) from Antios.
In January 2022- Tenofovir alafenamide tablets manufactured by Lupin were given the go-ahead by the US Food and Drug Administration to treat chronic Hepatitis D viral infection.
Key Market Players:
BIOSIDUS
F. Hoffmann-La Roche Ltd
anoGen Healthcare Pvt. Ltd.
AMEGA Biotech
Rhein-Minapharm
PROBIOMED SA de CV
3SBio Group
Eiger BioPharmaceuticals
Hepion Pharmaceuticals, Inc.
Antios Therapeutics, Inc.
PharmaEssentia Corporation
Replicor, Janssen Pharmaceuticals, Inc.
Apotex Corp.
Mylan N.V
Aurobindo Pharma Limited
Gilead Sciences, Inc.
GlaxoSmithKline
Zydus Pharmaceuticals
Segments Covered in the Report:
(Note*: We offer report based on sub segments as well. Kindly, let us know if you are interested)
By Type
By Diagnosis
Blood Tests
Elastography
Liver Biopsy
Serologic Testing
Others
By Distribution Channel
Hospital & Retail Pharmacies
Online Pharmacies
By Geography
North America
Europe
Asia-Pacific
Latin America
Middle East and Africa