The global hepatitis C market size was reached at USD 55.1 billion in 2022 and it is projected to be worth around USD 206.99 billion by 2032, expanding at a CAGR of 14.2% from 2023 to 2032.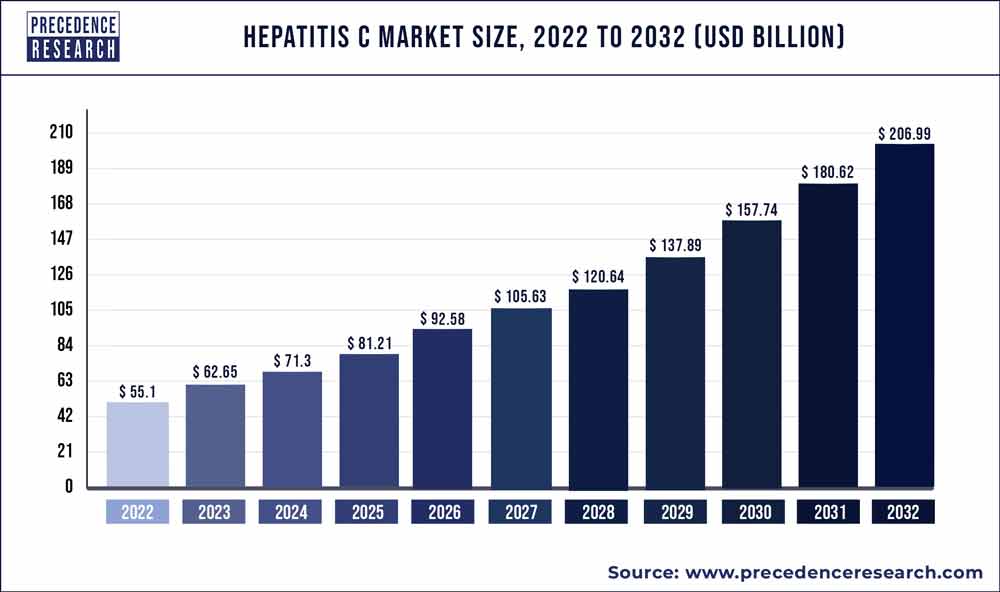 A viral infection called hepatitis C can result in severe liver damage by inflaming the liver. Contaminated blood can transmit the hepatitis C virus (HCV). Hepatitis C treatment up until recently needed weekly injections and oral medications, both of which were difficult for many HCV-infected individuals to take due to other health issues or unfavorable side effects. Furthermore, oral medications taken consistently for two to six months can typically treat chronic HCV.
Nevertheless, about half of those who have HCV are unaware of their infection, primarily because they don't exhibit any signs, which can take years to manifest. Because of this, even people without symptoms or known liver disease should be screened for hepatitis C, according to the U.S. Preventive Services Task Force. All people born between 1945 and 1965 are the most at risk because they are five times more likely to contract the disease than people born in other years.
Growth Factors:
The market will expand as a result of factors including the expansion of the pharmaceutical industry, an aging population, rising healthcare costs, urbanization improving monitoring and screening methods, and a rise in liver cancer and cirrhosis deaths brought on by HBV. Rigid competition, management issues, a lack of diagnostic resources, the high expense of medical care, and legal restrictions, on the other hand, would pose a threat to the market's expansion. Growth in pharmaceutical research and development, cooperation, innovation, and research, high demand for biomarker based tests, HBV treatments under development, government efforts, and increased public awareness are a few noteworthy trends that may be observed.
The market for treating Hepatitis C is expected to be driven by increased awareness and the development of new medications
Drugs' effectiveness in curing hepatitis C will fuel demand globally
Research and development efforts have advanced
Increasing new drug clearances for hepatitis and rising new drug releases
Increasing prevalence of viral Hepatitis C
Government support that is favorable for raising awareness of hepatitis
Increasing incidence of chronic illnesses
Report Scope of the Hepatitis C Market:
| | |
| --- | --- |
| Report Coverage | Details |
| Market Size in 2023 | USD 62.65 Billion |
| Market Size by 2032 | USD 206.99 Billion |
| Growth Rate from 2023 to 2032 | CAGR of 14.2% |
| Largest Market | North American |
| Base Year | 2022 |
| Forecast Period | 2023 to 2032 |
| Segments Covered | By Drug Class and By Distribution Channel |
| Regions Covered | North America, Europe, Asia-Pacific, Latin America and Middle East & Africa |

Key Market Drivers:
Drugs' effectiveness in curing hepatitis C will fuel demand globally - Additionally, a sizable patient population has acute hepatitis C, the other hepatitis C viral variant. The steady and drastic revenue erosion of major market leaders like Gilead, as well as the expected generic introduction by Gilead, are, however, factors limiting the growth of hepatitis C drugs in the global market. Despite these discouraging elements, a number of significant market players are engaged in the creation and promotion of Hepatitis C therapeutics.
The Hepatitis C market is most likely to be driven by increased awareness and the development of new drugs - Hepatitis C affects a sizable patient population worldwide, but at the same time, shifting patient patterns are resulting in a marked decline in patients. Because hepatitis C medications have high cure rates, their superior therapeutic efficacy has resulted in a significant decrease in the patient community. The Centers for Disease Control and Prevention (CDC) predict that 3.5 million Americans were living with chronic hepatitis C in 2020.
Government programs to raise knowledge of hepatitis and how to treat it - Hepatitis C is extremely prevalent and can cause serious liver cirrhosis, which can be fatal. Furthermore, it is anticipated that over the course of the forecast period, government initiatives to raise awareness about hepatitis and its treatment will spur market development. For instance, a virtual gathering called the "World Hepatitis Summit (WHS)" took place in June 2022. The World Health Organization co-sponsored the World Hepatitis Summit 2022. (WHO). The summit offers a venue for the large hepatitis community to assess current development and exchange thoughts, stories, and best practices for overcoming the many difficulties associated with viral hepatitis.
Key Market Challenges:
The cost of hepatitis treatments is high - The market for hepatitis medications is predicted to grow slowly over the anticipated period due to the high capital needed for hepatitis pharmaceutical production. Because they are made from expensive basic materials like active pharmaceutical ingredients (APIs) and pharmacological intermediates, hepatitis medications are expensive. Since skilled labor is needed, the intricate process of producing, separating, and utilizing raw materials for the creation of pharmaceutical and biopharmaceutical treatments raises the price of medications overall.
Key Market Opportunities:
Increasing awareness creates opportunities - In contrast to other established nations, developing nations like India, China, and Brazil have a sizable patient pool. This raises the demand for medications used to treat hepatitis C. Few nations and state governments have taken steps to reduce the spread of hepatitis C by providing special funding for programs that treat the illness or by subsidizing certain medications. Several private NGOs raise public consciousness of the hepatitis C infection and educate the populace about it. These could also be viewed as market factors for hepatitis C medications. Hepatitis C infection is becoming more common among the world's populace. Sharp needles, unkempt medical supplies, and blood transfers from an infected mother to a newborn baby are the main causes of this.
Segments Insight:
Drugs Class Insights:
On the basis of drug class it is classified into HCV Protease Inhibitors, HCV Polymerase Inhibitors, HCV NSSA Inhibitors, Combination Therapy, Interferon and Antiviral, Peginterferon alfa 2a, Peginterferon alfa 2b, Ribavirin and Others. About one-third of patients who have hepatitis C develop cirrhosis of the liver, some of whom will later develop liver failure or liver cancer. Hepatitis C is a significant cause of liver disease in the United States. Currently, a combination therapy such as alpha interferon and ribavirin administered for 6 to 12 months is the suggested treatment for hepatitis C.
Oral antiviral medication is called ribavirin. Both an immune system booster and an antiviral, interferon must be administered intravenously (three times per week) and comes with a long list of unpleasant side effects. The duration of the drug treatment is expected to be between 6 and 12 months.
Distribution Channel Insights:
In 2022, the segment of hospital & retail pharmacies had the largest revenue share. The hospital & retail pharmacies sector is predicted to have the highest income in 2022 and to dominate the market throughout the projection period. The significant market share can be attributed to the numerous patients who seek hepatitis C diagnosis and treatment immediately at the hospital. In addition, the sector is anticipated to have significant growth opportunities due to the rising number of hospital & retail pharmacies providing hepatitis C treatments in emerging economies.
Regional Insights:
North America, Europe, and Asia Pacific are the three regions that primarily control the global hepatitis C industry. The North American market had the highest revenue in 2022, primarily because of the U.S.'s high demand, the patient population's comparatively higher affordability, and the region's awareness of advanced therapeutics. Some of the key elements influencing the high share include the availability of a well-developed healthcare system, reimbursement, and access to the most cutting-edge medications. Over the course of the projection period, the Asia Pacific market is anticipated to expand at the fastest rate.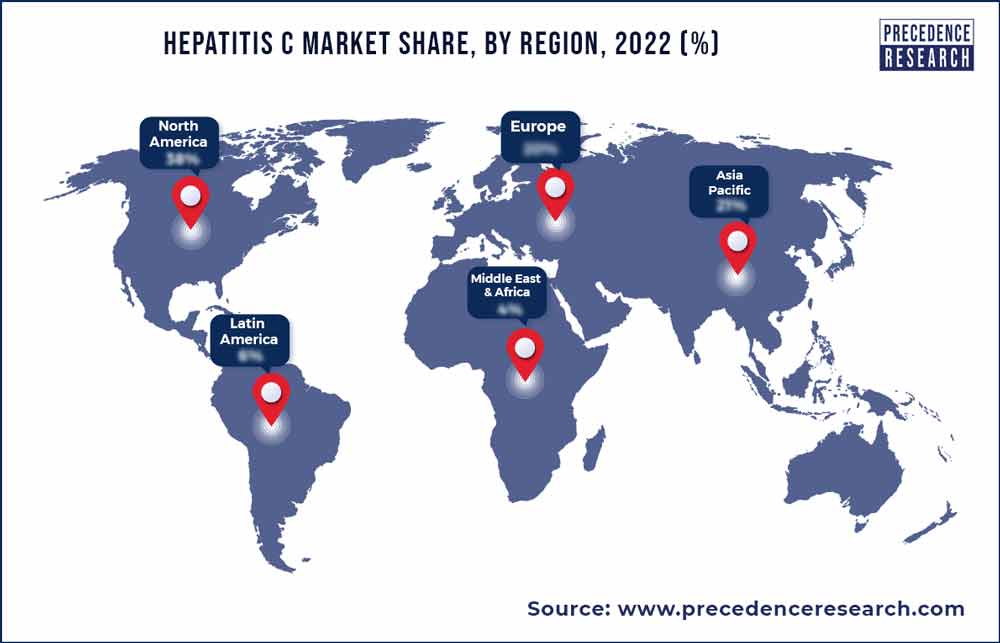 The region's growth prospects are anticipated to be favorably reinforced by the high disease burden, expanding access to medicines, improvements in healthcare and sanitation, and increasing awareness of the hepatitis vaccination. To make it easier for more people to access high-quality healthcare, nations like India, China, Indonesia, and other South Asian economies are constantly raising their healthcare spending and reimbursement coverage.
Additionally, it is expected that the Asia Pacific region will benefit from the rising demand for generic medications. Gilead has granted permission to seven Indian manufacturers to export some of the hepatitis medicines to various nations. More than half of the people who have HCV infection live in the nations that are included in this agreement.
Recent Developments:
In September 2019 - The U.S. Food and Drug Administration (FDA) has approved MAVYRET (glecaprevir/pibrentasvir), a medication that allows patients with compensated cirrhosis and chronic hepatitis C (HCV) of all genotypes who have never received treatment to cut the length of their once-daily regimen from 12 to 8 weeks. (GT1-6). Regulatory clearance for MAVYRET as an 8-week, pan-genotypic treatment for HCV patients without cirrhosis was granted in the U.S. in August 2017.
Key Market Players:
Bristol-Myers Squibb Company
Gilead Sciences, Inc.
Abbvie
Kadmon Holdings Inc.
F. Hoffmon La Roche Ltd.
GlaxoSmithKline
J & J
Lupin Pharmaceuticals, Inc.
Merck & Co., Inc.
Teva Pharmaceuticals
Zydus Pharmaceuticals
Segments Covered in the Report:
(Note*: We offer report based on sub segments as well. Kindly, let us know if you are interested)
By Drug Class
HCV Protease Inhibitors
HCV Polymerase Inhibitors
HCV NSSA Inhibitors
Combination Therapy

Ledipasvir & Sofosbuvir
Ombitasvir, Paritaprevir, Ritonavir & Dasabuvir
Elbasvir & Grazoprevir
Others

Interferon and Antiviral
Peginterferon alfa 2a
Peginterferon alfa 2b
Ribavirin
Others
By Distribution Channel
Hospital & Retail Pharmacies
Online Pharmacies
By Geography
North America
Europe
Asia-Pacific
Latin America
Middle East and Africa