The global high speed engine market size was estimated at USD 26.23 billion in 2022 and is projected to reach around USD 44.59 billion by 2032 with a registered CAGR of 5.50% during the forecast timeframe 2023 to 2032.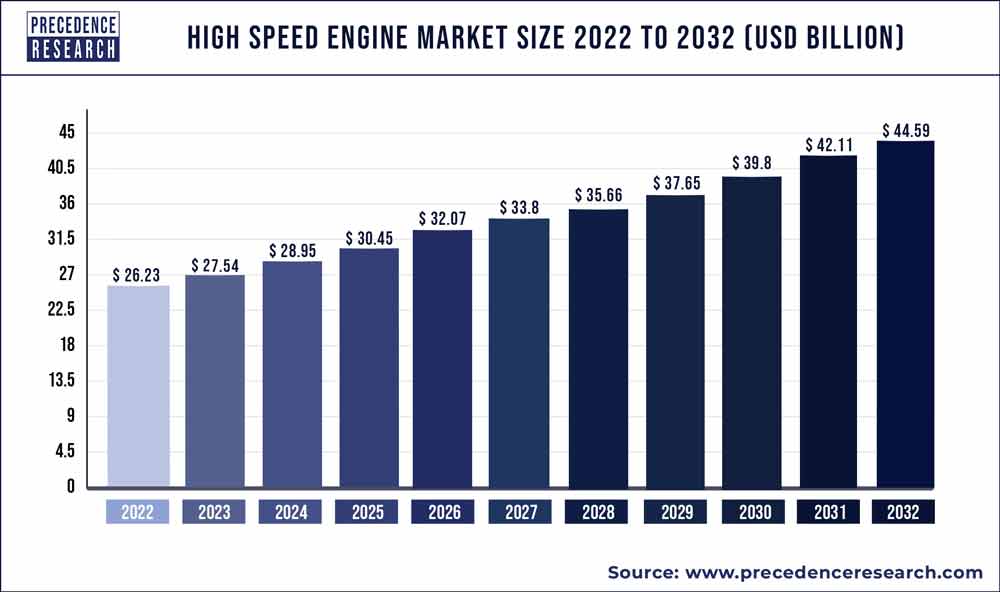 Key Takeaways:
Asia Pacific high speed engine market was valued at USD 15.20 billion in 2022.
The Asia Pacific region has garnered largest market share of around 39% in 2022.
The 1,000 – 1,500 RPM segment accounted revenue share of around 45% in 2022.
By power output, the 1-2 MW segment accounted largest market share in 2022.
By end user, the power generation segment has garnered largest revenue share in 2022.
The high speed engine market is being driven by rising requirement for reliable and continuous power, extension in worldwide marine cargo travel, and flourishing the travel industry. Moreover, rising requirement for reinforcement power arrangements is probably going to fuel market development. With the headway of computerization in the auto area and the development of industrialization, the necessity for superior execution and a trustworthy power source is growing, bringing about an expansion popular for rapid motors.
High speed engine are high-power diesel motors used in different areas today. Motors with further developed effectiveness and execution rates are expected by enterprises. Regardless of the hard core or significant expense of these motors, the interest for fast motors is developing quickly, and the abilities given by these motors are profoundly esteemed toward the end-client local area. These motors likewise have low discharge rates and less fuel utilization limits, which are broadly esteemed by end-use areas. Subsequently, these elements have supported the fast development of the great speed motor industry. In any case, the energy hotspots for fast motors have changed as of late. At first, the plan of high velocity motors depended on the necessities of rough terrain vehicles and related hardware.
Nonetheless, these motors are currently utilized in various areas, for example, oceanic and exercises, for example, power producing and train regions. Besides, because of the COVID-19 pestilence, the worth of various countries' local monetary forms has fallen. There is a crisscross of organic market, which brings about monetary misfortunes for metal makers; likewise, basic parts expected in the structure of rapid motors are many times procured in US dollars, which might bring about expanded part costs.
Growth factors
The vital drivers of the great speed motor business sectors incorporate rising requirement for trustworthy and continuous power, advancement in global marine cargo travel, and development in oceanic the travel industry. Expanded interest for reinforcement power arrangements is projected to be a huge driver driving the development of the high speed engine market during the figure time frame.
In any case, because of the COVID-19 pandemic, a few countries home grown monetary standards have plunged. There is an unevenness of organic market, bringing about monetary misfortunes for part/parts producers. Key parts required in the assembling of rapid motors are much of the time bought in US dollars, bringing about higher part costs, which are expected to obstruct the extension of the high speed motor industry. Reinforcement power age using diesel and gas engines are utilized to supply close by decentralized demand. The headway of quick engines for power age will increase as the transmission and transport networks that connection point interest and supply widen. This association expansion, alongside particular advances, will provoke extended network thickness, flexibility, and monetary perspectives.
Quick engines give more capable and solid delivering limit, giving them an advantage over other conveyed power age developments for on the spot age and support power demands. Hence, the climb in coursed power age is likely going to deliver appealing opportunities for makers of high speed engines. With the association of dispersed energy resources and new power making decisions, power systems are becoming decentralized. Power quality issues, organized arranged blackouts, surprising utility power outages, and a climb in power costs are driving up interest for energy from conveyed energy resources.
Coursed power creation structures have a constraint of under 100 MW and can be fixed or flexible. In 2012, USD 150 billion was spent all over the planet in appropriated power making propels like gas turbines, answering engines, and daylight based PV for electric power creation, mechanical drive, and stimulus. GE expects an extension in power flow advancement adventure from USD 150 billion to USD 206 billion by 2020.
Report Scope of the High Speed Engine Market
| | |
| --- | --- |
| Report Coverage | Details |
| Market Size in 2023 | USD 27.54 Billion |
| Market Size by 2032 | USD 44.59 Billion |
| Growth Rate from 2023 to 2032 | CAGR of 5.50% |
| Asia Pacific Market Share in 2022 | 39% |
| Base Year | 2022 |
| Forecast Period | 2023 to 2032 |
| Segments Covered | Power Output, Speed, End user, Geography |
| Companies Mentioned | Yanmar Holdings, Wartsila, Rolls-Royce Holdings, Man Se, Kohler, IHI Power Systems, Guangzhou Diesel Engine Factory, Doosan Infracore, Daihatsu Diesel Mfg, CNPC Jichai Power Company Limited |

Power Output Insights
The market is partitioned into four classifications in view of force yield: 0.5-1 MW, 1-2 MW, 2-4 MW, and north of 4 MW. High From 2023 to 2032, the 1-2 MW area is anticipated to be the biggest market as far as power yield. Speed motors with a power result of 1 MW to 2 MW are broadly utilized in various areas thus have the greatest piece of the pie. This range of force creation is very beneficial for power age in every train area. These motors will in all likelihood create 1MW to 2MW of power. Many organizations all around the world use generators to produce power for use in different applications. Power is used in various outlets, and power age through 2 MW diesel motors adds to the supportability of assorted exercises in numerous ventures and areas.
Speed Insights
The market is separated into three classes in view of speed: 1000-1500 rpm, 1500-1800 rpm, and north of 1800 rpm. Motors with speeds going from 1500 to 1800 rpm are popular in industrialized countries. From 2023 to 2032, this area is supposed to be the quickest growing on the lookout. These high velocity motors are usually utilized in boats, ships, and other sea applications. Motors with a speed scope of 1500 to 1800 rpm are four stroke, diesel-fueled motors. Most of high velocity motors in different verticals have motor uprooting limits of 95 liters or less, which is lower and better than motors with lower rpm. These motors with 1800 rpm have a fundamentally lower weight than motors with lower speeds. The 1800 rpm speed of these motors benefits end-clients by delivering higher power, yet the low relocation created by this speed consumes essentially less fuel than motors with lower rpm.
End User Insights
The market is separated into end clients like power age, marine, mining, oil and gas, rail route, and others. Since high velocity motors are broadly utilized in sea exercises, the marine area is the market's biggest. During the projection time frame, the power creating area would in all likelihood rule the market. The interest for reliable and consistent power is filling quickly in both arising and created nations. These elements raise the interest for reinforcement power in the power delivering business. Power reinforcement is in expanding request because of fast urbanization and industry. This encourages market development in the power creating class. During the projection time frame, the oceanic portion is supposed to increment. The sea business' interest is growing because of expanded transportation across streams. Sea the travel industry is likewise becoming over the world. Water sports and experience exercises are additionally on the ascent across the world. Subsequently, request from marine end-clients for a High Speed Engine fills in the market all through the gauge period.
The oil and gas industry is supposed to extend impressively all through the projection period. The requirement for such motors is extending in the oil and gas areas because of expanded activities like shale investigation, creation, and penetrating in this industry. This industry utilizes an assortment of hardware that is fueled by rapid motors. Accordingly, all through the anticipated period, advances overall market development. Diesel-fueled fast motors are utilized in various boats, boats, ships, and different applications. Fast motors are turning out to be progressively famous in the oceanic business, attributable to traits like diminished nitrogen oxide, carbon monoxide, and hydrocarbon discharges, as well as more noteworthy proficiency rates.
Geography Insights
During the projected period, North America is anticipated to be the quickest growing business sector for high speed engine market. North America is contained the United States, Canada, and Mexico. The United States is one of North America's essential business sectors for high speed engine. Furthermore, the nation has the biggest market for high speed engine on the planet. North America's electrical foundation is maturing, consequently expanding the chance of significant power outages and power disturbances. Ongoing enormous scope blackouts in many states, including Texas, are expected to spike interest in reinforcement power frameworks. Besides, shale gas advancements are probably going to help the development of this district's high velocity motor market. The public authority has embraced various venture drives to work on the motor's effectiveness. The quick ascent in business development, alongside the public authority's good FDI arrangements, is probably going to drive up interest for fast motors.
Besides, with the taxpayer supported initiative of "Make in India," the chance of development and improvement for the Asia-Pacific high speed engine market is tremendous all through the anticipated. Europe is the second biggest market, and it is anticipated to build in light of the fact that to solid commitments from countries likes Germany, the United Kingdom, and France. The presence of a laid out assembling area in this locale offers additional chances for market extension for makers. Moreover, with Europe's car area presently flourishing, the market for rapid engines will flourish. North America is the third greatest market, and it is anticipated to build on the grounds that to the presence of top producers that put much in R&D. Expanded interest in innovative work will bring about merchandise that are exceptionally imaginative and satisfy government measures. The Latin America region is supposed to grow at a fast rate all through the projection period. Around here, there is areas of strength for a for reliable and constant power, and request from rail lines and the oil and gas area is likewise extending impressively. These components are anticipated to fuel development around here.
During the projection time frame, the Middle East and Africa district is anticipated to ascend at a significant Compound annual growth rate. To address the blackout and power outage hardships, the district is altogether expanding its interest in the power producing business, and the area is likewise going through quick industrialisation, which raises the interest for power reinforcement. Around here, the oil and gas area is utilizing proficient innovation. This cultivates market development in the area. This will bring about market development all through the figure period.
Key market developments
Cummins Inc. reported in October 2021 that it had been granted a USD 87 million agreement by the US Army to complete the improvement of the high level battle motor, a versatile and particular diesel motor framework. This motor can hybridize.
At the China International Import Expo in Shanghai in November 2020, Rolls Royce said that the business marked arrangements to give up to 1000 motors and furthermore settled key partnerships. Six extra Chinese undertakings have additionally consented to supply up to 1000 MTU 2000 and 4000 series motors to the organization.
Key market players
Yanmar Holdings
Wartsila
Rolls-Royce Holdings
Man Se
Kohler
IHI Power Systems
Guangzhou Diesel Engine Factory
Doosan Infracore
Daihatsu Diesel Mfg
CNPC Jichai Power Company Limited
Segments covered in the report.
(Note*: We offer report based on sub segments as well. Kindly, let us know if you are interested)
By Power Output
0.5-1 MW
1-2 MW
2-4 MW
Above 4 MW
By Speed
1,000 – 1,500 RPM
1,500 – 1,800 RPM
Above 1,800 RPM
By End user
Railway
Marine
Power Generation
Oil & Gas
Others
By Geography
North America
Europe
Asia-Pacific

China
India
Japan
South Korea
Malaysia
Philippines

Latin America

Brazil
Rest of Latin America

Middle East & Africa (MEA)

GCC
North Africa
South Africa
Rest of the Middle East & Africa