The global hydrochloric acid market size surpassed USD 2.42 billion in 2022 and it is projected to hit around USD 4.39 billion by 2032, poised to grow at a CAGR of 6.20% during the forecast period from 2023 to 2032.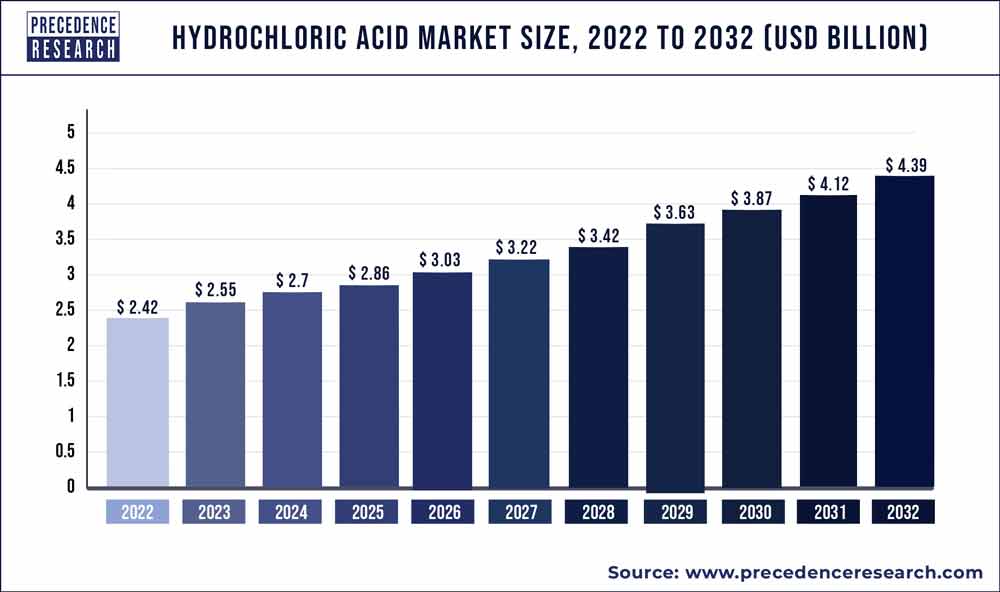 Key Takeaways:
North America is predicted to capture the largest market share from 2023 to 2032.
Asia Pacific region is expected to expand at the fastest CAGR from 2023 to 2032.
By Grade, the synthetic grade segment held the largest market share in 2022.
By Application, the steel pickling segment is projected to capture the biggest revenue share from 2023 to 2032.
Market Overview:
A strong, colorless mineral acid with various industrial applications, hydrochloric acid (HCl, also known as muriatic acid) interacts with an organic base to generate a hydrochloride salt. Historically, rock salt and green vitriol were used to make hydrochloric acid. Later, common salt (NaCl) and sulfuric acid, which have a similar chemical makeup, were used. In the large-scale production of vinyl chloride for PVC plastic and polyurethane, the chemical industry uses hydrochloric acid as a chemical reagent. Acid hydrochloride is a multifunctional chemical.
Other industrial uses for hydrometallurgical processing of metals include the creation of alumina and/or titanium dioxide, the creation of hydrogen, the activation of petroleum wells, various cleaning/etching processes, including metal cleaning (such as steel pickling), and the cleaning of finished brickwork by masons. HCL is widely used as a bleaching agent to neutralize alkaline substance in various industries including metal, food, textile and others. The hydrochloric acid market is driven by the increasing demand from various end-use industries such as food & beverages, textile, water and wastewater and others, increasing technological advancements, the increasing demand for HCL in steel production and the growing collaboration among the key players operating in these industries.
According to the European Steel Association AISBL (EUROFER), 153 million tonnes of finished steel are produced annually on average by the EU steel sector. Additionally, this industry supports up to 2.27 million indirect jobs in addition to 310,000 direct jobs.
The value of all pharmaceutical sales in Canada from 2011 to 2019 (including non-patented over-the-counter drugs) climbed by 35.3% to $29.9 billion, with 86.7% going to retail pharmacy shops and 13.3% going to hospitals, according to the 2019 PMPRB Annual Report. Governments pay for 37.2% of the cost of drugs, with private payers covering the remaining 62.8%.
Report Scope of the Hydrochloric Acid Market:
| | |
| --- | --- |
| Report Coverage | Details |
| Market Size in 2023 | USD 2.55 Billion |
| Market Size by 2032 | USD 4.39 Billion |
| Growth Rate from 2023 to 2032 | CAGR of 6.20% |
| Largest Market | North America |
| Base Year | 2022 |
| Forecast Period | 2023 to 2032 |
| Segments Covered | By Grade, By Application, and By End-use |
| Regions Covered | North America, Europe, Asia-Pacific, Latin America and Middle East & Africa |

Market Dynamics:
Driver:
Growing demand for HCL from water and wastewater treatment
The market for hydrochloric acid is anticipated to develop in the future due to the rising demand for water and wastewater treatment. The process of enhancing water quality for final usage is referred to as water and wastewater treatment. Because of its capacity to neutralize, hydrochloric acid is an excellent choice for applications involving water treatment, and as a result, demand for this chemical is rising.
According to the United Nations, an intergovernmental body with headquarters in New York, 56% of home wastewater flows were safely treated globally in 2020 as of August. By 2030, it is anticipated that wastewater treatment and acceleration will meet a goal.
The objective is to monitor the percentage of entire industrial and domestic wastewater flows that have been safely treated by local or national regulations. As a result of the rising need for water and wastewater treatment, the hydrochloric acid industry is growing.
Restraints:
Adverse impact on health
HCl denatures proteins and alters the pH in the immediate area. This causes tissue necrosis and the production of edema. Coagulation necrosis caused by HCl is characterized by the development of an eschar. The esophagus and stomach may become damaged as a result of ingested HCl. Pylorospasm-induced pooling of HCl in the antrum has been linked to subsequent gastric injury. Patients who survive HCl ingestions could develop strictures, gastric atony, and obstruction of the gastric outlet. HCl usually builds up and harms the upper respiratory tract when it is breathed. Concentrated HCl can reach the alveoli and bronchioles and harm them from there. Thus, the adverse impact on health might hamper the market growth over the forecast period.
Opportunities:
Increasing demand from various end-use industry
The increasing demand for hydrochloric acid from various end-use industries including food & beverages, pharmaceutical and others is expected to provide a potential opportunity for market growth over the forecast period. The symbol E507 is used to identify hydrochloric acid in the food sector. It is an acidity regulator, which implies that adjusting or maintaining pH is its main function. Breweries and confectioneries utilize hydrochloric acid primarily, but it is also frequently present in baby food, homogenized and cottage cheese, spice blends, and syrup. In the pharmaceutical sector, it is employed in the chemical production of numerous medicines' active components, including ascorbic acid and para-aminobenzoic acid. Hydrochloric acid also regulates the pH of eye moisturizing drops. Thus, these type of application in the food and pharmaceutical sector is expected to offer an attractive opportunity for market expansion.
Segments Insight:
Grade Insights:
Based on the grade, the global hydrochloric acid market is segmented into synthetic grade and by-product grade. The synthetic grade segment held a substantial market share and is expected to continue the same pattern during the forecast period. Aqueous hydrogen chloride solutions make up synthetic hydrochloric acid. Synthetic grade HCL is widely used in various applications including pH adjustment and neutralization as a base of food and industrial chemicals. As a result, demand for this particular variety of hydrochloric acid is increasing. These are used in a variety of sectors because it is readily available and less expensive, in turn, driving the segment growth during the forecast period.
The by-product grade segment is expected to grow exponentially during the forecast period. The growth in the segment is primarily attributed to the several application in various sectors including oils, and lubricants, mining (ore extraction) as well as refinement procedures.
Application Insights:
Based on the application, the global hydrochloric acid market is divided into steel pickling, oil well acidizing, ore processing, food processing, pool sanitation, calcium chloride, biodiesel, and others. Steel pickling is expected to capture the largest revenue share over the forecast period. Steel demand is being influenced by the building sector's rapid expansion worldwide. Hydrochloric acid is usually included in the pickling solution. Large-scale continuous treatment techniques including wire pickling, metal stripping, and the regeneration of depleted pickling solutions are advantages of using hydrochloric acid. These factors, which are anticipated to fuel this segment's revenue growth, lead to an increase in the use of hydrochloric acid due to the increased demand for steel globally. Another factor supporting the expansion of the steel industry is the increased demand for steel-based products in the construction sector, which also raises the need for hydrochloric acid for pickling steel.
Regional Insights:
The Asia Pacific region is expected to grow at the fastest rate during the forecast period. the regional growth is attributed to the increasing steel production, particularly in China. Moreover, the growing infrastructural projects such as roads, houses and others significantly rise in demand for steel, which in turn, drives the growth of the hydrochloric industry during the forecast period.
China produced 94.85 million tons of crude steel in August 2020, up 8.4% from the same month the previous year, according to the National Bureau of Statistics. The amount of crude steel produced from January through August was 688.89 million tons, up 3.7% over the same period the previous year.
In 2021, China announced a 15-year plan for the construction of its transportation system. The country aspires to have doubled the size of its high-speed rail network by 2035. Beijing also wants to increase the country's high-speed rail network's length by more than 84% between 2020 and 2035, reaching 70,000 km (43,500 miles). The plan also includes a 25,000 km system of excellent inland waterways and a 460,000 km network of national expressways and normal highways. But in 2021, China's railroad network's operational length expanded by 2.5% to 150,000 km.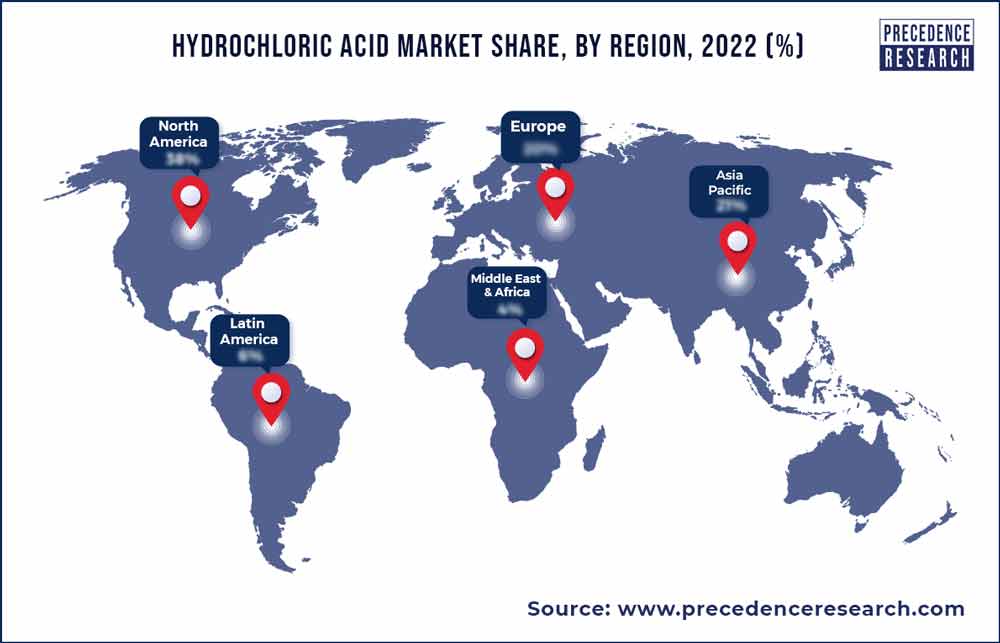 Moreover, the increasing fertilizer sector in India is expected to drive the hydrochloric acid market over the forecast period.
As per Observatory of Economic Complexity (OEC), India was the 65th-largest fertilizer exporter in the world in 2021 with exports of $122M. In the same year, fertilizers were India's 81st most exported commodity. India's top export markets for fertilizers are Nepal ($39 million), the United States ($11.5 million), Chinese Taipei ($9.23 million), Italy ($7.79 million), and Malaysia ($6.45 million).
Therefore, the aforementioned statistics drive the demand for hydrochloric acid in the Asia Pacific region.
North America is expected to capture the largest market share during the forecast period. The growth of hydrochloric acid in the region is derived from the increasing pharmaceutical business. It is used in the pharmaceutical industry to produce a variety of medicines' active ingredients, such as ascorbic acid and para-aminobenzoic acid, chemically. Additionally, hydrochloric acid controls the pH of ocular lubricant drops. Moreover, the growing food and processing industry in the countries like Canada and US is expected to provide lucrative opportunities for market expansion in the region.
Recent Developments:
In October 2020, PVS Chloralkali Inc., a fully owned subsidiary of PVS Chemicals Inc., and Univar Solutions Inc., a global distributor of chemicals and ingredients and provider of value-added services, announced a new agreement under which PVS will transfer railcars in Ohio, Illinois, and Virginia as well as sourcing contracts for Hydrochloric Acid (HCL) to Univar Solutions. Through this partnership, Univar Solution extensive and reliable network for its HCL business in North America would be further expanded.
In January 2022, the Ludwigshafen Verbund Sites infrastructure, including the facilities for producing acid chlorides and chloroformates, will undergo a significant modernization by BASF. For this, the corporation is investing a low-thirty million euro sum. The measures, which are scheduled to be finished in 2025, will roughly triple the company production capacity at this location. With a current annual capacity of 60,000 metric tons and manufacturing facilities at its locations in manufacturing facilities at its location in Ludwigshafen, Germany, and Yeosu, Korea. BASF is one of the top producers of chloroformates, acid chlorides, and alkali chlorides in the world.
In February 2022, Hexion Inc. was purchased by Westlake Chemical Corporation, a US-based producer and supplier of petrochemicals, polymers, and building products. Westlake is anticipated to gain from this collaboration by obtaining access to a top downstream range of coatings and composite products, significantly expanding its integrated business. Chemical manufacturer Hexion Inc., with headquarter in the US, creates specialized products, associated technology, and thermosetting polymers that work in hydrochloric acids.
Key Market Players:
BASF SE
AGC Chemicals
Coogee Chemicals
Olin Corporation
Detrex Corporation
Dongyue Group
Ercros SA
ERCO Worldwide
Inovyn
Nouryon Industrial Chemicals
Occidental Petroleum Corporation
Covestro AG
Vynova Group
Shin-Etsu Chemical Co., Ltd
Solvay
Tessenderlo Group
TOAGOSEI CO. LTD
PCC Group
Westlake Chemical Corporation
Merck KGaA
Segments Covered in the Report:
(Note*: We offer report based on sub segments as well. Kindly, let us know if you are interested)
By Grade
Synthetic Grade
By-Product Grade
By Application
Steel Pickling
Oil Well Acidizing
Ore Processing
Food Processing
Pool Sanitation
Calcium Chloride
Biodiesel
Others
By End-use
Food & Beverages
Pharmaceuticals
Textile
Steel
Oil & Gas
Chemical
Others
By Geography
North America
Europe
Asia-Pacific
Latin America
Middle East and Africa