The global liquid biofuels market was estimated at US$ 80 billion in 2022 and is expected to hit around US$ 148.06 billion by 2032 and poised to grow at a CAGR of 6.40% during the forecast period 2023 to 2032.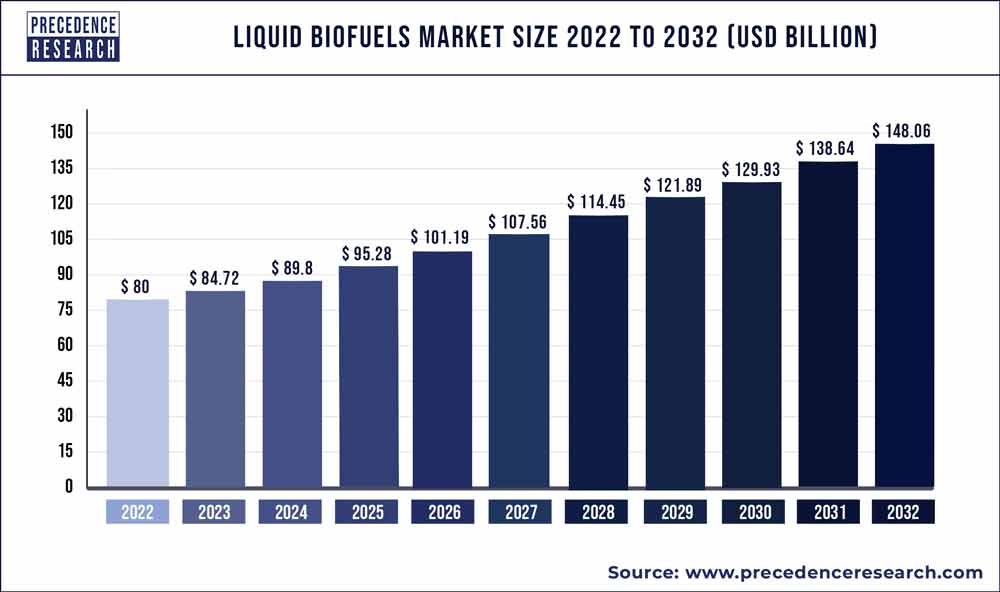 Access our Premium Real Time Data Intelligence Tool, Visit: Precedence Statistics
Liquid Biofuels Market Size in the U.S. 2023 To 2032
The U.S. liquid biofuels market was valued at US$ 16.32 billion in 2022 and is predicted to be worth around US$ 30.21 billion by 2032, at a CAGR of 6.5% between 2023 to 2032.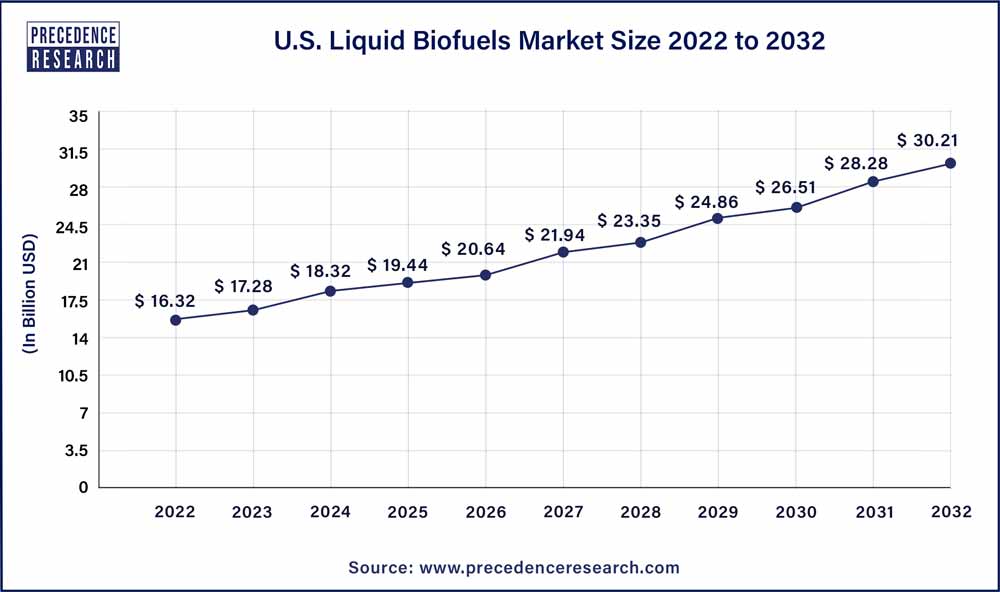 North America has dominated the global market over the past few years, due to the feedstock cornucopia and arable and for the production of biofuel product. Brazil, U.S., the China and European Union are foreseen to be some of the key regions boosting the demand regarding liquid biofuels. Still, other economies similar as Indonesia, Thailand, Canada, Australia, and Philippines are anticipated to produce significant opportunities for the biofuel market. In addition, concerning the biofuel potential long- term global impact, growth of the biodiesel and bioethanol markets is majorly based on the availability of agricultural land for the non-food production.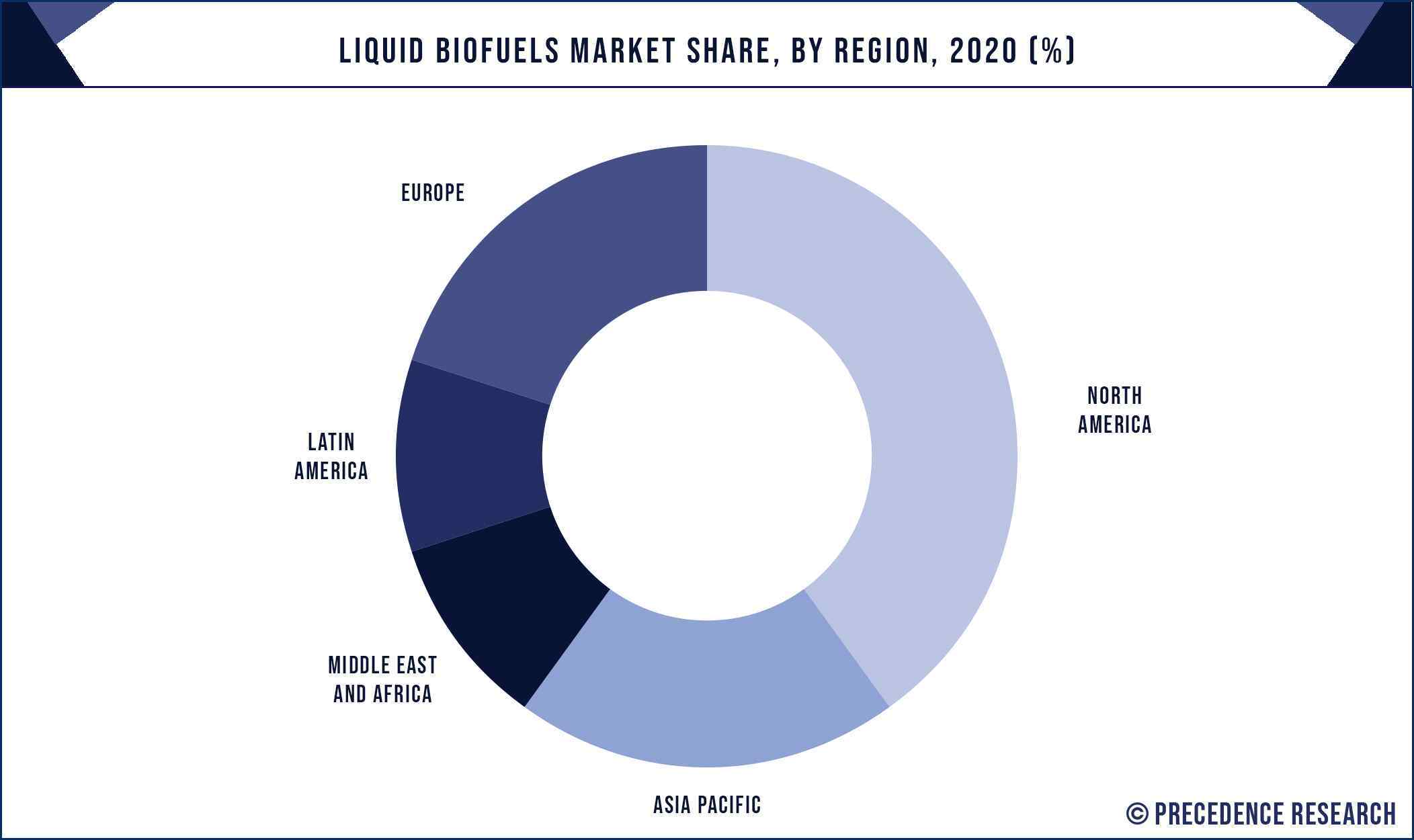 The Canadian Clean Energies Standard (CFS) has likely to apply various morals for liquid, gaseous, and solid energies burned for the production of energy coupled with the sector of transportation. Furthermore, the government of Canada has been focusing more towards the achievement of periodic reductions of Greenhouse Gas (GHG) by 30 Mt in emigrations by the year 2032, which is adding up to the country's problems in order to attain an overall GHG emission drop of more than 30% by 2032.
The market of South and Central America has been propelled because of the rising government enterprise and adding focus towards security of energy and independence. Likewise, the high dependence on fossil energies is forcing the distinct governments in the region to find an alternatives. Also, bio-fuels give excellent solutions to the extremity of depleting fossil energies in countries similar as Venezuela, Brazil, and others.
Growth Factors
Depleting resources based on fossil fuel and upsurge in consumer awareness regarding protection of the environment are the key factors which are estimated to boost the market. Likewise, the availability of numerous tax incentives and regulatory policies around the world is likely to propel biofuel producers to invest further in R&D conditioning in order to achieve rearmost third- generation technologies commercialization.
Liquid biofuel is an energy-efficient alternative which helps reduce energy security pollution and risks levels associated with the combustion of fossil. Hence it can be blended in large amounts with traditional fossil fuels for use in applications similar as transportation. Although biodiesel has the capability to replace conventional energy, however its product capacity isn't enough to meet the current demand. Therefore, the market is largely regulated with various tax incentives in different countries. In addition, governments across the world have introduced multitudinous programs and strategies to alleviate the concerns associated with climate change. Energy security, climate change mitigation and pastoral development, are some of the crucial parameters responsible for similar policy goals.
The demand for renewable diesel, hydro reused esters, and bio jet fuel of fatty acids also called as hydro treated vegetable oil, is anticipated to lift during the forecast period. In addition, this rise in demand can be credited to their potential properties of being utilized unblended without any engines modification in transportation, fuel supply infrastructure and maintenance regimes.
Report Scope of the Liquid Biofuels Market
| | |
| --- | --- |
| Report Coverage | Details |
| Market Size | USD 148.06 Billion by 2032 |
| Growth Rate | CAGR of 6.40% from 2023 to 2032 |
| Base Year | 2022 |
| Largest Market | North America |
| Fastest Growing Market | Asia Pacific |
| Forecast Period | 2022 to 2032 |
| Segments Covered | Product, Feedstock, Application, Process, Region |
| Companies Mentioned | Archer Daniels Midland Company, Gevo, Green Plains, Wilmar International, Algenol, Pacific Ethanol Inc., Valero Energy Corp., Petrobras; Butamax, Renewable Energy Corp., Bunge North America Inc. |
The outbreak of the COVID-19 contagion has threatened to beget long- term damage on numerous industries. In addition, one among them is the transport industry, which is facing sharp drop in demand. The teardrop-down effect have been being witnessed in even biofuel prices steeper fall, especially among the ethanol prices. According to a study completed by Purdue University, on an average the yearly price of ethanol dropped down to to$0.82/ gallon in March 2020 from $1.32/ gallon in December 2019 owing to rapid drop in demand for transport services. Furthermore, reduced profit margins of producers of the ethanol have further diminished the production of ethanol, which is likely to further affect the market growth of liquid biofuels. In addition, in Canada, the national government is further trying to simplify enactment of low- carbon energies as the Canadian oil sector has taken a major blow owing to the epidemic. Growing turmoil in the hydrocarbon market as a result of the coronavirus will, thus, stem the uptake of liquid biofuels in the current time.
Product Insights
The bioethanol & biodiesel is the dominating segment of liquid biofuels market. Significant factors impacting the growth include innovation support (for second and third generation biofuels), favorable regulatory and political support, environmental support, geopolitical support, customer support, and agricultural and economic support.
The consumption of polish bioethanol has further witnessed a growth in the base year as authorizations gradationally which have been slightly escalated, and a limited proportion had been fulfilled via the usage of biodiesels. During the same time in the Netherlands, biofuel consumption grew because of higher mandates on diesel cars and upsurge in tax. Furthermore, in Sweden, the consumption of bioethanol is dropping down substantially owing to the dip in the sales of E85 as government flex-fuel cars energy taxes foreseen hurdle for the biofuel application.
Application Insights
On the basis of application, transportation is the dominating segment during the forecast period. Transportation biofuel consumption is demanded to triple by 2032 and has to be on the trail with the Sustainable Development Script (SDS). This compares the one tenth of global transportation energy demand, to be compared with the current position which is around3.5%. In addition, stronger support and intention of policy which will gradually reduce the costs are needed to be balanced up with both the advanced biofuel consumption and adoption of biofuels in the numerous transportation sectors, as previsioned in the sustainable development scenario. Furthermore, as sustainable biofuels have a place in the scenario of sustainable development, more and more prevalent governance of sustainability has been paired to provide advanced biofuel production.
Brazil and India are likely to experience a growth in the product of liquid biofuel as both the countries have recorded the loftiest production all across their region. This factor is likely to boost the market further which is likely to gain sustainable development volume for 2032. In terms of bioethanol product, Brazil recorded the loftiest production across Central and South America.
Key Market Developments
In May 2020, a key player based in Canada named BC Hemp Corporation declared its future plans to build a biofuel plant in Prince George, which is in British Columbia for an evaluated value of around $2 billion. In addition, by employing around 2500 people, the plant will be used for producing industrial-grade ethanol from the stock of hemp.
In February 2020, a key player based in Italy named NextChemcame in collaboration with a company situated in U.S. named Saola Energy in order to produce dieselwhich is renewable in nature from vegetable oils and residual fats. Furthermore, Saola will also employ its is omerization technologies and hydro-treatment in order to produce renewable diesel, while NextChem will provide the clients construction, engineering, and training services under the partnership.
Some of the prominent players in the global Liquid Biofuels market include:
Segments Covered in the Report
By Product
Biodiesel

Bioethanol

Others
By Application
Transportation Fuel

Power Generation

Thermal Heating
By Feedstock
Sugar Crops

Starch Crops

Vegetable Oils

Animal Fats

Others
By Process
Fermentation

Transesterification

Others
By Geography
North America
Europe
Asia-Pacific

China
India
Japan
South Korea
Malaysia
Philippines

Latin America

Brazil
Rest of Latin America

Middle East & Africa (MEA)

GCC
North Africa
South Africa
Rest of the Middle East & Africa