The global liquid fertilizers market size was surpassed at USD 14.99 billion in 2022 and it is likely to grow at USD 21.4 billion by 2032 and growing at a registered CAGR of 3.50% over the forecast period 2023 to 2032.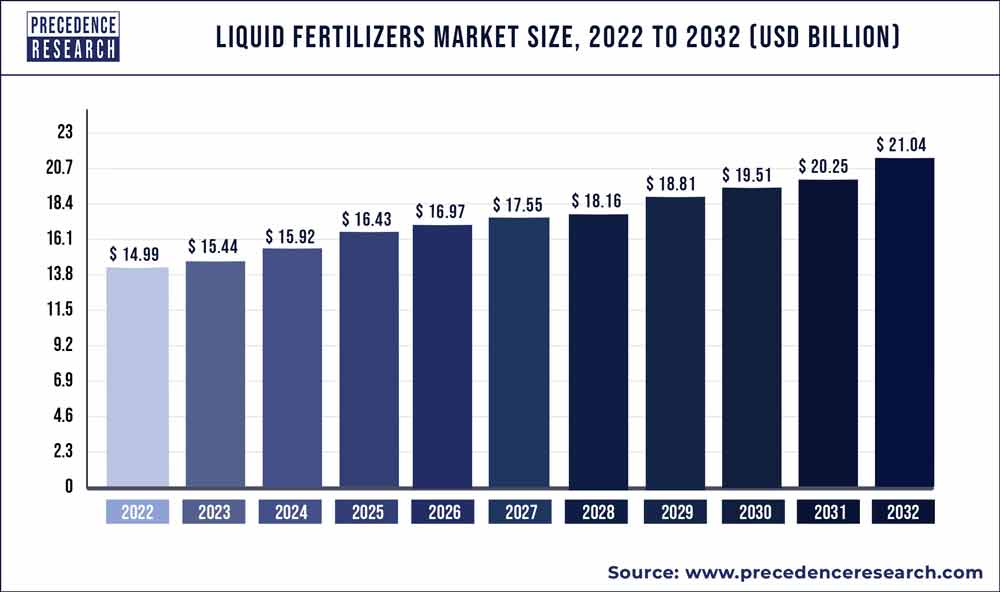 Key Takeaway
By type, nitrogen segment has captured revenue share of over 51% in 2022.
By production process, organic segment has captured 69% revenue share in 2022.
Synthetic segment is poised to grow at a CAGR of 4.5% over the forecast period.
By mode of operation, follar segment has generated 50% revenue share in 2022.
Fertigation segment is growing at a CAGR of 5.2% over the forecast period.
By crops, grains & cereals segment has held 48% revenue share in 2022.
Oilseeds and pulses segment is growing at a notable CAGR of around 5.9%.
Asia Pacific market is growing at a CAGR of 2.7% over the forecast period.
Growth Factors
Liquid fertilizers offer required nutrients to the plants on specific time along with varied conditions. Liquid fertilizers are predicted to be absorbed by plants or trees through their roots and leaf pores. They are rich in micronutrients and growth hormones; henceforth, are immensely used in growing crops, for example maize. They act as a catalyst that increases a plant's nutrient intake capacity. Liquid fertilizers also help in the rapid formation of seedlings as well as support early growth of plants. Moreover, during the forthcoming years, rising human population expected to surge the demand for larger quantity of food; this highlights the significance of agriculture and farming as it is the only way to produce food in mass quantity for humans. Land is limited now and the scope of generating new land areas for farming is also negligible.
On the other hand, presently available land for agriculture has reduced because of soil erosion, urbanization, and pollution. The only possible way to produce large quantity of food for everyone is by growing the yield per area of the available lands. This is possible only through the intelligent application of fertilizers along with other advanced farming techniques.
The market for liquid fertilizers has been quickly developing, and it is expected to continue growing in the long run. High demand for high-efficiency fertilizers, simplicity of operation, adoption of sustainable agricultural techniques, and improving environmental safety are some of the reasons driving the liquid fertilizers market. Despite the global shrinking of agricultural land, there is a mounting global need for food, which has resulted in a immense growth in the use of high-efficiency fertilizers, especially liquid fertilizers, in farming. Liquid fertilizers provide a major contribution to total production and food security. So far, the North American region has seen the highest rate of adoption of liquid fertilizers.
The liquid fertilizers are anticipated to widen as one of the highly efficient fertilizers that could provide cost-effective yields under a diverse range of agro-climatic conditions, as compared to other type of fertilizers. Because of the growing global need for food, the market for potassium liquid fertilizers is expected to rise in the future years. The Asia-Pacific region accounted for the majority of the market examined.
The increased demand for high-value items such as fresh fruits, nuts, vegetables, and coffee is increasing; yet, climate change is having a major effect on crop development. Farmers may increase crop yield and profitability by using greenhouses and valuable irrigation systems, as well as highly effective fertilizers. Furthermore, increased food security awareness and the growing population of emerging nations like as India, Brazil, and Indonesia, among others, are driving demand for highly efficient liquid fertilizers throughout the forecast period.
Report Scope of the Liquid Fertilizers Market
| | |
| --- | --- |
| Report Coverage | Details |
| Market Size by 2032 | USD 21.4 Billion |
| Growth Rate from 2023 to 2032 | CAGR of 3.50% |
| Asia Pacific Market Share in 2022 | 38.4% |
| Europe Market Share in 2022 | 24% |
| Base Year | 2022 |
| Forecast Period | 2023 to 2032 |
| Segments Covered | Crop Type, Compounds, Type, Ingredient, Application, Geography |
| Companies Mentioned | Yara International ASA, Nutrien Ltd, Israel Chemical Ltd., Haifa Chemical Ltd, GrupaAzoty, The Mosaic Company, SociedadQuímica y Minera de Chile S.A., K+S Aktiengesellschaft, Plant Food Company Inc., EuroChem Group |
COVID-19 Impact Analysis
With the sudden outbreak of COVID-19 pandemic in the early 2020 several industries face steep decline in their demand as well as production owing to country lockdown and social distancing norms issued by the government. The liquid fertilizers market was minimally impacted during the COVID-19 outbreak. Supportive government initiative to ensure the sufficient availability of fertilizers with farmers is the major factor behind the minimal impact on the growth of liquid fertilizers. However, delays and disruption at border of various countries and disruption in supply chain, bad transportation network has shown notable impact on the market growth of liquid fertilizers across the globe. In addition, less availability of raw materials and labor because of curfew practices and global lockdown hindered the market growth for liquid fertilizers in the pandemic period.
Crop Type Insights
During the studied period, the fruits and vegetables segment dominated the liquid fertilizers market. Fruit consumption has increased dramatically over the last two decades, and this trend is expected to continue in the next years. Report published by FAO says China is the top producer of fresh fruits and vegetables in the world, which is greater than US and Indian production and growth in 2018. Increased fruit and vegetable exports have resulted in an increase in crop plantation area, which has resulted in enlarged output levels. As a result, the market for chemical fertilizers and pesticides for fruits and vegetables is expected to grow substantially. As an outcome, the market is expected to grow.
The cereals and grains segment is expected to witness the highest growth rate during the forecast period. Liquid fertilizers for these crops, notably in Asian and North American nations. Furthermore, owing to increased demand for crops such as corn, wheat, rice, and sorghum across many sectors, crop protection chemical consumption is expected to rise in order to improve the output of these cereals. As a result of these factors, the segment is expected to develop at the fastest rate during the forecast period. Asia Pacific accounted for the highest share of the liquid fertilizer market for cereals and grains, owing to high crop output in nations such as the United States, China, India, and Japan.
Type Insights
Nitrogen segment dominated the global market. Macro and microelements are of great importance for plant growth. Nitrogen is heavily ingested nutrient for all the current farming practices in the world. It's utilized to make amino acids, which turn into proteins, and it's involved in nearly every metabolic reaction in a plant. Farmers generally face the problem of low availability of nitrogen in the soil. As a result, more liquid nitrogen fertilizer is needed to solve the problem. Further, multiple mixtures of nutrients are created and utilized to feed plants. As a result, global demand for liquid nitrogen fertilizers remains high.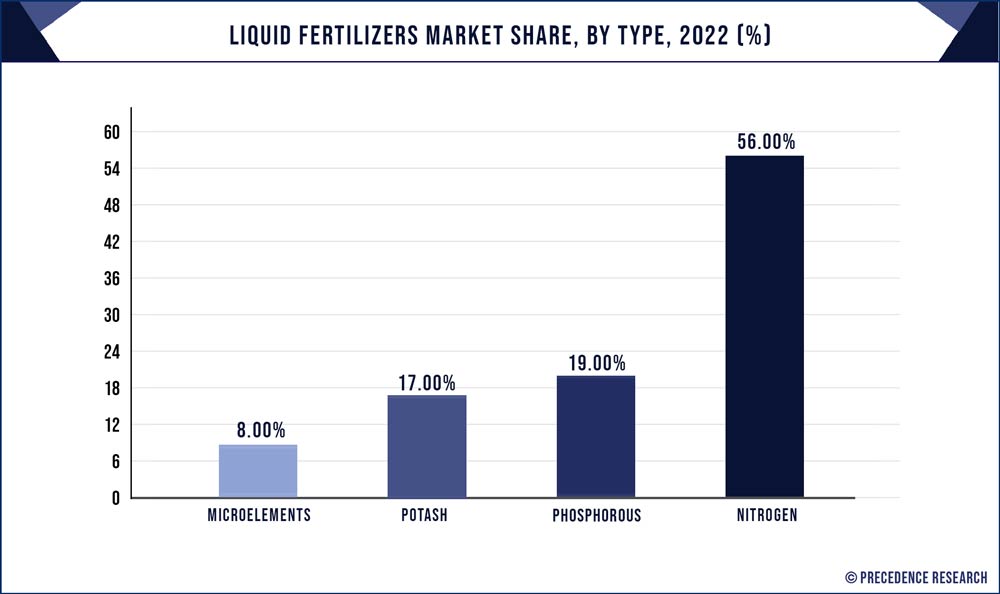 Potash is expected to witness the highest growth rate during the forecast period. The market for potash fertilizers is expected to increase at a 4.47% CAGR from USD 21.6 billion in 2017 to USD 30.87 billion by 2032. This market's expansion may be linked to an increase in the requirement for increased productivity utilizing limited land area, as well as an increase in the application of potash fertilizers. As an increasing number of agricultural producers adopt these products, the benefits of employing these fertilizers are driving market expansion.
Compound Insights
Calcium Ammonium Nitrate (CAN) captured high revenue share in the global liquid fertilizer market as it is the significantly and widely used nitrogen fertilizer because of its comparatively high nutrient content along with physical properties, such as high solubility that helps in quick dissolving of the fertilizer into the soil. It contains magnesium and calcium that helps in upgrading the efficiency for absorbing nitrogen by the roots along with reducing nitrogen losses that makes the fertilization more profitable; this also protects subsoil waters counter to pollution by nitrogen compounds. Henceforth, the aforementioned factors help in driving the market growth for CAN in the upcoming years as well.
Application Insights
Fertigation captures notable revenue share in the global liquid fertilizers market owing to its numerous benefits. It is basically a profitable agriculture technique that includes fertilizer and water application by means of irrigation. The entire process offers lucrative opportunity to increase the yield capacity of land as well as to minimize the environment pollution. Moreover, increased focus of government bodies along with rising awareness among people triggers the growth and demand for such techniques. Therefore, the above mentioned factors drive the market growth for fertigation during the upcoming period.
Region Insights
The North American liquid fertilizers market is expected to approach USD 8 billion in sales by 2032, with a CAGR of roughly 2.4% from 2023 to 2032. The existence of a diverse variety of fertilizer producers in the area, as well as the creation of new manufacturing facilities and distribution channels, will drive market expansion throughout the projection period. Furthermore, increased knowledge regarding the use of organic fluid fertilizers, as well as rising demand for high-value goods, would promote market expansion.
Historically, Asia-Pacific has been the largest market, accounting for 38.4% of the global market. The growing expense of conventional fertilizers, as well as their negative environmental effects, has led in a tremendous increase in the usage of high-efficiency fertilizers in agriculture, such as liquid potassium fertilizers. Rising food consumption, high crop yields, and developments in automated irrigation systems are driving demand for liquid fertilizers in the Asia-Pacific area. China has the region's largest market share (46.5 percent), while Australia is expected to grow the fastest in the coming years. Due to extraordinary economic growth, population growth, and support from governments; Asia-Pacific is the largest and fastest-growing market for liquid fertilizers.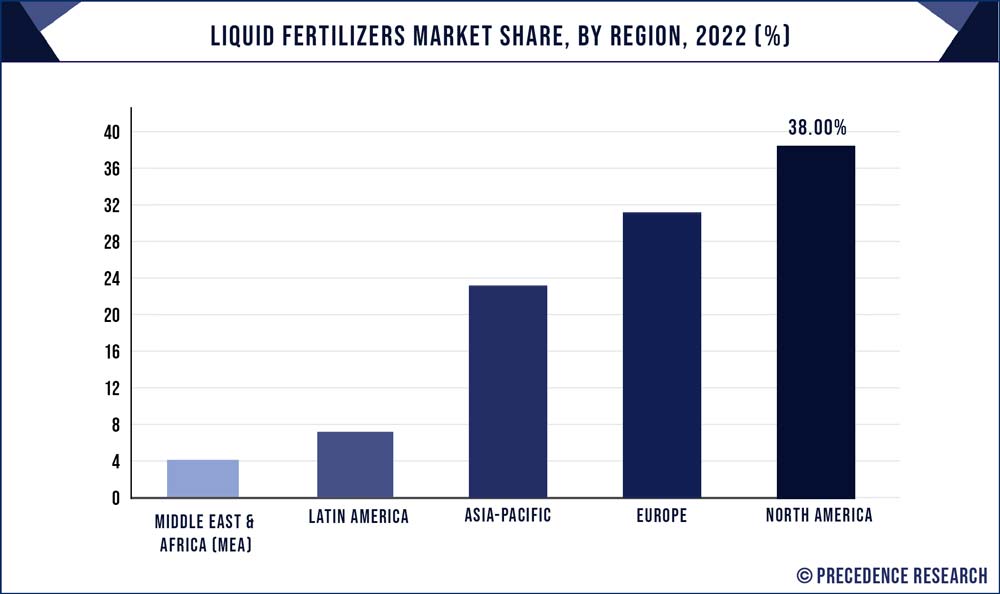 With a global share of 24%, Europe is the third-largest market for liquid fertilizers. The market in this region is expected to grow significantly during the forecast period due to a variety of factors such as increased access to subsidized fertilizers, hydroponic system field areas, and an increase in automation, which has resulted in the growing acceptance of technologies such as liquid fertilizer sprayers. Along with market expansion, companies in the liquid fertilizers market are focusing not just on product quality and marketing, but also on expanding their presence into emerging markets.
Key Market Developments
In September 2019, Nutrien Ltd. acquired the RuralcoHoldings. This strategy aimed at enhancing the product delivery and services of Nutrien Ltd. in Australia.
Some of the prominent players in the market include:
Yara International ASA
Nutrien Ltd
Israel Chemical Ltd.
Haifa Chemical Ltd
GrupaAzoty
The Mosaic Company
SociedadQuímica y Minera de Chile S.A.
K+S Aktiengesellschaft
Plant Food Company Inc.
EuroChem Group
Segments Covered in the Report
(Note*: We offer report based on sub segments as well. Kindly, let us know if you are interested)
By Crop Type
Cereals & Grains

Corn
Wheat
Rice
Others (sorghum, barley, and oats)

Oilseeds & Pulses

Soybean
Others (canola, cotton, and sunflower)

Fruits & Vegetables
Others (turf, ornamentals, and nursery plants)
By Type
Nitrogen
Phosphorous
Potash
Micronutrients
By Compounds
Calcium Ammonium Nitrate (CAN)

Urea-Ammonium Nitrate (UAN)

Potassium Nitrate

Phosphorus Pentoxide (P205)

Others (boron, chloride, and iron)
By Ingredient Type
By Application
Soil

Foliar

Aerial

Fertigation

Agricultural fields

Hydroponics

Others
By Geography
North America
Europe
Asia-Pacific

China
India
Japan
South Korea
Malaysia
Philippines

Latin America

Brazil
Rest of Latin America

Middle East & Africa (MEA)

GCC
North Africa
South Africa
Rest of the Middle East & Africa