The global specialty fertilizers market size was evaluated at USD 26.4 billion in 2022 and is expected to hit around USD 51.79 billion by 2032, poised to grow at a CAGR of 6.97% during the forecast period from 2023 to 2032.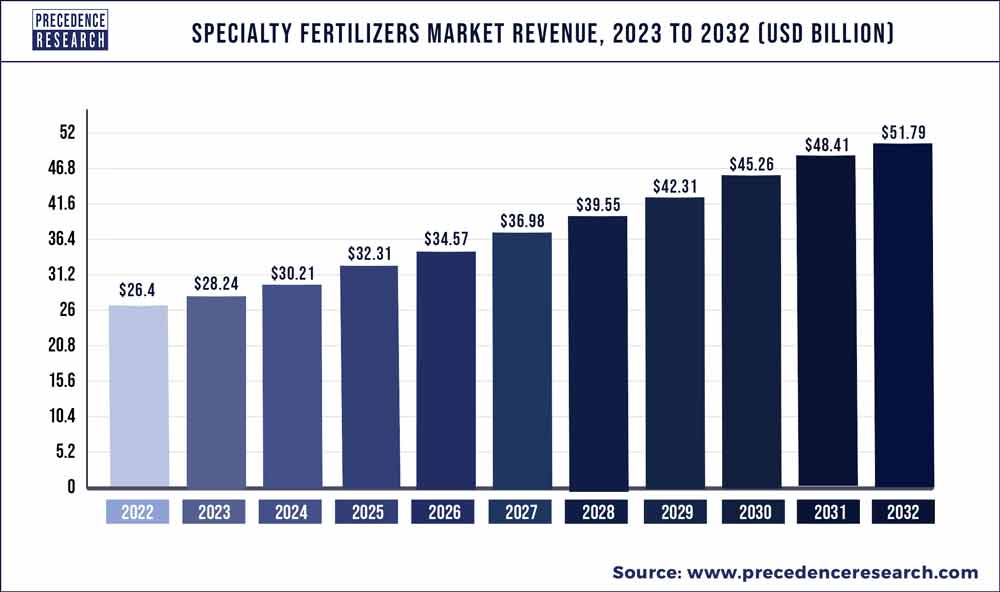 Key Takeaways:
North America generated the maximum revenue share in the global market.
By Type, the controlled-release fertilizers segment is expected to record the largest market share between 2023 and 2032.
By Crop Type, the cereals and grains segment contributed the biggest revenue share in 2022.
Market Overview:
The precise & localized application and high nutrient use efficiency associated with specialty fertilizers reduce growers' dependency on the use of commercial fertilizers. The use of specialty fertilizers simultaneously helps in achieving higher quality crops with a lower environmental impact. This trend is anticipated to drive the market, particularly in value sales during the study period.
The imbalanced use of respective fertilizers can lead to a nutrition deficiency in crops, a reduction in productivity along with lower crop yield. Thus, the requirement for specialty fertilizers is increasing in order to enhance nutrient efficiency and the quality of crops by providing micronutrients. The increasing agricultural output is accelerating the need for various specialty fertilizers. As per the US Food and Agriculture Organization, global fruit production increased to 883 million tons in 2019, exhibiting a rise of 54%. Also, global vegetable production accounted for 1128 million tons in 2019, up by 65% as compared to 2000.
As per the United States Department of Agriculture (USDA), Brazil is one of the few counties across the globe which has the ability to boost agricultural yields. in Argentina & Brazil, the factors driving the specialty fertilizers market growth include advancements in farming techniques, growing adoption of agrochemicals, and extensive distribution channels of global agrochemical players.
The prominent demand for grains and cereals is supporting the specialty fertilizers market growth. As per the Ministry of Agriculture of India, the production of rice in the country was 102.36 million tonnes in the financial year 2020-2021. This figure is higher by almost 6.70 million tonnes as compared to the previous 5 years average production of 95.66 million tonnes. The rising production of rice creates significant opportunities for respective specialty fertilizers.
Potassium nitrite is widely used for enhancing yields and improving the quality of flowers, horticulture crops, nuts, and fruit trees. From August 2018 to July 2019, the production of almonds in China was around 43 kilotons. In the fiscal year 2021, the production volume of almonds in Australia accounted for around 178 thousand metric tons. Such high production of almonds creates a significant requirement for potassium nitrate.
Report Scope of the Specialty Fertilizers Market:
| | |
| --- | --- |
| Report Coverage | Details |
| Market Size in 2023 | USD 28.24 Billion |
| Market Size by 2032 | USD 51.79 Billion |
| Growth Rate from 2023 to 2032 | CAGR of 6.97% |
| Largest Market | North America |
| Base Year | 2022 |
| Forecast Period | 2023 to 2032 |
| Segments Covered | By Type, By Form, By Application Method, and By Crop Type |
| Regions Covered | North America, Europe, Asia-Pacific, Latin America and Middle East & Africa |

Market Dynamics:
Grains and Cereals are some of the basic sources of nutrients provided to the human body. Most developing nations are dependent on grains and cereals for their nutritional requirements. The production of grains and cereals across the globe is dependent on various economic and environmental factors along with the availability of water. Majorly produced grains and cereals across the world are wheat, corn, barley, rice, and sorghum.
As per the Food and Agriculture Organization of the United Nations, global cereal production grew by around 7 million tons in July 2022 as compared to the previous month (June 2022) which accounted for nearly 2792 million tons. Thus, the rise in the demand and production of grains and cereals is encouraging the need for various specialty fertilizers.
Expansions, collaborations, and joint ventures are expected to provide promising opportunities for market players in the coming years. The rise in the requirement for high-quality cash crops from various continents is leading to significant export opportunities.
The US Department of Agriculture, the National Center for Biotechnology Information, and the US National Institute of Food and Agriculture (NIFA) are some of the government agencies and departments which play a significant role in the specialty fertilizers market ecosystem.
As per Asia Development Outlook 2021, vegetables and fruits accounted for 32% of production value in agriculture, with Indonesia and India being the top producers of vegetables and fruits. High production of fruits and vegetables creates immense scope for specialty fertilizers such as potassium nitrate.
COVID-19 Impact:
In India, agriculture production in about half (47%) of sample districts was affected adversely due to the pandemic of COVID-19. Due to and closure of shops and markets, the prices of fertilizers increased by 9 to 12% in India. The sudden outbreak of COVID-19 impacted the production of specialty fertilizers negatively across the globe. Labor shortages and logistical restrictions had become primary concerns for producers.
Most of the producers, especially small and medium-sized enterprises (SMEs) had to halt or stop their production. Since transport was largely affected in many parts of the world, the export of various specialty fertilizers was severely impacted. The supply side of the specialty fertilizers market was hampered considerably owing to numerous limitations.
In 2020 and 2021, the Department of Agriculture's Farm Service Agency offered aid of $31 billion to more than 950,000 producers of agricultural commodities. This financial aid was provided to help offset costs and losses associated with the COVID-19 pandemic. The U.S. Department of Agriculture (USDA) paid about $13.8 billion to producers for field crops. Such kind of financial aid was intended to enhance the farmer's buying capacity to purchase required types of specialty fertilizers.
Segments Insight:
Type Insights:
Based on type, the global specialty fertilizers market is segmented into controlled-release fertilizers (CRFs), slow-release fertilizers (SRFs), fortified fertilizers, stabilized fertilizers, and other types of fertilizers. The controlled-release fertilizers segment is expected to hold a significant market share during the forecast period.
Controlled-release fertilizers are helpful in dealing with the challenge of feeding the rising population with limited arable lands. The latest laboratory trials, conducted by specialized trial stations, demonstrated that ICL's Controlled-release fertilizers are able to limit nitrogen losses by 54-61% from leaching, 11% by denitrification, and 32-54% by volatilization, when compared to conventional urea.
Slow-release fertilizers (SRFs), are those fertilizers that release a steady and small amount of nutrients over a course of time. Most common slow-release fertilizers (SRFs) include nitrogen fertilizers in which aldehyde is combined with urea. Nitroform (UF derivative), Urea-formaldehyde (UF), and methylene urea (MU) are some of the common slow-release fertilizers. Fortified fertilizers are used to limit soil degradation, increase crop yields, and provide highly concentrated solutions to enhance the fertility of deficient soils.
Crop Type Insights:
Based on crop type, the global specialty fertilizers market is segmented into cereals & grains, oilseeds & pulses, fruits & vegetables, turf & ornamentals, and other crop types. The cereals & grains segment had the highest revenue share in 2022.
The requirement for cereals is rising at a rapid pace as various kinds of cereals are consumed as a staple food across the world. This cereals & grains segment is estimated to hold a remarkable share of the specialty fertilizers market as the increasing world population is leading to high concern about food security. In the financial year 2018, around 2.7 billion tonnes of cereals were produced all over the world, which is a rise of approximately 18% as compared to 2008.
Since fruits are healthy and significant for a balanced diet, they are widely consumed across many countries. The most produced varieties of fruit across the globe include watermelons and bananas. The highest annual fruit harvest among various continents occurs in Asia. China alone produces around 243 million metric tons of fresh fruit every year.
Potassium has an essential role with respect to the quality and yield of the fruit. The use of potassium nitrate is useful in growing bananas. With the use of potassium nitrate (KNO3) for producing bananas, the net benefit can increase up to 19%. About 51,700 metric tons of bananas were produced in the Sichuan province of China in 2021. Thus, such high production of bananas creates a promising demand for potassium nitrate (KNO3).
Regional Insights:
In 2022, North America held the largest revenue share in the specialty fertilizers market. North America is the most developed continent owing to the presence of nations with favorable agriculture policies, high gross domestic product (GDP), and early adoption of specialty fertilizers.
The increasing adoption of precision farming techniques and enhanced emphasis on sustainable agriculture are some of the crucial factors that drive the specialty fertilizers market growth in the North American region. There is a prominent increase in the requirement for organic food in the United States due to the rising prevalence of diabetes, obesity, hypertension, and high-cholesterol issues. Thus, the rising demand for organic vegetables & fruits with minimum use of fertilizers is also boosting the demand for various specialty fertilizers in the U.S.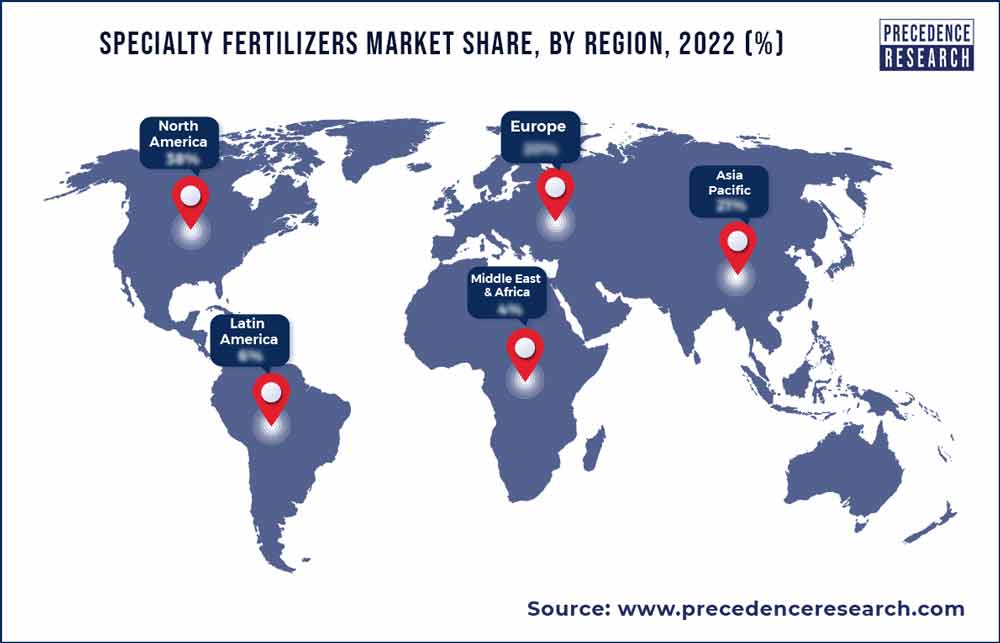 In the European Union (EU), major winter crops are rapeseed, wheat, triticale, and whereas major summer crops include sunflowers maize, soybeans, rice, sugar beet, and potatoes. The production of soybeans in Europe accounted for 9.5 million tons in 2021, which is almost 6.4% higher as compared to the production in 2020. The production of soybeans under the Europe Soya (ES) or Donau Soja (DS) label raised by almost 49% in 2021, after a temporary decline in 2020. Farmers across 11 European nations certified under ES & DS soy standards produced around 715,000 tons of soy in 2021. Thus, the growing production of soybean in Europe is anticipated to create high scope for respective NPK fertilizers.
After rice, maize is the 2nd most important cereal crop in the Asia region. With an average annual rate of 4.48%, the production of maize in the Asia region raised from 49.5 million tonnes in 1972 to about 378 million tonnes in 2021. Urea-ammonium nitrate (UAN) solution is useful to improve the N efficiency of maize. Thus, the demand for urea-ammonium nitrate is predicted to rise notably in near future in the Asia region.
Recent Developments:
In January 2019, OCP, Morocco's leading exporter of phosphoric acid, phosphate rock, and phosphate fertilizers, and Spanish firm Fertinagro announced a joint venture for producing enhanced fertilizers. As per the communication from OCP, the joint venture of two firms planned an initial annual production of 250,000 tons of specialty NPK fertilizers. The production of this specialty NPK fertilizer was scheduled to begin in 2020.
In September 2022, Coromandel launched Cumist Calcium (an organic specialty fertilizer). Cumist Calcium will provide specialty nutrients along with improved soil health and efficiency. The launch of Cumist Calcium is expected to help Coromandel widen its specialty fertilizer portfolio.
Key Market Players:
Agrium Inc.
Coromandel International Limited
EuroChem Group
Haifa Chemicals Limited
ICL Fertilizers
Israel Chemical Limited
Kugler Company
Mosaic
Nutrien Ltd.
OCP Group
Sinochem Group
Sociedad Quimica Y Minera S.A
The Mosaic Company
The Potash Corporation of Saskatchewan Inc.
Vardhaman Fertilizers and Seeds Pvt Ltd.
Verdesian Life Sciences, Sungro Seeds Ltd.
Yara International ASA
Segments Covered in the Report:
(Note*: We offer report based on sub segments as well. Kindly, let us know if you are interested)
By Type
Controlled Release Fertilizers (CRFs)
Slow-release Fertilizers (SRFs)
Fortified Fertilizers
Stabilized Fertilizer
Others
By Form
By Application Method
By Crop Type
Cereals & grains

Corn
Wheat
Rice
Others (Barley, Sorghum, and Millets)

Oilseeds & Pulses

Soybean
Canola
Others (Peas, Cotton, and Legumes)

Fruits & Vegetables

Root & Tubers
Citrus Fruits
Brassicas
Others (Berries, Melons, Pome Fruits, and Stone Fruits)

Turf & Ornamentals
Others
By Geography
North America
Europe
Asia-Pacific
Latin America
Middle East and Africa