The global livestock monitoring market size was estimated at USD 5.6 billion in 2022 and is expected to hit around USD 23.35 billion by 2032, expanding growth at a compound annual growth rate (CAGR) of 15.4% over the forecast period from 2023 to 2032. Because of smart IoT sensors, animal agriculture will likely experience a big revolution.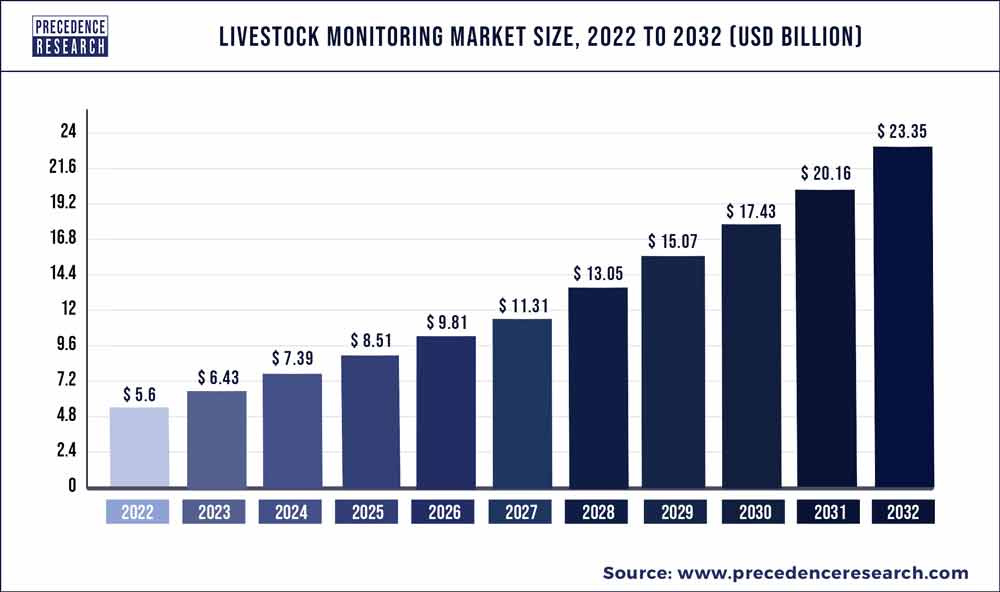 Access our Premium Real Time Data Intelligence Tool, Visit: Precedence Statistics
Livestock management, also called as livestock monitoring or precision livestock farming, utilize IoT-enabled sensors to analyse and check the wellbeing of livestock, most often cattle. Keeping track of farm animals and other livestock is essential due to the expanding scale of the livestock business. A novel solution called a livestock monitoring system uses sensors, GPS, and other tools and techniques, as well as integrating them with a network protocol for information sharing.
On-site tracking devices provide information on the whereabouts and physical condition of the animals rather than solely relying on farmer observation. Farmers may monitor the general health of their animals, including reproduction, feeding routines, and hygiene, with the help of hardware sensors. Farmers can be alerted when an illness is barely starting by monitoring their heart rate, blood pressure, digestion, respiration, temperature, and other bodily functions with the help of connected sensors and wearable technologies. IoT technologies would make it easier for animal owners to improve agricultural productivity.
A significant increase in animal disease outbreaks in recent years has increased the need for animal tracking solutions. Farmers will be able to quickly treat and stop the spread of fatal diseases as a result. Furthermore, government initiatives for animal traceability programmes are probably going to be very important in encouraging the adoption of useful hardware options like injectable tags, RIFD tags, and neck/collar tags.
Report Scope of the Livestock Monitoring Market
| | |
| --- | --- |
| Report Coverage | Details |
| Market Size in 2023 | USD 6.43 Billion |
| Market Size by 2032 | USD 23.35 Billion |
| Growth Rate from 2023 to 2032 | CAGR of 15.4% |
| Base Year | 2022 |
| Forecast Period | 2022 to 2030 |
| Segments Covered | Component, Animal Type, Application, End user, and Geography |
| Companies Mentioned | GEA Group Aktiengesellschaft, Nedap N.V, Afimilk Ltd., Sensaphone, DeLaval, Intervet Inc., Dairymaster, BouMatic, Fancom BV, Antelliq, Lely, Fullwood Packo., Allflex Livestock Intelligence., ENGS Systems, CowManager B.V, HerdInsights, Zoetis. |
Growth Factors
Demand for meat and livestock feeds will skyrocket as population and income levels continue to climb. With increasing urbanisation and the constantly changing environment, pathogen threats start to change, which causes infectious disease outbreaks in the livestock business. Events like heat stress, flooding, and drought are on the rise, and they have the potential to spread new diseases via developing macroparasites and vector-borne diseases. Therefore, the necessity for livestock monitoring and identification systems has increased due to the incidence of large animal disease outbreaks. Increased farm yields are a result of farmers using livestock and monitoring systems to keep their cattle in better condition. In order to properly maintain animal health, framers and livestock keepers around the world need animal traceability solutions.
The necessity to adopt animal monitoring technology has been influenced by governmental regulations and requirements regarding the quality of food. Customers are becoming more conscious of their food sources and environmental footprints, and the government is promoting the Sustainable Development Goals. New frameworks are being proposed by governments for the use of animal tracking technologies. Government mandates are encouraging the implementation of livestock monitoring technologies worldwide as a result.
Segmental Insights
Component Insights
Hardware, software, and services are divided into three categories for the livestock monitoring business. The hardware industry is anticipated to dominate the global market. With a revenue share of more than 42% in 2022, the hardware segment dominated the industry. Hardware use is expected to increase agricultural productivity and lessen farmers' difficulties, which will increase output. Hardware technology is safe for both the environment and animals, which appeals to many farmers who raise cattle. Sensors, GPS, and other devices are further divided into sub-segments within the hardware sector.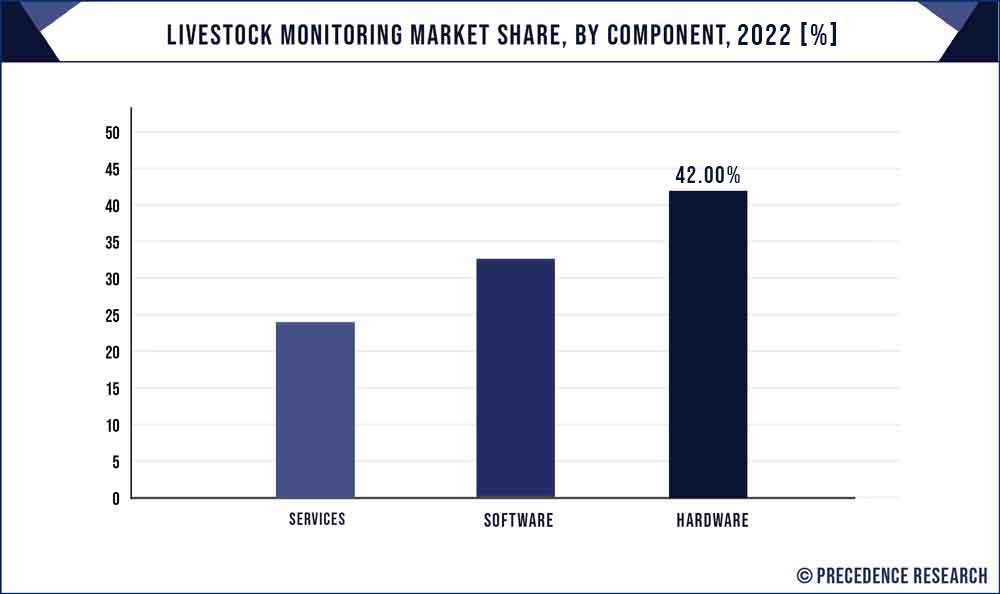 Over the projected period, the software segment is anticipated to develop at the quickest pace of 18.2%. The software element is made up of a collection of bundled software programmes that can be used to monitor livestock. These programmes' user interfaces, features, and functions are linked. Software is being used by several businesses to make collecting livestock data easier. For instance, Cainthus unveiled its first product, ALUS Nutrition, in February 2020. This individualised technology enables a producer to monitor the accessibility of feed around-the-clock. With the help of this technology, feeding schedules can be adjusted as needed.
Type Insights
Cattle, poultry, swine, horses, and other animals are included in the livestock type segment. Due to the widespread consumption of chicken products around the world, the poultry segment is anticipated to experience the highest growth rate over the projection period. Additionally, it is anticipated that an increasing population would increase demand for poultry products. For example, the U.S. Census Bureau, a key organisation of the U.S. Federal Statistical System, projects that the country's population will rise from 319 million in 2014 to 417 million in 2060.
Due to the advantages of using cattle livestock monitoring systems, the cattle category segment's high-impact rendering driver is the rise in the consumption of dairy and beef products. Additionally, numerous public and commercial organisations constantly monitor the safety, quality, and prevention of disease transmission of cattle and dairy products. These elements are encouraging the use of livestock monitoring systems.
During the projection period, the poultry segment is anticipated to grow at the quickest CAGR of 18.6%. The daily high consumption of poultry products is a significant driver of this market's expansion. The demand for animal health and monitoring has increased due to the strong demand for poultry products and the growing consumer awareness of high-quality products. The demand for chicken products is anticipated to increase even more as a result of this population growth.
Application Insights
The management of milk harvesting, heat detection monitoring, feeding, heat stress, health monitoring, sorting, and weighing are all included in the application segment. During the projection period, the milk harvesting segment is anticipated to increase at the fastest rate. Because manual milking is so sluggish and time-consuming, the use of automatic milking has increased dramatically, lowering expenses and the demand for labour. Additionally, the use of sophisticated cooling tanks to automatically preserve the milk is growing. These elements have fueled the milk harvesting segment's expansion.
In 2022, the category that generated the most revenue more than 27% was feeding management. Animals' living quarters need to be kept clean and they need to have constant access to food and water. In addition to being essential for veterinary health, comfort, and well-being, proper feeding and manure management also helps to prevent illness, disease, and parasites. The aforementioned elements also support the segment's expansion.
Over the projection period, the milk collection segment is anticipated to experience the quickest CAGR of 17.9%. Manual milking takes a long time and is labor-intensive on a dairy farm. So, by introducing auto milking, IoT more successfully addressed this issue, cutting costs and the requirement for people. When the weather is bad, there is a high likelihood that the milk may spoil, but auto milking automatically protects the milk by employing various sophisticated cooling tanks.
End User Insights
The market for livestock monitoring and identification is divided into dairy farms, beef farms, sheep farms, deer farms, goat farms, and pig farms based on the ultimate use. Dairy farms have experienced significant rise in the adoption of livestock monitoring technologies as a result of farmers embracing cutting-edge technology to meet growing demand for milk products. Livestock technologies make it possible for the milk and cow industries to collect information, identify cow health indicators, and detect other variables while minimising costs for both farmers and consumers.
During the projected period, the use of monitoring technologies such RFID and injected tags for cattle farms is anticipated to show the highest CAGR. The use of identification and monitoring systems by beef producers and farmers is the key factor contributing to the segment's growth.
Livestock Monitoring Market Share, By Region, 2022 (%)
| | |
| --- | --- |
| Regions | Revenue Share in 2022 (%) |
| North America | 33% |
| Asia Pacific | 24% |
| Europe | 28% |
| Latin America | 9% |
| MEA | 6% |
Geography Insights
North America region hit revenue share of over 33% in 2022. Due to rapid technical advancements and rising adoption costs for agricultural solutions in nations like Canada and the United States, North America held the largest market share. Recent years have seen an increase in the growth rate of animal food and by product consumption in North America, which has forced regional meat and dairy product manufacturers to expand their supply chains. If consumer affluence rises and trade obstacles are removed, there will undoubtedly be an increase in demand for North American animal goods worldwide.
Government and the commercial sector are under pressure to guarantee product quality and safety. The widespread use of cutting-edge technology, including sensors, smart cameras, and global positioning systems, as well as the strong need to lower the price of livestock rearing, are anticipated to fuel market growth in North America. The North American market will be driven by the rising occurrence of zoonotic illnesses and the rising demand for technologies to track sick animals. Government requirements for animal illness surveillance are also anticipated to have a significant impact on market expansion.
According to the European Union, the EU market would experience increased global demand over the course of 2030, increasing exports from 4.35 million tonnes in 2017 to 4.7 million tonnes in 2030. Thus, it is anticipated that the region will embrace more livestock monitoring solutions.
Over the forecast period, Asia Pacific is anticipated to develop at the greatest CAGR. Most regional livestock monitoring development is anticipated to be driven by governmental mandates and interstate livestock trading rules. The region's milk and cattle farmers have implemented cutting-edge equipment to meet the need for quick-moving dairy and animal goods in the area. Asian livestock farmers choose cutting-edge technologies to increase animal tracking activities in nations like Australia and India. Population expansion has put a lot of pressure on farmers in developing nations like South Korea, India, and other places to be productive and successful. As a result, innovative solutions for better animal and cow products have been presented.
Key Market Developments
DeLaval introduced DeKaval VMS V310, a fully automated milking management system that can recognise cow heat and pregnancy throughout the harvesting process.
CowManager unveiled an improved cow monitoring system that is compatible with ear sensor technology. Using smart devices, users may view real-time notifications from the company's new cow monitoring systems.
Key market players
GEA Group Aktiengesellschaft
Nedap N.V
Afimilk Ltd.
Sensaphone
DeLaval, Intervet Inc.
Dairymaster
BouMatic
Fancom BV
Antelliq
Lely
Fullwood Packo.
Allflex Livestock Intelligence.
ENGS Systems
CowManager B.V
HerdInsights
Zoetis
Segments covered in the report
(Note*: We offer report based on sub segments as well. Kindly, let us know if you are interested)
By Component
Hardware
Software
Services

Integration & Deployment
Maintenance & Support
Others
By Animal Type
Cattle
Poultry
Swine
Equine
Others
By Application
Milk Harvesting
Breeding Management
Feeding Management
Animal Health Monitoring & Comfort
Heat Stress
Behaviour Monitoring
Other
By End user
Dairy Farm
Beef Farm
Sheep Farm
Deer Farm
Goat and Pig Farm
By Geography
North America
Europe
Asia-Pacific
Latin America
Middle East & Africa (MEA)