The global location intelligence market size is projected to reach around USD 54.8 billion by 2032 from USD 18.3 billion in 2022 and is poised to grow at a CAGR of 11.59% during the forecast period 2023 to 2032. North America location intelligence market size was valued at USD 7.1 billion in 2022.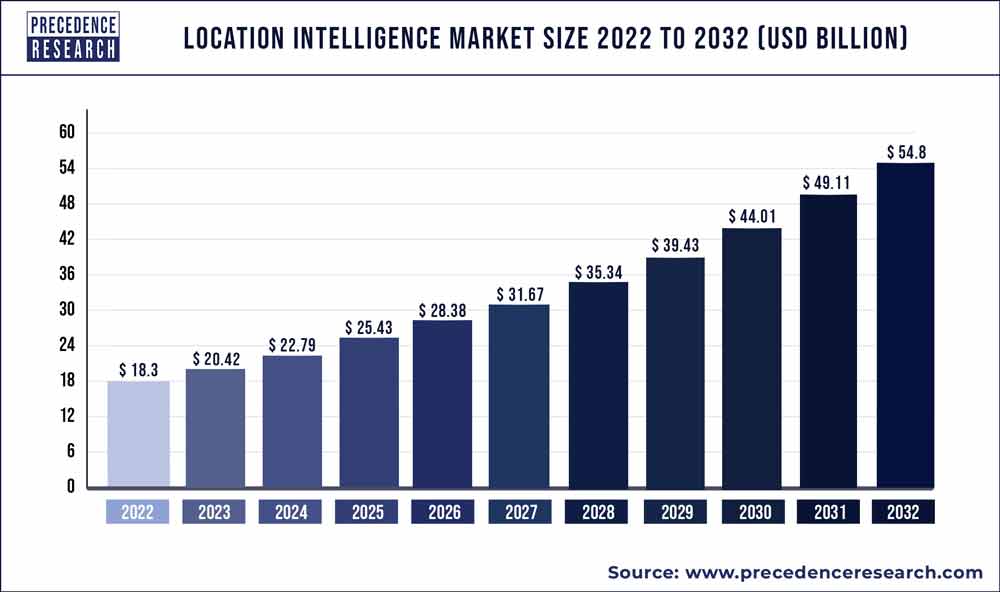 Key Takeaways:
By application, the sales and marketing optimization segment held the largest share of around 20.7% in 2022, the segment is expected to sustain its dominance during the forecast period.
By service, the system integration segment dominated the market with a revenue share of 46.2% in 2022, the segment is expected to witness a significant rate of growth during the forecast period.
By vertical, the transportation and logistics segment accounted highest revenue share of over 19.4% in 2022, the segment will continue to grow at a significant rate during the forecast period.
By region, North America dominated the market in 2022 with 34% revenue share, the region is expected to sustain its dominance during the forecast period. On the other hand, Asia Pacific is anticipated to witness the fastest rate of growth throughout the forecast period.
Market Overview:
The location intelligence market offers collection, analysis and utilization of geospatial data to derive valuable insights for businesses and organizations. Location intelligence often integrates with other technologies such as Internet of Things (IoT), artificial intelligence (AI), and big data analytics to enhance its capabilities and provide more comprehensive insights. Location intelligence has a wide range of applications across various industries, including real estate, transportation and logistics, retail, urban planning, public safety, environmental monitoring, and marketing. Organizations use location intelligence to optimize operations, improve customer experiences, and enhance decision-making. Location intelligence solutions often include interactive maps and visualizations that help users understand complex spatial relationships and patterns. These maps can display data points, routes, heatmaps, and other information relevant to specific use cases.
Growth Factors:
The sector is primarily driven by the increasing adoption of smart devices and rising investments in internet of things and network services in order to provide smarter applications and improved network connectivity. The COVID-19 pandemic led to a growth in the use of location intelligence systems to handle the shifting business environment since they make it easier for companies to analyse, map, and share customer location data.
Report Scope of the Location Intelligence Market:
| | |
| --- | --- |
| Report Coverage | Details |
| Market Size in 2023 | USD 20.42 Billion |
| Market Size by 2032 | USD 54.8 Billion |
| Growth Rate from 2023 to 2032 | CAGR of 11.59% |
| Largest Market | North America |
| Base Year | 2022 |
| Forecast Period | 2023 to 2032 |
| Segments Covered | By Application, By Service, By Solution, By Location Type, and By Vertical |
| Regions Covered | North America, Europe, Asia-Pacific, Latin America, and Middle East & Africa |

Market Dynamics:
Driver:
Growth of IoT and connected devices
The market for location intelligence has been significantly fueled by the development of the Internet of Things (IoT) and connected devices. IoT stands for the internet-based network of interconnected devices that exchange data and communicate with one another. These gadgets produce a ton of geospatial data, including position data, due to their different sensors. Organizations may use this data for insightful analysis and decision-making due to the integration of location intelligence with the Internet of Things. For instance, location intelligence can be used to optimize routes, track assets, and keep an eye on supply chain activities in the transportation and logistics sector. Businesses can find inefficiencies, cut costs, and enhance overall operational efficiency by analyzing real-time location data from linked devices.
Location intelligence is also very important for the creation of smart cities. IoT devices are spread out over metropolitan areas to collect data on many factors, such as traffic patterns, energy usage, and air quality, as cities become more linked and digitally changed. Platforms for location intelligence can process and examine this data, giving city administrators useful information for resource allocation, infrastructure development, and urban planning. Additionally, the ramifications of IoT-enabled location intelligence extend to industries including healthcare, agriculture, and environmental monitoring.
Restraint:
Data privacy and security concerns
The location intelligence sector is significantly constrained by factors such as data security and privacy. Sensitive information about people and organizations, such as precise geographic coordinates, residential addresses, or travel patterns, is frequently included in location-based data. Although this data may be extremely important, its handling could result in hazards. Access to location information that is not authorized is one of the key issues. Sensitive information can be accessed by malevolent actors if it is not sufficiently protected, which could result in misuse or exploitation. Organizations may suffer reputational harm, financial losses, and legal repercussions as a result of data breaches.
The high-profile data breaches in recent years have increased regulatory attention and raised worries about data privacy. Businesses in the location intelligence sector use strict security measures to allay these worries. This comprises access limits, authentication methods, and regular security audits, as well as the encryption of data both in transit and at rest. Despite these measures, privacy and security concerns are observed to restrain the growth of the market.
Opportunity:
Integration of real time analytics
The integration of real-time analytics is observed to present multiple opportunities for the growth of the location intelligence market. Real-time analytics offers invaluable insights into consumer behavior, industry trends, and competitive environments. Companies can acquire a thorough picture of the preferences, movements, and interactions of their target audience by combining location data with other sources, giving them the ability to make data-driven decisions with previously unheard-of speed. Location data is becoming increasingly available and plentiful as mobile devices and IoT technologies proliferate. Utilizing this information, businesses may better understand client preferences, track customer foot traffic, and optimize store layouts to improve the entire shopping experience. Businesses can respond rapidly to new opportunities or possible problems due to real-time data.
Retailers can more effectively target their marketing efforts by using location intelligence to identify underperforming locations or unexplored markets. Businesses can, for instance, keep track of how a promotional campaign is affecting foot traffic in various places and modify their strategy as necessary. Real-time analytics built on location information in the logistics and transportation sector optimizes routes, forecasts delivery times, and follows goods. By giving customers precise delivery updates, this not only lowers costs but also increases customer happiness.
Segments Insight:
Application Insights:
The sales and marketing optimization segment dominated the global market in 2022, the segment is expected to witness a significant rate of growth during the forecast period. Sales and marketing teams rely heavily on customer data and insights to target their efforts effectively. Location intelligence can provide valuable information about customer demographics, preferences, and behaviors, allowing businesses to tailor their marketing campaigns and sales strategies. Location intelligence allows businesses to personalize their marketing efforts. By understanding the location of their customers, businesses can tailor their marketing messages and offers to be more relevant. Personalized marketing often leads to higher conversion rates and increased customer loyalty. Location intelligence tools provide valuable insights into consumer behavior, demographics, and preferences based on location data. This information is crucial for businesses to target the right audience effectively and optimize their sales and marketing strategies.
Service Insights:
Based on services, the system integration segment held the largest share of the market and is expected to continue the trend throughout the forecast period. Many organizations have unique requirements when it comes to location intelligence. System integration services can help tailor location intelligence solutions to meet specific business needs. Customization often involves integrating location data into existing systems, such as CRM, ERP, or analytics platforms, to derive maximum value. Ensuring the quality and consistency of location data is critical for accurate decision-making. System integration services can help cleanse, standardize, and maintain data integrity as it flows into and out of location intelligence systems.
Vertical Insights:
The transportation and logistics segment dominated the market and expected to generate significant revenue throughout the forecast period. Transportation and logistics operations often involve complex spatial considerations. Location intelligence solutions provide valuable insights into route optimization, vehicle tracking, and geospatial analysis. This complexity necessitates advanced tools and technologies, making this sector a natural fit for location intelligence. In the era of e-commerce and rapid delivery expectations, customers demand real-time tracking and accurate estimated delivery times. Location intelligence enables companies to meet these expectations by providing precise information.
Regional Insights:
North America dominated the global local intelligence market in 2022, the region is expected to sustain its dominance during the forecast period. The overall rise in smartphone usage in the region with the presence of technologically advanced nature of network industry. As a result, it is projected that the local network, logistics and transportation industries will expand at a significant rate while promoting the growth of the market. North America has a substantial customer base for location intelligence solutions, including government agencies, businesses, and non-profit organizations.
The region is home to many leading technology companies, research institutions, and startups that specialize in location intelligence. These organizations continually innovate and develop cutting-edge solutions to address various industries' needs. This customer demand drives the growth and development of the market. Many leading companies in the location intelligence market are based in North America. These companies offer a wide range of products and services that cater to global and regional markets. North America has a wealth of geographic data, including detailed maps, demographic information, and business data. These data sources are critical for location intelligence applications, and their availability contributes to the region's dominance.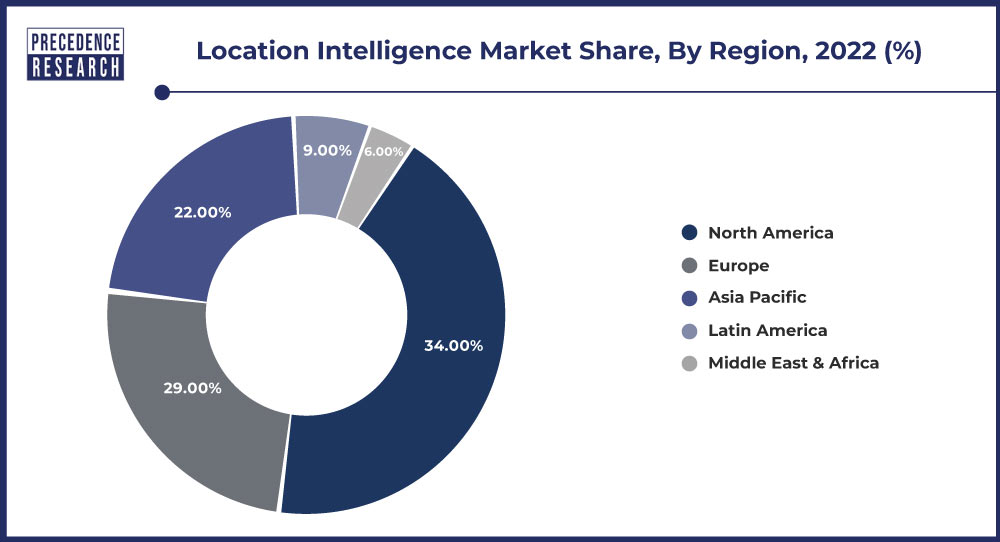 Asia Pacific is expected to witness the fastest rate of growth throughout the forecast period. Governments and public sector organizations in the region are utilizing location intelligence for various purposes, including disaster management, public health, and infrastructure development. The growth of e-commerce in Asia Pacific has led to increased interest in location intelligence for supply chain optimization, targeted marketing, and customer experience enhancement. Countries in Asia Pacific are focusing on environmental monitoring and management, using location intelligence to track and mitigate environmental challenges such as air quality, water pollution, and natural disasters.
Recent Developments:
In February 2022, an Indian startup that specialises in location information, DataSutram, said that it has raised US$2.07 million from a group of investors that included Varanium Capital and Yatra Angel Network. The company intended to use the funds raised to increase its activities in the Gulf and South-East Asian regions.
In November 2022, an advertisement technology company, TapTap announced the launch of geospatial intelligence platform for programmatic media in Italy. The launch of new service and offering is a result of the company's expansion in Europe.
Key Market Players:
Autodesk, Inc.
Bosch Software Innovations GmbH
ESRI
HERE Technologies
MDA Corp.
Navizon, Inc.
Pitney Bowes, Inc.
Qualcomm Technologies, Inc.
Supermap Software Co., Ltd.
Tibco Software, Inc.
Trimble, Inc.
Trueposition, Inc.
Wireless Logic
Segments Covered in the Report:
(Note*: We offer reports based on sub-segments as well. Kindly, let us know if you are interested)
By Application
Workforce Management
Facility Management
Risk Management
Asset Management
Sales & Marketing Optimization
Remote Monitoring
Customer Management
Others
By Service
Consulting
System Integration and Implementation
Support and Maintenance
By Solution
Type

Geocoding and Reverse Geocoding
Reporting and Visualization
Thematic Mapping and Spatial Analysis
Data Integration and ETL
Others (Demographic Data, Route Optimization)

Deployment
By Location Type
Indoor Location
Outdoor Location
By Vertical
Retail and Consumer Goods
Manufacturing & Industrial
Government & Defense
BFSI
IT & Telecom
Transportation & Logistics
Utilities & Energy
Media & Entertainment
By Geography
North America
Europe
Asia-Pacific
Latin America
Middle East and Africa