The global marine biotechnology market size was reached at USD 5.9 billion in 2022 and it is projected to hit around USD 11.7 billion by 2032 and anticipated to increase at a CAGR of 7.09% during the forecast period from 2023 to 2032.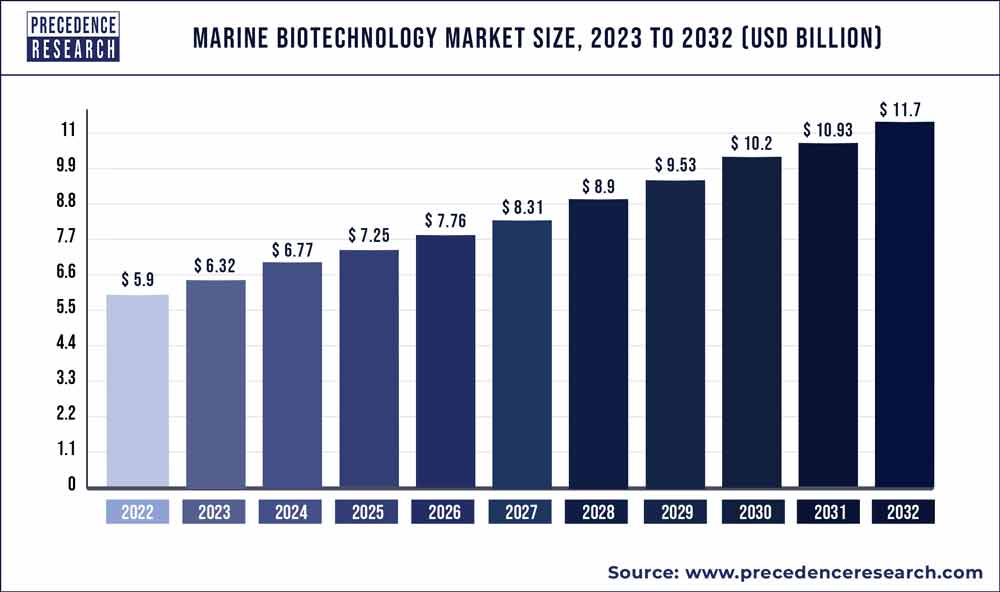 Access our Premium Real Time Data Intelligence Tool, Visit: Precedence Statistics
Marine biotechnology uses various growth methods and genetic engineering to produce valuable marine substances in large quantities with the least possible harm to the fragile marine ecology.
Growth Factor
The marine biotechnology market is driven by the increasing use of marine products in the food, cosmetics, and agricultural industries. The market is also influenced by improvements in fisheries, aquaculture, and medication development. The market's expansion is being restricted by a lack of R&D spending in the field of biotechnology. Ocean exploration is lacking, which is preventing the development of many marine resources (animals and plants) that would otherwise go extinct before their precise valuable properties were found.
The global need for energy is rising, and marine biotechnology can play a significant role in supplying that energy in a variety of ways. Mature oil reservoirs may have a longer lifespan if bio-based techniques like microbial enhanced oil recovery (MEOR) are used to improve the efficiency of recovering fossil fuel reserves.
One of the main goals of marine biotechnology is to cultivate microalgae for the production of bio-energy, which is a significant problem. Thus, it is projected that these factors would cause the marine biotechnology market to grow throughout the forecast period.
The marine biotechnology industry is very young, it has a lot of promise and a promising future. Industrial products, healthcare/biotechnology, consumer items, public services, and infrastructure are the main end-user applications for marine products. This technique makes the best possible use of marine resources while simultaneously preserving and protecting them. Diverse disciplines, including human health, medicine, fisheries, environmental recovery or restoration, the food and cosmetics industries, agriculture, and chemistry, have already benefited from advances in marine biotechnology.
One significant market trend is people's growing worry over climate change.
The growth in GHG emissions, which are bad for the environment, is a result of the growing use of fossil fuels. As a result, employing renewable energy sources has become more important.
Enzymes, microbes, and algal biomass may all be employed to cut carbon emissions thanks to marine biotechnology. A carbon sink, such as the macromolecular paraffinic hydrocarbons found in algae, aids in removing carbon dioxide from the carbon cycle.
There will be a rise in the use of marine biotechnology, which will aid in the market's expansion throughout the course of the projected period.
Report Scope of the Marine Biotechnology Market
| | |
| --- | --- |
| Report Coverage | Details |
| Market Size in 2023 | USD 6.32 Billion |
| Market Size by 2032 | USD 11.7 Billion |
| Growth Rate from 2023 to 2032 | CAGR of 7.09% |
| Largest Market | Europe |
| Base Year | 2022 |
| Forecast Period | 2023 to 2032 |
| Segments Covered | By Source, By Application and By End User |
| Regions Covered | North America, Europe, Asia-Pacific, Latin America and Middle East & Africa |

Key Market Drivers
Rising demand from the energy industry for marine biotechnology
The demand for energy supply on a worldwide scale is rising, and marine biotechnology can significantly help satisfy these demands in a variety of ways. The life of mature oil reservoirs may be extended by bio-based techniques like microbial enhanced oil recovery (MEOR), which increases the efficiency of recovering fossil fuel reserves. Petroleum reservoirs have an oil recovery efficiency of about 50%.
The manufacture of biodiesel from microalgal triacylglycerides is of great interest because microalgae may amass significant amounts of hydrophobic chemicals that can be turned into fuel. The equilibrium of the entire algal biomass is crucial for producing high-quality energy. One of the main goals of marine biotechnology is to cultivate microalgae for the production of bio-energy, which is a significant problem. As a result, it is projected that the market for marine biotechnology would grow throughout the forecast period.
Key Market Challenges
The expensive discovery process and government regulations
There are many obstacles, including the limited capacity to develop organisms in the lab and on a large scale financial obstacles brought on by the relatively low profile of marine biotechnology, which results in underfunding, and legal and regulatory obstacles, especially with regard to access to marine resources. The rising demand for significant infrastructure expenditures may be a constraining factor for the business. Therefore, these obstacles will cause additional challenges for the marine biotechnology industry throughout the forecast period.
Key Market Opportunities
Marine biotechnology compounds are being used in cosmetics at an increasing rate
Marine resources provide a fascinating supply of active chemicals for the cosmetics sector. Marine biotechnology-derived ingredients provide a novel and inventive solution to age-old aesthetic problems. Marine microorganisms are useful due to their unique characteristics, and the enzymes they generate are more beneficial than typical enzymes. These substances are employed in the creation of a variety of cosmetics, including moisturizers, vitamin C complexes, anti-aging formulas, and many more.
It takes biotechnological techniques to generate these bioactive marine compounds. Additionally, maintenance of the hydration rate is crucial for maintaining skin integrity. Lipids or other compounds that decrease water loss may often be applied topically. Marine creatures produce a number of compounds that have moisturizing qualities, including polysaccharides, fatty acids, and proteins that are heavily used by the skin.
Segments Insight
Source Insights
In 2022, the algae segment accounted for more than 30% of the total revenue share. Deep oceanic reserves of marine algae are undiscovered resources that have great potential as main and secondary sources of food, medicinal chemicals, and biodiesel. It provides a variety of opportunities in various situations due to its broad range of flexibility. The features to improve algae production and its beneficial substances must be included in biotechnology.
Algae from the sea have medicinal and nutritional qualities. Spirulina and Dunaliella, two types of cultured marine microalgae, include -carotene, omega-3 fatty acids, and antioxidants. Vitamin A and the myriad health advantages of omega-3 fatty acids are both precursors of -carotene. It is used to treat diseases including hypertension and cardiovascular disease.
Another significant use for marine algae is biodiesel. It has the potential to take the place of first-generation biofuels made from plants as well as petroleum-based fuels. In several areas, such as bioenergy or food need to alleviate the present food shortage, marine algae have enormous power.
Application Insights
In 2022, the medicine segment has held a revenue share of around 33%. In recent years, extracts from marine species have been employed in medicine. Biotechnology has been used to replicate marine substances in the lab so they don't have to be continuously taken from marine life. Others are undergoing clinical or pre-clinical testing while others have already been launched.
The pharmaceuticals Cephalosporin, Vidrabine/Ara-A, Trabectedin, and Ziconotide are among those made from marine creatures. Additionally, certain medications with marine origins are still undergoing clinical testing, including the cytotoxic substance bryostatin 1 and the dolastatin derivatives soblidotin and synthadotin. There are more preclinical products under development besides these medications.
Over 1,000 novel compounds with various potencies and biological activities are added to the pipeline each year, increasing the amount of marine chemicals. Therefore, during the course of the projection period, the market expansion of marine biotechnology would be driven by an increase in the manufacture of pharmaceuticals employing biotechnology.
End Use Insights
The medical & pharmaceutical sector has generated a revenue share of 32% in 2022. A lot more study has been done in recent years on the chemistry of natural compounds derived from marine species. Medical biotechnology is the use of live cells and cell materials in the development of pharmacological and diagnostic products that assist in the treatment and prevention of human diseases. Examples of marine biotechnology research benefiting human health include the development of painkillers, antibiotics, and anticancer medications.
New medications to treat cancer, pain, and viral infections have been created as a result of the diverse marine bioactive substances. For instance, substances like bioactive spongy proteins may be employed for antibacterial activity, whereas biosilica may be used as a model for novel biomedicinal materials. Thus, the market for marine biotechnology will be driven by rising expansion in the medical and pharmaceutical industries throughout the forecast period.
Regional Insights
In 2022, Europe has accounted revenue share of 41%. The market for marine biotechnology in Europe is expanding as a result of expanding R&D efforts and rising consumer desire for natural goods. The need for marine goods in the agricultural, cosmetics, and food industries as well as the healthcare sector's quick expansion are further boosting the region's market.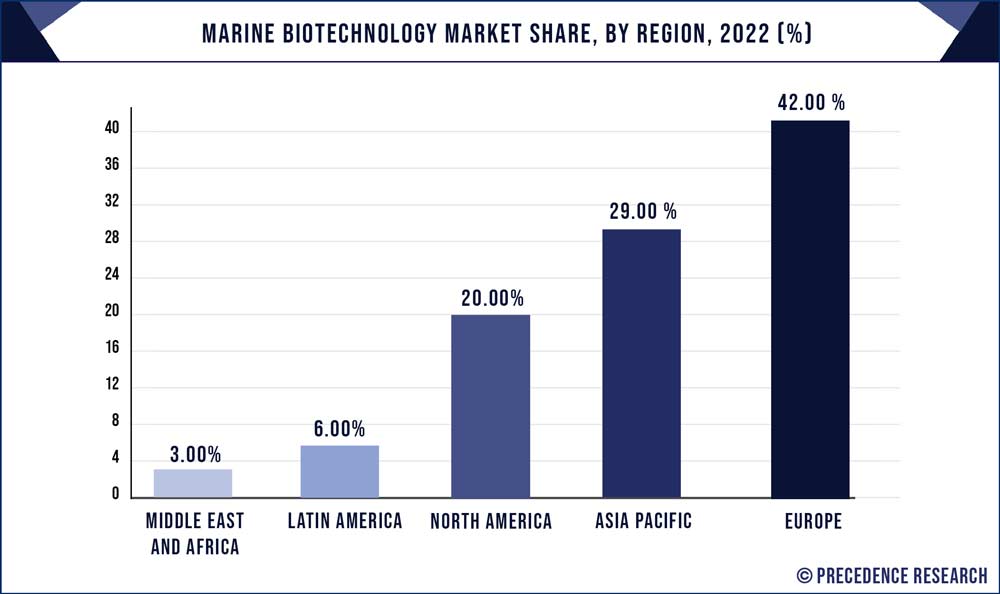 Through selection and captive stock breeding, marine biotechnology can help restore wild stocks, replenish them, and to some extent lessen the consequences of overfishing while securing wholesome food from the seas and oceans. In actuality, close to 50% of the seafood produced globally now comes from aquaculture operations in Europe, according to FAO estimates. Additionally, it is anticipated that healthcare costs in the EU area exceeded 9% of GDP in 2019 based on statistics from The World Bank.
During the projection period, the North American area is anticipated to have strong expansion at a CAGR of 6.5%. The North American region is anticipated to drive the market expansion throughout the projected period due to advancements in marine biotechnology, rising demand from the cosmetics sector, and rising need for the production of biofuels.
Recent Developments
A USD 70 million deal between GlaxoSmithKline and LifeMine Therapeutics was reached in March 2022 to employ LifeMine's fungi-based drug development engine to create three candidates.
In September 2021, the FDA authorized the marine-based medication tisotumab vedotin-tftv (brand name Tivdak) for adult patients with recurrent or metastatic cervical cancer and disease progression during or after therapy.
Key Market Players
Aker BioMarine AS
Aqua Biotechnology ASA
BASF SE
BioLume, Inc.
Biotech Marine
CP Kelco
Cyanotech Corp.
GlycoMar Ltd.
Lonza Group Ltd.
Marinova Pty Ltd
New England Biolabs Inc
NovaMatrix
Nutrex Hawaii Inc.,
oceanBASIS GmbH
PharmaMar S.A
Prolume Ltd
Royal DSM N.V
Sea Run Holdings, Inc.
SEPPIC
Tequesta BioVentures
Segments Covered in the Report
(Note*: We offer report based on sub segments as well. Kindly, let us know if you are interested)
By Source
Corals and sponges
Algae
Marine Viruses
Marine Fungi
Others
By Application
Aquaculture & Fishery
Medicine
Environment
Biofuels
Other
By End User
Medical & Pharmaceutical
Food Industry
Cosmetics Industry
Chemical Industry
Others
By Geography
North America
Europe
Asia-Pacific
Latin America
The Middle East and Africa