The global red biotechnology market size was valued at USD 365.25 billion in 2022 and is expected to reach over USD 618.64 billion by 2032, growing at a compound annual growth rate (CAGR) of around 5.41% during the forecast period 2023 to 2032. U.S. red biotechnology market was valued at USD 126.7 billion in 2022.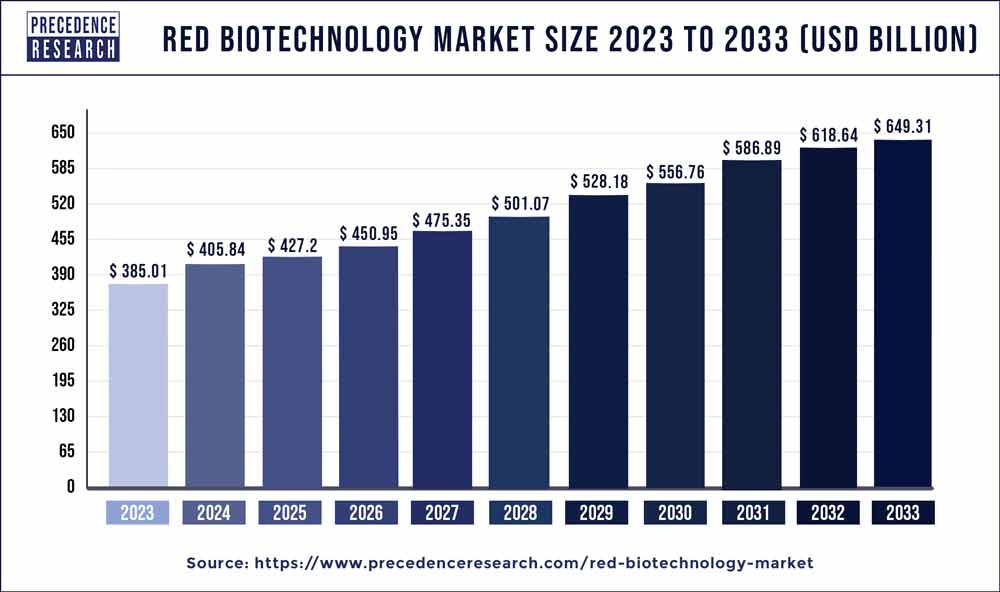 Access our Premium Real Time Data Intelligence Tool, Visit: Precedence Statistics
Key Takeaway
North America has held largest share of over 38.07% in 2022.
By products, monoclonal antibodies has held revenue share of 43.4% in 2022.
Gene therapy products is expected to grow at a CAGR of 24.2% between 2023 and 2032.
By end-user, pharmaceutical & biotechnology companies segment contributed 45.6% of revenue share in 2022.
CMOs & CROs is predicted to expand at a CAGR of 12.7% from 2023 and 2032.
Red biotechnology emerged as very vital aspect of medical sector and also finds remarkable application in the area of gene therapy, diagnostics, and clinical trials and research. Some of the other advantages associated with red biotechnology include invention and manufacturing of different novel drugs to treat the several life threatening illnesses and genetic engineering. Growing investments in research and development by foremost market participants and establishment of new fangled facilitates in order to address augmented requirements, robust pipeline of new drugs in clinical trials and escalating product sanctions are some of the prime factors flourish the growth of global red biotechnology market revenue.
For example, Merck financed the founding of a cell culture capacity in South Korea in February 2018. Merck formed agreement in order to start a distribution and production center in India. Pfizer declared the Phase 3 result for LYRICA in primary widespread tonic-clonic seizures on May 2019. For illustration, Bluebird Bio, Inc and CELGENE CORPORATION together confirmed outcomes from a Phase 1 clinical study of bb2121 anti-BCMA CAR T Cell Therapy in patients going through multiple myeloma in 2019.As a result of escalated investments in development and research combined with growing number of medicine candidates in late and early stages of clinical trials is anticipated to push the growth of biopharmaceutical industries sector of red biotechnology market in near future.
Red biotechnology works as a vital forcing factor formodernization of pharmaceutical firms. The market has achieved a huge surplus through personalized medicines. As the count of cancer patients is mounting globally, the use of red biotechnology is also flattering as it supports in realizing the reason for this illness. As per World Health Organization (WHO), Cancer has become second leading reason of death and caused around 9.6 million deaths in 2018 globally. Improved and considerable healthcare sector funding is further spurring the growth of the red biotechnology market. There is constantly rising flexibility for backing the businesses in the biotech field such as health service companies. Start-ups in the healthcare sectors are shining brightly for stockholders, predominantly in biotechnology.
Red Biotechnology Market in the U.S. 2023 To 2032
The U.S. red biotechnology market size reached USD 365.25 billion in 2022 and is projected to hit over USD 618.64 billion by 2032, poised to grow at a CAGR of 5.41% from 2023 to 2032.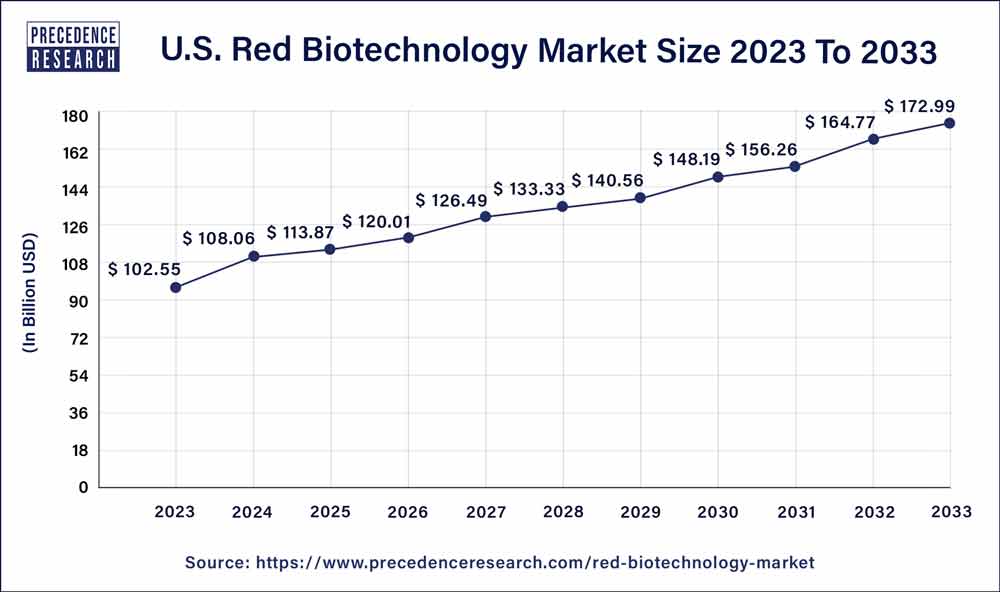 Geographically, a significant share of the worldwide red biotechnology market's revenue has been generated in the North American region. The increasing prevalence of chronic disorders and significant healthcare expenditure in this area supports this considerable percentage. According to the most recent data from the Centers for Disease Control and Prevention, 599,589 cancer-related deaths and 1,752,735 new cancer cases were registered in the US. In 2019, 439 instances of cancer were reported, and 146 cancer-related deaths were recorded per 100,000 people.
In the US, the emphasis is primarily on entrepreneurship, research biotechnology enterprises, and regionally created biotechnology clusters. The better rate of acceptance of innovative biopharmaceutical medications and significant drug releases in North America are contributing to the region's predominance in the global market for red biotechnology. Many well-known biotechnology companies and pharmaceutical entrepreneurs in the US are attracting red biotechnology market sponsors to increase their national presence. Overall, this aids the US in upholding its hegemony in the world market for red biotechnology.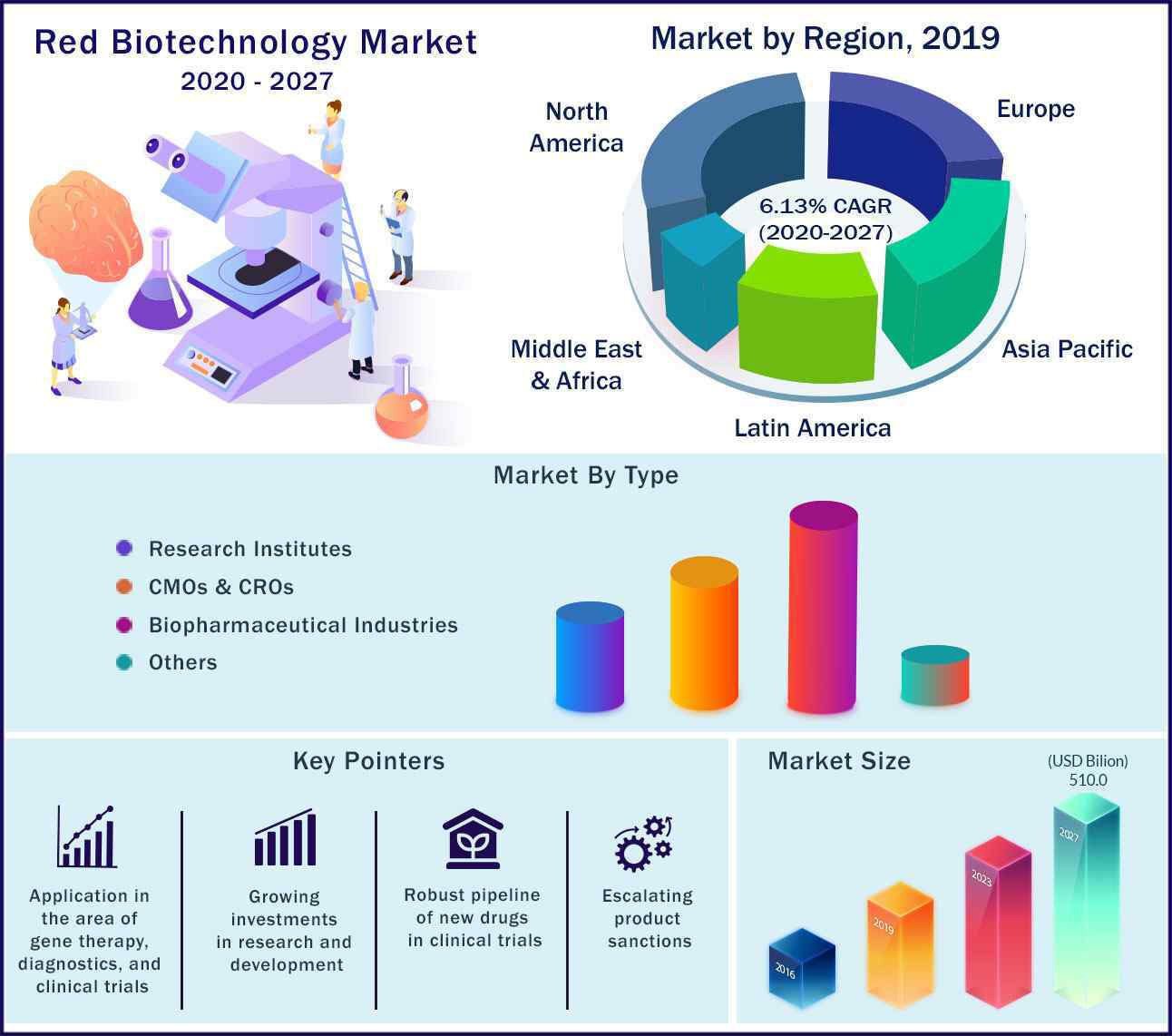 Driver
Increasing Incidence of cancer and other chronic illnesses
The extraordinary advancements in genetics have a significant potential to lessen future threats to humans. According to the most recent data from the World Cancer Research Fund Organization, there were 18,094,716 million new cancer cases worldwide. In 2020, the collective age-standardized rate for malignancies was 190 per 100,000, eliminating non-melanoma skin cancer. Men had a greater rate (206.9 per 100,000) than women (178.1 per 100,000). Therefore, red biotechnology uses organisms to create and produce cancer medicines and diagnostic methods. Due to the rising number of people suffering from diseases, the industry is anticipated to expand in the upcoming years.
Increasing Applications of Artificial Intelligence
AI is influencing the biotechnology sector, which is essential to many activities involved in developing new drugs. Medical biotechnology creates medicines and antibiotics from living cells to improve human health. Promote the development of necessary and desirable traits; it also involves the study of DNA and the genetic manipulation of cells. Artificial intelligence and machine learning are widely implemented in the drug development process. Based on established target structures, machine learning facilitates the discovery of tiny molecules with therapeutic potential. Nevertheless, these applications of AI in red biotechnology are expanding due to the increasing uses of AI and machine learning.
Restraint
High Levels of Risk
Along with human testing, numerous trials are going on, with the FDA closely monitoring each step of the process. Additionally, occasionally the product may prove to be unsustainable during these trials. The complete procedure can take ten years. For instance, a study by Ernst & Young found that 36% of medications never make it past the early stages of development. According to the same survey, 40% of contestants were eliminated in the final round, while another 68% were required to progress through the intermediate stage. R&D has already taken up a significant amount of time and money. Additionally, significant technological advancements may be made during the R&D period that could negatively affect the final product. Thus, the market for red biotechnology may need to be improved for all these issues.
Opportunity
Growing Application of 3D Printing
A new revolution is constantly being fueled by 3D printing. Custom-made products built from virtual models will hasten the growth of a more adaptable, affordable manufacturing industry for the on-demand market. The use of 3D printing in biomedicine, however, represents the true revolution. Red biotech's future lies in 3D bioprinting. This technology will create ex-Novo organs from human cells and biocompatible materials, substitute allograft transplants, which often mean the difference between life and death, and provide more accurate, less expensive experimental models in place of animal testing. This technology's high level of innovation could mean the difference between being new and out-of-date. This could open up prospects for the market in the near future.
Report Scope of the Red Biotechnology Market
| | |
| --- | --- |
| Report Highlights | Details |
| Market Size by 2032 | USD 618.64 Billion |
| Growth Rate | CAGR of 5.41% from 2023 to 2032 |
| Largest Market | North America |
| Fastest Growing Market | Asia Pacific |
| Base Year | 2022 |
| Forecast Period | 2023 to 2032 |
| Segments Covered | Product Type, Application, End User, Region |
| Companies Mentioned | Hoffmann-La Roche, Ltd., Merck KGaA, Regeneron Pharmaceuticals, Inc., Pfizer, Inc. , Biogen Inc. , Amgen Inc. and AstraZeneca Plc. |
Product Insights
For the manufacturing of integrated vaccines like DPT, which is combined with the Hepatitis A, Hepatitis B, and polio vaccines, red biotechnology is employed in a variety of ways. The best way to prevent and control the disease is through vaccination, and biotechnological advancements used in new vaccinations are changing how illnesses are prevented. For instance, according to World Health Organization data on the global vaccines market, supplied 16 billion vaccine doses worth US$ 141 billion in 2021, which is almost three times the market's volume of 5.8 billion and nearly three-and-a-half times its value of US$ 38 billion from the previous year. Thus, the human vaccines sector dominates the market among the other segments.
Application Insights
The creation of vaccines, such as those that include the DPT, Hepatitis A, Hepatitis B, and polio vaccines and are expected to be administered as vaccinations, is one of the many areas of medicine in which red biotechnology assumes overwhelming significance. Tissue engineering, cancer research, the production of biochips, and other fields benefit from this technology.
Additionally, gene therapy as an application segment would see the highest growth rate due to the extensive research being done to enhance therapeutics for the treatment of the various genetic defects responsible for rare diseases.
Different sectors of medicine in which red biotechnology undertakes excessive prominence are the fabrication of combination vaccines including combined with Hepatitis B, DPT, Hepatitis A, and polio vaccine which is intended to be vaccinated. Further, red biotechnology is advantageous in the arena of poultry farming and veterinary science. Additional spaces where this technology is beneficial are in the arenas of cancer research, tissue engineering, biochips manufacturing and others. Different application segments analyzed under red biotechnology report include gene therapy, biopharmaceutical production, genetic testing and pharmacogenomics. Among all, gene therapy application segment is anticipated to record highest growth rate on account of proliferating research for the improvement of therapeutics to treat numerous genetic disorders accountable for rare sicknesses.
End-user Insights
Biopharmaceutical industries, CMOs & CROs, and research institutions are just a few of the many end-users in the red biotechnology sector. The biopharmaceutical industry is anticipated to have phenomenal growth over the forecast period due to rising R&D efforts. Moreover, medical biotechnology has undergone substantial advancement, including the creation of gene-based treatments. For instance, Novartis' CAR-T cell treatment Kymriah (tisagenlecleucel) was approved by the US Food and Drug Administration in May 2022 to treat people with relapsed or refractory (r/r) follicular lymphoma (FL) after two or more lines of systemic therapy.
Key Companies & Market Share Insights
Many firms involved in the global red biotechnology market endure to occupy themselves in the advancement of ground-breaking products and capitalize in related clinical trials in order to achieve regulatory backing. Flourishing research and development attempts for the manufacturing of advanced disease therapeutics has emerged as critical profit-gaining approach for competitors involved in the marker arena. Corporations within the biotechnology sector have attained a competitive edge with the associations of AI and cloud-based technology, and augmented emphasis on research and development. Few noticeable organizations are capitalizing profoundly in merger and acquisition accomplishments to amalgamate their market footprint worldwide.
Some of the significant players in the red biotechnology market include:
Hoffmann-La Roche, Ltd.
Merck KGaA
Regeneron Pharmaceuticals, Inc.
Pfizer, Inc.
Biogen Inc.
Amgen Inc.
AstraZeneca Plc.
Takeda Pharmaceutical Company Ltd.
Gilead Sciences, Inc.
CELGENE CORPORATION
Segments Covered in the Report
This research report includes complete assessment of the market with the help of extensive qualitative and quantitative insights, and projections regarding the market. This report offers breakdown of market into prospective and niche sectors. Further, this research study calculates market revenue and its growth trend at global, regional, and country from 2020 to 2032. This report includes market segmentation and its revenue estimation by classifying it on the basis of application, end-user and region as follows:
By Product Type
Monoclonal Antibodies
Polyclonal Antibodies
Recombinant
Proteins Vaccines
Cell-Based Immunotherapy Products
Gene Therapy Products
Cell Therapy Products
Tissue-Engineered Products
Stem Cells
Cell Culture
Viral Vector
Enzymes
Kits and Reagents
Animal models
Molecular diagnostics
Others
By Application
Pharmacogenomics
Biopharmaceutical Production
Gene Therapy
Genetic Testing
By End-user
Research Institutes
CMOs & CROs
Biopharmaceutical Industries
Others
By Geography
North America
Europe
Asia Pacific

China
India
Japan
South Korea

Middle East & Africa
Latin America